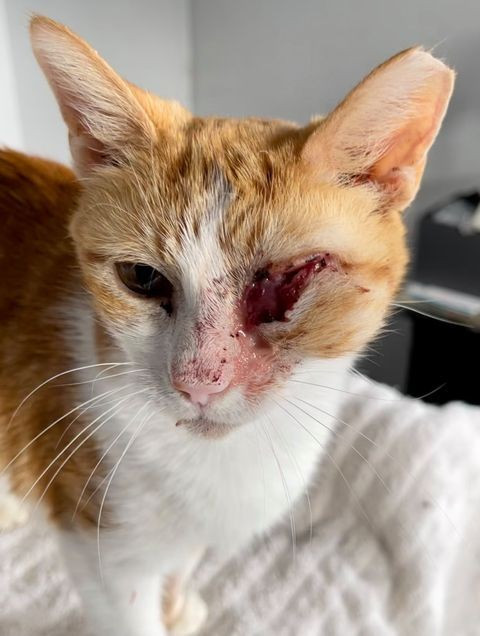 4-1-21 Holly - needs eye surgery
Holly is a very sweet, former colony cat now in a forever home with me who came down with a severe inflammation of the tissue around one of her eyes. She's been under the care of a top notch vet ophthalmologist for months now and we have tried a slew of medications and treatments - many different eye ointments, steroids, most recently a drug used in chemotherapy - nothing has worked. Her eye is actually fine but tragically the tissue around it is not. A biopsy done recently revealed that there are some pre-cancerous cells in the deeper layers of the tissues there so in hopes of avoiding it becoming much worse, we are going to remove the eye and the affected tissue around it. The surgery and tests are costing about $900. I feed and provide vet care for close to a hundred cats between my guys at home and my colony guys. Any help towards the cost of Holly's care would be really appreciated.
Vet: Pinecrest Veterinary Hospital 305-278–1300 (for Holly under Maribel Piloto's account)
The Dollar Club paypal: thedollarclub@yahoo.com (for Holly)
TDC Mailing address: P.O. Box 116 Hereford, Pa 18056 (for Holly)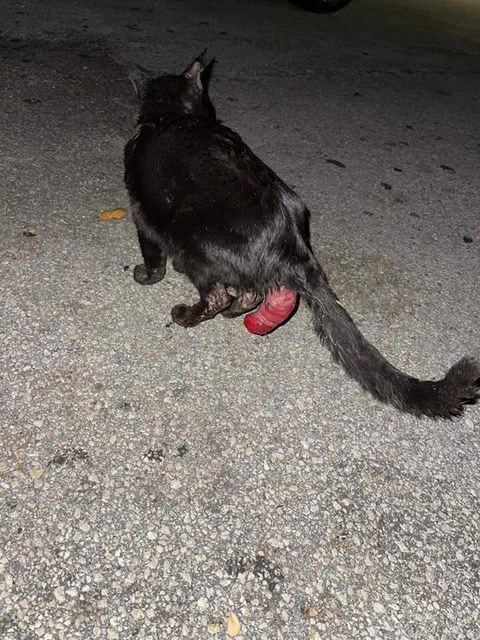 4-4-21 Stray O'Hare - kitty with prolapse colon
URGENT! URGENT!! URGENT!!!PLEASE HELP🙏
Some body saw this cat at target in cutler ridge in the US1 y 112, 20500 sw 112 ave .. someone in this area can help him please🙌🙌🙏🙏🙏🙏 **UPDATE** He was caught and is at the vet right now
Vet: St. Francis Emergency phone 954-962-0300 account info is Stray Ohare
The Dollar Club paypal: thedollarclub@yahoo.com (for Stray O'Hare)
TDC Mailing address: P.O. Box 116 Hereford, Pa 18056 (for Stray O'Hare)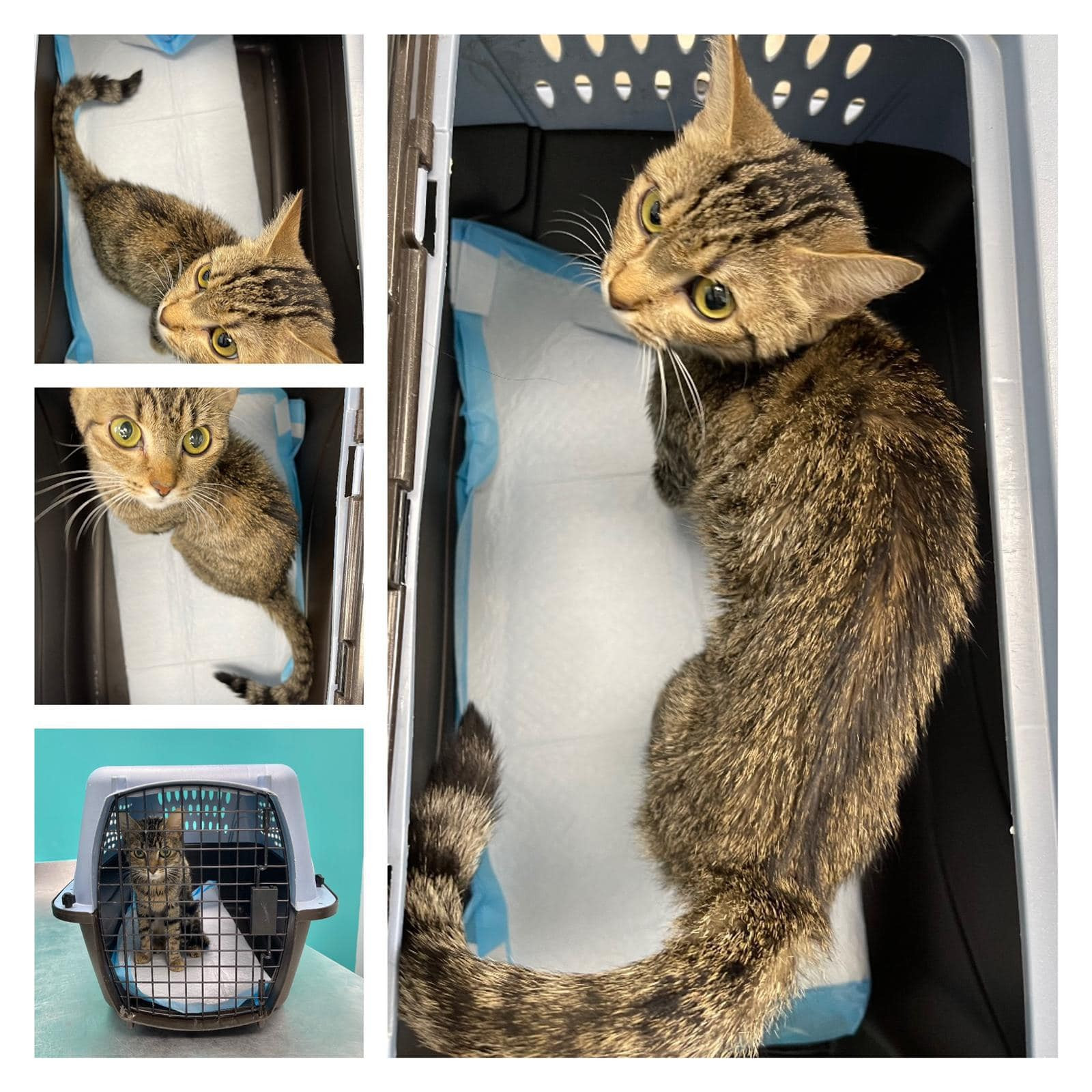 4-7-21 Sasha - cat abandoned in empty house and starved
Love 4 Cats and Trapping is asking for donations. Sasha was rescued in Little Havana. She was found by a Maintenance worker in an abandoned apartment left under the kitchen sink!
She is extremely lethargic, dehydrated, underweight and severely anemic. Aside not having access to food or water during that time, we suspect she could have ingested something toxic! Sasha's platelets are low and it is quite possible she will need a blood transfusion. She is being hospitalized as of today and has already been matched with a donor cat should we need to proceed with a blood transfusion. This is extremely costly and we need funds to be able to help Sasha. Please help by donating any amount for her care! Thank you!

Vet: Ferreira Animal Hospital +1 (786) 275-4629 Under "Love 4 Cats & Trapping" account
The Dollar Club paypal: thedollarclub@yahoo.com (for Sasha)
TDC Mailing address: P.O. Box 116 Hereford, Pa 18056 (for Sasha)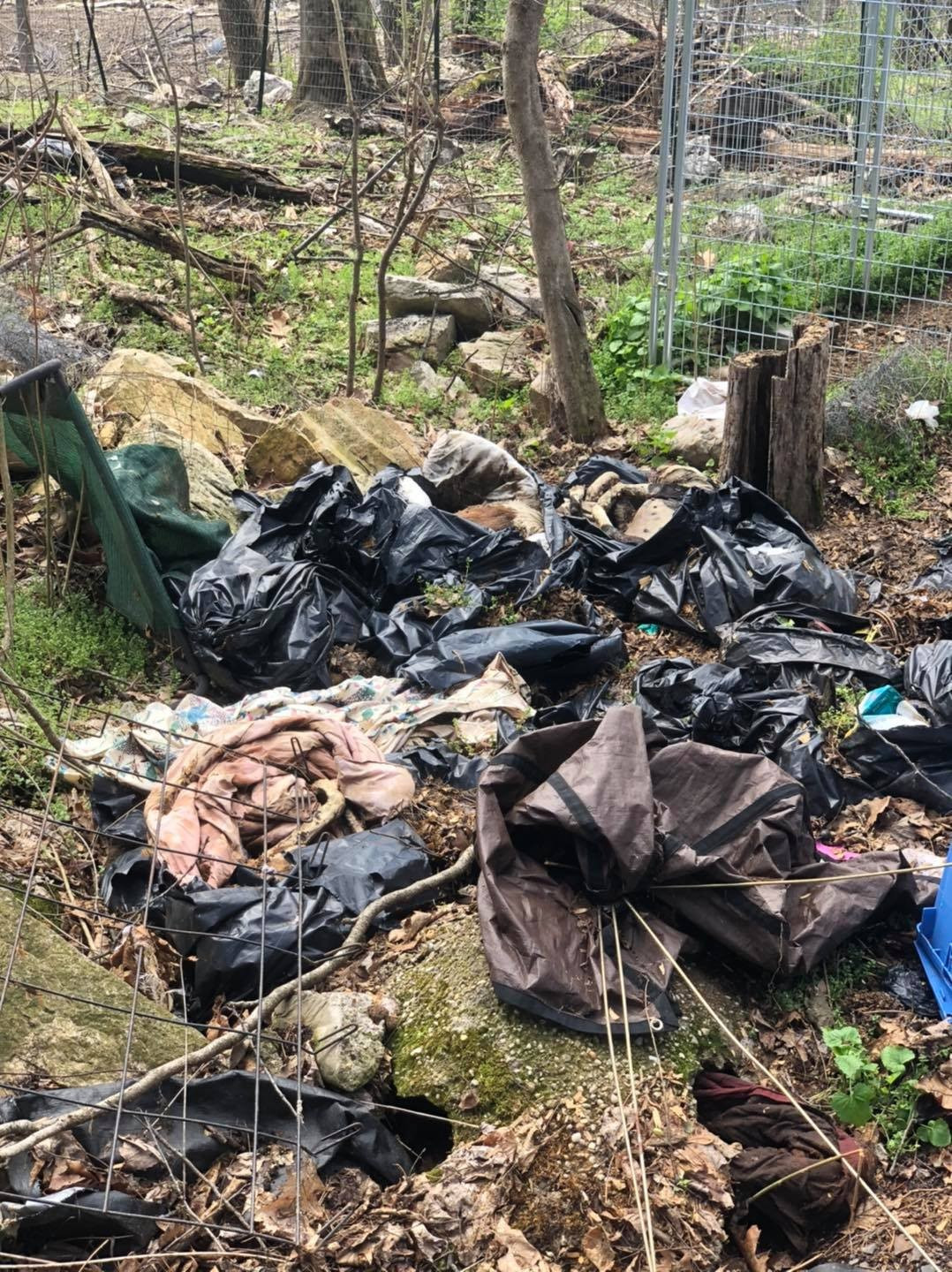 4-12-21 Hoarder case in WV
Pitiful Paws Rescue is asking for donations. This....this is where we spent our day today. This was called "The Pit." I have more photos and videos of deceased dogs on my phone at this point from this case than I do living ones. We spent the day trying to determine how many dogs we could bring back from this absolute hell hole....and opening up 25+ trash bags full of remains of other dogs in various stages of decomposition and scanning the remains for microchips so that the places these dogs originally came from can be informed. We brought back 19 dogs from this case today, three of which will go to our partners at Rascals Rescue in Charleston and two of which will go to Philly Bully Crew in Philadelphia. The others we will be looking for fosters/adopters or rescue for once we know more about them. The dogs that we brought back almost all have some degree of medical issue or old injuries from this place. One dog we brought back was actually attacked while we were on the property and injured badly. We literally filled our vans with as many crates as we could possibly fit to help as many as possible. The smell of decomposition is still embedded in our noses and clothing. We literally just got back to PPR and got everyone settled in for the night in clean kennels/crates with soft blankets to cuddle up on. Please, please, please consider donating today. We absolutely cannot do this without you and we need your support and donations to continue helping these guys. They are all going to need extensive medical care and much much more. We cannot do these large cases without you! Even if you can't donate, please share share share!
🚨 Donations can be made at
PayPal.me/pitifulpawsrescue
🚧 Donations can be made simply by clicking the donate button on this post!
🚨 Donations can be mailed to P.O. Box 690 Ona, WV 25545
🛒 Amazon Wishlist to send supplies: https://www.amazon.com/hz/wishlist/ls/25PXT1KIIX7QS...
*This case is the "Love Shack Rescue" in Hampshire Co. WV. And unfortunately this organization was a 501c3 nonprofit animal "rescue" that we are having to yet again rescue these dogs from. Many of these dogs were sent up from shelters in the south to avoid euthanasia sadly. That is just one reason this case is hitting us so hard. This was supposed to be a safe place, a rescue...for these babies. Instead, they have all went through unimaginable things and it's heartbreaking to know that there are other "rescues" out there just like this one. If you're a shelter that sent to Love Shack, please reach out to Guardians of Rescue or you can message our page.*
The Dollar Club paypal: thedollarclub@yahoo.com (for hoarder case)
TDC Mailing address: P.O. Box 116 Hereford, Pa 18056 (for hoarder case)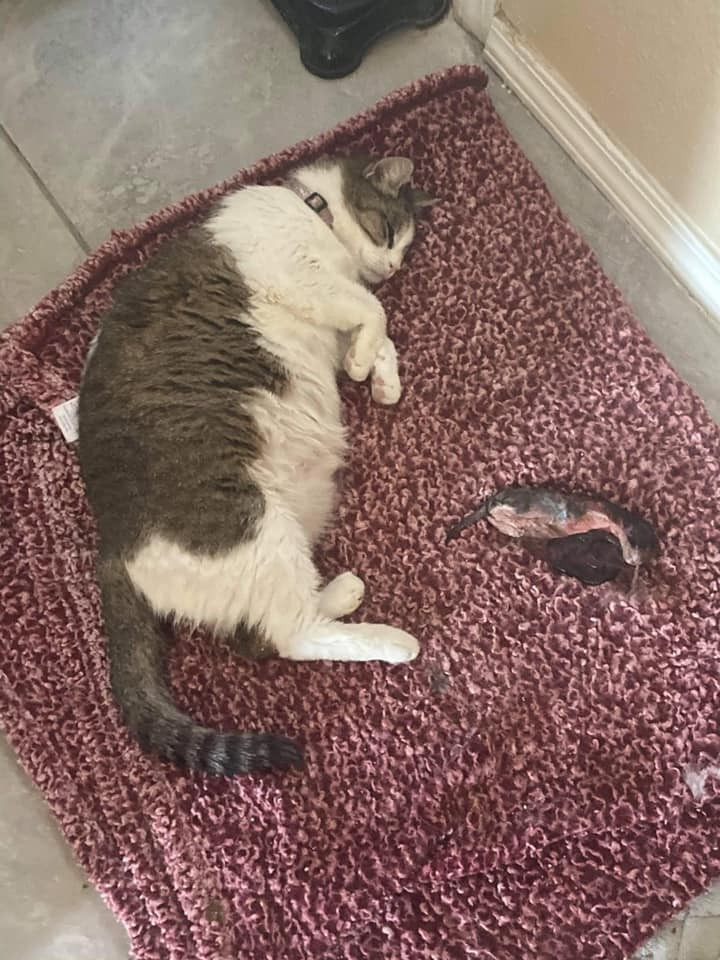 4-12-21 Cat needs emergency c-section
Jacqueline SanchezWest Texas Pet Detectives 911!!!!!!
This baby needs help! She is a stray that we took in not knowing she was pregnant, just trying to do the right thing. She had one stillborn baby this morning but is not able to have the others naturally. There is a really bad odor coming from her and the vet says that's probably because the babies are rotting inside and killing her 😭. I brought her to Legacy Vet and they are willing to work with us to save her life! She needs an emergency c-section and they will fix her when they remove the dead babies. Please please please help. I don't have the funds to pay. I need to come up with 1500$ to save her life... she is critical right now. Anything helps.
Vet: Legacy at 432-247-1425. She's under my name Jacqueline Montes
The Dollar Club paypal: thedollarclub@yahoo.com (for csection)
TDC Mailing address: P.O. Box 116 Hereford, Pa 18056 (for csection)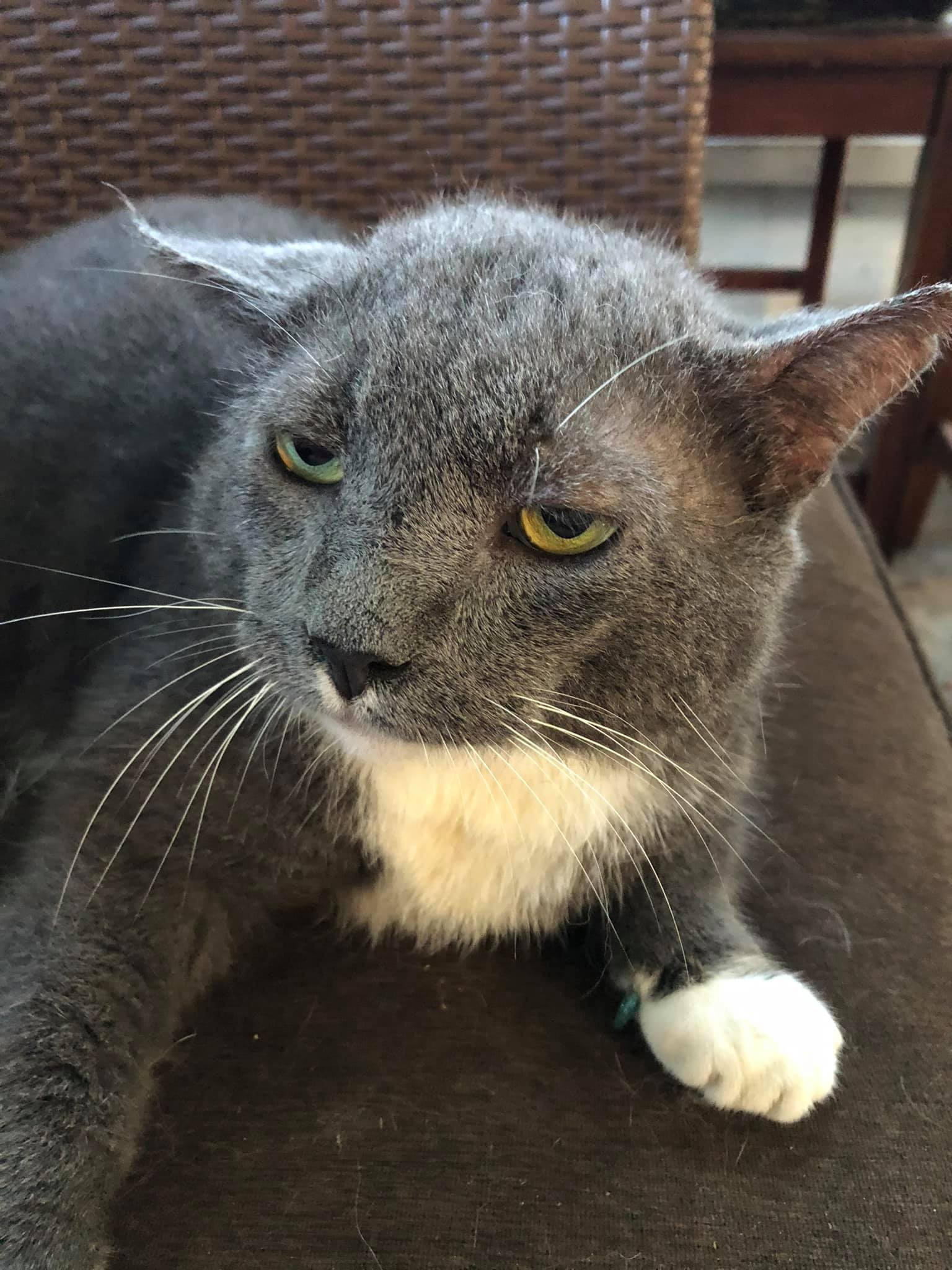 4-16-21 Beefy Butt - cat with brain swelling
For the Love O' Maxx
SOS All Hands On Deck!!! Our cherished and beloved Beefy Butt is in the hospital with brain swelling!! We need donations please!!! We rescued this boy 2 yrs ago when he was abandoned in an empty apartment with 6 other cats.. FIV+ and a horribly fractured leg.. the scars on his body tell the tale of a rough and horrible life!! Please help me save him!!!


Vet: Ocala Square Animal Clinic 352-694-3631 (for Beefy Butt)
The Dollar Club paypal: thedollarclub@yahoo.com (for Beefy Butt)
TDC Mailing address: P.O. Box 116 Hereford, Pa 18056 (for Beefy Butt)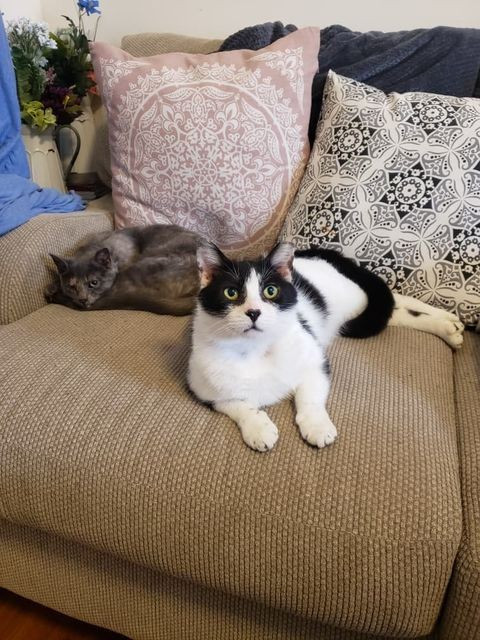 4-16-21 Freckles - bladder problem
We have one special male cat with us that needs help. His name is Freckles, (nicknamed heart nose due to the shape and color of his nose). He was abandoned along with over a dozen other cats on an old, 200 acre horse farm in the Laureldale section of Mays Landing, NJ. We helped pushed to get the cats trapped, safe, and then relocated properly. We took freckles into rescue and over time found out that he is 100% friendly. He was pending his last set of vaccines to be placed up for adoption. Now he has developed urinary problems and needs an emergency vet visit today. Treatment could be $300 if it is only a UTI, or over $1000 if it is a blockage. We do receive a small 25% discount as a rescue, but that still is overburdening for our small group. Freckles will receive the medical care needed. The concern is that his treatment will then take a large majority of our funds away from community cats that desperately need TNR. We could possibly need to stop operating until we can bring in more funds. We are new, small, and not well known so funding is very limited. We make the small amount that we get go a very long way.
Vet: Animal Clinic of Buena, 856-213-6340 (for Freckles under Woodland Whiskers)
The Dollar Club paypal: thedollarclub@yahoo.com (for Freckles)
TDC Mailing address: P.O. Box 116 Hereford, Pa 18056 (for Freckles)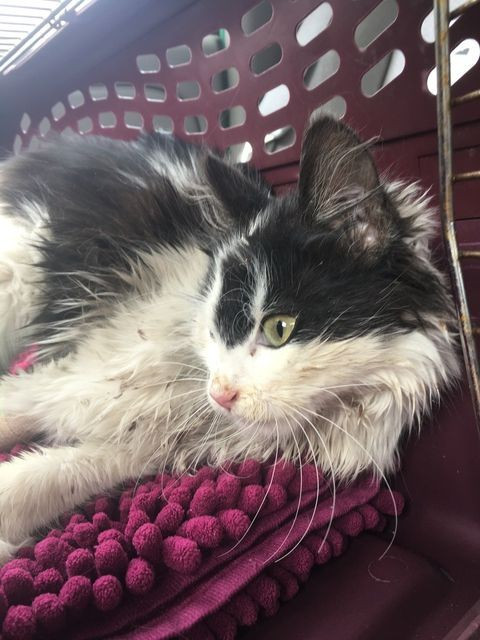 4-17-21 Kiara - Stray rescue with necrotic leg, tetanus & neurologic
Kiara was rescued by Wolfe Ranch Rescue. She went straight to a 24 hr specialty hospital yesterday where she had initial blood work, wound cleaning on her leg (it's already necrotic they found) and X-rays. Today she has consultations with their neurologist and ortho surgeon which will provide more info. She is extremely sweet and purring loudly with the veterinary staff.
Kiara was evaluated today by the neurologist and ortho surgeon at the specialty hospital which revealed: 1) She has tetanus. She is being treated with IV antibiotics. 2) Her foot injury did go necrotic so they unfortunately do not feel her leg can be saved. They want to try to get the infection under control so that surgery doesn't release any further toxins loose in her body, so it appears to need surgery, but they want to get the infection under control. The vet thinks her leg possibly was caught in a rat trap for probably a day or so and she injured her leg trying to get out. She is also receiving pain medication. 3) The surprise - she's pregnant! They are hoping her little body will stay strong and she doesn't lose the kittens as she still has always to go with her treatment per above. 4) Lastly, the doctors continue to remark she's a little purr machine! She has a great attitude, is eating well, drinking water and moving around a bit
Please keep sending this sweet little girl positive thoughts that these treatments help so she can have the surgery she needs, and can successfully carry her babies, as her poor little body has endured so much already. Through it all, she appears grateful to be receiving care and is a sweetie to everyone she meets and who treats her. Friends of Moreno Valley Shelter Animals will continue to post updates as they are received from her rescue.

Metropolitan Animal Specialty Hospital: for Kiara under Wolfe Ranch Rescue 855-350-7387

The Dollar Club paypal: thedollarclub@yahoo.com (for Kiara)
TDC Mailing address: P.O. Box 116 Hereford, Pa 18056 (for Kiara)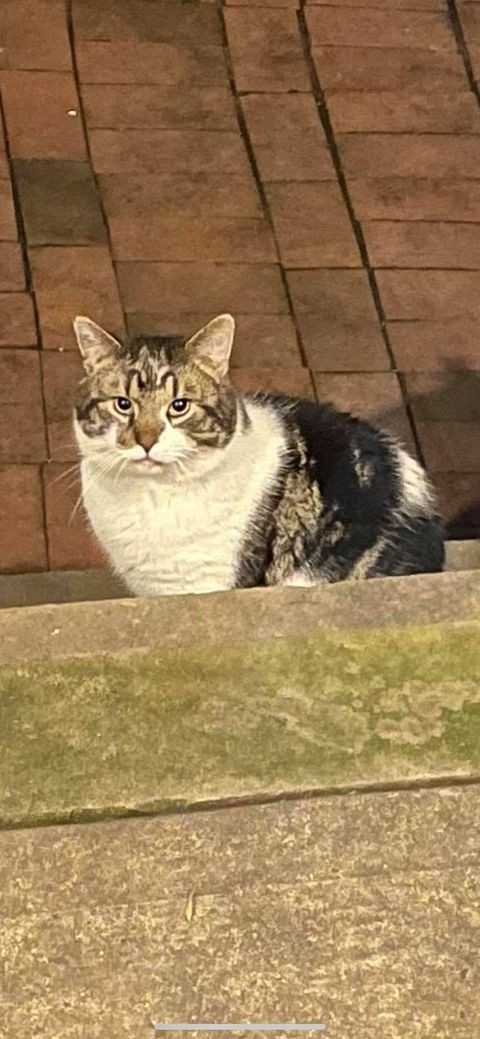 4-19-21 Stray cat needs leg amputation
Hello! We have a stray cat, named Charlotte, that's been finding safety in and around my families home. She has a badly injured back leg that she can no longer put down. We are trying to get her medical attention but sadly my family, friend and I don't have enough money to help her. We have a vet that is willing to work with us on cost (she believes she may need an amputation). We have every intention of taking good care of her after her treatment and going forward. We are reaching out to hopefully be able to fundraise enough money to get her the much needed care. We appreciate anything that could be donated! Thank you!
Vet: Dr. Lori Duggan 856-357-2240

The Dollar Club paypal: thedollarclub@yahoo.com (for Kiara)
TDC Mailing address: P.O. Box 116 Hereford, Pa 18056 (for Kiara)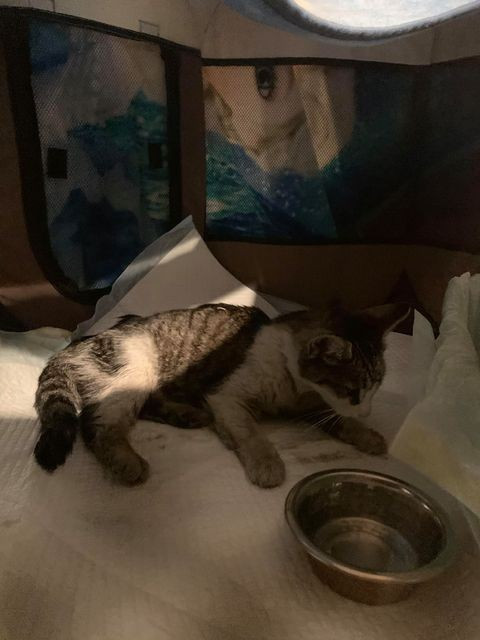 4-19-21 VERY sick kitty
Urgent help - rescue needed!!! 3 yo. Colony cat. Feeder can pick her up. Took to mobile clinic in San Pedro .. too sick to treat needs fluids and blood work. Kitty needs transfusion. Blood tests show pancreatitis,anemia and jaundice. UPDATE: waiting for Kitty's blood test results. Given fluids. UPDATE11:30pm sun: colony cat "Kitty" needs medical help! Rescue. Thank you Chris Degner for setting up tent enclosure and blankets so kitty will stay warm inside feeder home while we look for rescue help and for covering vet Bill. And Edward Cha for spending 14 hours @vet with Kitty.. If u can pitch in Plz dm. Update: waiting for Kitty's blood test results. Given fluids. Please donate if you can. Update: Update Monday morning: seems like FIP. Medical Rescue turned her down. She's at feeders labored breathing. UPDATE Kitty has passed 💔🐾🙏😿❤️peacefully at home of colony feeder. Inside warm enclosure that Chris degner provided for her Rip little kitty. You had an army trying to save you.
4-21-21 Cat colony in need of food
Food was sent to a colony caretaker who has fallen on hard times and cannot feed the 30+ cats she has. She is trying her hardest but needs a hand right now.
The Dollar Club paypal: thedollarclub@yahoo.com (for food)
TDC Mailing address: P.O. Box 116 Hereford, Pa 18056 (for food)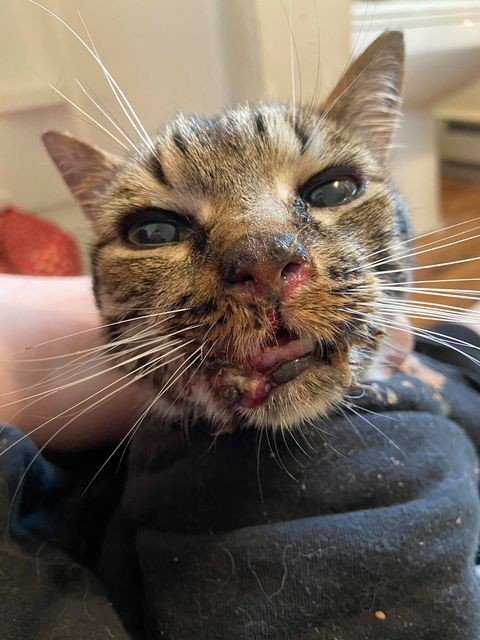 4-21-21 Jasmine - rescues cat with severe URI
Euthanasia Timestamp 4/14 5:30pm. RESCUE or ADOPTION with rescuing pulling for you. Need help finding a rescue to assist you in adopting, then DM me.Jasmine ACCT-A-86838
▪️10yo, 6.31lbs. Owner surrender (She was born into her last owner's home and was there for 10 years). Confused & shut down in shelter. She has a significant URI and has not been eating much on her own, and needs a rescue or experienced medical foster. She likely requires some syringe feedings to make sure she is getting adequate nutrition while she is nursed through her URI, and since she is a senior additional work-up might be necessary too. Lived with other cats & children.
Vet: Vca Knightswood animal hospital 215-632-2525 for Jasmine under Second Chances Rescue

The Dollar Club paypal: thedollarclub@yahoo.com (for Jasmine)
TDC Mailing address: P.O. Box 116 Hereford, Pa 18056 (for Jasmine)