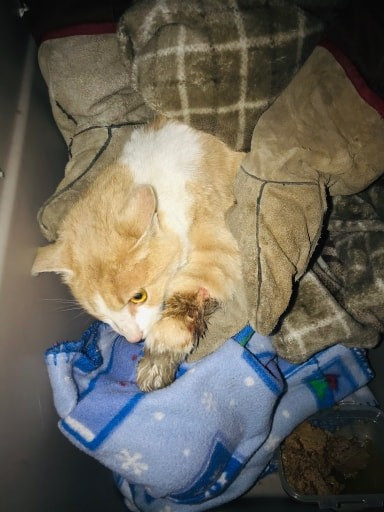 12-2-19 Stray cat found with leg in trap


This cat was found with this trap attached to his leg in Bradenville, pa.
He is safe for the night, but will need a long term foster/adopter (unless he has a home).
We have taken on many expensive medical cats recently and really cant afford anything else, but we also couldn't let him die out there. He is on his way to the vet now and most likely will need hi leg amputated.

Vought Vet Clinic: (it is a small office so you will likely need to leave a message): 724-433-1377 (for kitty in leg hold trap under Cat Aid Network
The Dollar Club paypal: thedollarclub@yahoo.com
Mailing Address: TDC P.O. Box 116 Hereford, Pa 18056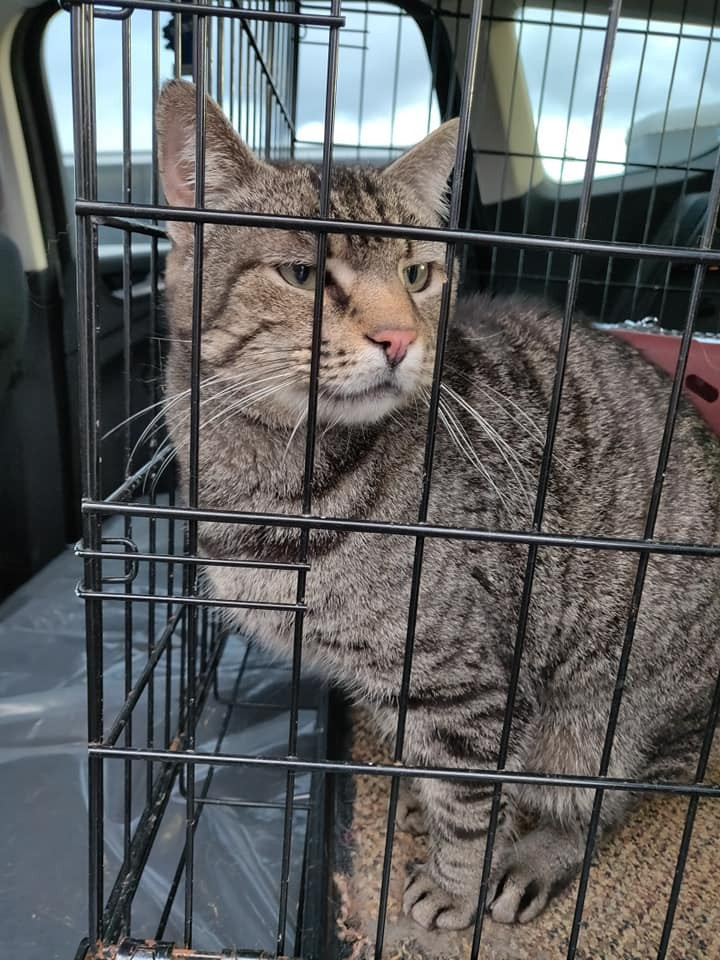 12-3-19 Nittany stomatitis kitty
Nittany is a good cat. She is about 8 years old. She has severe stomatitis and is in need of a full mouth extraction. The good folks at Big Valley Animal Hospital have agreed to do this for her for 600$. Nittany was adopted from Ruth Steinert Memorial SPCA some years ago by Bridget Barder former a/c/o. Bridget is just starting a new job and needs some help for Nittany. She has given years of loyal service to this community so we are hoping that everyone can spare a few dollars in this holiday season for her. Any little bit will help. If you can't spare a few dollars please , please share and invite your friends.
Big Valley Animal Hosp: (717) 667-2000 donate to Wanna be pet rescue . patient Nittany

The Dollar Club paypal: thedollarclub@yahoo.com (for Nittany)
Mailing Address: TDC P.O. Box 116 Hereford, Pa 18056 (for Nittany)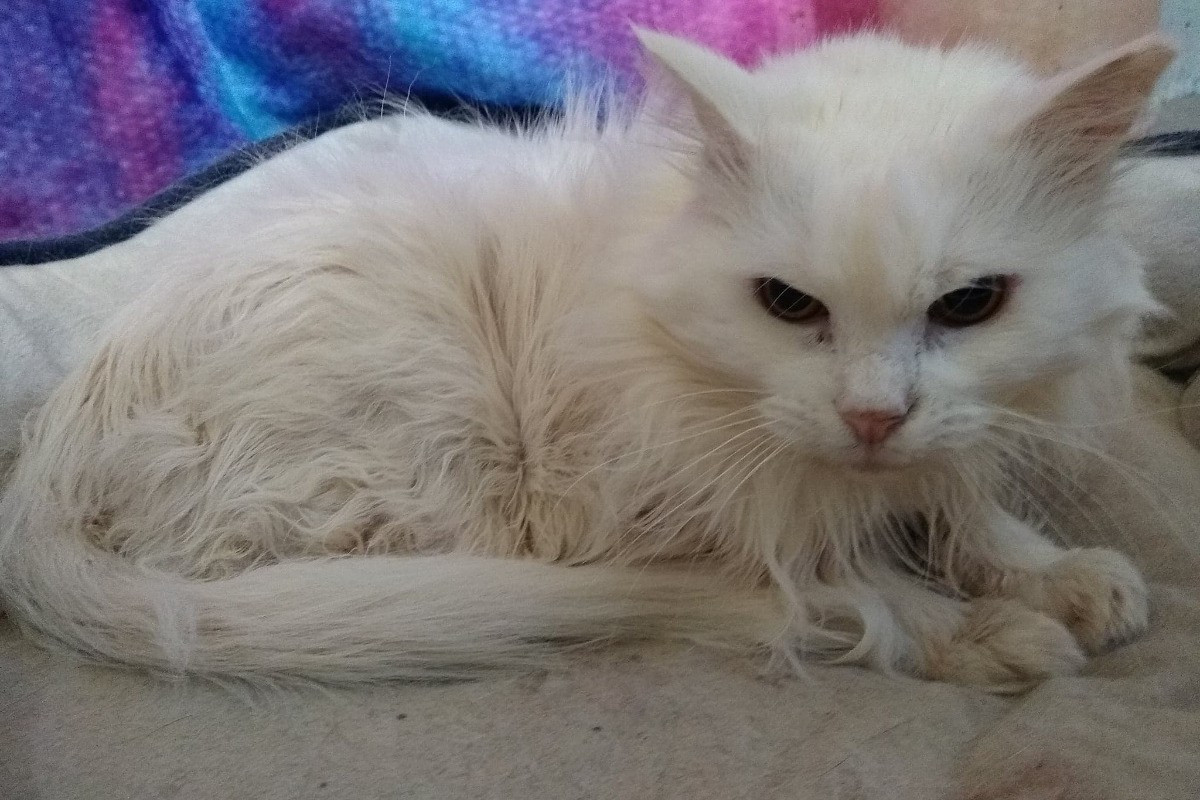 12-3-19 SCOOP (Save cats and obliterate overpopulation)


In the past six weeks, SCOOP's emergency funds have been depleted due to two cats needing hospital care. SCOOP has five resident cats awaiting urgent surgery: Peanut, age 11, (in the cover photo) has severe and painful stomatitis and needs dental surgery. He was rescued at 6 months old living alone by a lake during the cold winter. Callie (age 12) needs a second dental surgery due to stomatitis. She was rescued from an apartment complex colony after she and her colony mates were threatened by management. Dean (age 7) needs a second dental surgery due to stomatitis. He was trapped in a colony after he was unable to eat due to his mouth condition. Stomatitis is a very painful mouth condition causing sores and ulcers. Many cats will scream in pain as they try to drink or eat. Teeth removal is very effective, and most times immediately, for the majority of these cats. The cause of stomatitis is unknown. Bandit (age 11) needs surgery to remove ear polyps causing infections. He was rescued as an older feral kitten in a colony that people were poisoning. Hallie (age 13) was born at SCOOP in 2006 to a pregnant stray after SCOOP intervened before she was euthanized. It's suspected that she has skin cancer on her nose and a biopsy is needed.
Vet: Dr. Jennifer Jaax 513-793-5229
The Dollar Club paypal: thedollarclub@yahoo.com (for Scoop)
Mailing Address: TDC P.O. Box 116 Hereford, Pa 18056 (for Scoop)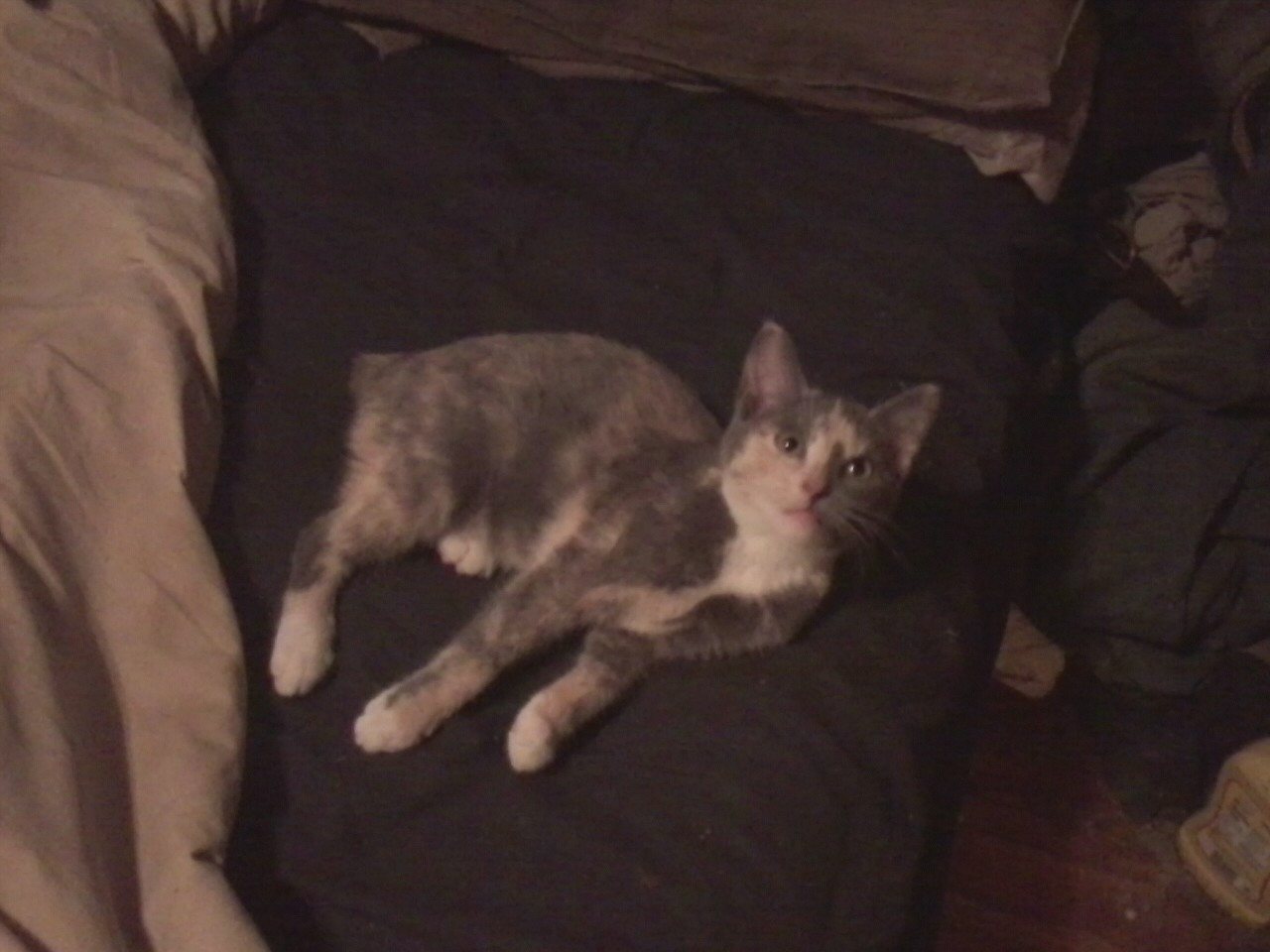 12-3-19 Small cat rescue is out of food
I will have to release our rescues so they can hopefully kill a mouse or two to eat.
Hopefully, they will not wonder off too far. I can not let them sit in their catteries and slowly starve to death. I've done all I can do. Have no food for them and no funds to get any. If they don't wonder off, their catteries will be shelter at night so they don't become coyote food. Just ran out of propane....so the ones in the house will be getting sick soon. I regret that I even started this.
We don't have food for ourselves...but there are mice running outside so those will feed the outside kitties. I hope that one day they will forgive me for failing them. Sharon Riley Urgent Care and Sanctuary. There is no assistance where I live. And absolutely nobody cares here.

The Dollar Club paypal: thedollarclub@yahoo.com (for cats)
Mailing Address: TDC P.O. Box 116 Hereford, Pa 18056 (for cats)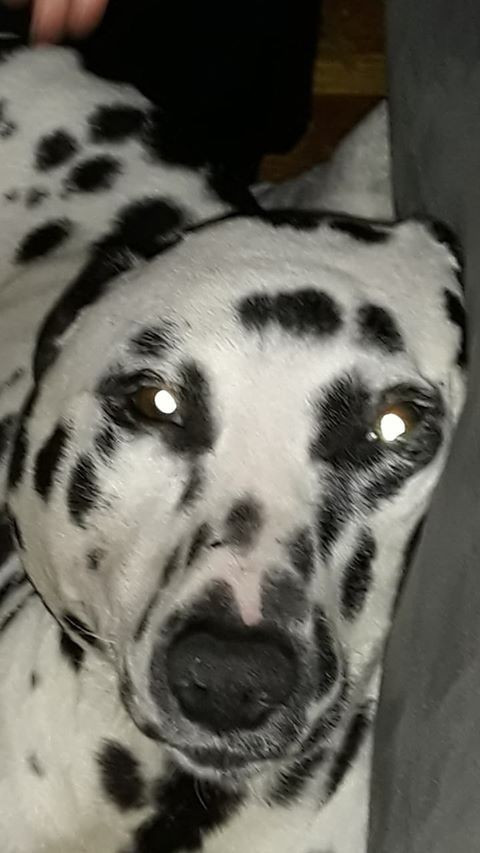 12-10-19 Stella - dog with a facial abscess
I came home today around 6pm to my dogs face extremely swollen. Its NEVER looked like this!!!! 2 days ago she got in a little ticked with my male Dalmatian because she's in heat and he obviously wouldn't leave her alone. So she nipped at him and he nipped back. I didn't think he even got her because there was Zero blood I didn't see a whole nothing. But as I was giving her a bath yesterday I noticed there was a little pinprick of a hole. Which I honestly don't know if it's from the little tiff they got in to or from her scratching herself. But I bathed her and put some peroxide on it just to be safe. Well everything's been fine and this morning and afternoon when I stopped home they were perfect! 4 hours later I get home and half her head is swollen. I'm not sure what's going on or what this is. My aunt said it could be an abscess? Shes been acting fine all night. Ate up all of her dinner, drank all her water, played with our family, went on a walk & then I just went to wake her up to take her out to potty before bed and shes very hot to the touch so i know she has a fever. Today her eye has now closed and theres a lump in her throat. Like in the skin, I can physically feel around the entire lump if I rub her neck. Please help.
Vet: Endless Mountain Vet Center: 570-888-8387
The Dollar Club paypal: thedollarclub@yahoo.com (for Stella)
Mailing Address: TDC P.O. Box 116 Hereford, Pa 18056 (for Stella)
12-10-19 Pig hoarding case


My Pig Filled Life is asking for donations. Once again, we find ourselves facing another group of pigs that need our help. Three weeks ago, 55 pigs were seized by Killeen Animal Control during an investigation. The owner agreed to surrender ownership immediately. After complaints from neighbors, animal control went out to execute a warrant. This case is especially disturbing. They were not feeding them. They were greeted by multiple dead pigs and a large herd of very hungry, thirsty, neglected pigs. The pigs were not being fed and they began to escape fences looking for food. We are unable to share additional details since there is an active investigation. We will be pushing for a no animal order to be issued as Lina is a repeat offender.As of today there are 53 pigs being held at an animal control facility. While the conditions there are much better than the hell they had been living in, the facility has no shelters and are not equipped for pigs. My Pig Filled Life took 2 of the pigs back to their rescue today, they were the worst of the bunch and needed immediate vet care. Many of the others also appear to be suffering from pneumonia. The final count will likely be higher as several females are pregnant. My Pig Filled Life will be taking these pigs on with the support of our pig community. As with any large rescue, the support efforts needed are monumental and urgent. What we know....31 females and most appear pregnant some due any day. 24 males - all unaltered. 2 pigs remain uncaught.70% of the herd appears to be under 1 year of age and 30% adult. They are now being transferred to our site in quarantine. Spays and neuters will also need to begin as soon as the pigs are deemed healthy enough for sedation. The county has granted us 2 weeks to get these pigs moved, otherwise they will be facing a livestock auction. My Pig Filled Life, along with support from Pig Advocates League (PAL) and Cotton Branch Farm Sanctuary, need your help. Fundraising and vetting must happen quickly in order to save these pigs. DONATIONS 🙏 to provide fencing at a new temporary holding location; funding for initial vet care, as well as housing and fencing and other needed care that arises. This is CRITICAL as we must receive $5,000 by SUNDAY at 5pm CST to begin vetting of these amazing little angels.
Our vet is Dan Turner @ wills point vet clinic. 903-873-9132
The Dollar Club paypal: thedollarclub@yahoo.com (for pigs)
Mailing Address: TDC P.O. Box 116 Hereford, Pa 18056 (for pigs)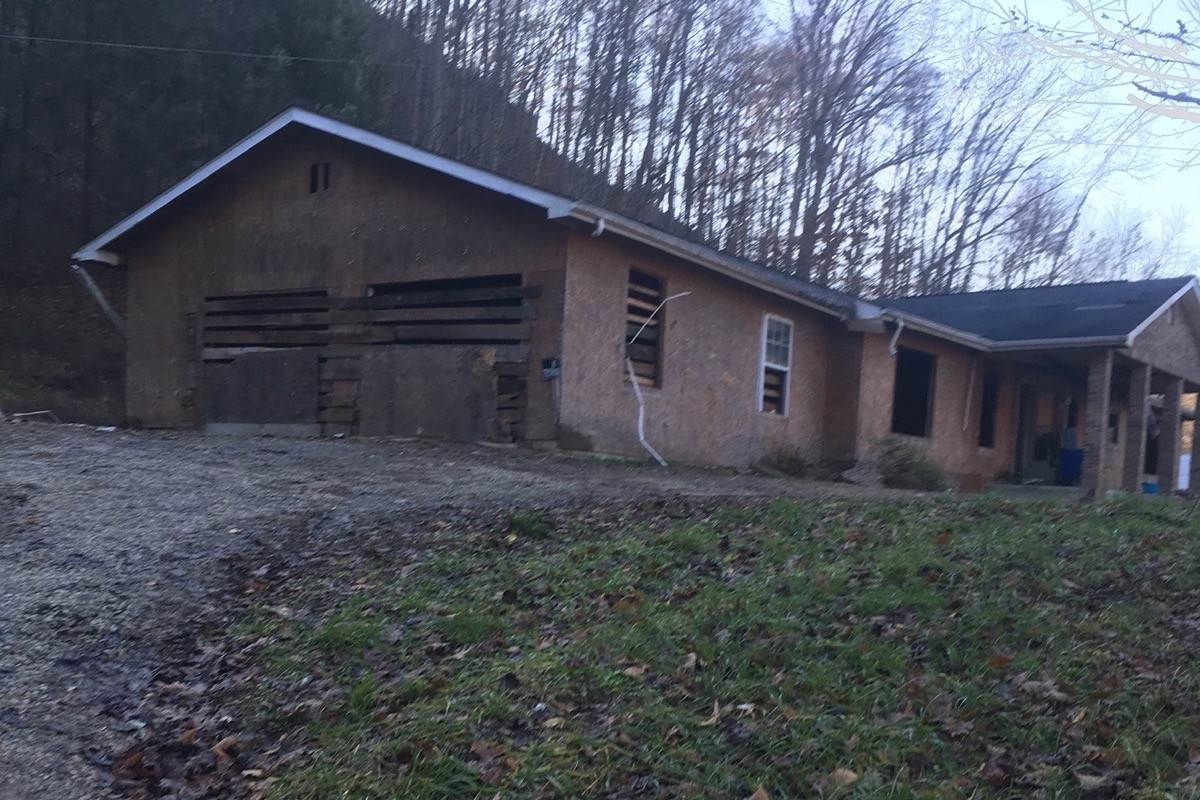 12-10-19 Hoarder Dog rescue situation
My name is Carla Bowen and I am a private animal rescuer in eastern Kentucky I had received a call from the owner that had acquired too many dogs and with reproducing and everything else it got out of hand on 12-8-19 he reached out to me and surrendered 8 dogs that would leave him with five dogs. Currently the dogs are living in a garage with pallets over the windows exposed to the cold there's concrete floors in there which is very cold they have no dog beds no dog blankets no dog food bowls no water bowls they are need of dog food treats. There's also a puppy on this property that could use some puppy food and some wet puppy food until it can get a little bigger to be able to eat regular food as he was just weaned. We have already raised enough money to get 2 spays done and one Neuter will we make an appointment soon. The other 3 on property are already fixed. we are just trying to give these dogs something that would make them more comfortable and life easier. I have went and bought the six ply plastic to go out in the next few days and put plastic over the windows to try to make some type of windbreak, to try to make it warmer in there. This is an ongoing case and working with the owner closely. If you would just rather order something and send it directly to the address, you can PM me and I will give the address to where the items need to go. If you would like to order from tractor supply or Walmart our closest one is Paintsville Kentucky. He did surrender eight dogs, so that's a start and again this is an ongoing case. Any amount helps from a 5.00 to 20 I know it's Christmas time and times are hard but let's all come together and find it in our hearts to get these dogs things They need please any questions or would like more details about the case please PM me and I will explain them to you.
I have created a amazon wish list for the case it titled helping the hoarding dogs.
Amazon wish list: https://www.amazon.com/hz/wishlist/ls/1KBF91I8G1L6Q?ref_=wl_share&fbclid=IwAR1Kk82Qlq1OxmXeA0Y9e7w6u7R7-HZQTIrnIdGviok49TIKuxuFzA0O6eM
The Dollar Club paypal: thedollarclub@yahoo.com (for hoarder dogs)
Mailing Address: TDC P.O. Box 116 Hereford, Pa 18056 (for hoarder dogs)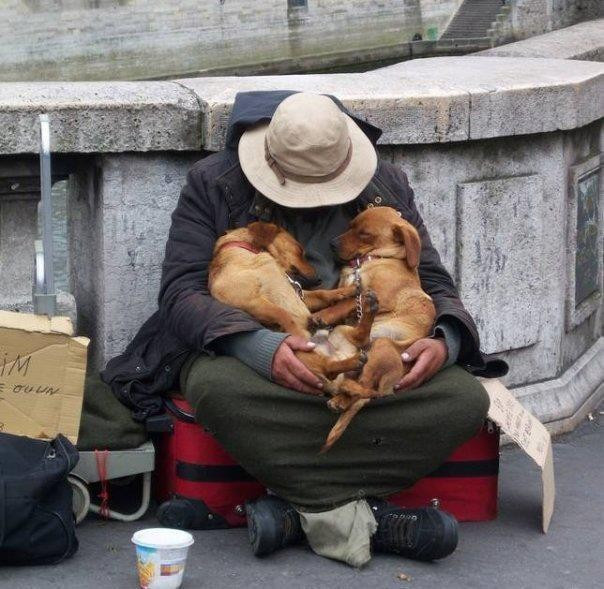 12-12-19 Supplies for the homeless with pets
Lisa Jewel Donahue is with Stacey Moore. Hey listen up!!! My rescue Warrior friend and I are going to be taking off Christmas Day to head out to the streets of the homeless animals and people and you know those big Orange Gatorade coolers that people have at soccer practices and football games, well we would like to know if we could borrow a couple for coffee and some hot Cocoa. I know that I could buy them from probly Sam's but I'm asking if anybody has 1 or 2 that we could borrow for the day. And any donations of blankets or toys for the children, stuffed animals or dog food, or BATTERIES, SOCKS that we could pass out, Straw,.... that day would be appreciated. Please let us know Thanks.
The Dollar Club paypal: thedollarclub@yahoo.com (for homeless)
Mailing Address: TDC P.O. Box 116 Hereford, Pa 18056 (for homeless)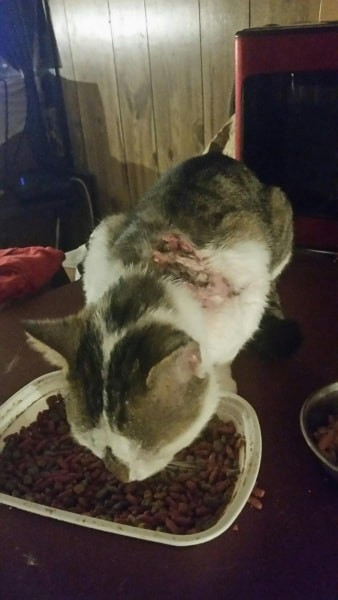 12-15-19 Stanley - cat with bad injury
Rowan County Cats & Kittens need your Help is asking for donations.
Poor Stanley was taken to the Rowan shelter as a stray a couple of months and treated for an abscess. A kind person gave him a home but he has developed another infection/abscess on his back. Please help us raise funds to take him to the vet tomorrow to figure out the cause and get treatment. . I do not know how much will be needed but setting initial goal of $300.

Whiskers & Paws Vet: 704-213-1403
The Dollar Club paypal: thedollarclub@yahoo.com (for Stanley)
Mailing Address: TDC P.O. Box 116 Hereford, Pa 18056 (for Stanley)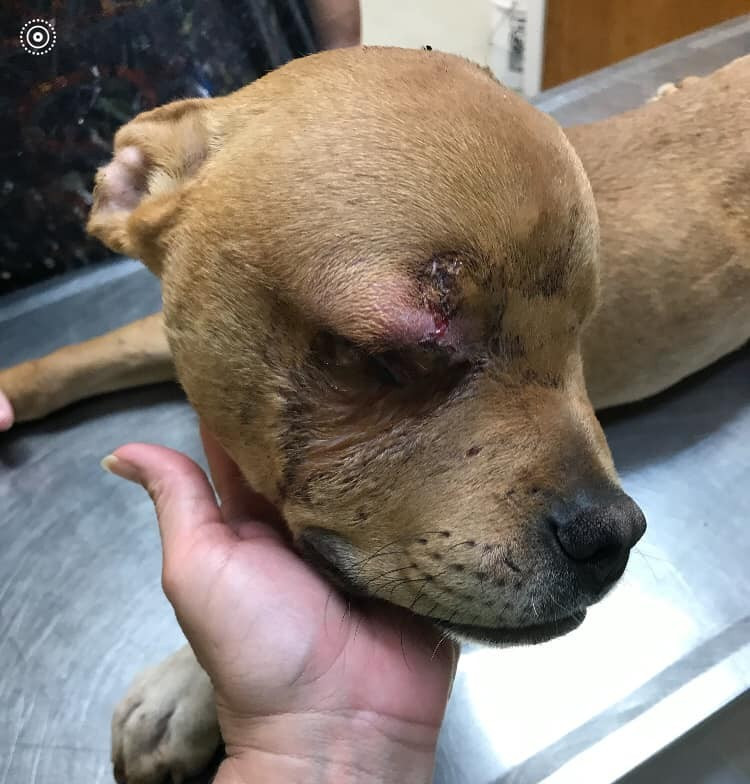 12-16-19 Bait puppy with injuries
LaMa Animal Rescue
Sometime before 8am Sunday, December 16 someone dumped 3 puppies approximately 6 months old at an oil well site on Timothy Church Road in Springhill, Louisiana. Only one is alive today. Someone shot two of them in the back of the head execution style and attempted to kill the other one. These poor puppies had been in a dog fight and they were so torn up that the pictures are too graphic to post. They have bite marks and tears on their groin area, faces and all of their limbs. The male has a significant amount of swelling, puncture wounds and gashes on his face and head. The female has small fragments of shredded wood in her mouth. There's no telling what these two puppies endured. It is possible that these dogs were used as dog fighting bait dogs but we can't be sure. It appears that their teeth might have been altered. Their bodies were found laying on a large flat box that had been folded over on them. There were several bullet casings laying around the area and a blood splatter where one of them had been shot. The puppy who survived has a severe eye injury and swelling in his head. He has been named "Trooper". It appears that he was also shot and the bullet thankfully missed it's mark. He was admitted to Mcmahen Veteranary Clinic last night and was given antibiotics and pain meds to keep him comfortable through the night. Dr. Scott plans to relieve some of the swelling this morning and we will know more about his injuries then. Funds are low and we need help... If you want to donate towards Trooper's medical bills and cremation of the other two puppies please call McMahen Veteranary Clinic at 318-539-5114 during regular business hours and ask to donate to the "LaMa Rescue" account. Any help is greatly appreciated! They were all relatively healthy pit mixes and somebody had loved them because Trooper is a sweet, loving puppy even though he is in pain. Webster Parish Sherriff's Dept was notified and they did come to the scene and collect evidence. They identified the caliber of gun that was used. The address label had been torn off of the box but there was some other identifying information on it. Special thanks to Dru Dodson who took Trooper home with her until we could get him to the vet and to Karla Dodson who alerted Michelle to the situation.
McMahen Veteranary Clinic at 318-539-5114 (LaMa Rescue)
The Dollar Club paypal: thedollarclub@yahoo.com (for Bait Puppy)
Mailing Address: TDC P.O. Box 116 Hereford, Pa 18056 (for Bait puppy)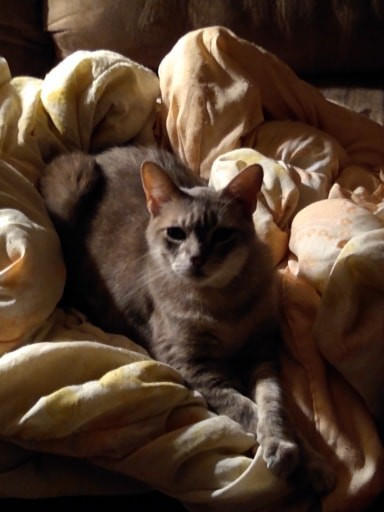 12-17-19 Boo - very ill cat
This is Boo and I've had him since he was a kitten and he's 16. He needs to go to the vet, but I can't afford to take him. I just incurred an $1800 car repair bill! He needs to have his kidneys checked. He's peeing and pooping everywhere except in his cat box and throwing up.
Vet: Hawkins Pet and Exotic Animal Clinic 903-769-2331 (under Brenda Bland)
The Dollar Club paypal: thedollarclub@yahoo.com (for Boo)
Mailing Address: TDC P.O. Box 116 Hereford, Pa 18056 (for Boo)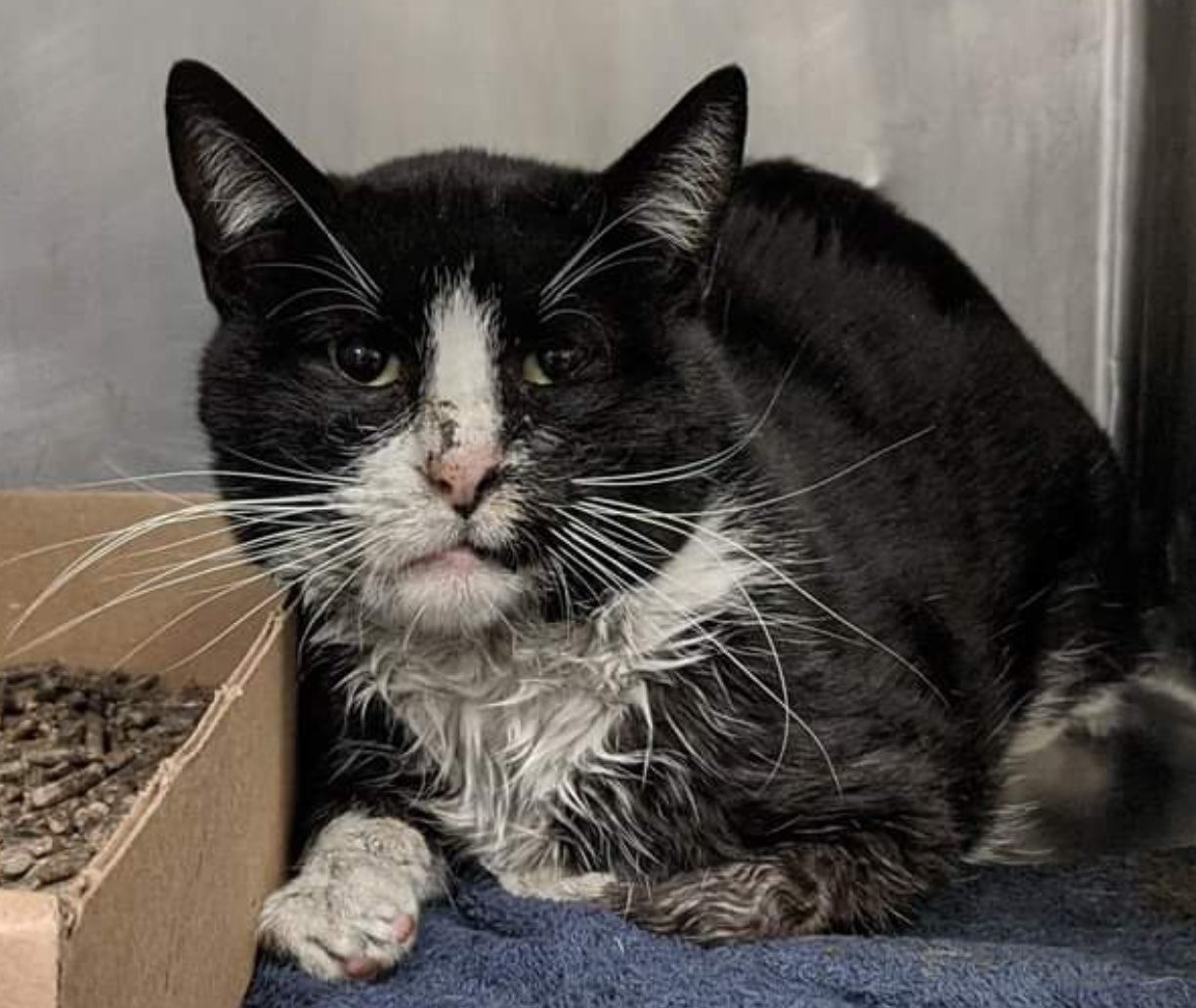 12-17-19 Crow - very ill cat
Be Sun created a fundraiser for Feline Rescue of Staten Island Inc. Crow #82444 was found on the streets of NYC disheveled, dirty, and limping. A Good Samaritan brought him to the NYC-ACC shelter, where he was diagnosed with anorexia, kidney disease, dental disease, and an ulcerated paw. It is believed that Crow was hit by a car. Furthermore, Crow tested positive for FELV, which is oftentimes a death sentence for shelter cats. While at the shelter, Crow was shutdown and scared. Staff would find him crouched in the back of his kennel pressed against the wall. However, this shy boy allowed some attention and petting along his head with a slow and kind approach. On December 1st, Crow ended up on the At Risk List for euthanasia. Yet no one wanted him. Thankfully, on December 3rd, he was re-listed a second time. A 2X listed FELV cat that no one wants is at extreme high risk of being euthanized. Knowing the high risk that FELV cats like Crow face, on December 5th, Feline Rescue of Staten Island (FROSI) pulled Crow. The following day, I drove this adorable tuxie to the vet's office. The vet later examined Crow and discovered that his ulcerated paw wound was not only showing signs of necrosis, but was so deep that surgery was necessary. On December 9th, Crow underwent surgery. Not only was Crow's paw in need of surgical repair, but while under sedation it was discovered that he also had such severe dental disease that four teeth needed to be removed. Crow has been at the vet's office now for ten days, healing from his surgery and receiving care. I visited him yesterday. He is still scared and shutdown and needs to remain at the vet's office for a few more days to have his drain and stitches removed. The cost of his care is now at $1500. Considering the number of cats that FROSI pulls, $1500 is an extraordinary cost for a small rescue group. I am setting this fund for $2000, to factor in the next few days' stay and follow-up care. Please consider donating to Crow's care. Even $1 helps. In lieu of buying more stuff this holiday season, please consider honoring a favorite pet or loved one with a donation. Please do not forget about this boy now that he is no longer on "The List."
Within the next few days, Crow will be going to his loving foster home, where he will spend the holidays. However, he is still in need of a forever home. If you would like to give this shy boy a chance, please PM me or Feline Rescue of Staten Island. Thank you. Meow.
Vet: Animal Clinic of Hollis Court #718-225-9600. He is listed under the rescue group Ready For Rescue
The Dollar Club paypal: thedollarclub@yahoo.com (for Crow)
Mailing Address: TDC P.O. Box 116 Hereford, Pa 18056 (for Crow)
12-19-19 Omally - cat with hole in belly (Abscess?)
Hi i came home tonight to my cat having a huge hole in his stomach and i cant tell if he has been attacked or something done from a person i dont get paid till friday and needs to be seen now i could donate back to you when i get paid thank you for taking the time to read this. I have a vet appointment at 8. **UPDATE** They are keeping him cause he needs dead tissue tooken off and stitches
Linn veterinary hospital: 541-926-0291
The Dollar Club paypal: thedollarclub@yahoo.com (for Omally)
Mailing Address: TDC P.O. Box 116 Hereford, Pa 18056 (for Omally)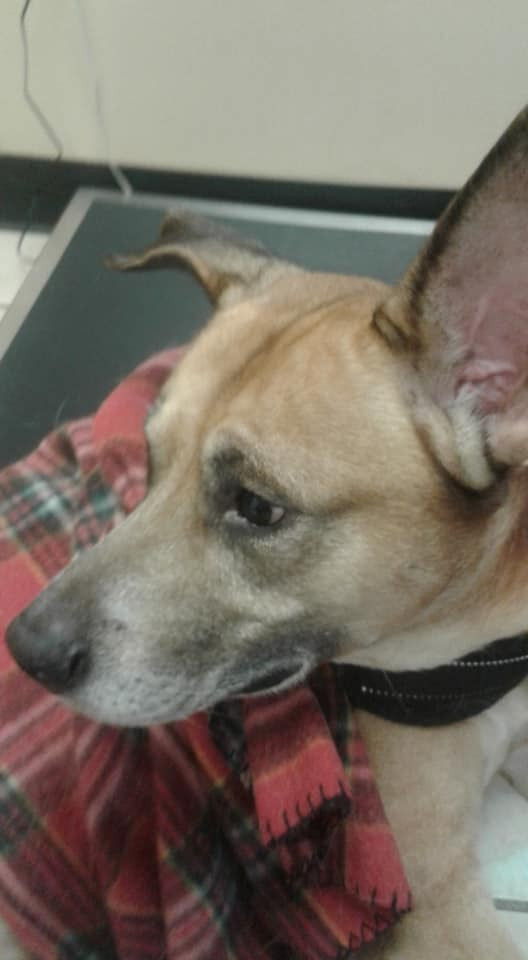 12-19-19 Dozer - very very ill dog
This is hard for me to do as I am not the kind to ask for help. I care for my ferals and we get by with what we have. But my sister is a different story and it is crushing me watching what she is going through. She is a single woman on SSI and does not leave her home. She has been a shut in for years with her dogs as her companions. She loves her dogs very much. But about a month ago she woke up to her dog whining and found he didnt have use of his back legs. She lives about 2 hours from me, but i went up and took them to the vet. She does not drive and is reliant on others if she needs to leave her house. The vet prescribed prednisone and recommended an xray to check for fracture, but she could not afford the xray and there seems to have been nothing to cause injury. Dozer, her dog, was frustrated that his back legs didnt work, but otherwise was still trying to pull himself around and was full of life. Over the past month he has not regained much use of his legs. One leg has recently become somewhat response, but not to a weightbearing degree. However, with her very limited resources she has struggled to keep him clean and with her lack of physical activity for years she isnt in the kind of shape needed to ongoingly be nurse to her dog. She has very few towels, sheets, blankets. She does not own a dryer. She washes things and hangs them to dry. Dozer needs help being moved into position to go to the bathroom and sometimes does not have control of his bowels or urine. He was a very well trained dog and he does everything he can to give warning and to get out of the mess and he noticeably feels bad for being in the shape he is in. He has developed bed sores that she is struggling to keep clean. She has been using puppy pads when she has them and has been hand bathing him multiple times a day, every time he soils himself, but the sores are not getting better. This past week he developed a problem with his eyes and seems to have lost some sight. She is feeding him by hand now and bringing the water bowl right in front of him so he can drink. She knows she doesnt have the means and ability to care properly for him, nor the money to get him help. Everyone has been telling her to put him to sleep, but she loves her dog and the vet has not recommended that. The vet doesnt think hes terminal, but her lack of finances may cost his life. He is a very loving dog and i am admittedly very attached to him, as well, though i have no means to help. My sister hates herself right now and is desperately seeking anyone who may have feel compelled to save her baby. She understands she can not save him and is looking for anyone who may be willing to take him in and fight for him. I fear he doesnt have a lot of time before his situation becomes hopeless. If anyone would be willing or able to help this dog, please contact me. ***UPDATE*** Sadly Dozer has been up crying all night, i found out this morning, and my sister is concerned he wont make the day. We are hoping to get him in today, but fear the worst at this point. My sister tells me this morning his eyes went red and milky and he is clearly in pain. Im working to get transportation to go up there and im going to call to try to get an appointment today asap. Im scared and sad for him. Im so grateful for your heart and your group and all your efforts to help animals. I will continue to post updates as the day progresses. Thank you for caring! ❤
***UPDATE***Unfortunately Dozer is no longer with us. They now believe it was a spinal tumor and he had cancer. His deterioration was too much to overcome. The cost was 230, with burial. We couldnt have done it without your help, so thank you for making that moment easier for us. I dont know what we would have done. Sorry for the bad news. We arent doing too well over here, but at least he is no longer suffering.
Plattsburgh Animal Hospital. (518)566-7387 (Dozer under Paquette)
The Dollar Club paypal: thedollarclub@yahoo.com (for Dozer)
Mailing Address: TDC P.O. Box 116 Hereford, Pa 18056 (for Dozer)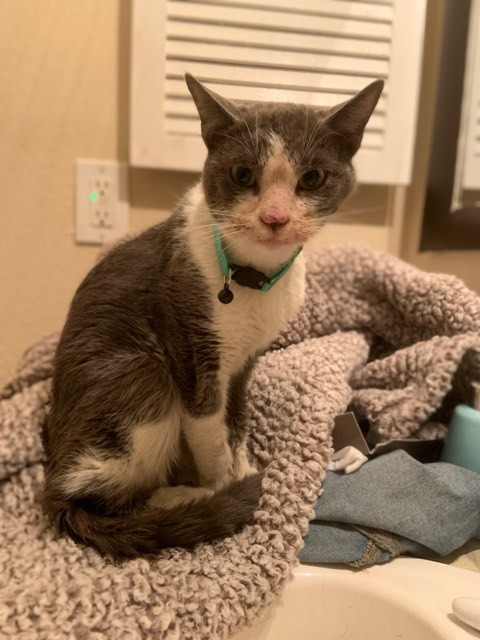 12-21-19 Stray Cat needs vet
Hi someone has told me to reach out to you for help. We have found a cat that had blood around her nose and mouth and took her in from the cold. We tried to clean her up and feed her. But she's not eating and we can clearly see she needs a vet but we can't afford it. I don't want her to suffer. Is there any way you can help. It took him a few days til he ate and does a weird mouth thing when he tries. **UPDATE** Went to the vet: They said all Of his injuries are from old fights he was inTeeth and jaw are fine He does that weird mouth thing because he has a "sore throat. They gave him a shot of convenia. They want to see him back in a few weeks
The Dollar Club paypal: thedollarclub@yahoo.com (for Stray)
Mailing Address: TDC P.O. Box 116 Hereford, Pa 18056 (for Stray)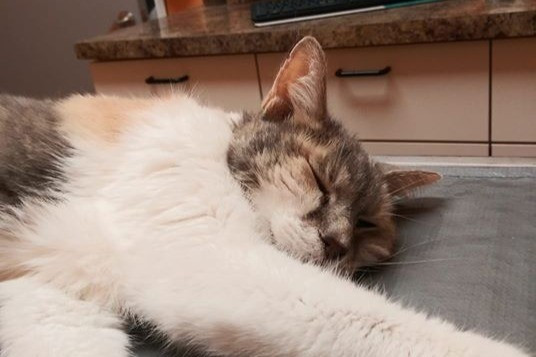 12-23-19 Kiwi - very sick rescue cat
Kiwi is a kitty that I took in several years ago from an older gentleman and his older son. There was substance abuse involved and Kiwi was not being taken care of properly, and the situation was rather urgent. She was spayed and updated with her shots at the time I took her in. I had tried to find rescue at that time, but it was at the height of kitten season and no one could take her. She had suddenly stopped eating and drinking a couple of days ago and was getting dehydrated and lethargic, so I took her to Rock Road Animal Hospital to be examined. Her heart rate was up, she was dehydrated, but temp was normal. Blood work was pulled and they found that she had a very high liver value and was anemic. She also has a lump on her tummy. Rock Road AH suggested that she go to VSS for further care. She was admitted to VSS yesterday, and is being treated with supportive care and to treat for any possible infection, including IV fluids and antibiotics, anti-nausea meds and appetite stimulant. They are hoping to see her anemic level stabilize. If it continues to decline today, then the thought is that this is more than some type of infection. They are recommending an ultrasound be done on Monday. She did eat for them last night around 11pm. Kiwi is such a sweet kitty, and I want to be able to ensure she gets all the care needed to get a diagnosis and treated so she can fully recover. I will be so grateful for any help that can be provided to help me help her get to that point. VSS does not allow direct donations. (Ramona, from The Dollar Club called the vet and they will take donations from her group only because she is a 501c3, so if you wish to donate, see below for donation instructions)
The Dollar Club paypal: thedollarclub@yahoo.com (for Kiwi)
Mailing Address: TDC P.O. Box 116 Hereford, Pa 18056 (for Kiwi)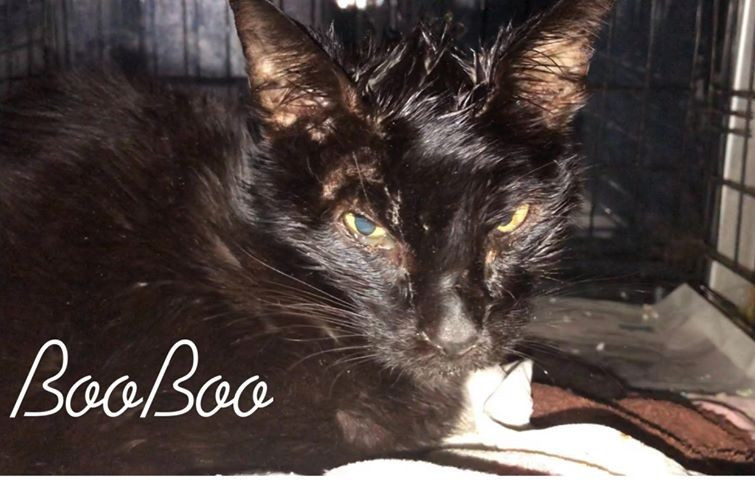 12-23-19 BooBoo very sick kitten
I meet BooBoo last night The lady who was fostering another kitty I was trying to find a home (Cupid) found this poor kitty recently. BooBoo is in bad shape and the lady has no money to take to the vet so she used a few ointments she has but BooBoo needs medical attention ASAP. I was told part of his fur is detached from his skin He will for sure need bloodwork, an antibiotic shot, to be tested and it appears this kitty may not even be operated. I can adjust the sum needed but for now I'll estimate $400 and reduce or increase it after he gets seen. We need to secure some funds so we can make an appointment. Please help BooBoo
Laguna Isles Animal Hospital: 954-434-8654 (under Susan Jorquera for BooBoo)

The Dollar Club paypal: thedollarclub@yahoo.com (for BooBoo)
Mailing Address: TDC P.O. Box 116 Hereford, Pa 18056 (for BooBoo)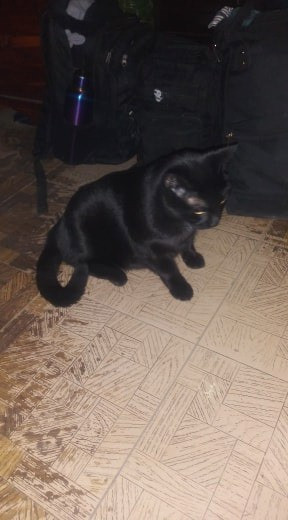 12-26-19 Black cat with injured leg
INJURED! WHEN SHE MOVES, SHE GROWLS & WHINES IN PAIN. If you don't hear it, turn up volume. Help needed! Garden Grove, Orange County. Needed: Orange County community resources, rescue people, and/or funding that can help a cat with an injury or other medical condition. The cat's owner has had hardships and has no money. He had been away from home, just came back to find his cat has a swollen leg and is in pain. Can you recommend anyone that could help the cat or even recommend someone to help find help for her? I need help for this cat.


Vet: Katella Animal Clinic: 714-535-6791 (Accnt # 38929)
The Dollar Club paypal: thedollarclub@yahoo.com (for Black cat)
Mailing Address: TDC P.O. Box 116 Hereford, Pa 18056 (for Black cat)
12-27-19 I was contacted about someone needing help with cat food. They recently had to go to the vet for an emergency and spent all their money at the vet office. They had no more left to buy food. TDC had some sent that should last a few months. Kitty is doing well.
The Dollar Club paypal: thedollarclub@yahoo.com (for cat food)
Mailing Address: TDC P.O. Box 116 Hereford, Pa 18056 (for cat food)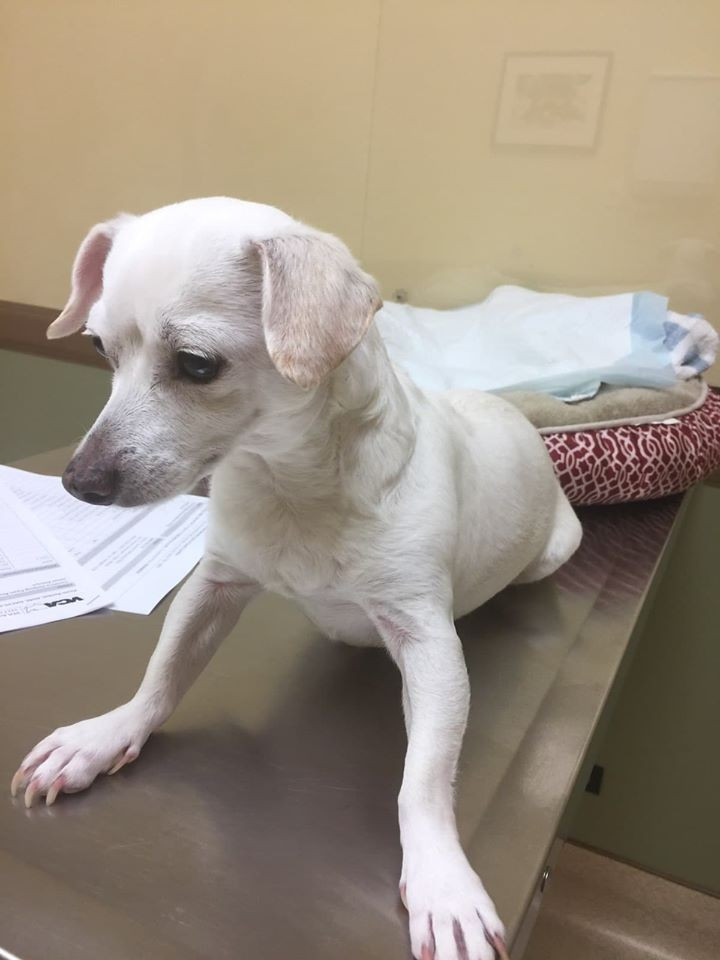 12-27-19 Bella - injury to back end
ALL HANDS ON DECK! ITTY BITTY GIRL NEEDS THE VILLAGE! POOR LITTLE BELLA CAN'T STAND OR POTTY. EMERGENCY SURGERY NEEDED TO KEEP HER ALIVE! $1400 DOWNPAYMENT REQUIRED BEFORE THEY'LL START SURGERY-SHE GOT A SHOT FOR PAIN AND WAS TAKEN BACK TO HER FOSTER HOME UNTIL WE SEE IF THE FUNDS FOR THE SURGERY CAN BE RAISED. SO SAD THAT THIS SWEET LITTLE GIRL'S LIFE DEPENDS ON MONEY!!! Please help. Two and a half year old Bella was recently saved from high kill shelter narrowing escaping death then and now she faces it again. She needs all of us to help. This sweet little girl is Basically paralyzed and cant urinate on her own. She has NO FEELING IN HER BACK END, SHE CAN'T STAND OR GO POTTY. The vet is pressing on her to relieve bladder. We don't know for sure what the cause of this is because she was recently pulled from the shelter but it could have been caused by repeated trauma that led to deterioration over time. So the rescue suspects she may have been abused. Repeatedly kicked or hit. Makes you want to cry for her. She had a consultation at VAC in Columbia. Rescue needs $1400 downpayment for surgery. Total surgery will be between $3800 and $4600. Please share. DONATIONS desperately needed to save this girl.
Vet: VCA Animal Specialty: (803) 798-0803 (for Bella under Carolina Helping Paw Rescue)
The Dollar Club paypal: thedollarclub@yahoo.com (for Bella)
Mailing Address: TDC P.O. Box 116 Hereford, Pa 18056 (for Bella)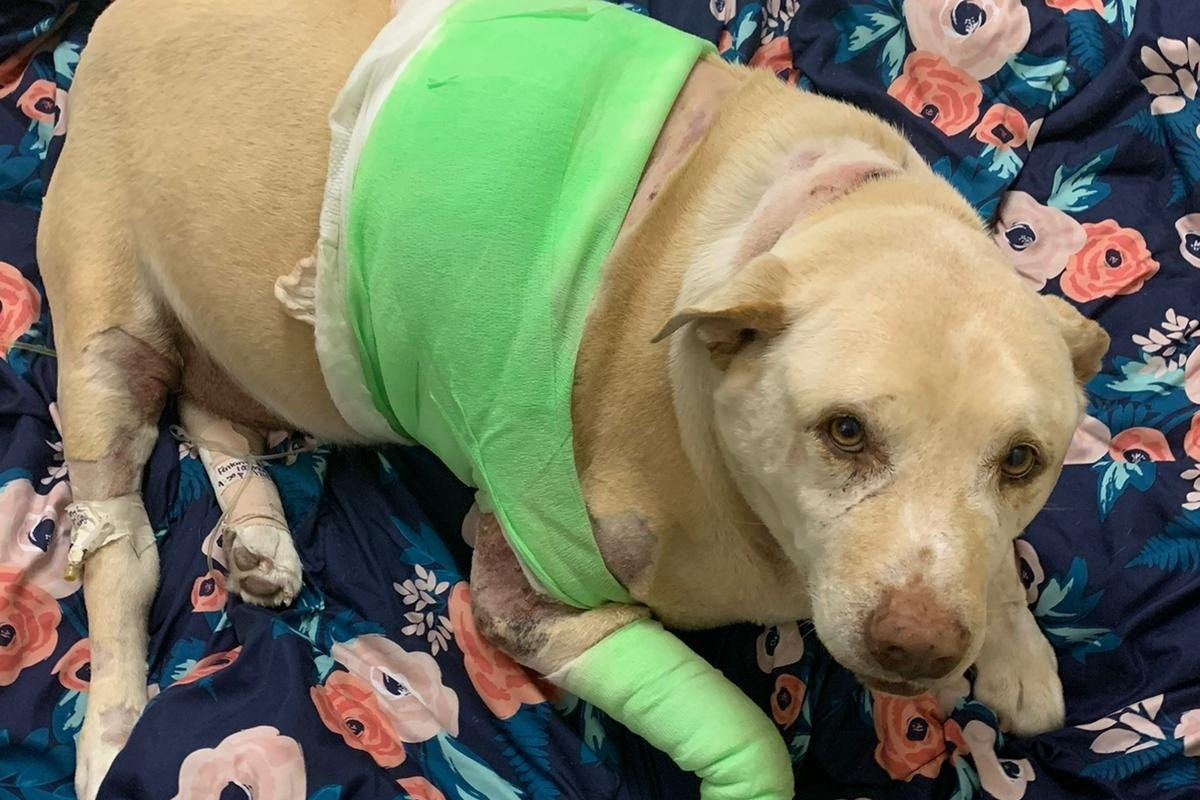 12-27-19 Cheese - dog attacked by other dogs
Anyone that has a pet can understand the pain of having to make a decision of putting a pet to sleep. Cheese is an 8 year old sweet Lab mix pit. He was attacked by 2 dogs. These dogs tore a big chunk of Cheese back side, they cut a large area of his groin and they also lacerated his right front leg. Cheese has punctures all over his face and legs, where he was bitten multiple times.
We have paid Two thousand five hundred, for is current stays at the Emergency veterinarian. Its estimated that his bill will raise to $5,000 more. Please donate, even if its just $1. Cheese has been with our family ever since he was 4 months old. The Dr. says he will be fine but if we can not afford to continue his treatment, it would be inhumane for us to keep him living in pain. Please help with what you can, we do not want to make that decision. Thanks-you for your time
Triangle Veterinary Referral Hospitals (919) 489-0615
The Dollar Club paypal: thedollarclub@yahoo.com (for Cheese)
Mailing Address: TDC P.O. Box 116 Hereford, Pa 18056 (for Cheese)