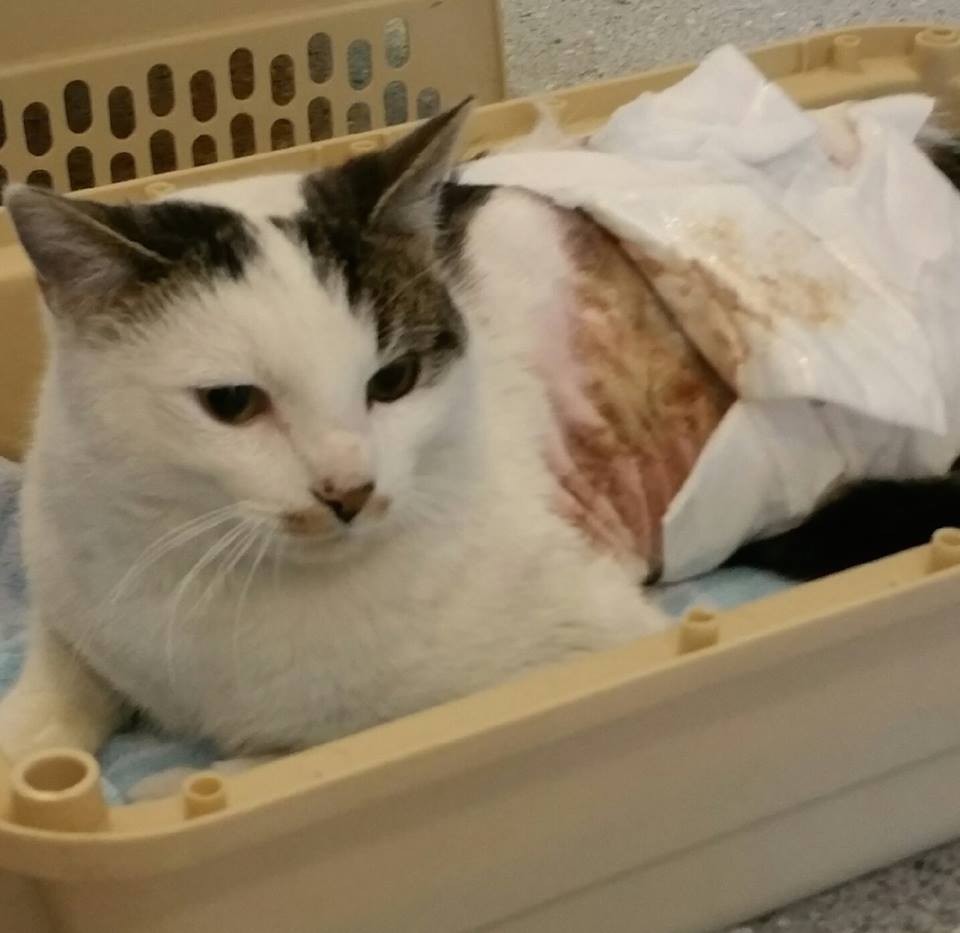 2-10-16 Driver - kitty burned with boiling water
To everyone who has been anxiously awaiting an update on Driver, the innocent cat who was doused by a pot of boiling water, we are beyond relieved to share he has been released from animal control and is finally in our care. Heather was able to personally bring him to Felines & Canines early this afternoon where we were able to assess his condition and immediately transport him to our vet. Driver has massive burn wounds to his back, sides, belly, chest and legs. He is currently being hospitalized on heavy doses of antibiotics, pain management medication and IV fluids. His wounds are being debrided in an attempt to ward off infection and increase skin regrowth. He will then begin a regimen of laser therapy to assist his body with the healing process. During this time, he will remain hospitalized until he is stable and healthy enough to return to our care. We promise to keep you posted as we receive updates from our vet. While our hearts are heavy for the suffering that Driver is experiencing this very moment, we are uplifted by the outpouring of support and collective outrage that the public is expressing on his behalf. Sometimes we need someone as evil as Leon Teague to show how swiftly and fiercely thousands of us can ban together to fight for the innocent. To Heather and all who supported her on Driver's road to rescue and recovery - THANK YOU. We are blessed to have people like you in this world.​​ (They are a 501c3)
Paypal: http://www.felinescanines.org/donate/ways-to-donate/
Mailing address: Felines & Canines 6379 N Paulina St Chicago, Illinois​​​
Paypal: thedollarclub@yahoo.com (for Driver)
Mailing: The Dollar Club P.O. Box 4253 Bethlehem, Pa 18018 (for Driver)​​
2-10-16 Peanut Blocked kitty
While at the vet I saw a woman there with a kitty who was blocked. She was very upset because she didn't have enough money to pay to have him unblocked. I offered $100 to the vet to help her and they accepted as payment in full.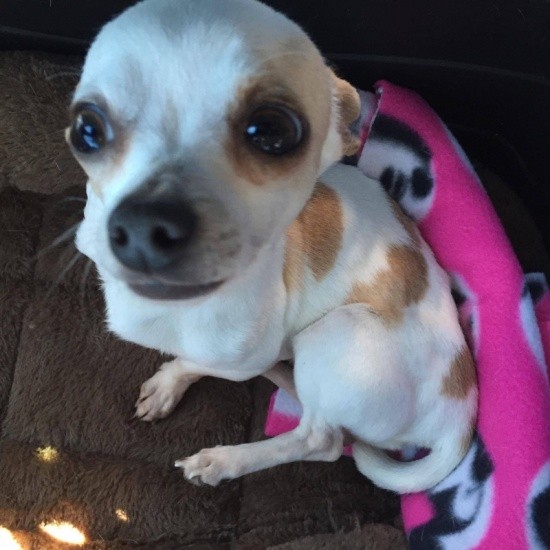 2-10-16 Sampson - Dog hit by car with crushed pelvis
​​​Sampson was hit by a car and ended up at an animal shelter in horrible pain, unable to walk. House of Meows got him out of the shelter, but we need your help getting Sampson back on his feet (literally!). X-rays have revealed that Sampson's pelvis is crushed. We have sent Sampson's x-rays all over town to every surgeon we can find willing to talk to us. Sampson's pelvis is in so many pieces that some of the surgeons that have looked at it have stated that the damage is too extreme, a "train wreck", and recommended euthanasia. But, we found a wonderful organization, Mazie's Mission, that is willing to do the surgery, and at a reduced cost for the rescue. Sampson needs a two-day surgery. On Day 1, they will fix the left side of his pelvis with plates. On Day 2, they will fix the right side with plates and do a Femoral Head Ostectomy on his hip. Sampson needs this surgery ASAP, so he needs funds raised fast! He lives in constant danger of a bone fragment shifting and puncturing an organ, like his colon.
Sampson is currently resting in a kennel, where his movement is limited to prevent further injury. His pain is well-managed. He eats well and is having good bowel movements. Overall, his prognosis following surgery is good. House of Meows - Home Rescue is a 501c3
​
Paypal: https://www.crowdrise.com/helpsampson​
Mailing address: House of Meows Rescue PO BOX 122170 Arlington TX 76012 ​
Paypal: thedollarclub@yahoo.com (for Sampson)
Mailing: The Dollar Club P.O. Box 4253 Bethlehem, Pa 18018 (for Sampson)​​​
​​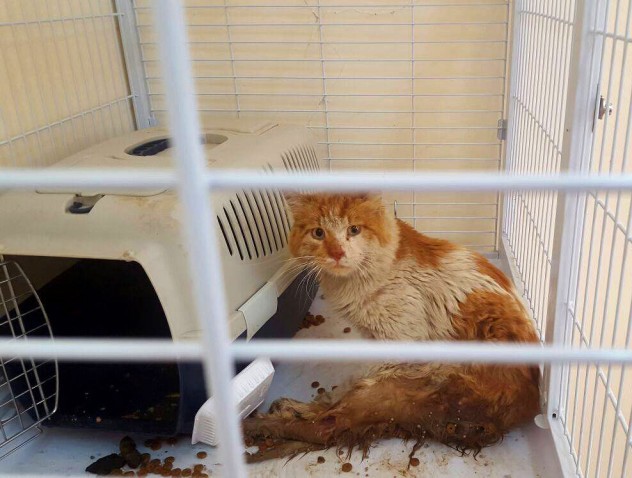 2-15-16 Star and Blue - 2 badly injured cats from Saudi Arabia
HOW FAR WOULD YOU GO TO SAVE A LIFE?
Thousands of kilometers from the nearest fully equipped veterinary clinic, Star and Blue were about to lose everything. Rescued in a small provincial town in Saudi Arabia, with no access to X-rays, blood tests or other necessary medical resources, limited veterinary assistance nearby and overwhelmed local fosters — their injuries sentenced them to certain suffering and probable death without help. When we first looked into their mournful eyes, these two babies were as good as dead. The two cats are in urgent need of evacuation, examination and stabilization. A proper diagnosis must establish the extent of their injuries so treatment can be planned. Blue's paralysis leads us to suspect a spinal injury and possible spinal nerve damage or compression. If the nerves are simply compressed and not severed, emergency surgical intervention could help prevent Blue from becoming paraplegic and forever losing the use of his hind legs. Star's injury could be anything from physical to nerve damage, and he may need either recovery treatment or amputation. CHALLENGING THE ODDS IN THE NAME OF LIFE. We have found two incredible people, willing to travel the daunting 2600 km round trip and take the kitties to a veterinary medical facility in Riyadh, where they can receive qualified medical care. Help us fund their trip, examination, diagnostics, treatment, hospitalization and future care! ​Lets Adopt Global is a 501c3​​
Paypal: http://blog.myletsadopt.com/2016/02/16/hope-for-blue-and-star/​
​(scroll to the bottom)
Paypal: thedollarclub@yahoo.com (for Star & Blue)
Mailing: The Dollar Club P.O. Box 4253 Bethlehem, Pa 18018 (for Star & Blue)​​​​
​
2-17-16 Blizzard - kitty with a broken leg
Kim Ferritto: I had a lady call me yesterday about a cat she had picked up off the interstate that had been hit by a car and couldn't walk. She was unable to care for him and asked me to help her. I had her take the kitty to my vet yesterday ad he is now under my account there I don't have any pictures yet. I have not met kitty yet but the vet told me he is a very sweet boy who cries for attention till he is picked up and then is very lovey dovey. He needs his rear leg pinned and to be neutered and if anyone can help me I wouyld greatly apprfeiate it! He is at the Wythe County Animal Clinic. Address is 210 Grayson Road, Wytheville, VA 24382. The vet clinic's phone number is 276-228-2322. The account name he is under is: Anthony Ferritto and the account number is # 12371. I appreciate any help whatsoever and lots of prayers for this boy.
Wythe County Animal Clinic. Address is 210 Grayson Road, Wytheville, VA 24382. 276-228-2322. The account name he is under is: Anthony Ferritto and the account number is # 12371.
Paypal: thedollarclub@yahoo.com (for Stray kitty)
Mailing: The Dollar Club P.O. Box 4253 Bethlehem, Pa 18018 (for Stray kitty)​​​​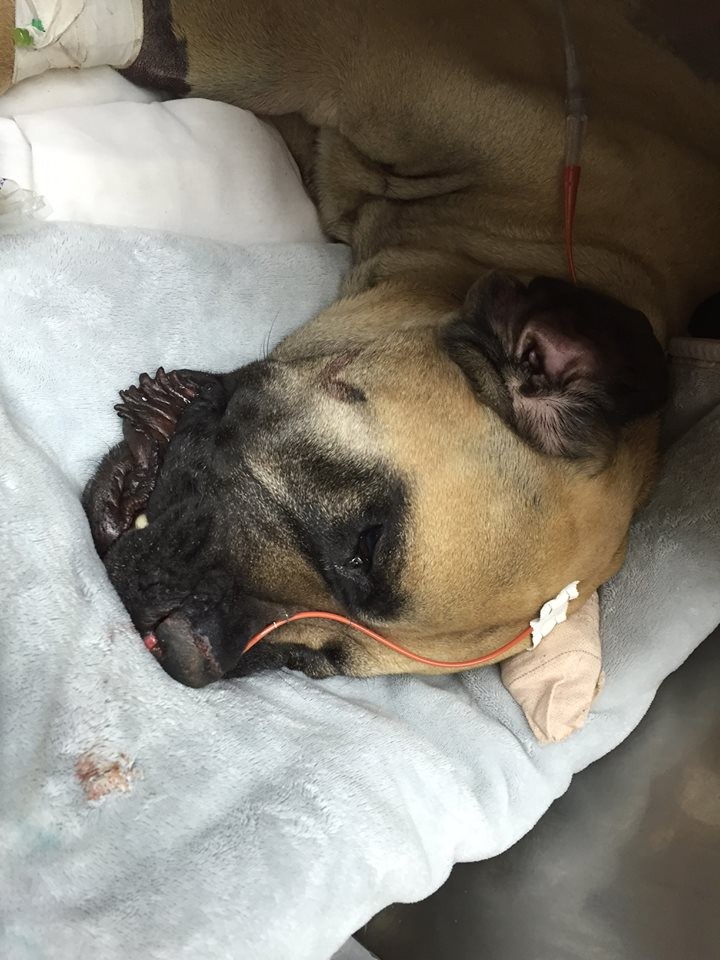 2-24-16 Michaela mastiff beaten and stabbed by owner
There is currently a Mastiff at my vet's office who has suffered tremendously at the hands of her "owner" and she NEEDS OUR HELP, DESPERATELY! This poor girl, named Michaella, was neglected to the point of the skin on her legs being turned to leather and sloughing off. Then, after she delivered a still born litter, she was beaten with a hammer and stabbed by the person who was supposed to protect and love her. My vet goes above and beyond to help all animals in need and Michaella is no different. She has been at Creature Comforts in Saylorsburg, PA for 2 weeks already, but her stay is indefinite. At this moment, she still is unable to stand, but she has shown a positive sign by starting to eat. Michaella has a very long, painful road to recovery ahead of her before she can be properly evaluated and placed in her forever home. Luckily she is a fighter and we are hopeful she will get there. I can guarantee she is receiving the best care possible and tons of love from the staff. I will be visiting her weekly and the hospital will be providing me with regular updates as to her condition, so I can share with you all. ***UPDATE the owner has been found, charged and other animals removed from his home.
Vet office: Creature Comforts PO Box 700 Saylorsburg, PA 18353​​ (570) 992-0400
Paypal: thedollarclub@yahoo.com (for Michaela)
Mailing: The Dollar Club P.O. Box 4253 Bethlehem, Pa 18018 (for Michaela)​​​​​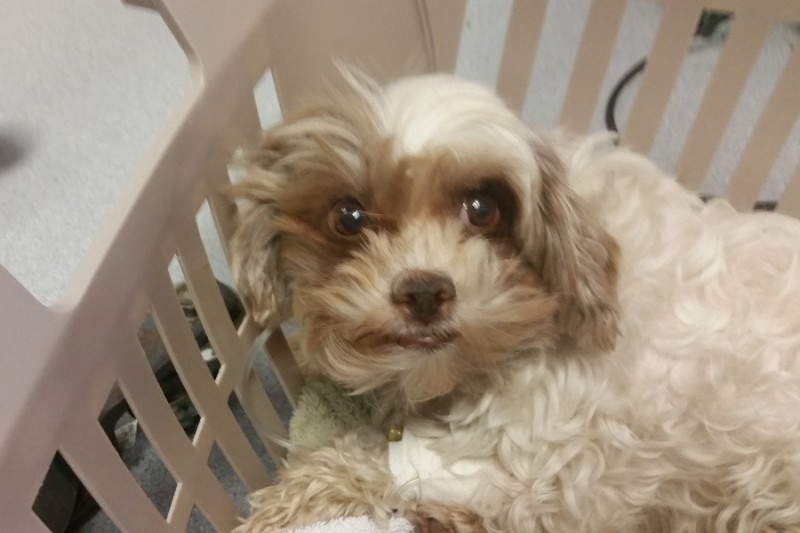 2-24-16 Isabella - stray dog hit by car
She was found on a major highway (Rt 22 near Macurthur) in the Lehigh Valley. We immediately rushed her to my vet because she had been hit and she is now stable but in a lot of pain. We have been unable to track down the owner. We are still waiting to determine how's serious her injuries are (currently a fracture to the pelvis). She is otherwise a healthy dog and we want to give her a chance to recover. **UPDATE: So, I picked this dog up from the vet, and the bill was $1477.65. Sadly, the vet did not give us a rescue discount, so even with the original $300 the bill so far is $1177.65 that we paid today. Isabella, her new name, is at a second vet to get a second opinion. The first vet' xrays were too blurry to be used and so we start again with xrays and monitoring care until we can determine what surgery will help this middle aged lady. If you can help, she/we would sure appreciate it. The Sanctuary IS a 501c3​
​
PayPal: https://www.facebook.com/The-Sanctuary-at-Haafsville-236062379784891/app/208195102528120/​​
Mailing address: The Sanctuary at Haafsville 901 Nestle Way Breinigsville, PA 18031
Paypal: thedollarclub@yahoo.com (for Isabella)
Mailing: The Dollar Club P.O. Box 4253 Bethlehem, Pa 18018 (for Isabella)​​​​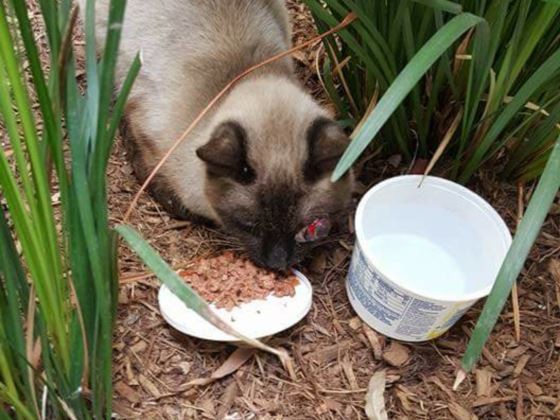 2-24-16 Thai - cat hit by car
​He was hit by car and a good Samaritan found him and tried to help but kitty was so injured he called animal control. Kitty had his left eye hanging from its socket and a severely broken and dislocated jaw. Kitty is safe with DREAM Animal Rescue now. Pulled from OC shelter on Sunday Feb 21. Kitty
had his eye removed at the shelter. Kitty will also need his jaw repaired.. The original estimate was around $500 but because that is for a basic jaw repair with no complications.He is emaciated as he is unable to eat with his severely broken jaw. He is being assessed by our vet today and will hopefully have surgery tomorrow! In spite of all his injuries and everything he has been though he is very sweet and loving and just wants scritches! He is purring up a storm too! We can't wait to get Thai feeling better! Thank you for your support! UPDATE: Unfortunately things are not going as hoped. What we thought would be a quick and easy jaw repair now will require an oral surgeon. The break is near the TMJ and our first estimate is over $4000. We need to fundraise or he will not make it! "He laps up what he can. He's been hospitalized mostly, they gave him some IV fluids and some nutrical but his mouth is so painful it's hard. He has been on buprenorphine. He doesn't eat much, can't really That's why he needs surgery asap. He's also anemic but we're hoping that's from flea anemia and the injuries. We are getting two estimates today, the first is $4000-$6000.
This boy is so sweet and loving in spite of all he's been through and the pain he must be in. I snuggled with him last night and he purred away and drooled all over me. Please, Please, Please help us save this adorable sweet boy! They are a 501c3
Paypal: dreamanimalrescue@gmail.com
Mailing address: DREAM PO Box 2432 Mission Viejo CA 92690
Paypal: thedollarclub@yahoo.com (for Thai)
Mailing: The Dollar Club P.O. Box 4253 Bethlehem, Pa 18018 (for Thai)​​​​​
​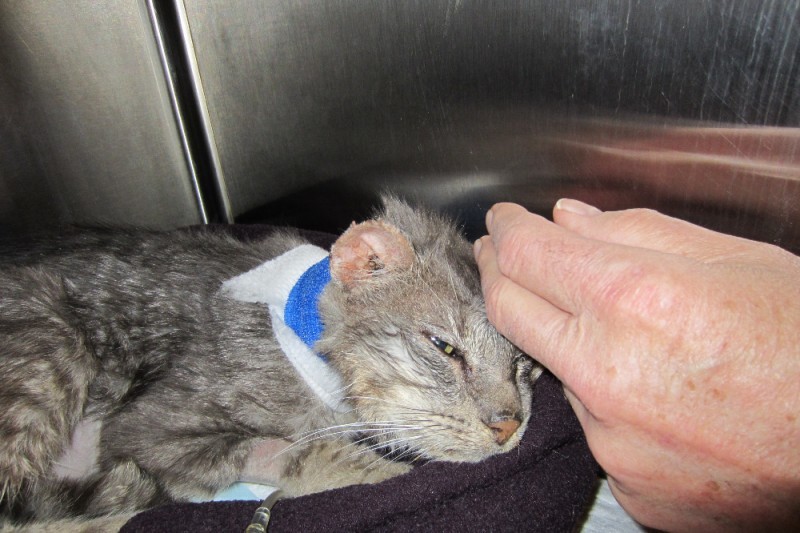 2-28-16 Hobo - very sick kitty
At SCOOP, Inc. we first heard of Hobo in 2009 from a woman who fed him outdoors. He and his brother had been abandoned as kittens. His brother was killed and Hobo was all alone and became feral while he continued to be fed outdoors. Hobo was trapped in October 2014 and was brought to SCOOP where he began a long recovery. His wounds and scars were extensive--only a half of one ear remained. He has fought mutliple health conditions from constant bladder infections, a huge neck wound and diabetes--all complicated by his FIV and feral status. Recently, Hobo approached us to be petted. We were thrilled that he tamed. Then during the week of February 22nd, he suddenly stopped eating and became very sick. Hobo remains in ICU at MedVet Cincinnati with a diagnosis of severe pancreatitis. At MedVet his care is $800.00 per day and his bill is curently $2,500.00. No donation is too small. Our hope is that Hobo will have much time finding out what life is like as a tame cat who is safe and loved. Thank you for supporting SCOOP's mission that every feline life--stray, feral or pet--matters and for your compassion toward Hobo!​​ (THIS IS A 501c3)
***UPDATE: sadly, dear Hobo has passed, his ravaged body could no longer hang on.
​
Fundraising page: https://www.gofundme.com/6crhuw9g​
Address: SCOOP, Inc.;P.O. Box 46624; Cincinnati, OH; 45246-0624​​
Paypal: thedollarclub@yahoo.com (for Hobo)
Mailing: The Dollar Club P.O. Box 4253 Bethlehem, Pa 18018 (for Hobo)​​​​​
​
​
​​
​​​​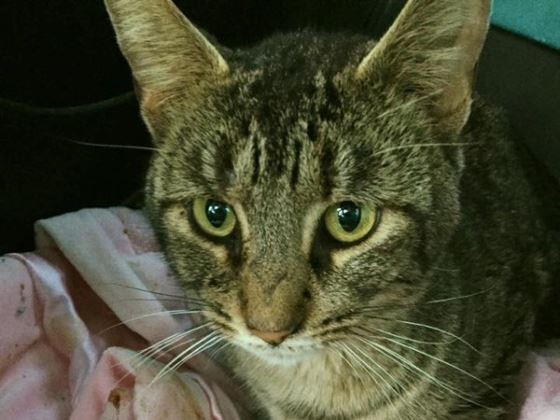 2-29-16 Toby attacked by dogs
This is the story of a brave kitty named Toby. Toby was attacked by a dog. The wounds were so deep on his back, Toby could barely walk around. He was in a lot of pain. He eventually found a corner to huddle in and hung on to his own dear life. One rainy day, he was discovered by animal control. They brought him to their facility. After a couple of days in his kennel, he was rescued by Averting CAT-astrophe, inc. They rushed him to the emergency vet. Bloodwork, X-rays, Fiv/felv testing, and he had surgery that night. Blood work showed liver and kidneys were good. He is anemic from all the blood loss and from being malnourished. X-rays came back good. He tested negative for both Fiv/felv. They put in drains. The worst puncture was very deep and contained a lot of dead tissue. They were able to stitch around it and put special gauze wrappings on that will help pull the skin together. The wet to dry bandages will have to be changed every 24 hours. He will have to be under anesthesia each time due to pain. A lot of his skin was necrotic and had to be removed There was not enough skin left to close the wound. Toby is a very sweet kitty and he just wants his life back. Help us give that to him. The total amount of all the bills including his 14 day stay will be $5100. A group of wonderful people have donated $2695 to Averting CAT-astrophe to help with Toby's bill. That leaves $2405 left to get Toby back on his feet again. We are a 501c3 and all donations are tax deductible.​​
Fundraiser: https://www.youcaring.com/averting-cat-astrophe-inc-529308#.VtFV5e8s_5Y.facebook ​​
Mailing: Averting Cat-Astrophe P.O. Box 874 Mansfield, Texas ​76063
Paypal: thedollarclub@yahoo.com (for Toby)
Mailing: The Dollar Club P.O. Box 4253 Bethlehem, Pa 18018 (for Toby)​​​​​​
​
​​​