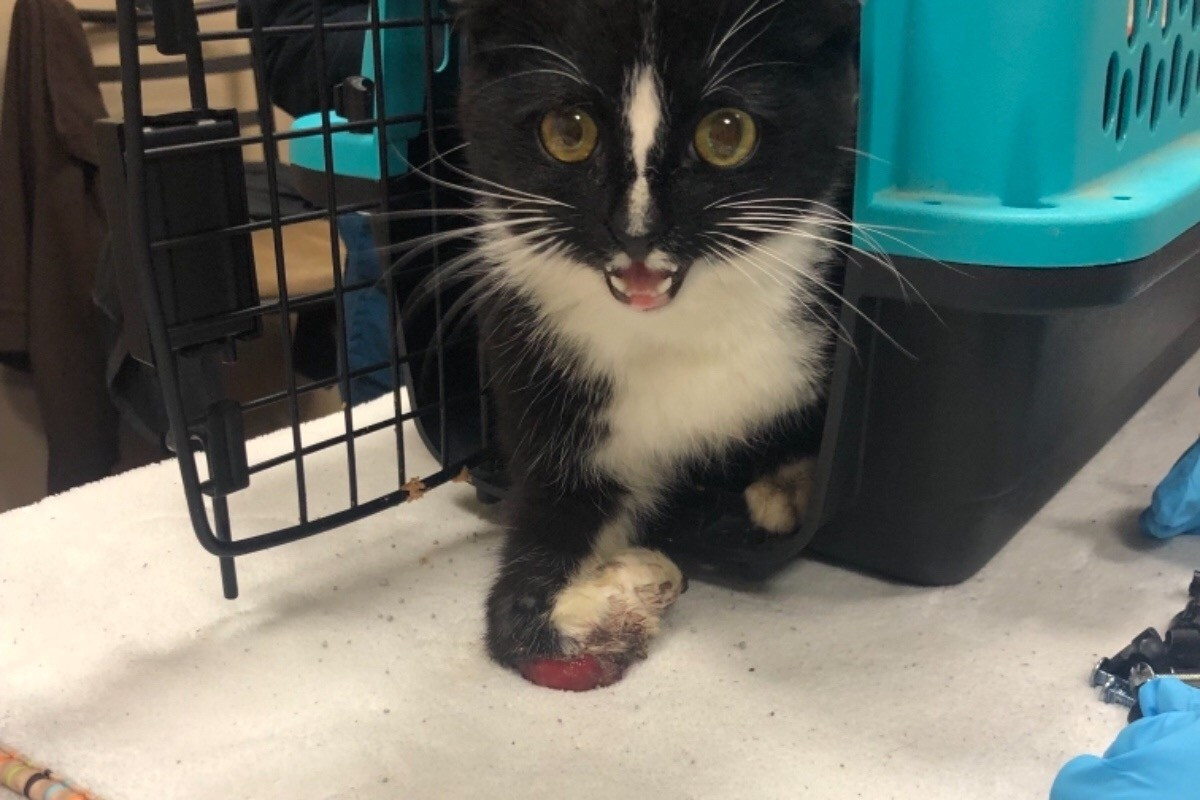 1-2-19 Little Tux - kitten with injured leg
BADLY INJURED CAT WITH ROTTING ARM WAS BEGGING FOR FOOD FOR WEEKS IN A HOTEL PARKING LOT . ONLY ONE PERSON TOOK IT BEYOND SYMPATHY/ CALLED FOR HELP.

We received a call about an injured cat who had been seen for weeks in a hotel parking lot. Several people were feeding the injured cat but no one seemed to have any interest in actually rescuing him. It's possible folks thought he was Feral or unapproachable, but what we were told was that someone saw how badly injured he was and finally brought a humane trap out. We have had him evaluated and unfortunately he will have to lose his leg. No one really knows what happened, the vet is not sure, he may have been hit by a car or he may have gotten himself hung up in some sort of contraption. It looks like he has been roaming the parking lot for weeks. Folks were only feeding him but he was badly injured and Would have died from sepsis. The smell that is coming from his body is pretty gross, but that is due to the fact that his arm is rotting off...we have found a vet who is experienced and will not elevate the price to a ridiculous amount. We were told that for $648.00 -$700.00 ..we will be able to have his front leg amputated and he could be neutered at the same time( if we choose and vets think it's safe.) The surgery is scheduled for January 9, this is to give him time to heal up with anabiotic's.. I need to start getting the word out, we are way over budget due to so many surgeries this year .. We are a 5013C nonprofit organization...Under Zach's Rescue (Laura Morrison)


TDC paypal: thedollarclub@yahoo.com (for Little Tux)

TDC mailing address: TDC P.O. Box 116 Hereford, Pa 18056 (for Little Tux)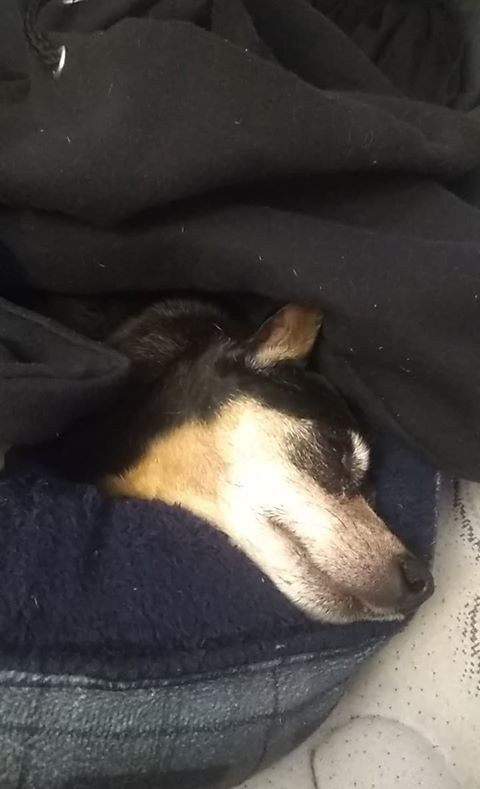 1-2-19 Petra - dog who fell and hurt her neck


Hello my name is Daniel I'm not very techy and have trouble with my phone sometimes. I'm a disabled veteran and have a minpin that jumped off my bed and hurt herself very badly I need help! She's been hurt for a couple days now over the holidays it's been bad but can some one help me please like I said I don't know how to work a smartphone but I'm real she is all I have in the world please help.

**I contacted Dan back and told him to make an appointment with a vet who will take payments over the phone. He tried but the only place he could get into was a walk in clinic who would not take payments. I talked with them and pleaded and they still refused. This poor dog was suffering and Dan didn't even have the money to PTS to get her out of pain. He was very distraught! I didn't know how else to help since we cannot send cash to anyone other than a vet office or a 501c3. So he ended up borrowing money from a neighbor and he got the dog seen. Petra ended up having a bad injury in her neck and was in severe pain. They gave him pain meds and steroids and tonight Petra is already doing much better!!!!! Since Dan will now have to pay back his neighbor out of his limited income the only way I could help was to mail him a big supply of dog food and a gift card from Walmart. (Those thing are permitted by IRS rule in lieu of cash).

TDC paypal: thedollarclub@yahoo.com (for Petra)
TDC mailing address: TDC P.O. Box 116 Hereford, Pa 18056 (for Petra)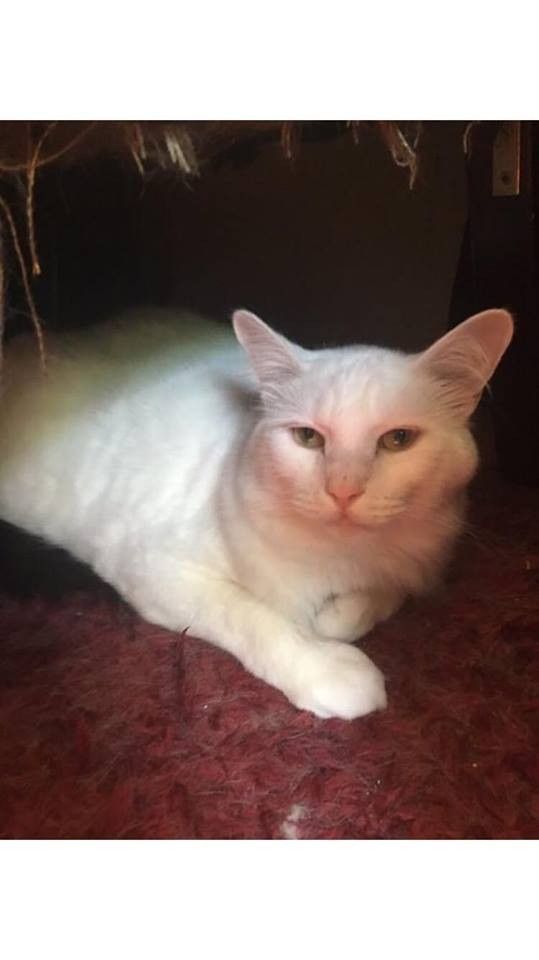 1-5-19 Hope - Kitty will bowel obstruction

I was contacted by a man who had a cat with a severe bowel obstruction and he had already spent his last penny at the vet trying to clear it out. That was not successful so surgery was required. Unfortunately, the vet did not take payments over the phone so there was no way for The Dollar Club to help. However, a very generous follower of The Dollar Club who lived near the vet office, stepped up and paid the bill.

Per IRS law, as a 501c3, The Dollar Club is not permitted to make cash payments to anyone other than a vet office or to another 501c3. We are however, permitted to send 'pet related items' to people, just not cash. So we did just that and were able to send $200 worth of items to this very generous donor to help her recoup some of her money. Kitty had his surgery and did great and is home and doing very well. Lactulose is in his future on a daily basis to prevent this from happening again.

TDC paypal: thedollarclub@yahoo.com (for Hope)
TDC mailing address: TDC P.O. Box 116 Hereford, Pa 18056 (for Hope)
1-7-19 Joanne's Community Cats

We received another request for food for a colony in Lansdale, Pa for a feeder who is completely out of food for the cats. I sent $220 worth to arrive by Wednesday.

TDC paypal: thedollarclub@yahoo.com (for Dawn Price)
TDC mailing address: TDC P.O. Box 116 Hereford, Pa 18056 (for Dawn Price)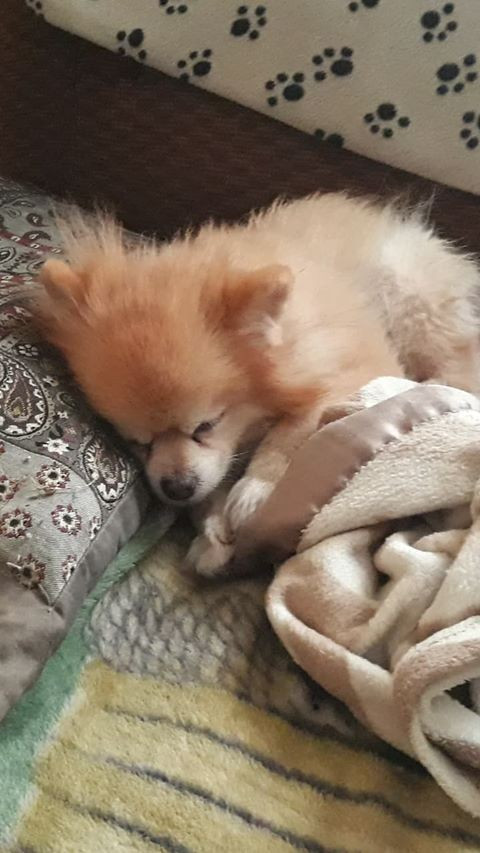 1-8-19 Teddy - dog with suspected bone stuck in throat
Yesterday started out as usual, he went out, came in didnt eat breakfast. I thought nothing of it. asked to go out around lunch time, came in still didnt eat. At dinner time he was uninterested also. Changed pee pad. and he was the first to go on it it was tinted pink, he also has been coughing. I know my husband gave him a bone during the night sunday which I have asked him not to do but he dont listen...I need to see a vet I have no cash on hand..I've never done this before. I'm so overwhelmed I will be taking him to Northern RI Veterinarians , 152 School St. FORESTDALE RI 02824. 401-762-2400 Its Teddy Burt
TDC paypal: thedollarclub@yahoo.com (for Teddy)
TDC mailing address: TDC P.O. Box 116 Hereford, Pa 18056 (for Teddy)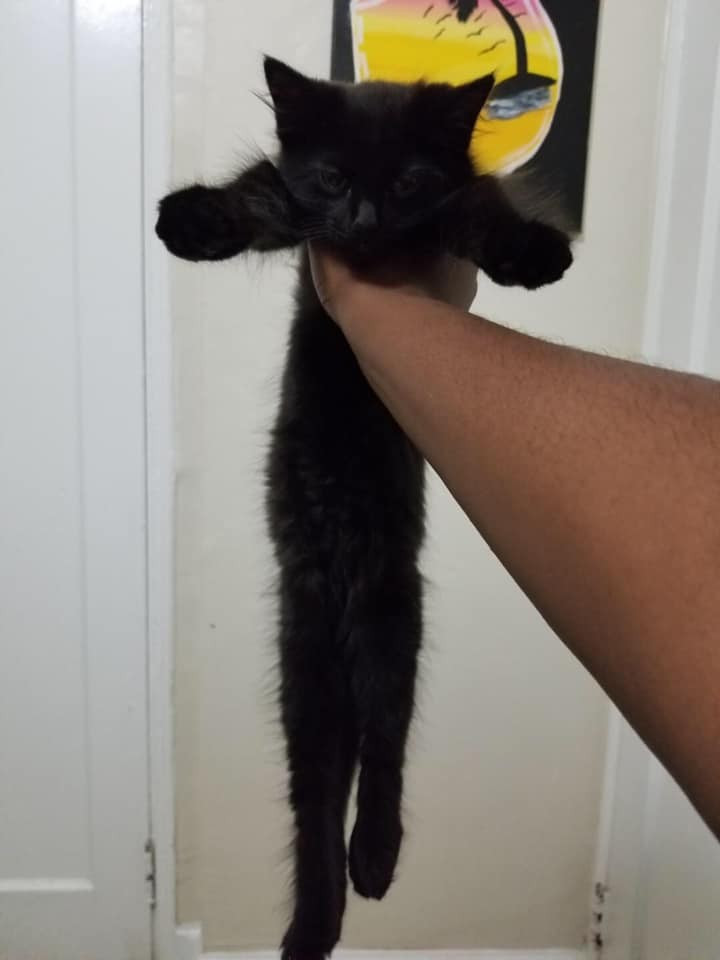 1-10-19 Baby Panther - kitten with broken femur
🌟UPDATE, 01/10/2019🌟
🆘DONATIONS URGENTLY NEEDED FOR BABY PANTHER, HE IS ONLY 2.5 MONTHS OLD & HAS A BROKEN FEMUR😿🆘 WE NEED TO RAISE, $2186.59 (see estimate below). We can't do the surgery until we have the money because I'm maxed out in existing vet bill debts as of now. PLEASE HELP US 🙏🏻 Panther is depending on all of you who love animals 😿Baby Panther is only 6 weeks old and has already been through so much pain, please help MBAA to cover the medical care he will need to make a full recovery and find a loving home. We took him in when we are out of funds and space. We are empowered to help animals when you kindly donate for them, every dollar counts 🙏🏻
You can donate 1 of 3 ways: (MBAA - Miami Beach Animal Advocates is a 501c3)

1. PAYPAL DIRECT: MBAADONATION@GMAIL.COM
2. FACEBOOK PAGE DONATION BUTTON, Fb.me/Mbanimaladvocates
3. MAKE A CHECK PAYABLE TO: "MIAMI BEACH ANIMAL ADVOCATES (MBAA)"
MAIL TO: 8004 NW 154th Street, #413, Miami Lakes, Fl 33016
TDC paypal: thedollarclub@yahoo.com (for Baby Panther)
TDC mailing address: TDC P.O. Box 116 Hereford, Pa 18056 (for Baby Panther)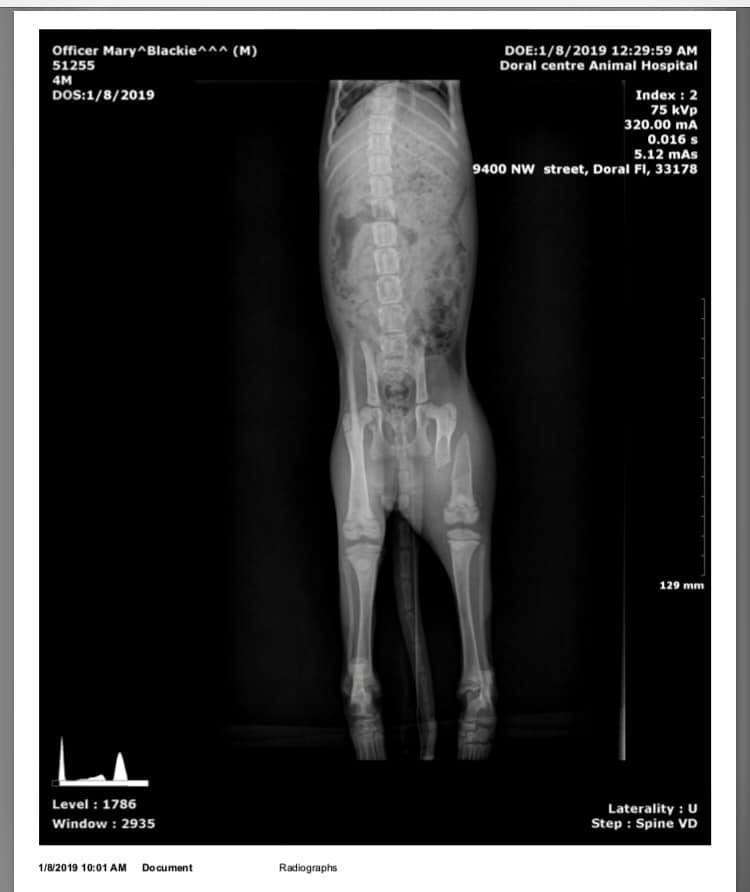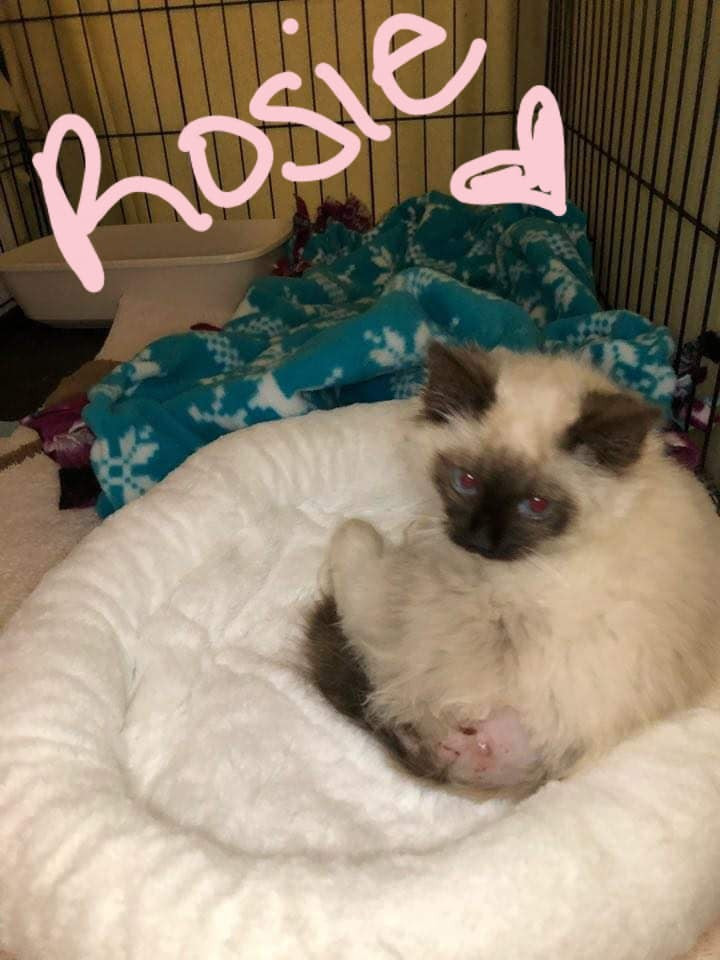 1-14-19 Rosie and Juni - Home Rescue is in dire need of donations for both emergency surgeries


Rosie: Rosie was attacked by something, broke her hips and that has caused problems with her defecating since the break was near the spine. So she is on stool softeners among other things. Also, where she was bit her wounds became infected. She will be scheduled for a major surgery to hopefully fix her breaks and allow her to use the restroom on her own. The estimate is approximately $4500.
Juni: Rescued from Dallas Animal Services. Unfortunately Juni suffers from old injuries, that were caused by some sort of trauma. Take a look at her X-Rays and you'll see her abdomen where her intestines are supposed to be and you'll see nothing. That is because all of her intestines are up on the left side cavity of her chest and pushing everything over to the right. The right side is surprisingly its not herniated which is probably what saved her life.Also, when you look at her hips you'll see they're not broken but that something is clearly wrong. The doctors were dumbfounded and recommended we send the x-rays out to Dallas Service Surgical Center and seek a second opinion. We did and the report came back for traumatic right diaphragmatic hernia and likely old pelvic fracture of acetabulum making the hips look so odd shaped. Juni is now being scheduled and will cost us approximately $4500


Home Rescue is 501c3
Home Rescue Paypal: contacthomerescue@gmail.com
TDC paypal: thedollarclub@yahoo.com (for Rosie & Juni)
TDC mailing address: TDC P.O. Box 116 Hereford, Pa 18056 (for Rosie & Juni)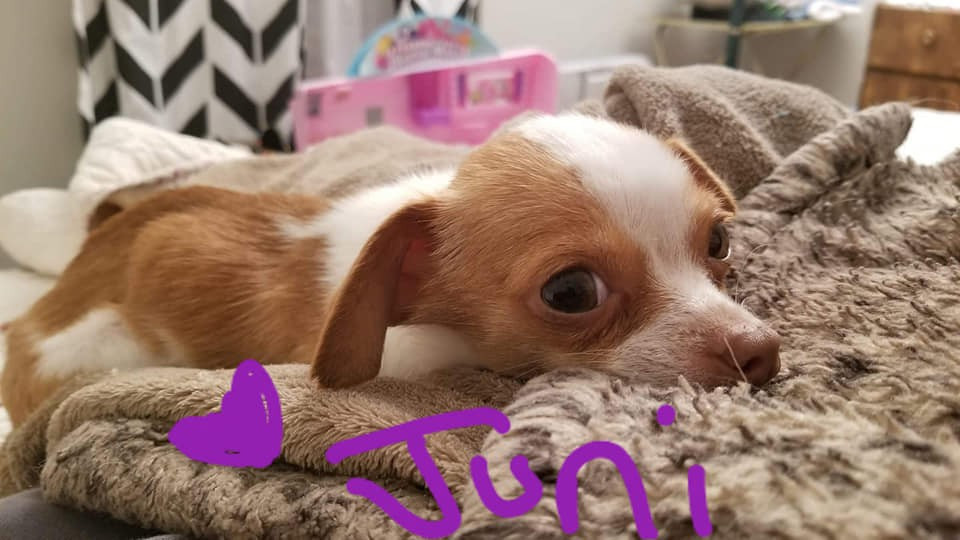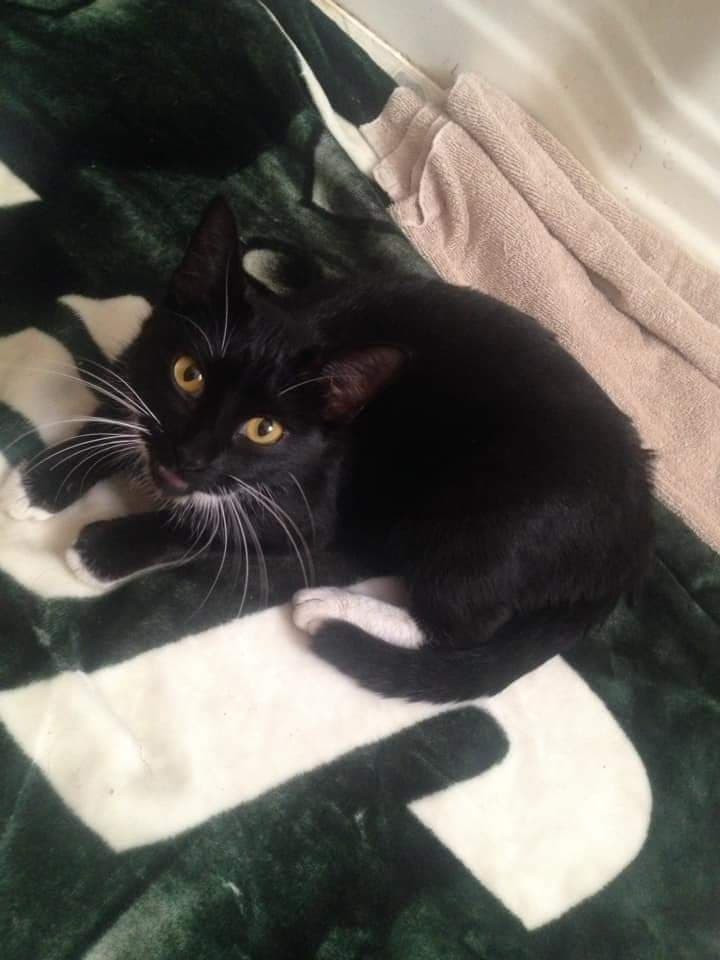 1-14-19 Grace - Starved and neglected kitten
This sweet girl was rescued by our friend, Sadie, from an extremely bad situation. She really needs to get to a vet as soon as possible. I have just learned that she is severely malnourished and only weighs about a pound. and is several months old. Seems to me she has been starved, confined in an area too small to stand up. Smells like she has been in an area with a dead animal Bone with skin, about 1 pound in weight. Eats from the litter box. She has problems walking which tells me she was confined in a very small area. She doesn't do anything but lay in a hunched over position. 50 years I have taken kitties and this is among the worst 5 I have ever seen. The original
adoption picture is on the left and the current picture is on the right. She
doesn't change from that position.
EASTERN RANDOLPH VET CLINIC: 336- 824 4005
TDC paypal: thedollarclub@yahoo.com (for Grace)
TDC mailing address: TDC P.O. Box 116 Hereford, Pa 18056 (for Grace)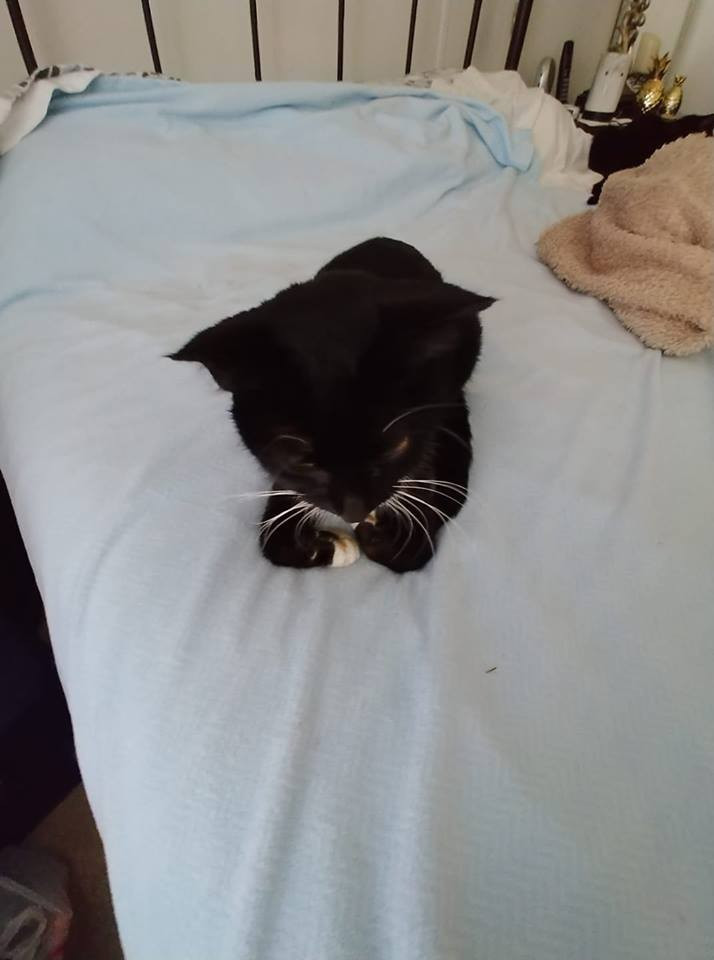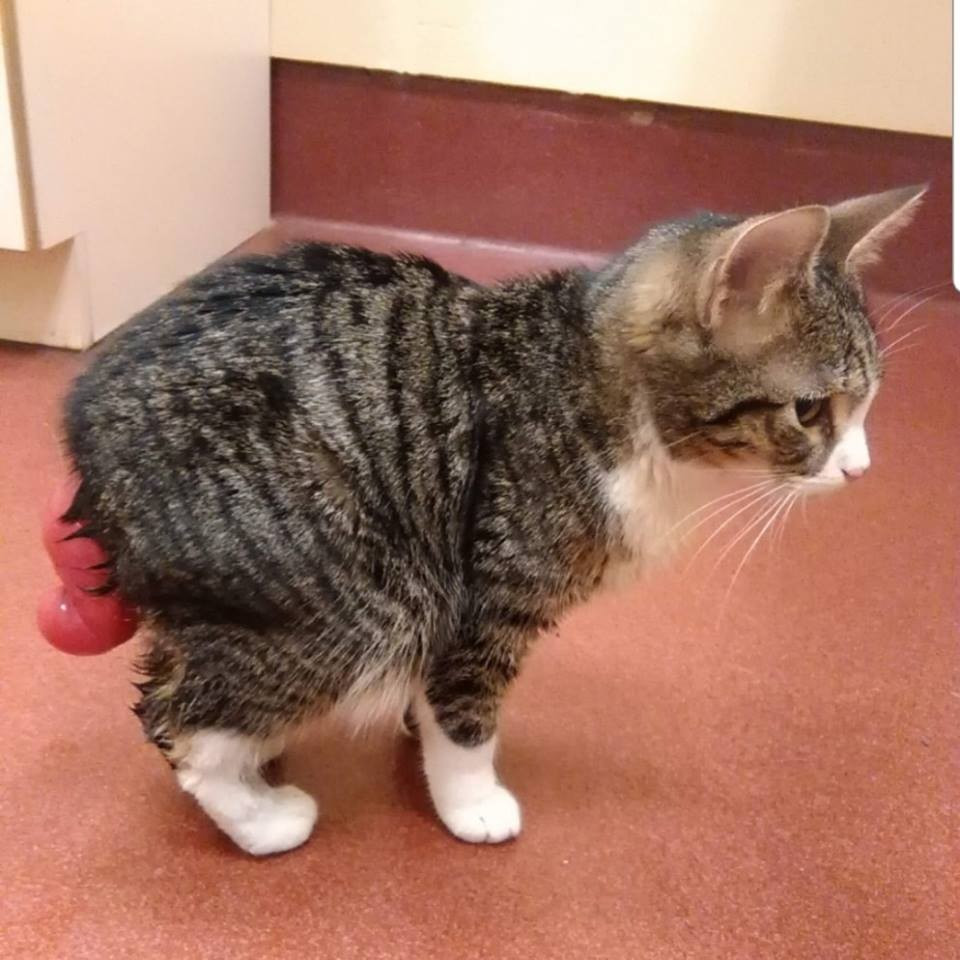 1-17-19 Hoppy, kitty with prolapsed rectum
URGENT!!!! GRAPHIC PHOTO!!!!! I just have to help this kitten!!! And i'm begging , yes begging for help from the community. I have been hit with a few surgeries recently for some kittens. So my vet bill is steadily rising!!! This kitty, Hoppy, a manx kitty, is on way to vet and will need surgery immediately. Praying they can save him. He had surgery once. The pic below is prior to first surgery. He pulled out stitches allegedly and its like this again, only worse this time. He has a rectal prolapse. He will come to Whiskers to heal. I really need help.
Vet: under Missy Smith for Hoppy 304 788 6602
TDC paypal: thedollarclub@yahoo.com (for Hoppy)
TDC mailing address: TDC P.O. Box 116 Hereford, Pa 18056 (for Hoppy)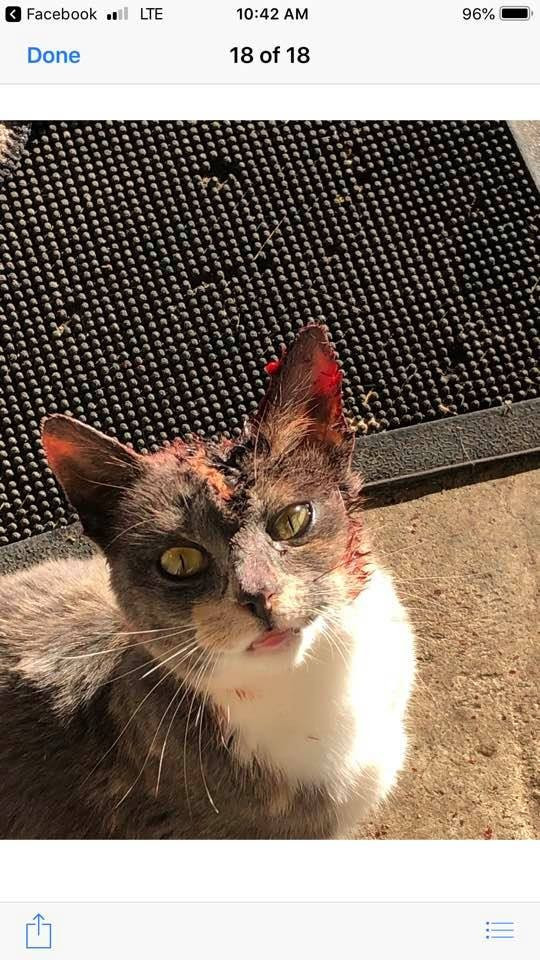 1-21-19 Pixie - kitten attacked by wild animal


Friends, if anyone is around and can help, we need some donations for this baby!! I am down so very little money left in our account until Facebook send me our January funds. She was attacked by something and needs a vet ASAP. All I can call in right now is $100 but the vet said they need $300. So if anyone can help, please send it to our paypal and not facebook so I can access the fund immediately. It is: thedollarclub@yahoo.com https://www.paypal.me/TheDollarClub
Vet: 704 786 6102
TDC paypal: thedollarclub@yahoo.com (for Pixie)
TDC mailing address: TDC P.O. Box 116 Hereford, Pa 18056 (for Pixie)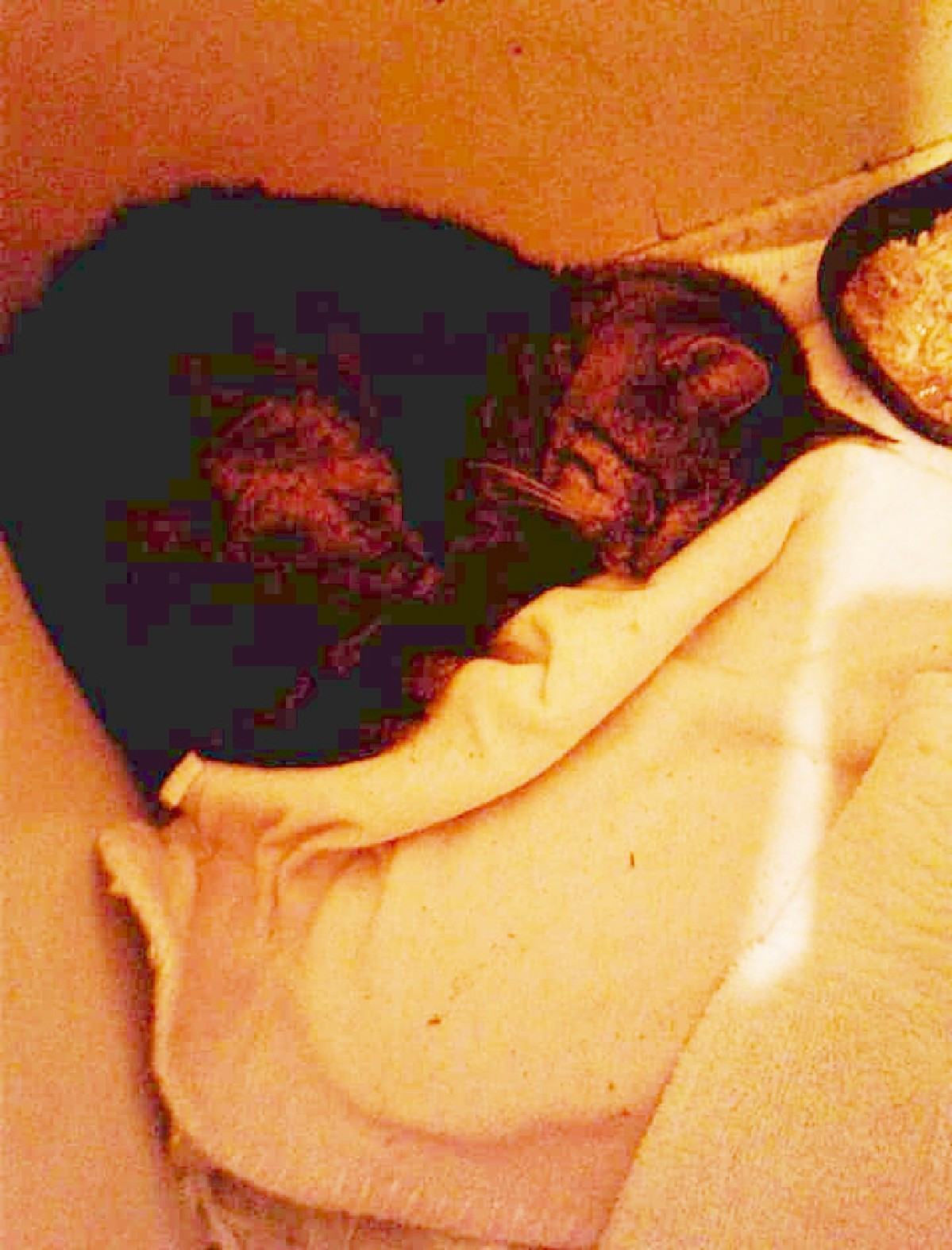 1-21-19 Tom - a cat hit by a car
Extremely Urgent!! I NEED HELP!!This Tabby Cat appeared and I think he may have been hit by a car. He is limping, his foot looks like it may be broken, and it seems like he has an upper resperatory infection. I am all out of funds, as I just paid almost $2,000 when My Lillybeth got sick. Plus I feed several Cat colonies with no help.😦I need to take him to the Vet. Can anyone please Donate to the Vet.. I can't let him suffer.😦💔💔💔 PLEASE SHARE THANK YOU I Named him TOM, like Tom & Jerry.😔💖
Ardvark Animal Clinic. Telephone # 305 557-0531
TDC paypal: thedollarclub@yahoo.com (for Tom)
TDC mailing address: TDC P.O. Box 116 Hereford, Pa 18056 (for Tom)
1-22-19 Colony cats in need of food


I got a request for help in rural NC:

I'm meeting so many senior citizens that are needing food for their animals. These cats and dogs are their family and these folks are so lonely. Being alone is so very different than being lonely. Some of these ladies/men are going without food for themselves or buying dairy products at grocery stores just to feed the cats/ dogs . It's breaking my heart for them. Most food banks are tapped out. The majority of the folks I'm meeting are taking very good care of the cats/ dogs ,just may have more than what they should thru no fault of their own. This one is disabled and on a limited income and has nothing to feed her cats. I took a bag over and they went crazy ripping the bag to get to the food.
TDC paypal: thedollarclub@yahoo.com (for colonycats)
TDC mailing address: TDC P.O. Box 116 Hereford, Pa 18056 (for colonycats)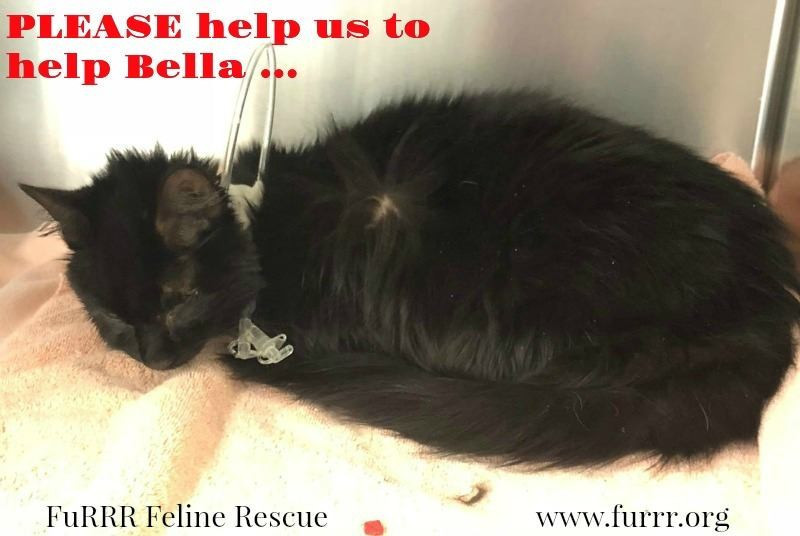 1-26-19 Bella - kitty with hepatic lipidosis
Our sweet Bella has been at Port City Veterinary in Portsmouth since Wednesday afternoon fighting for her life. She had stopped eating and bloodwork was done by our vet which showed very low red blood cell count and it was recommended that we get her immediately to this inpatient care. After examination, xrays, ultrasound we were told she needed to stay overnight for supportive care. More iv fluids, antibiotics/steroids, bloodwork, anemia panel, urinalysis, blood transfusion, liver aspirate, feeding tube … we finally have an answer, severe hepatic lipidosis cause unknown. Bella's care is now topping $5500 and we need help covering this huge unexpected bill! Our vet is very hopeful that Bella can make a full recovery (our worst fear of lymphoma of the liver didn't happen!) so we need to do everything we can to save this sweet girl. Bella hasn't given up and neither will FuRRR! We can do this! We have already raised over $2500 towards this bill, we need an additional $3000. PLEASE NO AMOUNT IS TOO SMALL! Every single $1 adds up quickly! THANK YOU SO VERY MUCH to all who have donated to help save Bella! FuRRR Feline Rescue, Rehabilitation and Retirement is a 501c3

Paypal via info@furrr.org or Mailed to 10 Main St. Unit 99, Gonic, NH 03839

TDC paypal: thedollarclub@yahoo.com (for Bella)
TDC mailing address: TDC P.O. Box 116 Hereford, Pa 18056 (for Bella)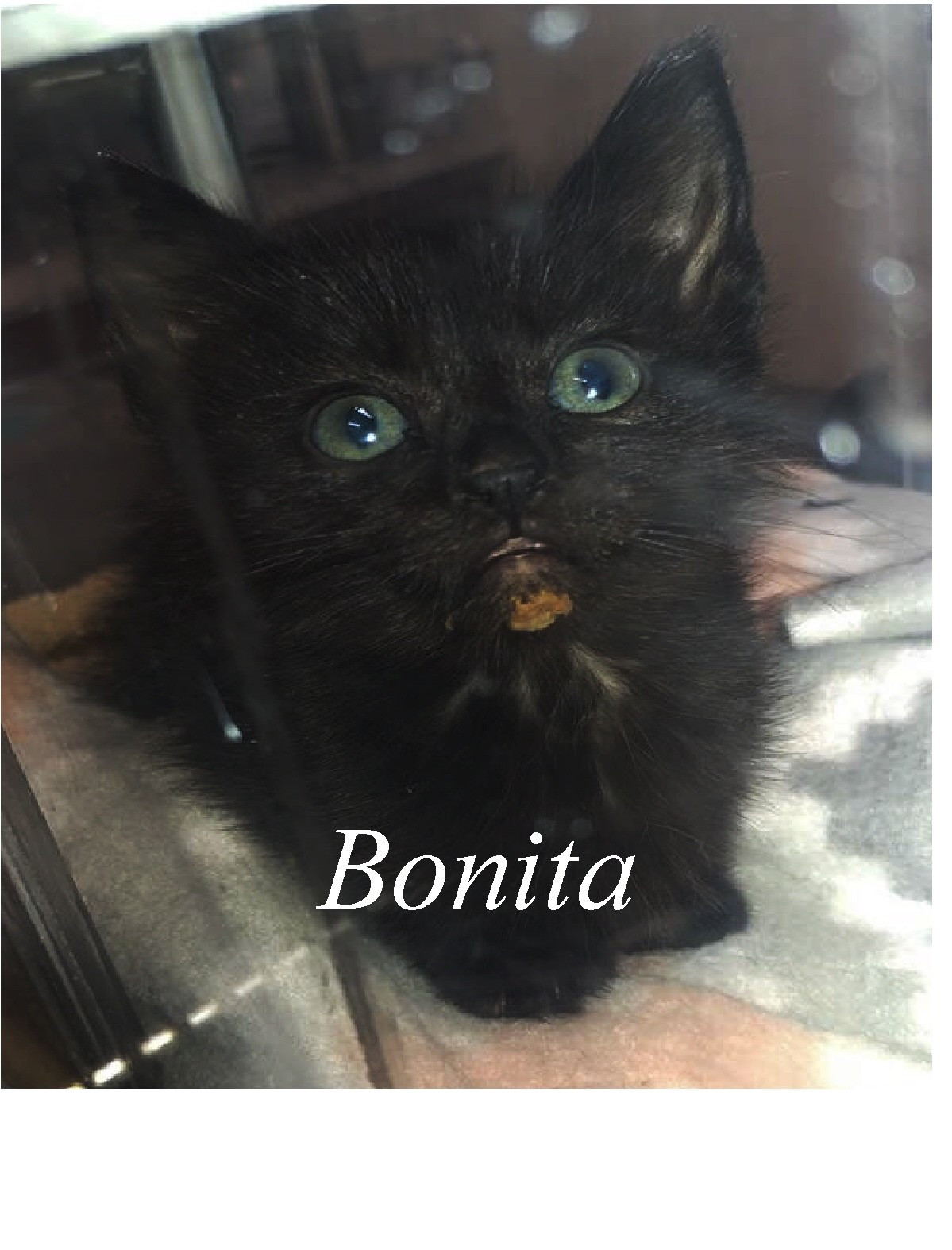 1-23-19 Bonita - kitty with pneumonia
LIFE THREATENING!!!!!!!! SHE NEEDS TO BE HOSPITALIZED NOW!!! PLEASE GIVE HER THE CHANCE TO GROW UP❣️They won't take her without the funds or at least a $500 down payment. Hospital bill will.most likely be even more😱 She needs the oxygen changer and to be tube feed and also more fluids. She also needs to see if they can clear out her lungs. SHE WILL NOT SURVIVE THIS WITHOUT EVERYONE'S HELP💔💔 PLEASE HELP HER. SHE WAS FOUND JUST TOSSED AWAY WITH A COUPLE OF HER SIBLINGS AT ONLY 3 WEEKS OLD😭SHE IS SKIN AND BONES AND HAS PNEUMONIA......PLEASE ..PLEASE PEOPLE HELP HER. i we have to wait untill funds are there before we can rush her in. They want payment up front to insure bill will be covered. Her life had only just began and her owners there her out in the desert like trash😭😭😭 please help me save her life❤️ (Kitty ended up with diaphramatic hernia and didn't survive)
Vet at 661-272-1600
TDC paypal: thedollarclub@yahoo.com (for Bonit)
TDC mailing address: TDC P.O. Box 116 Hereford, Pa 18056 (for Bonit)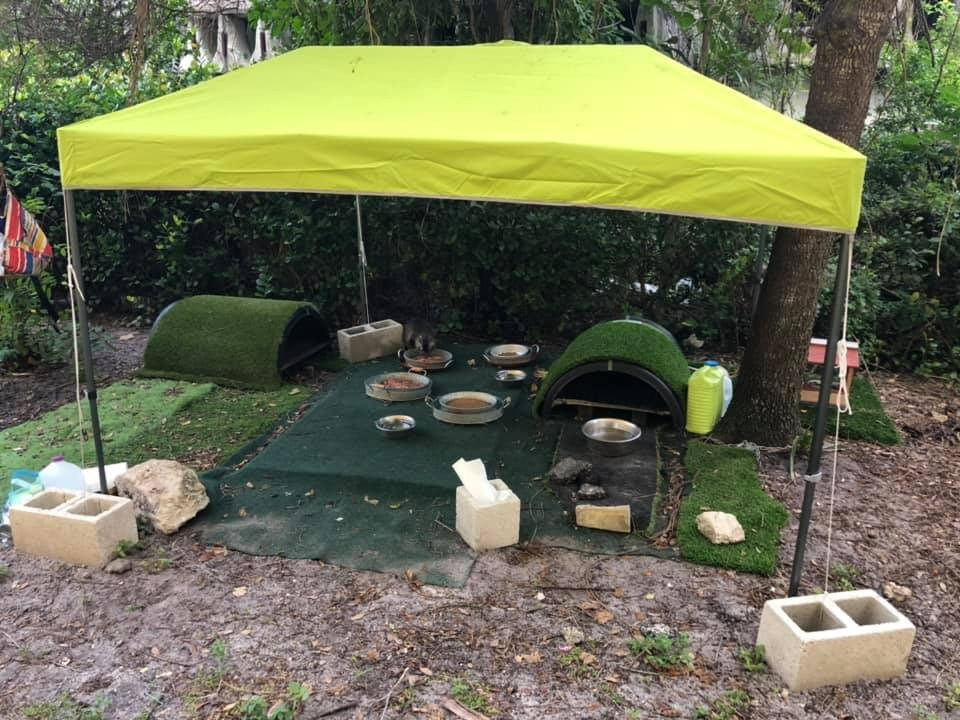 1-26-19 Cat colony in need of food
Not to long ago , I had posted asking for advice where I can get food donated to me for the stray cats that I feed outside . I've been working diligently on all the suggestions that I've received. Unfortunately, it's just not enough food .I am putting out a post asking for FOOD Donations! !NOT money ‼️The cats that I feed , some are older and won't eat the dry food .I am asking for Wet Food , Please !!🙏🏻I've got a tent to cover the cats while they eat to protect them from the elements of the weather, I've put down astroturf and barrels for the kitties to lay in to keep cool . I am trying to save money but , Its Extremely difficult due to these stray cats . It's running around $400.00 dollars a month to feed these cats . Believe me , I am not complaining , I just want to continue doing what I'm doing but need some kind of an assistances-maybe from an organization that can help me continue what I am doing . Please know ,I am NOT asking for money from anyone !!!!!!!!!!!I won't stop feeding because these kitties wait for me morning and night .I am a huge animal lover and really want to make a difference in these kitties lives , It's just getting Extremely hard .
TDC paypal: thedollarclub@yahoo.com (for cat colony)
TDC mailing address: TDC P.O. Box 116 Hereford, Pa 18056 (for cat colony)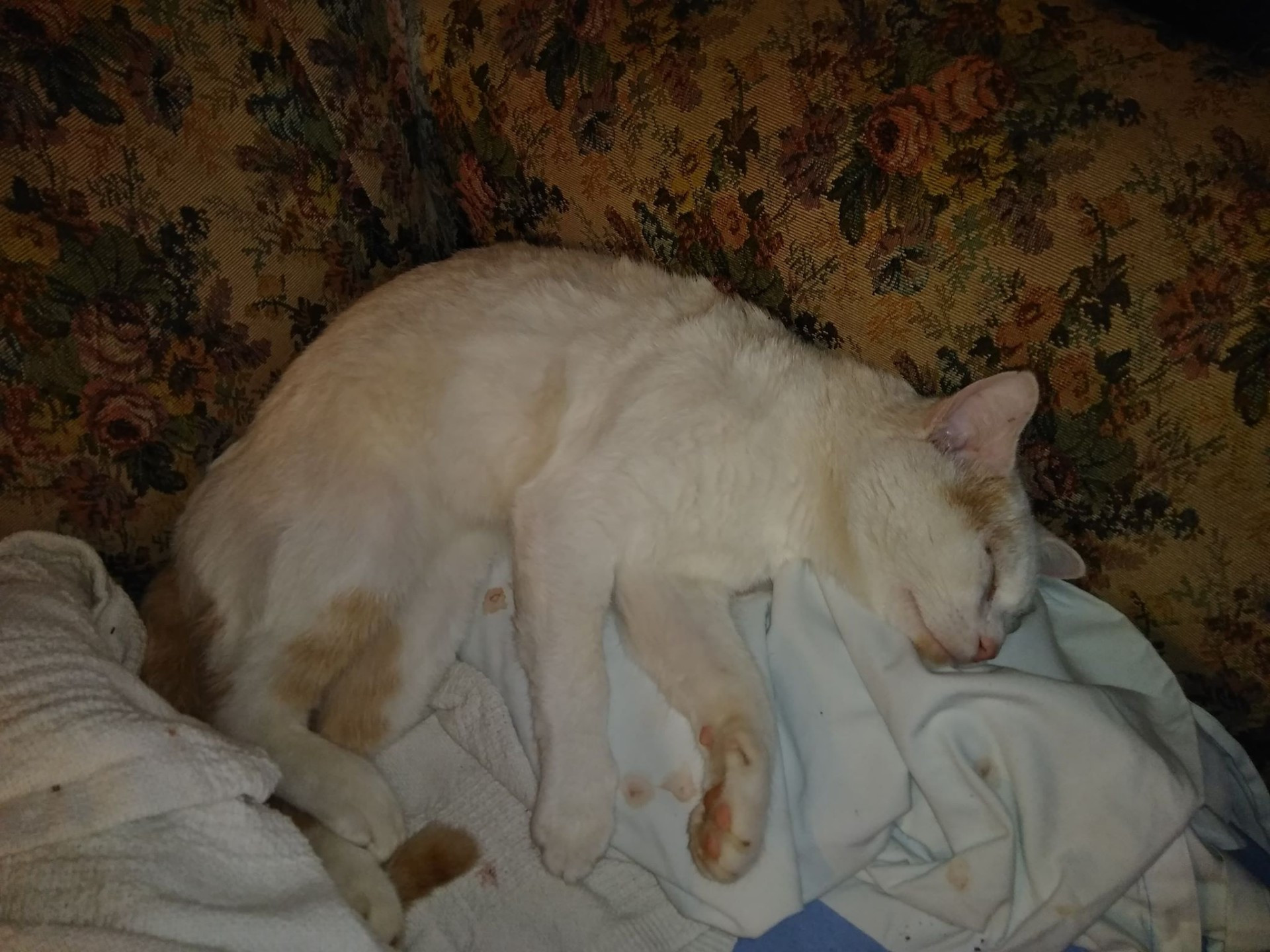 1-29-19 Bailey Sunshine - cat shot by bb gun

This cat was found shot by a bb gun or pellet gun and needs vet care. The owner is on fixed income and cannot pay for it.
Mule town Vet in Creedmoor NC: 919 529 2066
TDC paypal: thedollarclub@yahoo.com (for Baileysunshine)
TDC mailing address: TDC P.O. Box 116 Hereford, Pa 18056 (for Baileysunshine)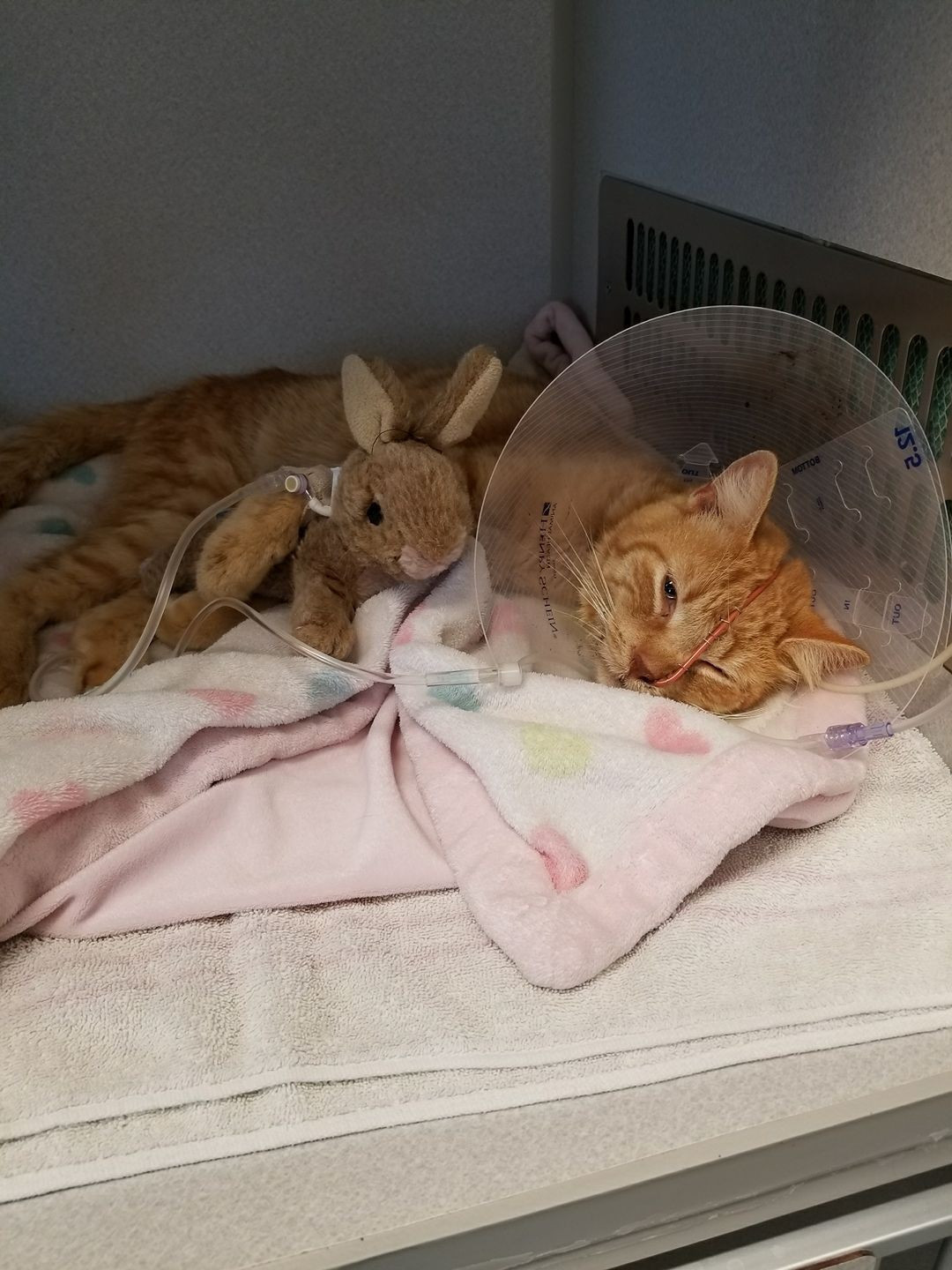 1-30-19 Nacho - very ill cat


Spay the Strays
UPDATE: $905 NEEDED. CAN YOU HELP? Original post. VERY URGENT! Nacho is in ICU and needs our help! We are trying to raise $1,100 for this sweet boy. Our website is: https://spaythestrays.rescuegroups.org/info/donate and our paypal is spaythestrays@aol.com. Please choose friends and family so no fees. Crystal Creek Animal Hospital (CCAH) is 407 203 0741. Nacho has a fungal infection called Cryptococcosis. He is being treated with antifungals, he has a feeding tube, and has IV fluids. Amber, vet tech at CCAH, said Nacho moves his back leg slightly and can lift his head, and is regaining movement in his front legs. Nacho likes to knead. His eyes are open and he purrs and purrs. Until he improves, he will appear completely paralyzed. That's why we are so excited with the progress so far on medication. Nacho has to remain hospitalized so Amber provided a bunny rabbit for comfort. We are so thankful for her kindness and that of Dr Vergel and the staff at CCAH in Orlando, FL. Please help! This has blindsided us. Any amount is appreciated. If you call CCAH, please send us a PM so we can thank you. Include Nacho in the memo. Prayers warriors, please join the prayer chain. Thank you for sharing! Spay the Strays, Kissimmee, St Cloud, FL, USA. (will update with his age). Spay the Strays is a 501c3
Crystal Creek Animal Hospital (CCAH) is 407 203 0741
TDC paypal: thedollarclub@yahoo.com (for Nacho)
TDC mailing address: TDC P.O. Box 116 Hereford, Pa 18056 (for Nacho)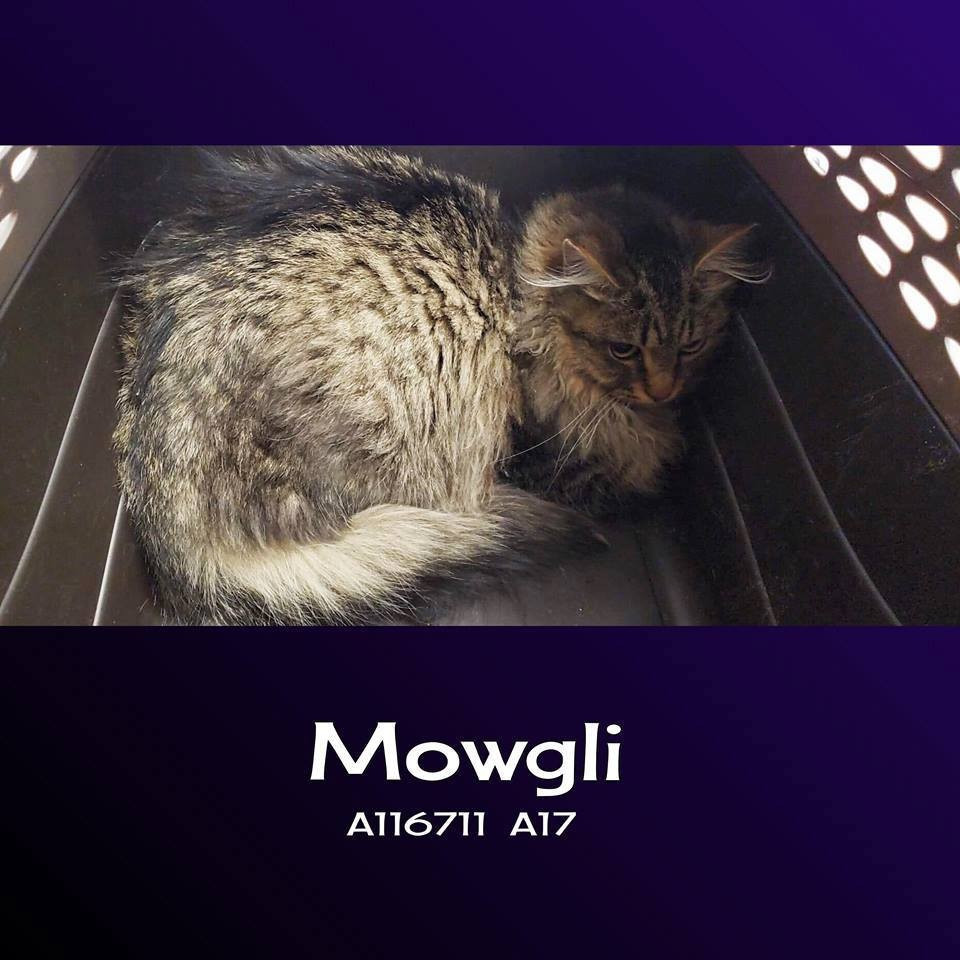 1-30-19 Mowgli - kitty needing funds to be rescued
Kitty needs funds immediately or will be PTS. He is so terrified he is being overlooked so they put him next on the PTS list. There is a rescue can take him if the funds are raised to release him. He only needed $50 more for saving.
TDC paypal: thedollarclub@yahoo.com (for Mowgli)
TDC mailing address: TDC P.O. Box 116 Hereford, Pa 18056 (for Mowgli)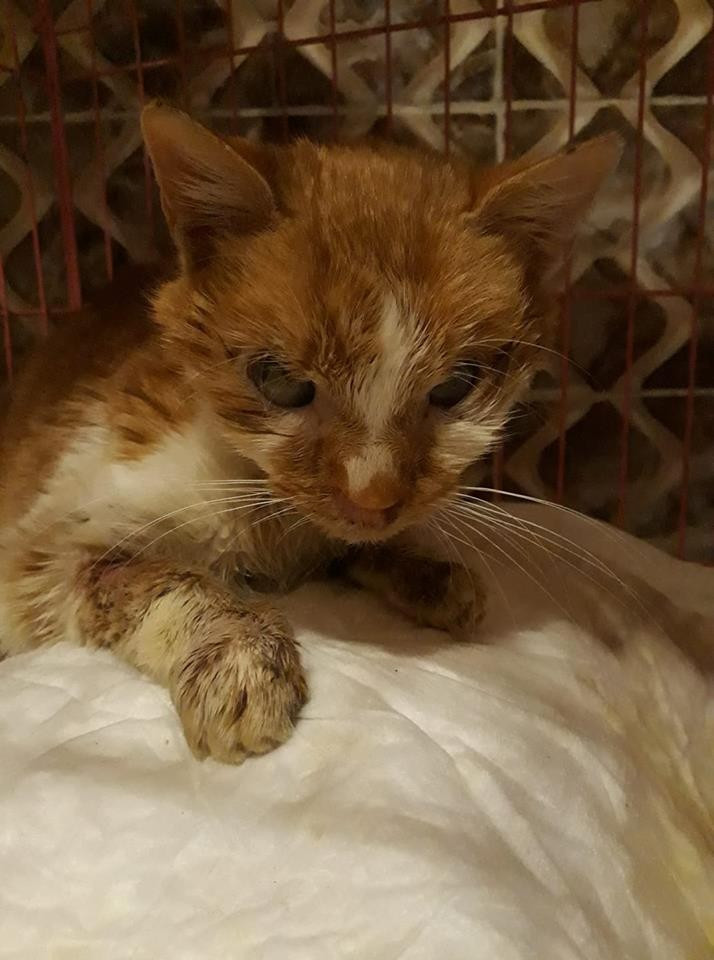 1-31-19 Little Red - very sick kitten from Egypt


**URGENT** HELP NEEDED Kitten found in bad shape. She is under fluids , suffering from dehydration, lost her eyes and his back leg broken too. I think she suffered many days before the rescue. Egypt is a very bad place for animals. But some kind people are trying to help as many as they can.

TDC paypal: thedollarclub@yahoo.com (for Little Red)
TDC mailing address: TDC P.O. Box 116 Hereford, Pa 18056 (for Little Red)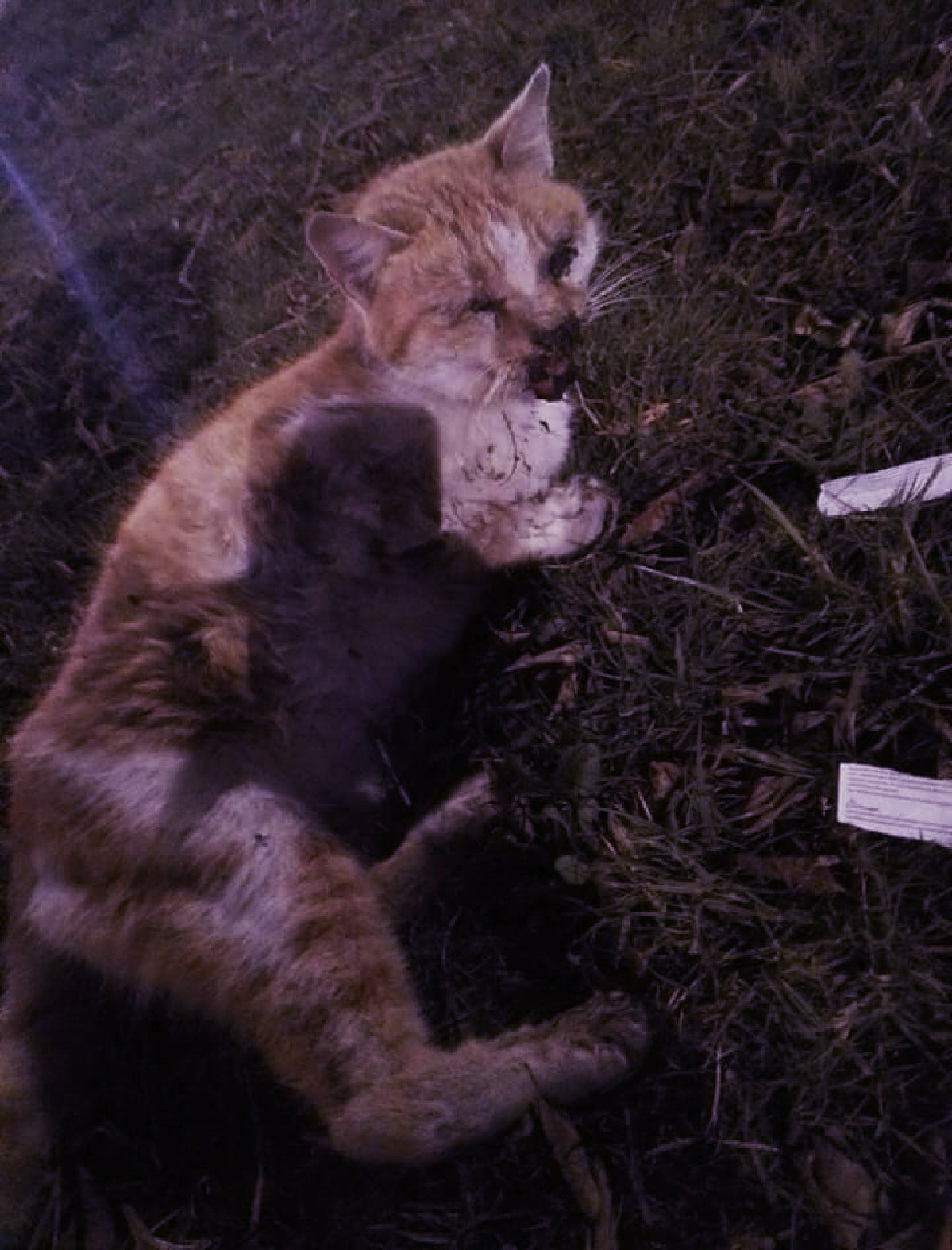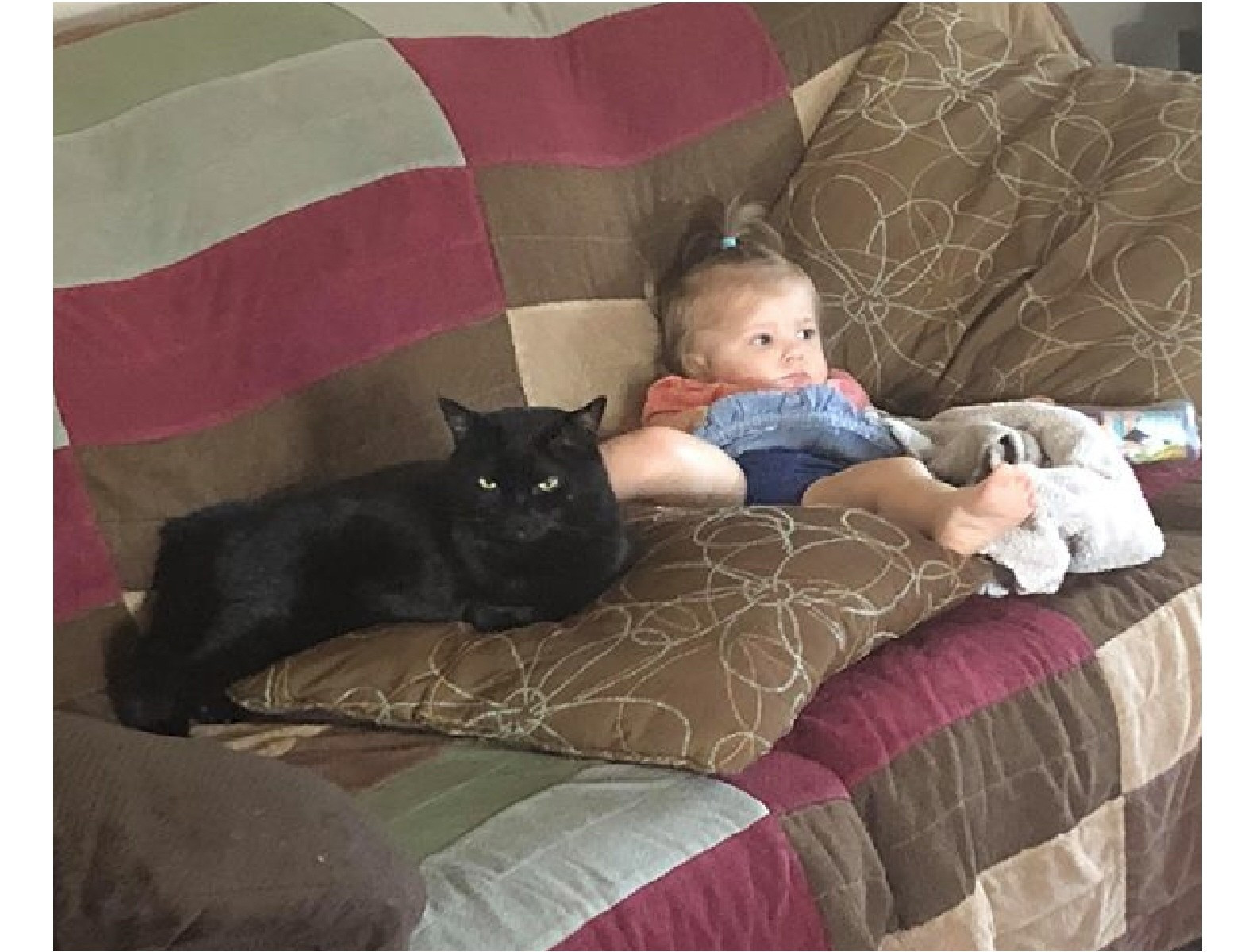 1-31-19 Binx diabetic kitty


Binx has just recently been diagnosed with diabetes and his owner has n money for insulin. He will die without it so we stepped in to help her purchase some.


Vet: 610-767-1100 (Under Nikki Mark for Binx)
TDC paypal: thedollarclub@yahoo.com (for Binx)
TDC mailing address: TDC P.O. Box 116 Hereford, Pa 18056 (for Binx)