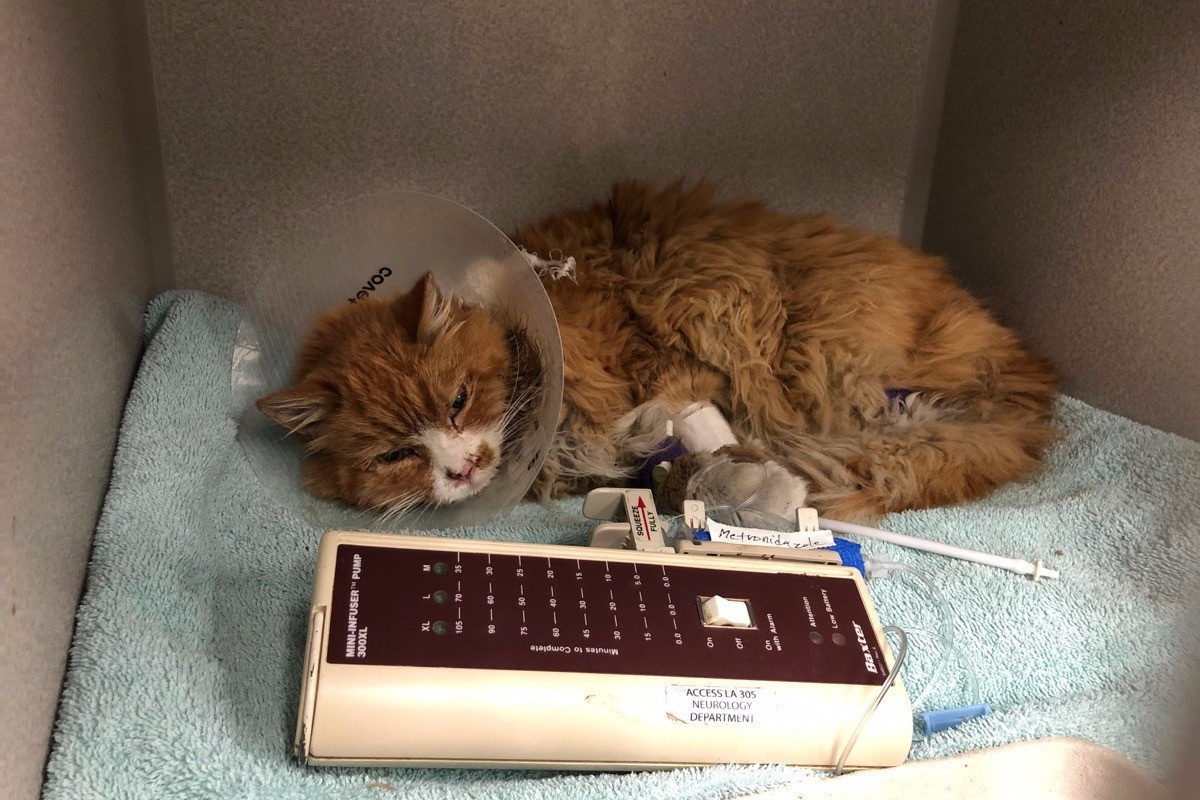 1-1-2021 Sunny - very ill community cat
Sunny's story: Lauren lost her cat, Sunny, in the streets of Los Angeles. He was a beloved community cat that she had been caring for and had developed a very strong bond with. She couldn't stand to see him without a proper home any longer. She reached out to StrayCat Alliance and arranged a vet visit. Unfortunately, he escaped right outside the vet, and ended up in the Jefferson Park neighborhood of Los Angeles - a place he was entirely unfamiliar with. After frantically searching for hours, she came up empty handed. We've never seen her that heartbroken. Every single day was traumatic -- the tears never seemed to end. Over the next 50 days, Lauren, her sisters, her friends, and volunteers searched relentlessly for him. Lauren followed tip after tip, covered the entire neighborhood in fliers, set up cameras, scheduled all-night stakeouts, and scoured dark alleys with a flashlight until the morning. We prayed and even consulted with an animal medium. .On December 29, 2020, Lauren received her final tip - a kind person saw one of our fliers and thought they might have seen Sunny half an hour earlier. She rushed over, and it was indeed Sunny!!! He was lifeless, in the middle of the road, eyes glued shut from an infection, emaciated, dehydrated, and had barely any fight left in him. He was knocking on death's door. She rushed him to the emergency vet, where he's now fighting for his life. They told her that if it had been any later, he would've died from liver failure, and that he was in shock. It was--without a doubt--a miracle. We cannot POSSIBLY imagine how horrific his experience has been - not only was he starving to death, but there was a terrible storm the night before she found him, with hail and freezing temperatures. We believe that he was unable to find food sources because he had essentially gone blind from the severe URI. He is receiving the BEST care, and is on a slow road to recovery. However, his treatment is extremely costly, and it will take a while for him to rehabilitate. Anything you can donate is extremely appreciated - even if it's just in the form of thoughts or prayers. As for Sunny, if he pulls through this nightmare, he's going to stay in our family and NEVER fight again. He will be showered in love for the rest of his life.
Vet: ACCESS in Culver City, CA (310) 558-6100
The Dollar Club Paypal: Thedollarclub@yahoo.com (Under Sunny)
TDC Mailing address: P.O. Box 116 Hereford, Pa 18056 (for Sunny)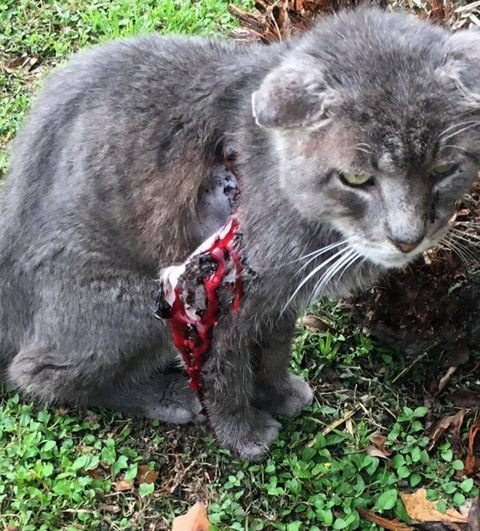 1-1-2021 Feral cat with gash in it's side
I have been contacted by a man in Jersey village . This cat has a wound , almost as big as his body . The finder has been Feeding in front of his house . It's welcome to stay , but won't go in a trap. He needs help . We have an animal hater who has been known to poison or kill animals (especially cats) and he has a patio home directly across from mine. No one lives at his remodeled vacant house but he frequently shows up doing some sort of illegal activities. His vacant house is only used as a meeting place. This vacant house is a secretive front of his used for secretive transactions of some sort. He his very nosy, paranoid well armed, tries to be intimidating and is a 4 time felon with no job but yet he has a lot of money. It's a very delicate situation we are dealing with over here. A neighbor and I have been trying to trap the cat when no one is around so we can give it some medical attention that it needs very badly. UPDATE: cat is in a trap and at the vet
Vergi ER (713) 932-9589 (Under Ruben Cantu)
The Dollar Club Paypal: Thedollarclub@yahoo.com (Under Ruben Cantu)
TDC Mailing address: P.O. Box 116 Hereford, Pa 18056 (for Ruben Cantu)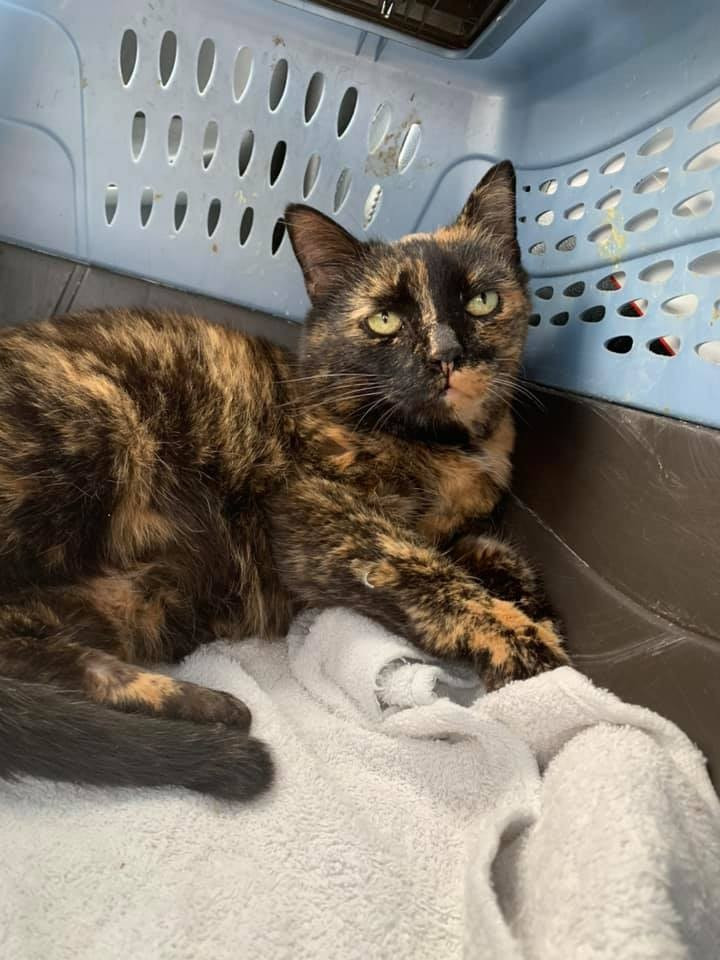 1-2-2021 Sprinkle - cat with heart problem
We picked this beautiful girl up, expecting that kittens would be coming along with her. But we soon realized that might not be the case and that something might be seriously wrong. Thanks to the caring staff at Perry Vet, we were able to have her seen today. Sadly, there is fluid around Sprinkle's lungs and heart and it is possible that she ingested rat poison. After being discarded outside and left behind without a second thought, we just couldn't look into her face and give up without trying. We are currently en route to VSES in hopes that a deserving cat still has a chance at life. We are so sorry to ask, but we can't help this girl without help. Donations of any amount toward the lifesaving care she requires are so appreciated. UPDATE: Sprinkle is in congestive heart failure. She has a fighting chance with hospitalization and medications to manage her condition. She would become a hospice foster (possibly live up to another year) and for as long as she has left, she will be cared for and loved. Her estimate to attempt to stabilize her condition is $2000-$3000. She will be at emergency for 24-48 hours. Please help if you can. She deserves every chance and every extra day we can give her. ❤️
Perry Vet: 585-346-2140 (under Hearthside Cats c/o Sprinkle)
The Dollar Club Paypal: Thedollarclub@yahoo.com (for Sprinkle)
TDC Mailing address: P.O. Box 116 Hereford, Pa 18056 (for Sprinkle)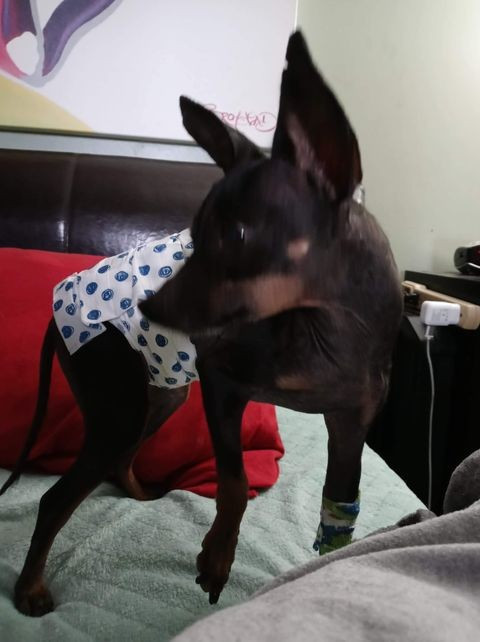 1-3-21 Taco - very ill dog
We desperately need help please!!! Taco is one of the pups we took in from a bad situation lately and we have taken him to several vets now & no one can determine what is going on and his breathing is getting more labored! He is struggling and it is heartbreaking! My rescue partner just took him to another ER vet and they said nothing appears to be wrong, his blood work, lungs & heart appear fine, xrays show nothing...but something is obviously wrong! Dawn Jenkins Bethel is driving him to yet another ER vet now and praying for help but we will need assistance with funds if anyone can help please!!! 😢 **UPDATE** HE IS SPENDING THE NIGHT AT THE ER VET😢 funds desperately needed please! We have paid them $1219.88 for services. Xrays & tests & more may be needed. 🙏 Please help if you can, we have spent thousands helping him over a month.
Tampa Bay Veterinary Specialists & Emergency Care Center 727-231-1362 (Taco under Baileys Way)
The Dollar Club Paypal: Thedollarclub@yahoo.com (for Taco)
TDC Mailing address: P.O. Box 116 Hereford, Pa 18056 (for Taco)
1-3-21 Cat colony in need of food and litter
I was contacted by someone who recued over 50 cats from a hoarding situation in Kentucky. They are with a group who is going to help spay/neuter them but they need help with food and litter.
The Dollar Club Paypal: Thedollarclub@yahoo.com (for KY colony)
TDC Mailing address: P.O. Box 116 Hereford, Pa 18056 (for KY colony)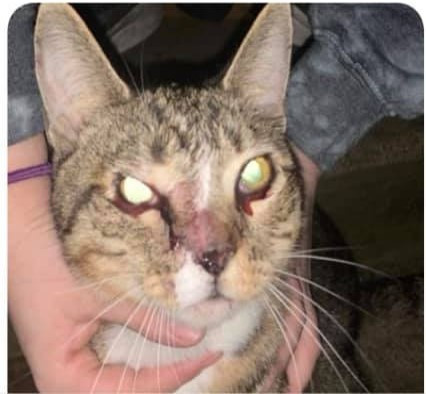 1-5-2021 Gizmo - cat attacked by dog
I saw a post where someone's outdoor cat was attacked by a dog and it's mouth and nose won't stop bleeding but she has no money for a vet. The Dollar Club called in $100 so far for him to be seen by a vet
Middletown Veterinary Hosp. 302-378-2342 (Sarah Binders account for Gizmo)
The Dollar Club Paypal: Thedollarclub@yahoo.com (for Gizmo)
TDC Mailing address: P.O. Box 116 Hereford, Pa 18056 (for Gizmo)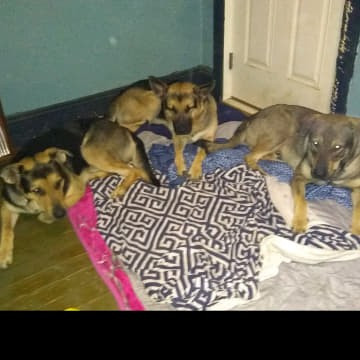 1-5-21 Food needed for dogs rescued from Domestic Violence situation
I just was on the phone with a client, who left an abusive relationship in skuykill county with her german shepherds and a bookbag. One got preg and she didn't have funds and means at the time to fix her. She now was stuck with all dogs, she's been bringing them one by one to fix and vaccinate and continues to try and find homes. The grown woman is living at home with her dad at the moment since she left the relationship. She was venting for a while how hard she's trying, and it shows. I didn't know if you had resources for dog food, or only cat if I gave her the dollar club as a reference?
The Dollar Club Paypal: Thedollarclub@yahoo.com (for dog food)
TDC Mailing address: P.O. Box 116 Hereford, Pa 18056 (for dog food)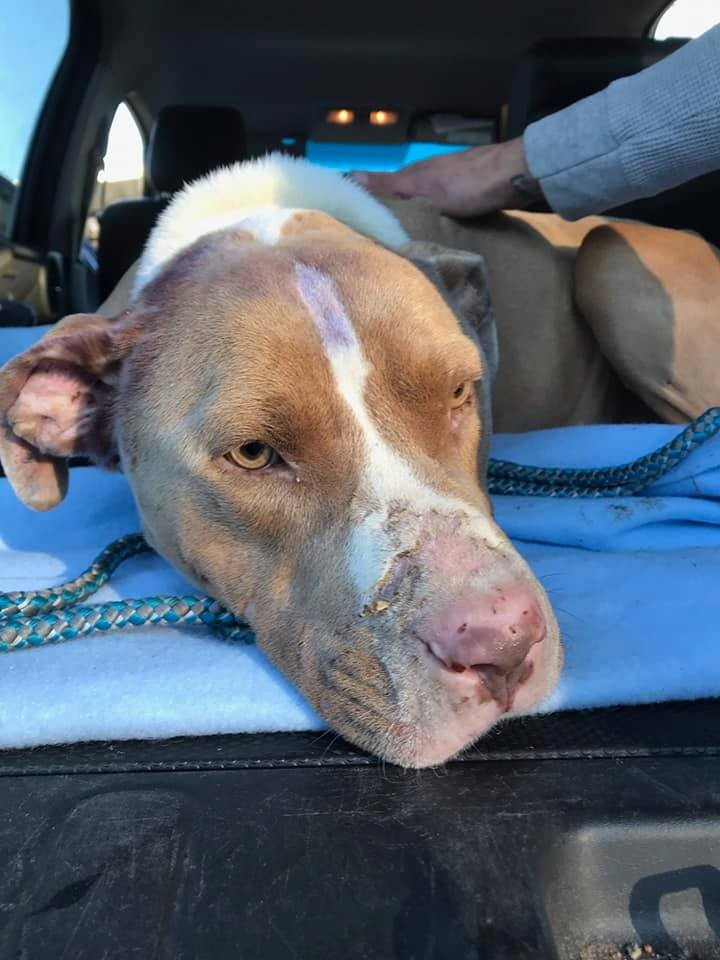 1-6-21 Peanut - dog attack
Friends we need your help again ! A rescue advocate is trying to help this dog that was found in a bad situation. This is Peanut. Peanut was attacked by another dog and he never received medical attention. Well now where he was attacked the flesh is dead . So the Good Samaritan has taken him to the North Davidson Vet to have surgery . The surgery will cost about $800.
Any amount will be appreciated ! It all adds up .
Vet: N. Davidson Animal Hosp. (336) 731-6978 (for Jamie Stivers/Peanut)
The Dollar Club Paypal: Thedollarclub@yahoo.com (for Peanut)
TDC Mailing address: P.O. Box 116 Hereford, Pa 18056 (for Peanut)
1-9-21 Friend - blocked kitty
Urgent help is needed .. my cat is unable to pee he's in pain . I took him last night to the vet they sent me with pain medication and amoxicillin but says he needs a procedure to unblock. I don't know what else to do. I don't have funds for this procedure.. the monies were borrowed for ER visit and meds as I'm also sick with hyperthyroidism and recent getting better.
He's a healthy cat I've had for years. A good boy never been sick.
Vet: Doral ER: 305-598-1234 Under Officer Mary's
The Dollar Club Paypal: Thedollarclub@yahoo.com (for Friend)
TDC Mailing address: P.O. Box 116 Hereford, Pa 18056 (for Friend)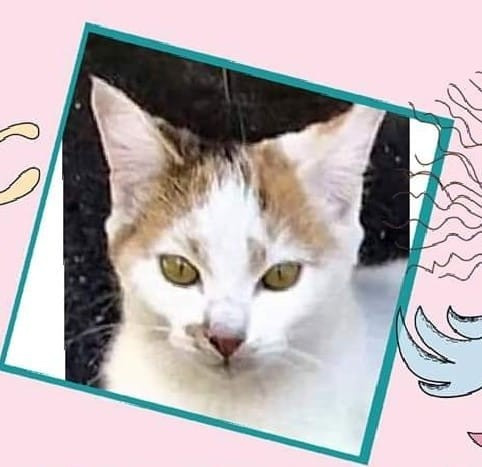 1-12-21 Cat Rescuer needs help with food/litter
Hey all of my cat rescue friends, Sandy Harvey Ossman, needs a little help up in Paisley, Florida with food and kitty litter. As many of you know, Sandy is amazing and has stepped up to adopt several of our South Florida cats and loves them to pieces. In addition, she has several seniors.
We all know how hard it is financially to care for so many cats, so it would be great if anyone has the financial ability to order some food or and/or kitty litter from Chewy and send to Sandy at her home address, that would be SOOOO AWESOME! ❤ ❤ ❤This is what Sandy needs: Dry Cat Food: Purina Naturals Grain Free, Iams Proactive Urinary Health, Wet Cat Food: Friskies Farmer's Favorites, Chicken with veggies pate OR Turkey with veggies OR Salmon with veggies. Kitty Litter: Any UNSCENTED SCOOPABLE litter. Thank you.

The Dollar Club Paypal: Thedollarclub@yahoo.com (for Sandy)
TDC Mailing address: P.O. Box 116 Hereford, Pa 18056 (for Sandy)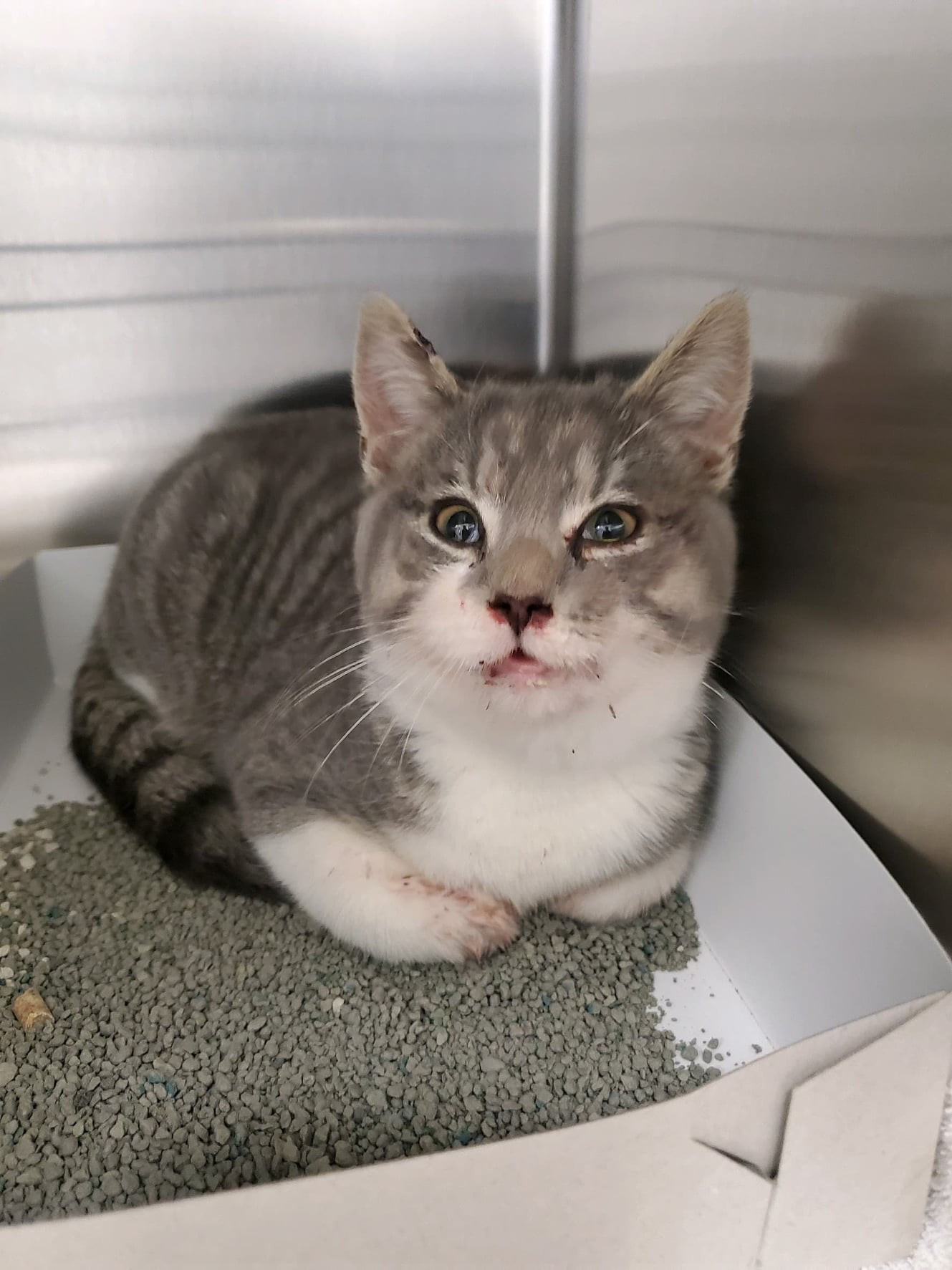 1-13-21 Salem - kitty with a broken jaw
UPDATE: Salem is on his way to the vet so we are again taking donations as the so-called owner has not contacted us or the shelter today. Donations can also be called into the Vet and the information is below. Please pray that they can help him. Appointment Wednesday afternoon with surgeon specialist. He is very Sweet and 6 mos old. Vets think this sweet baby was KICKED!
Salem's jaw is badly broken and he is going to need expensive surgery from a specialist. Rowan Animal Clinic has referred us to Carolina Veterinary Specialists and we now have appointment on Wednesday.
Carolina Vet Specialists 336 632 0605. Salem under Carolina Sanctuary rescue
The Dollar Club Paypal: Thedollarclub@yahoo.com (for Salem)
TDC Mailing address: P.O. Box 116 Hereford, Pa 18056 (for Salem)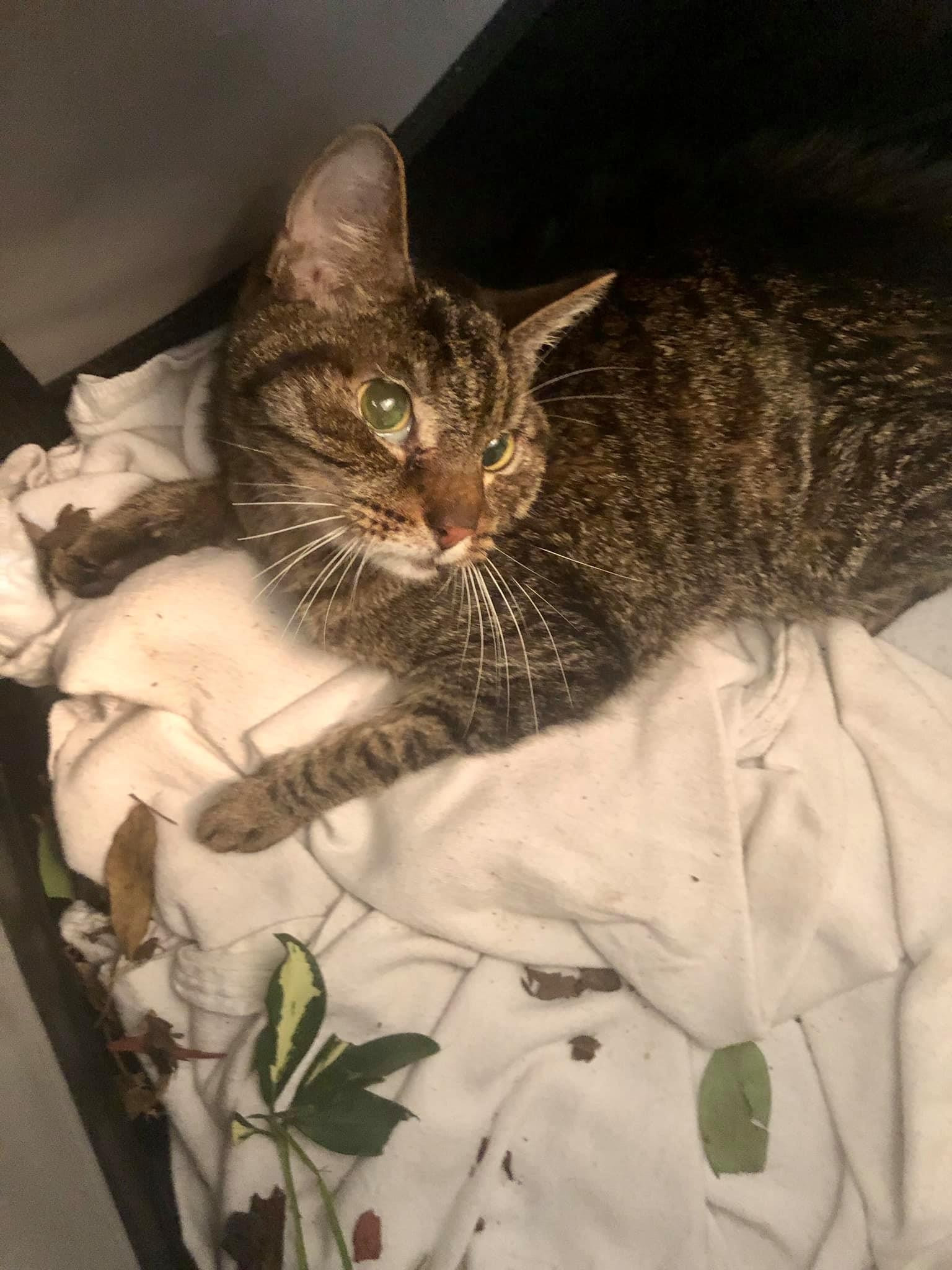 1-15-21 January - very ill cat found
This kitty (we'll call her January) was found outside of a home in my neighborhood that was recently moved from--no one in the area would claim her, so I assume she was left behind to fend for herself. January was crouching in a very strange way and when I got close I saw that she was swaying side to side and couldn't gain any balance (you can see in the video below). When I approached and looked into her eyes they were full of puss and completely dilated. She tried to run away, but was tremoring side to side so hard she just fell over and clawed her way into the bush. A friend and I were able to trap her, but we could not find a rescue willing to take her on completely. She is currently receiving vetting but we desperately need both funds and a foster to help her continue her journey to health. So far we have found out that she was severely dehydrated, starving, and she potentially has a tumor or other neurological issue. Her vet tab so far is already closing in on $700—they have done bloodwork, xrays, and medication to stabilize her. She will need to stay hospitalized for a few days and may need a feeding tube if she doesn't improve.
Ferreira Animal Hospital: 786 275 4629 (The cat is under the name "cat" and is registered under "SOBE cats" rescue)
The Dollar Club Paypal: Thedollarclub@yahoo.com (for January)
TDC Mailing address: P.O. Box 116 Hereford, Pa 18056 (for January)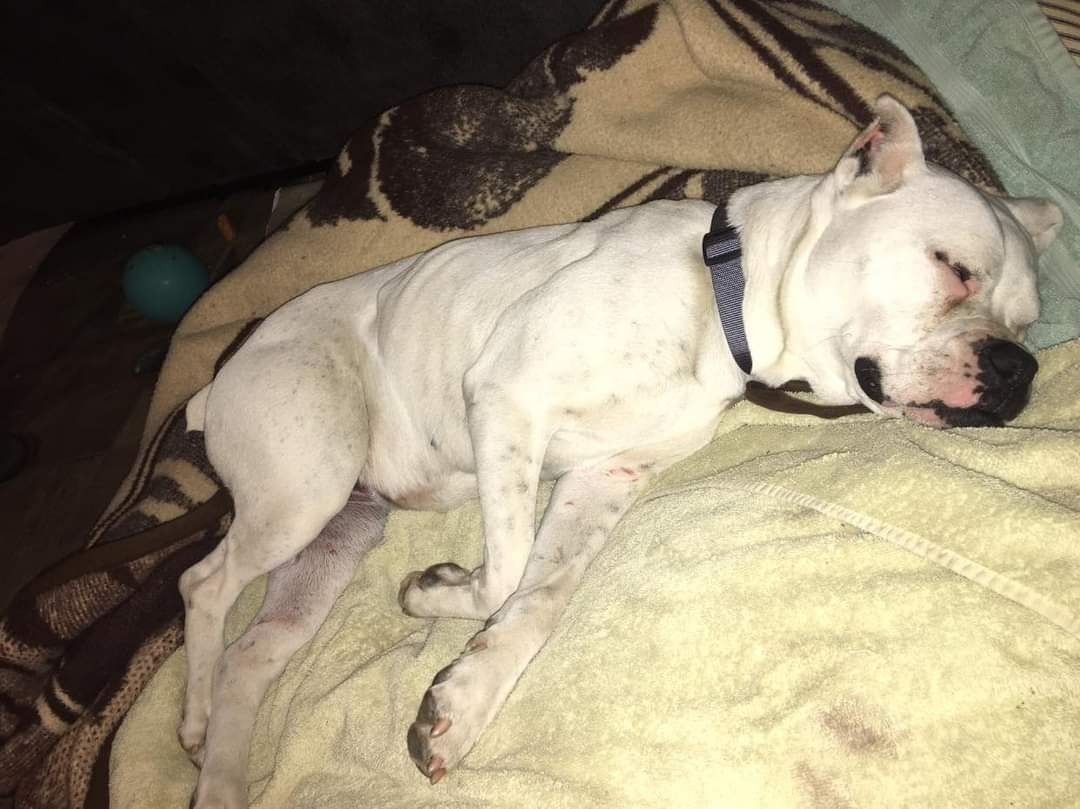 1-16-21 Ghost - dog hit by car
Ghost is in desperate need of our help..She was hit by and needs surgery to repair a hole in her bladder. Without this she will not survive. Since her mom only had funds for her ultrasound and x-rays her vet sent Ghost home. Please find it in your heart to save this precious girl.
Arkansas Veterinary Emergency & Specialty Center 501-224-3784. (For Ghost under Bandit's BandAid)
The Dollar Club Paypal: Thedollarclub@yahoo.com (for Ghost)
TDC Mailing address: P.O. Box 116 Hereford, Pa 18056 (for Ghost)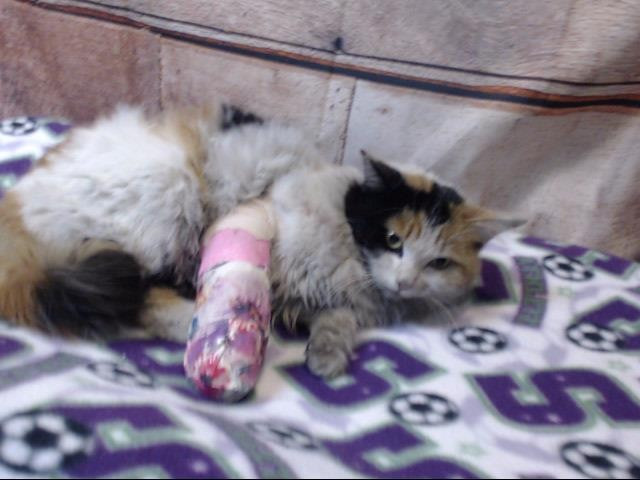 1-18-21 Carmelina - stray cat with broken leg
CARMELINA -- ID# A744667 Temperament: FRIENDLY; MEDICAL WAIVER FOR BROKEN LEG
I am a Female Calico Domestic Longhair. The shelter staff think I am about 1 year old.
have been at the shelter since January 12, 2021. I am currently at Devore Shelter in San Bernardino County, California. Kitty desperately needs a rescue who can help with surgery for the broken leg. **UPDATED** RESCUED by New Beginnings for Animals
Vet: Mission Hills Pet Care: 949 206 1988 (under New Beginnings for Carmelina)
The Dollar Club Paypal: Thedollarclub@yahoo.com (for Carmelina)
TDC Mailing address: P.O. Box 116 Hereford, Pa 18056 (for Carmelina)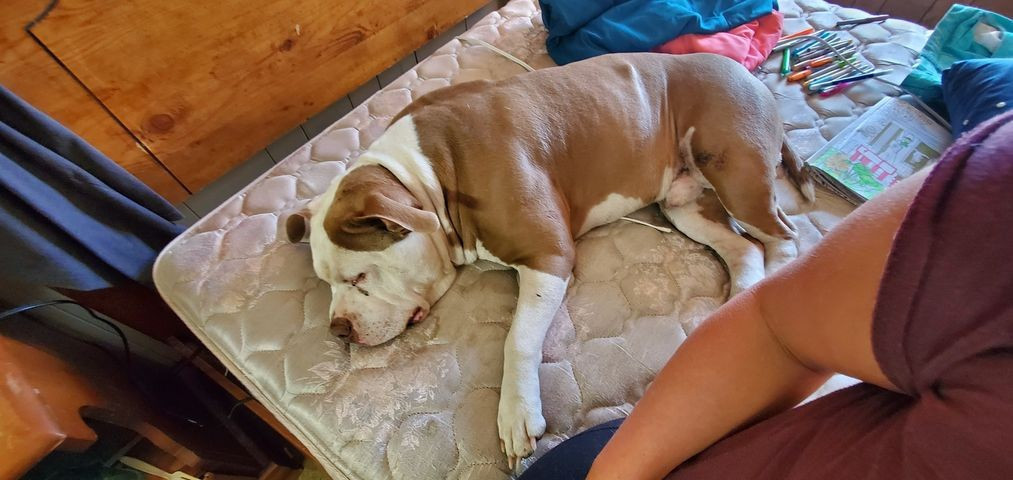 1-20-21 Reese - dog hit by car


Yesterday, aound 6pm, someone who apparently has no heart, was speeding in front of my boyfriends sons house where he and Reese were visiting. Suddenly they struck Reese with a speed of over 40 mph and failed to even tap their brakes afterwards. They sped off to never be seen again. Reese flew into the air and spun landing lifeless feet away... terrified of what was to be seen upon approaching Reese managed to sit up! We rushes him an hour away where we were told he needed an emergency surgery Monday morning if possible or he would stay in excruciating pain and would need his back left leg amputated at the hip and even then his hip would leave him suffering if not seen about ASAP!! To some, a dog is just a dog, but to us, Reese is such an important part of our family and we are so heartbroken and devastated! Not understanding how one can do something such as this without even so much as tapping their brakes?!?! Whether a penny, a dollar, or 50 cents. We are completely grateful for ANY contributions that ANYONE is willing to make. However, we also understand how hard times are right now for everyone... For anyone who's ever met Reese, hes AMAZING!! Pit bulls do have a horrible wrap, but Reese truly is one of a kind! Hes spanking and you could SWEAR he knows when you're hurt bc hes rt by your side refusing to leave until you smile! Hes the LAST baby to ever deserve something like this. Reese is currently in Lake Charles at University Animal Clinic. His surgery will be first thing tomorrow morning! If we can somehow manage to finish reaching our goal then we can take our big baby boy home Thursday!! We would have not been able to save our baby's life if it weren't for all of his angels out there who despite the many struggles currently putting everyone in a more difficult place than normal being selfless and amazing enough to help out! There are never going to be enough words to express how deeply grateful we are you guys!! Yall truly are his guardian angels =)Today and tomorrow are our last chances to reach our goal and be able to bring our baby home Thursday you guys. Whether 50 cents or $500 PLEASE if you can spare ANYTHING to help us out or share this post so someone who is able can it would mean more than you could possibly imagine!!Again, THANK YOU THANK YOU THANK YOU and God Bless you all!! WE LOVE YOU SO MUCH!!
Vet: University Animal Clinic: 1-337-478-5188 (for Reese under Chelsey Lea Deshotels)
The Dollar Club Paypal: Thedollarclub@yahoo.com (for Reese)
TDC Mailing address: P.O. Box 116 Hereford, Pa 18056 (for Reese)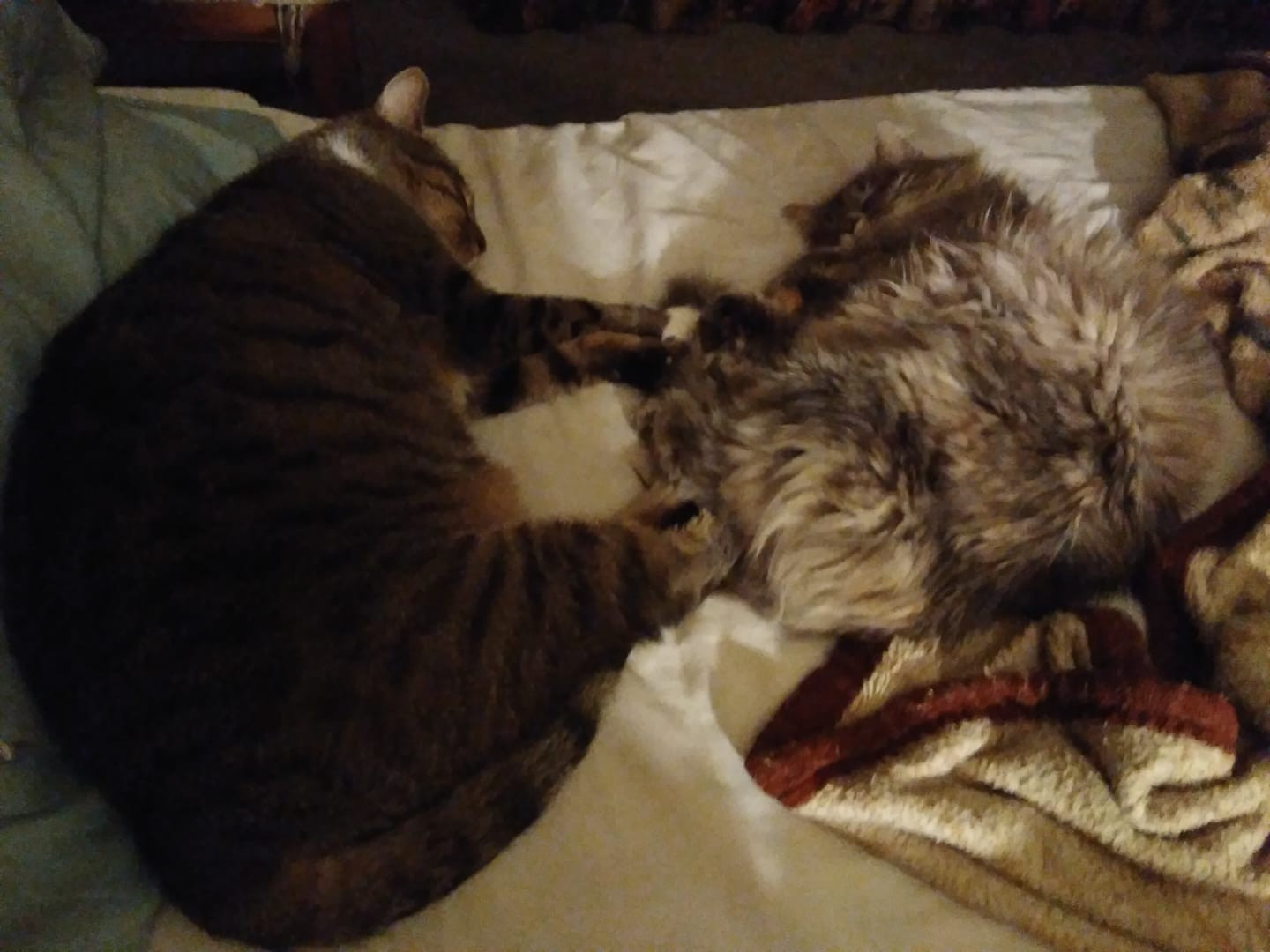 1-20-21 Samwise - Cat with bladder blockage
I am asking for help with my cat Samwise's, due to an unexpected trip to Sunbury Animal Hospital. He has a blocked urinary tract and will be with the vet for at least 2 days. If you can spare anything awesome I appreciate it, if you can't PLEASE SHARE!!!
Vet: Sunbury animal Hospital: 570 286 5131 (for Samwise under Karla Weller)
The Dollar Club Paypal: Thedollarclub@yahoo.com (for Samwise)
TDC Mailing address: P.O. Box 116 Hereford, Pa 18056 (for Samwise)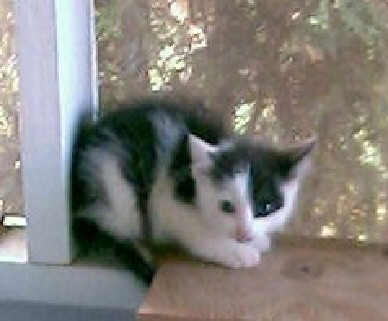 1-26-21 Cat colony in need of food
I was contacted this morning about another colony in Pa that is in need of food for a huge colony being fed by an elderly woman. I have directed her to some groups who may be able to help with TNR
The Dollar Club Paypal: Thedollarclub@yahoo.com (for Pa colony)
TDC Mailing address: P.O. Box 116 Hereford, Pa 18056 (for Pa colony)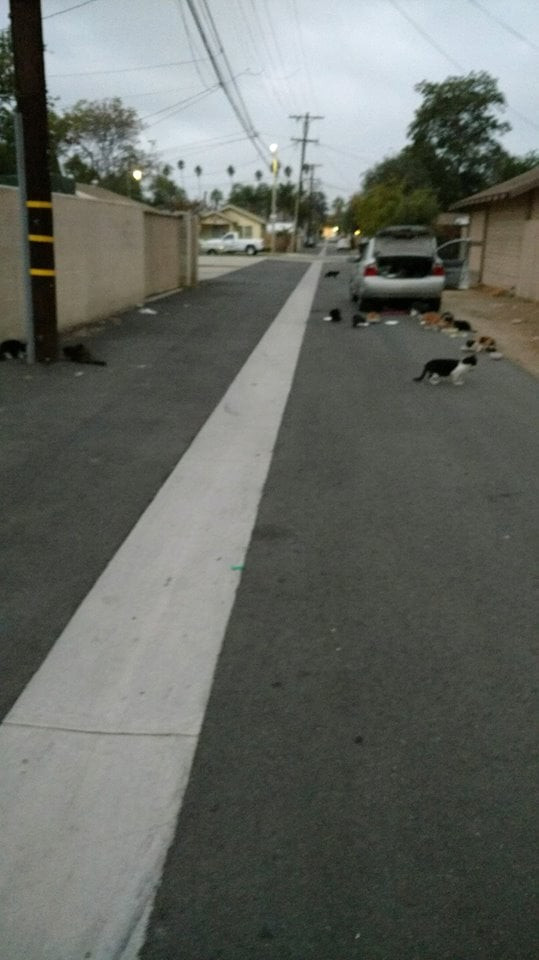 1-26-21 Cat colony in need of food
As you know, Alicia´s Upland cats are in need of food. Now, it is very urgent. They need dry and wet food. Alicia uses to walk around the city to find other hungry cats. Sometimes, she has to hide the food because neighbors can poison it or take it away. This a daily battle for her to save the cats. They are around 30 cats. Most of them are neutered. When it is too cold or it is raining Alicia gives them shelter. She is always taking care of them. The neighbors use to drop off new kittens or cats in the streets and she has to handle the situation by herself. I use to send a bag of food monthly , but it is not enough. We are working to post more pics, but for now this is the only I have.
The Dollar Club Paypal: Thedollarclub@yahoo.com (for Ca colony)
TDC Mailing address: P.O. Box 116 Hereford, Pa 18056 (for Ca colony)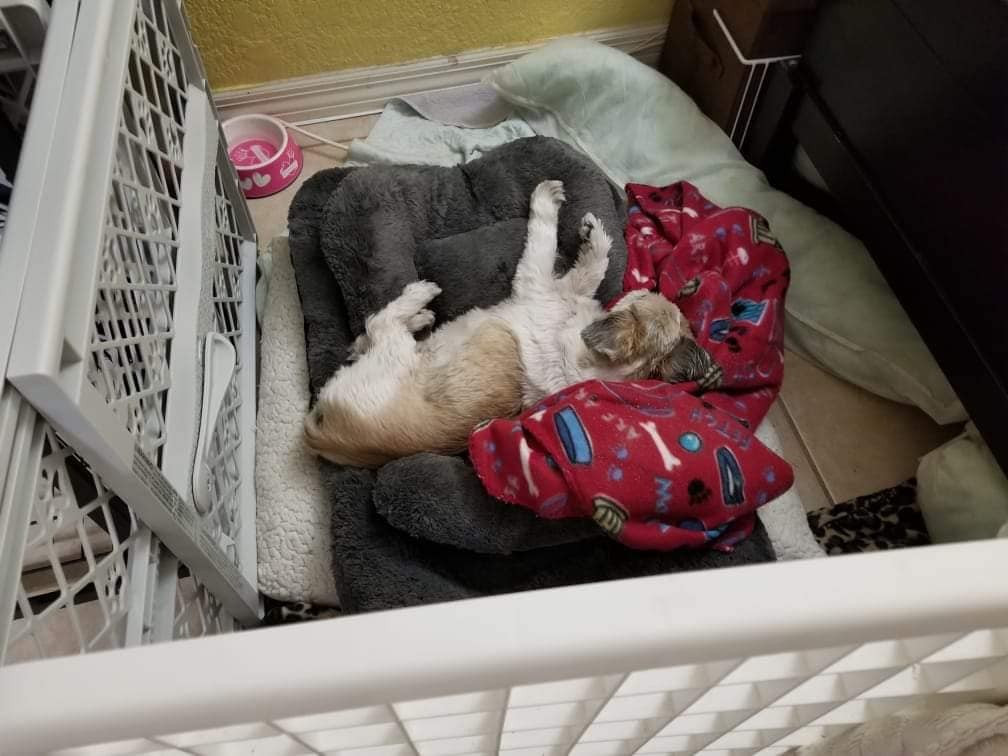 1-26-21 Moxie - dog with fractured pelvis

Urgent!🙏Please help us help Moxie! She has a fractured pelvis and needs surgery ASAP!
Donations desperately needed for her! Any amount greatly appreciated! 💕🙏😢🐾
Moxie had a tragic accident...she was given a ride on a golf cart and she jumped off 😢 She fractured her pelvis and the break is located in a spot that makes it unrealistic that it will heal so she urgently needs an FHO (Femoral Head Ostectomy)! Being that she is in dire need of a dental also (to include extractions), we will have this done too as she will already be under anesthesia.
Even hurting as badly as she is, she is still sweet as can be! She offers kisses and is so trusting. Moxie is a 10 year old, 12 lb pup that has many years ahead of her to be loved on, as we promised her elderly Mommy (who owner surrendered Moxie recently). Please consider donating, any amount will be so greatly appreciated! Moxie and our team thank you!!! ❤️

Day & Evening Vet Hospital Ph (727) 785-7200 for Moxie under Baileys Way Rescue
The Dollar Club Paypal: Thedollarclub@yahoo.com (for Moxie)
TDC Mailing address: P.O. Box 116 Hereford, Pa 18056 (for Moxie)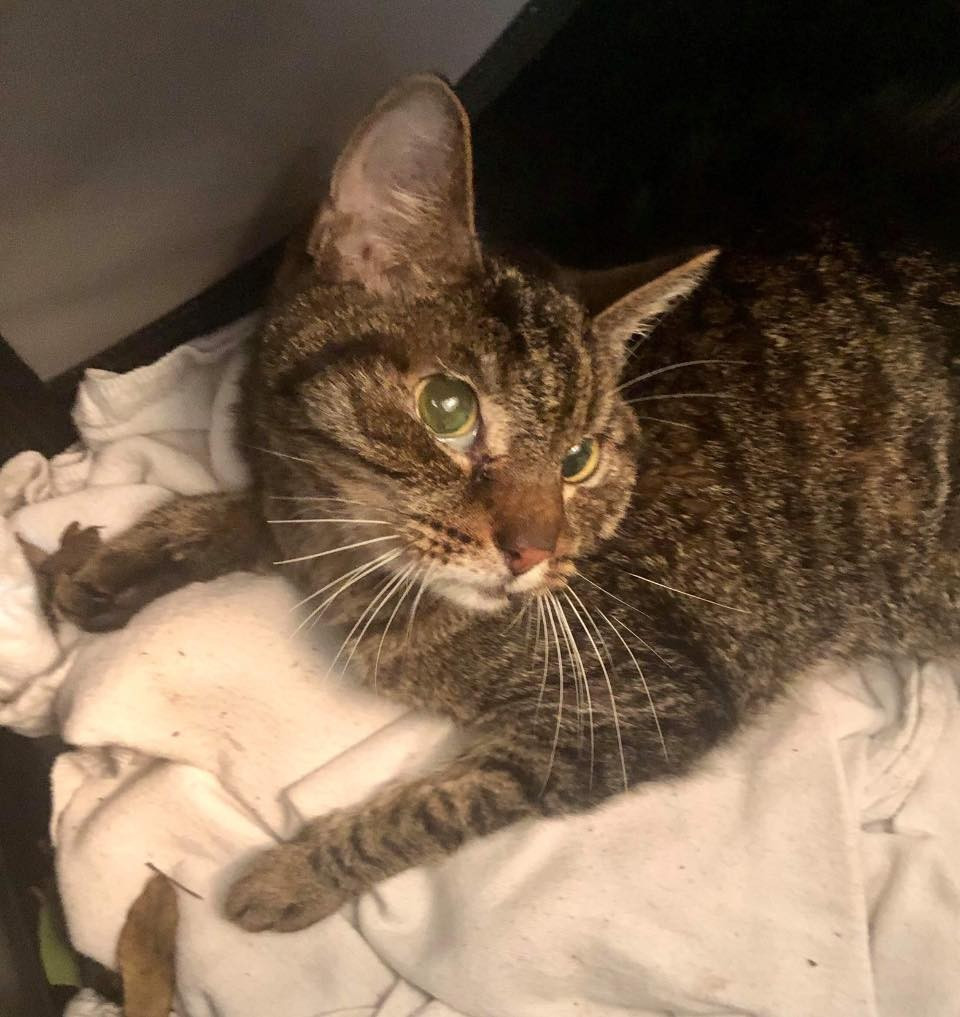 1-29-21 Jano/Cat - fractured jaw
SOS: JANO HAS COMPLETELY BROKEN JAW AND HEAD TRAUMA! SOMEONE HURT THIS CAT! Please DONATE and SHARE! He will also need a -FOSTER- for recovery! SOUTH FLORIDA. This poor sweet little cat. Jano is an abandoned housecat who was found lying in a bush, unable to move for days. He has direct trauma to the face, was either attacked or hit by a car. X-rays showed a complete fracture in the center of the jaw - both sides of his jaw are able to move independently, it seems the impact was under the chin. He was also suffering from upper respiratory infection and starving to death because of the pain from his injury. Unfortunately Jano is also having neurological symptoms - his pupils are dilated and he wobbles and weaves. This means it is very dangerous to put him under anesthesia for the surgery he needs to fix the fracture. He has been hospitalized on all kinds of meds and is starting to come around a little, but will need to see a neurologist and take a lot of time in care for his symptoms to subside before we can risk anesthesia to repair anything. His bills are already close to $1300 and climbing, he has to be hospitalized at the vet for quite a while longer, and we do not even had a quote for his surgery yet. This will be in the thousands. We do not usually take on neurological cases, but we couldn't leave him. Please, help however you can
VET INFO: Ferreira Animal Hospital under "Cat": 786-275-4629 (under SOBE Rescue)
The Dollar Club Paypal: Thedollarclub@yahoo.com (for Jano/Cat)
TDC Mailing address: P.O. Box 116 Hereford, Pa 18056 (for Jano/Cat)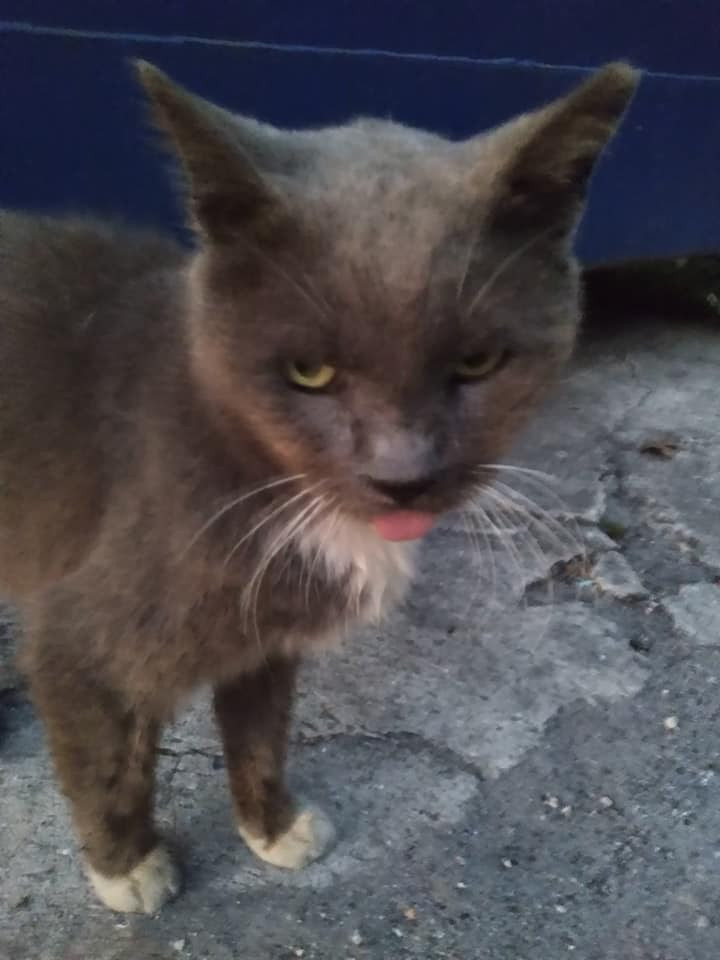 1-30-21 Zeke - needs a lump removed from throat
UPDATE #8: I WANT TO THANK EVERYONE HERE FOR THEIR INCREDIBLE SUPPORT. THANK YOU FROM THE BOTTOM OF MY HEART!!! We've received $945 so far, so Zeke will be heading into surgery at noon!!! My heart is so full right now... Best Bday gift ever!!! Thank you all!! Will update again after the surgery. ***UPDATE #7: The kitty, "ZEKE", is at the vet, where they're waiting for my call... They can't accept payments from multiple people but you CAN call them or stop by to inquire about the kitty and confirm he's there (and even visit him!) and would be getting surgery. If we're able to reach $1,000 in serious pledges within the next few hours, we'll be able to save him... he's gone through so much and has a forever home waiting for him, please, let's save him. The tumor is in his throat and is extremely large, growing into his mouth, so he can barely eat. The vet says it's possible to do surgery to remove it, but it may grow back. However, one of my dogs had a throat tumor the size of a baseball and it was removed and it never grew back, so it might not... The surgery would cost at least $1,000. If someone pays that money today, in advance, so we can be sure it'll get paid, we can get it done. If not, I don't want to prolong his suffering. UPDTAE #6 Robert Bagby caught him!!! Woohooo!!! Thank you, Robert, you're an angel!!! On my way to the Foster's house, will update late tonight! PLEASE HELP! TRAPPER NEEDED IN HALLANDALE!!! UPDATE #3: Hi! The trapper was very busy yesterday and we had to postpone, once again, this boy's trapping. UPDATE #2: Hi everyone, I tried to catch him last night but wasn't successful. When I was petting him, I grabbed him by the scruff and was placing him in the carrier, but he got really scared and was able to wriggle free and speed off. I was so frustrated, because I'm usually good at this. Of course, he wouldn't let me come close to him after that. UPDATE #1: THANK YOU EVERYONE WHO HAS SO GENEROUSLY OFFERED TO HELP SAVE THIS BEAUTIFUL BOY. Lynne has offered to adopt him, no matter if his tumor ends up being benign or not! Wow, I couldn't be more grateful, Lynne. You're amazing... In the meantime, since Lynne lives a couple of hours away and this boy needs to get vetted and treated beforehand, a friend (who's not on Facebook, so I can't tag her here) offered to take him in. I'M ALSO SOOO INCREDIBLY GRATEFUL FOR ALL THEPLEDGES/DONATIONS THANK YOU, EVERYONE. FROM THE BOTTOM OF MY HEART. I've received about $450 in pledges/donations, but unfortunately, that will not be enough to cover the cost of surgery. Miami: Please help! I've been feeding a small colony of cats for years and have found adoptive homes for most of them, to the point where there were only 5 left. But yesterday 2 of them were run over! What kind of monster does that??? I'm absolutely heartbroken and seriously worried for the 3 remaining ones. 2 of the remaining ones are gorgeous girls, which will be easy to find homes for (will post about them later) but the most pressing one is a gray tuxedo male who has a large tumor in his mouth and was joined at the hip with the female that was killed yesterday. He's very thin because it's difficult for him to swallow, but it's pretty obvious he has the will to live. He's a sweetheart, shy, but sooo sweet! He LOVES being petted. I don't know if the tumor is benign or not, he needs help from a rescue or someone who can help cover the costs of vetting and, in the meantime, a safe place indoors with someone who can shower him with love. One of our neighbors, who has helped feed them too, has offered $100 to start the ball rolling, regarding his vetting and care.
The Dollar Club Paypal: Thedollarclub@yahoo.com (for Zeke)
TDC Mailing address: P.O. Box 116 Hereford, Pa 18056 (for Zeke)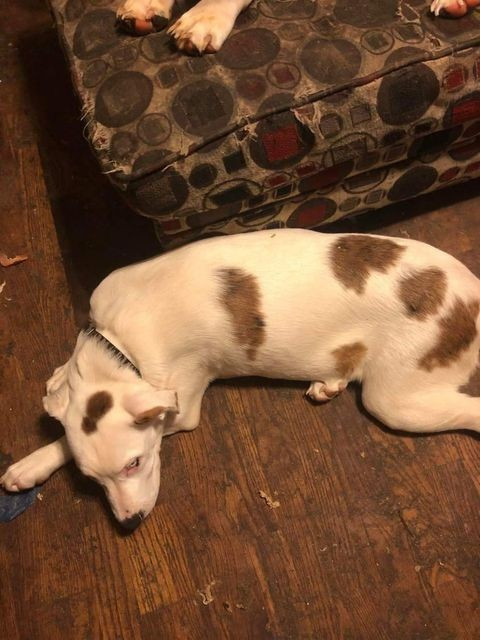 1-31-21 Autumn - dog with suspected blockage
Hi im in need of help with my 5 month old mastiff mix puppy Autumn. She has been sick for 4 days
She has been to our normal vet DVM Larry Allen (bates creek vet) 573-438-3666 And went to the emergency vet last night Veterinary speciality services 636-227-6100. She needs x-rays to see if she has a blockage but we spent all the money we had and cannot get carecredit. Estimate cost of x-rays is $250 I have started a gofundme but nobody has donated anything yet. I have a charity thats willing to help me with some of the cost of surgery or other treatments but they don't help with diagnostic testing.
Vet: Veterinary Specialty Services 636-227-6100 (for Autumn)
The Dollar Club Paypal: Thedollarclub@yahoo.com (for Autumn)
TDC Mailing address: P.O. Box 116 Hereford, Pa 18056 (for Autumn)