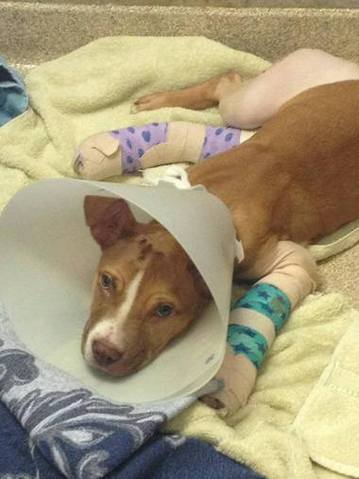 7-2-13 Avery - Bait Dog
UPDATE***AN ANONYMOUS DONOR PAID THE ENTIRE BILL

Meet Avery, a 3-month-old pitbull mix puppy. Abandoned in a high kill shelter and branded as a stray, we are unsure if her brutal injuries resulted from a life as a bait dog or terrible beatings. Injuries found this far are: Femur (hip) fracture (needs FHO: femoral head osectomy) conidial (shoulder) fracture (next step TBD) Patella (knee) fracture (likely will need a plate) All digits fractured/shattered (wrapped/set) Head wounds (clean, flushed). We need your help. We need donations. Avery's pledgie's goal is to the estimated cost to fund her routine vetting and necessary surgery. As you can imagine, a specialist will have to join the care team for several of her medical problems.
Link to her story with photos:
http://www.thedollarclub.org/in_memorium.html?r=20130702100832
Paypal: twentypawsrescue@gmail.com (please comment Avery) 4)
Vet office call: Pulaski Animal Hospital (773) 735-2112 tell them you want to make a payment on Avery's account (account number is 15243)
Mailing Address: Twenty Paws Rescue P.O. Box 64 Cresco, PA 18326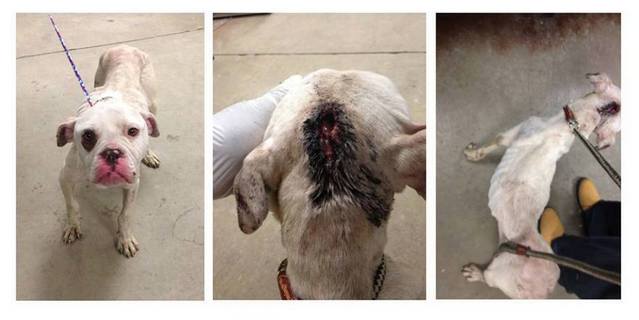 7-4-13 Kuperas - Emaciated Dog with badly infected head wound



Kuperus was found tied to a tree with this large wound in her head. She was taken in by Philadelphia ACCT who contacted Adopt a Boxer Rescue to give her the lifesaving care she needs. She is currently at the Vet Hospital at the University of Pennsylvania being evaluated by surgeons. The wound goes clear down to the skull which is exposed in several places. Because she is also emaciated, surgery becomes a bit more risky. Additional test will be done to decide when she will have surgery. We'll keep you updated.

PayPal: nyboxerrescue@yahoo.com
Mailing Address: Adopt A Boxer Rescue PO Box 270551 West Hartford, Connecticut 06127
YouCaring: http://www.youcaring.com/medical-fundraiser/get-kuperus-headed-in-the-right-direction/70320


7-6-13 Shadow - puppy hit by car



A 6 week old puppy with a fractured pelvis and femur. How does this happen! We are not aware of the cause of this horrible injury. We just know that this little guy needs surgery to give him a chance of living a life without pain. He needs to be able to walk! Please give us any help you can so that we can move forward with the procedure. Shadow cannot take a lot of the regular medications used to ease pain in older dogs. They are not appropriate for such a young puppy. Shadow tries to move, then yelps with pain. Every tiny donation will help us reach our goal to get Shadow mended and into true playful puppy mode!

Mailing Address: Pug Nation Rescue PO BOX 270 Torrance, California 90507
PayPal Link: http://www.youcaring.com/medical-fundraiser/shadow-s-pelvis-and-hip-surgery/68873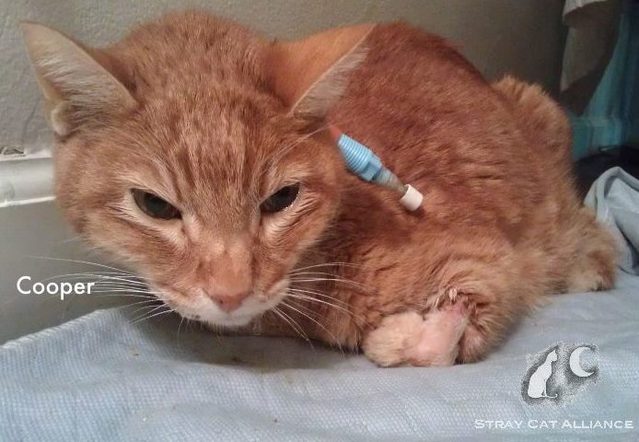 7-6-13 Copper - Very sick kitty



Sweet COOPER (aka Super Duper Cooper) is an 8 year old orange tabby that SCA saved from the high kill OC shelter. They said he was "exposed" to mange and were going to kill him. He has been happy in a foster home but recently became very ill. Wouldn't you after being dumped by your family to die at the shelter? COOPER was failed by his family, failed by the shelter and he WON'T be failed by SCA and their supporters.

He has a polyp in his throat and stopped eating. He is being treated for fatty liver (when cats don't eat it's very bad) and was hanging on to life. He is on the mend but needs a lot more treatment. He will also need that polyp removed.

Can you please spare some change for COOPER? He will be forever grateful.............

Please donate to Cooper's medical expenses here:
http://www.straycatalliance.org/donate/donate/donate-direct

Mailing Address: Mailing address: Stray Cat Alliance, P.O. Box 661277 , Los Angeles, CA 90066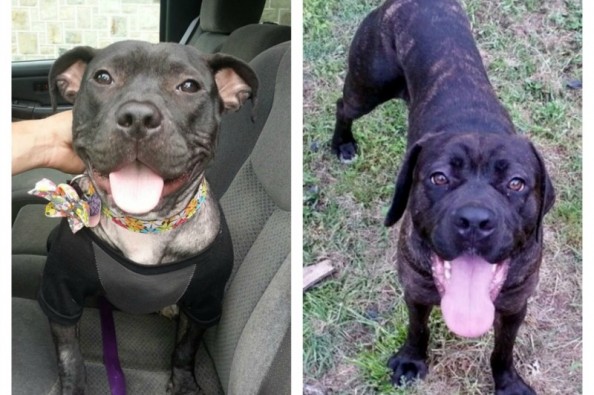 7-7-13 Ayana and Naja - 2 dogs with heart problems



Ayana (left) is a young pit bull mix rescued from a shelter just before being euthanized. She's living in foster care and is also being treated for non-contagious mange which causes hair loss. At a recent check up, it was discovered that Ayana has an enlarged heart and murmur. Her condition is most likely either pulmonic stenosis which if found to be severe enough by the cardiologist will require surgery or aortic stenosis which would significantly shorten her lifespan.

Naja (right) is a young Cane Corso who came to us after being abandoned in a back yard with her three puppies. She was a great mom to her boys who have all since been adopted. When we took her in to be spayed, she was diagnosed with a grade 3 heart murmur and our vet would not do the surgery because of it. Naja will need to go to a cardiologist for an echo to determine the extent of the murmur and what kind of anesthesia will be safe for her. Each dog's necessary consult and echo will cost about $500. Please consider making a donation towards Ayana and Naja to help us get them the needed medical care so they can ultimately be adopted. Every amount helps and is greatly appreciated. Thank you in advance for your support!

PayPal: http://www.gofundme.com/AyanaNaja
Mailing Address: All they Need is Love PO Box 385 Thorofare, NJ 08086
7-10-13 Sona - Cat injured and tossed outside (CANADA)



We finally got innocent Sona today... We rushed her the hour drive to the clinic where she is now receiving medical help. She is a very gentle sweet girl. Everyone who met Sona today believes she was once someone's pet. Because she is so welled behaved and likes to be cuddled, tossed out by her family to try and survive on her own. This is what we know about Sona's condition so far. (We will know more tomorrow after more tests and x-rays are done Her Dr. feels it's best not to put her through to much today) Blood work was done and her blood cell count looks good, Kidneys look good and most everything else looked good except for showing that she has an infection which didn't surprise anyone..No fever, her leg may have to be taken of up to the elbow, One eye is gone and her eye socket will need to be cleaned out and stitched closed,, They are worried about the large lump below her eye (hoping it is not a tumor) BUT WE SHOULD KNOW MORE TOMORROW AFTER THE X-RAYS AND OTHER TESTS ARE DONE. https://www.facebook.com/groups/481412605274931/?fref=ts

Paypal: scapa.sanctuary@gmail.com
Cheque or Money Orders can be mailed to:
Scapa. PO BOX 222.Stephenville, NL.A2N 2Z4.Canada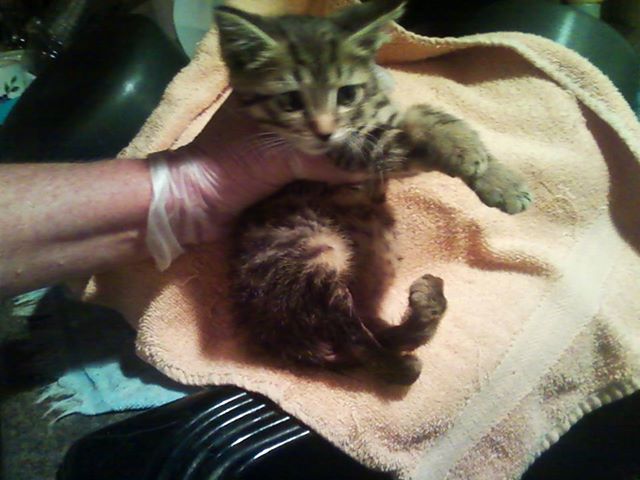 7-10-13 Tiny Tim - kitten with deformed legs

Tiny Tim was born to an outside stray mama cat! I received a call about a kitten that needed help...picked him up and took him to our vet. Our vet confirmed that he was born with a birth defect & his back legs are useless and twisted. He had maggots on his rear end from being blowed by flies and his belly was full of round worms. He has been treated and now we are trying to raise funds for x-rays, FeLV/FIV combo testing and vaccinations...We are also reasearching and trying to find hope and help for this little guy with possible surgeries and/or a wheelchair. Please share to help TinyTim find hope in this world! Thank you for caring!

Mailing Address: KKCR PO Box 914 McMinnville tn 37110
Paypal: https://www.youcaring.com/medical-fundraiser/tiny-tim-kitten-with-deformed-legs/70636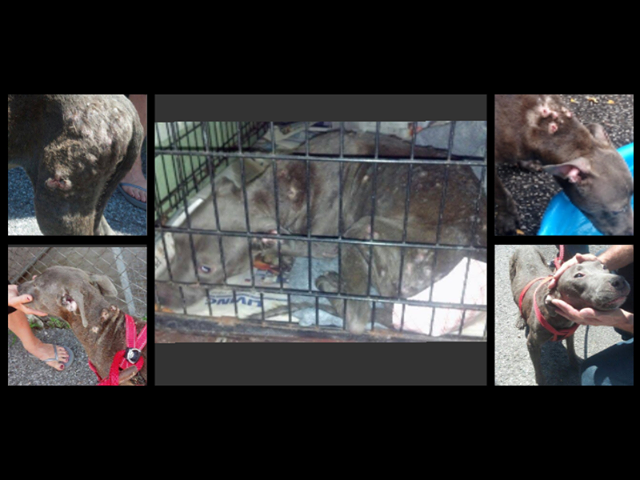 7-13-13 Indy Abandoned bait dog



Poor Indy was found tied to a pole on the brutally hot July 4th afternoon, hence her name. Indy has a severe bacterial infection from all her puncture wounds left untreated all over her body On top of that she is very skinny and was dehydrated yet for all she was clearly suffered you could see her soul through her eyes We immediately got her vet care but this is no place for a sick little girl. Indy is not more than a puppy she is full of sweetness and love.

Mailing Address: Second Chance Rescue PO Box 570701 Whitestone, NY 11357
http://nycsecondchancerescue.org/donate/ Indy thanks you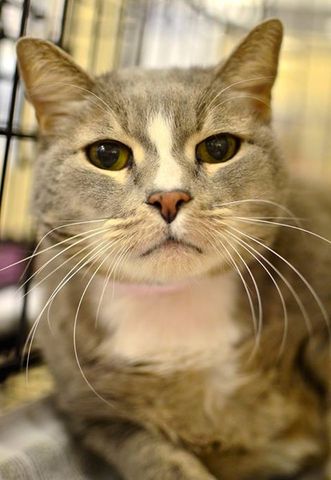 7-13-13 Payne - Very sick senior cat



PLEASE HELP Payne, a senior declawed Kitty arrived from a shelter to us not along ago. Now this Boy desperately needs your help. He came with a severe upper respiratory infection which led to ulceration on both eyes and hepatic lipidosis. Payne who has a feeding tube now, will have surgery on both eyes. There is a good chance that he might loose his sight and or even require removal of his eyes.

UPDATES! He already had the surgery on his eyes and requires eye drops every hour. Our vet bill is very large.

PayPal: info@fancycats.org
Fancy Cats Rescue P.O. Box 182 Herndon, VA 20172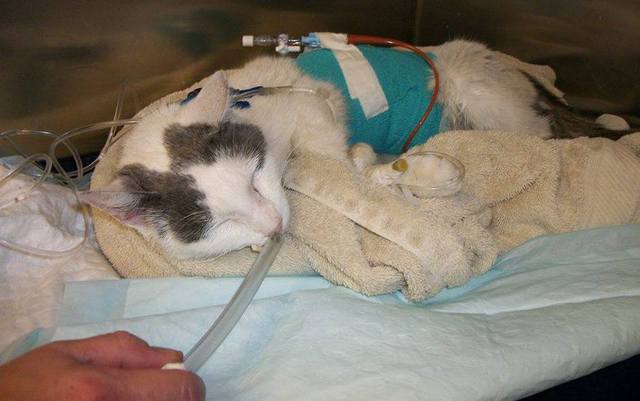 7-18-13 Nikki - diaphragmatic hernia
Mama Nikki was pulled from ACCT with her kitten Monday night. Shortly after being pulled foster mom noticed mom had labored breathing. The foster took her to the vet who said she needed to go to an emergency vet and recommended Cares in Langhorne,PA. It was determined by Cares that she would need emergency surgery to correct a diaphragmatic hernia.The following day the rescue contacted Cares to determine if they could get a discount as a rescue since the estimate was $7300.00. Cares declined to give a discount because the surgery had already been completed even though Nikki must stay several more days to recooperate. Please help the rescue raise some funds for her bill.Any amount helps.
http://www.youcaring.com/medical-fundraiser/medical-for-nicki/70404
Mailing Address: The Dollar Club (Nikki) P.O. Box 4253 Bethlehem, Pa 18017
PayPal: shop2helpanimala@aol.com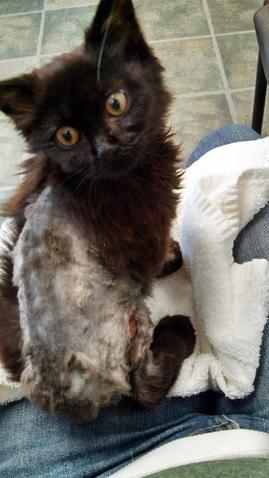 7-19-13 Lazarus - Stray kitten



We never expect these kinds of emergencies, but we could not turn a blind eye to Lazarus when our volunteer found him dodging cars in middle of the road. Upon first exam, the greatest concern were the deep wounds covered in maggots and a possible infection. Those are all cleaned up now, but pneumonia is our greatest concern now. Please help us continue our care for Lazarus by contributing to vet bills totaling over $1200.
- See more at: http://furkids.org/2013/07/help-baby-lazarus/#sthash.5u3lOFfZ.dpuf

PayPal: http://furkids.org/donate/
Mailing Address: Furkids, Inc. 2650 Pleasantdale Road Suite 8 Atlanta, GA 30340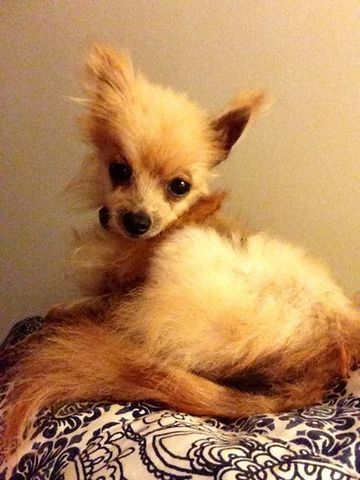 7-22-13 Honey Bear - Bladder

Stones



Please pray and donate for Honey Bear. She couldn't urinate this morning and was rushed to the emergency vet. Turns out she has 5 huge bladder stones and is in critical condition. She needs emergency surgery, but the estimate at GVS is $3-5k. Her tiny size presents complications, particularly that they are having a tough time finding a catheter small enough for her. We need prayers for the vets that they find solutions and use their gifts to heal Honey Bear. She's been through enough pain in her time here. Please pray for swift healing and that her surgery is successful. She's just learning about the kind of life she should have and she's touched so many of us. She needs to get through this so we can continue to love her.

PayPal: http://www.angelsrescue.org/donate
Mailing Address: Angels Among Us PO Box 821, Alpharetta, Georgia 30009