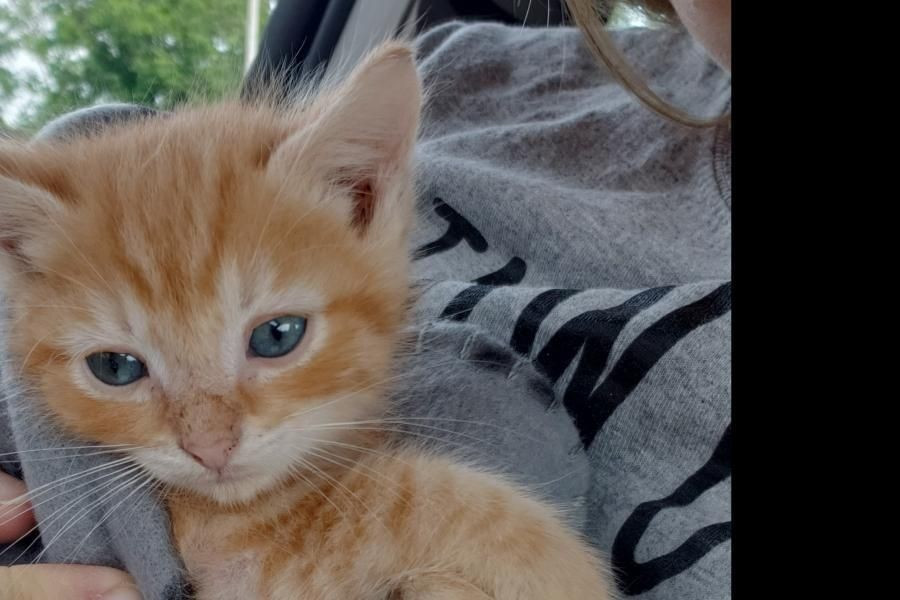 6-2-21 Tiny Tim - very sick kitten
Prayers for Tiny. Pulled from a colony in horrible condition, she is now being treated for calicivirus. Her joints are swollen, she can't stand or walk, and has a wound on her leg. She needs someone to support her weight for food, water, and potty. She has so much life ahead of her if she can just pull through. These medical cases can really pull us off course from our TNR mission. Please consider donating to Tiny's medical care. *Update: Tiny is now on more antibiotics for sepsis. She is about 6 weeks old and not even 1 pound. She seems strong but gets tired quickly. At this point we just pray that her immune system wins this fight.
Vet: Animal Clinic of Buena, 856-213-6340 (for Tiny Tim under Woodland Whiskers)
The Dollar Club paypal: thedollarclub@yahoo.com (for Tiny Tim)
TDC mailing address: P.O. Box 166 Hereford Pa 18056 (for Tiny Tim)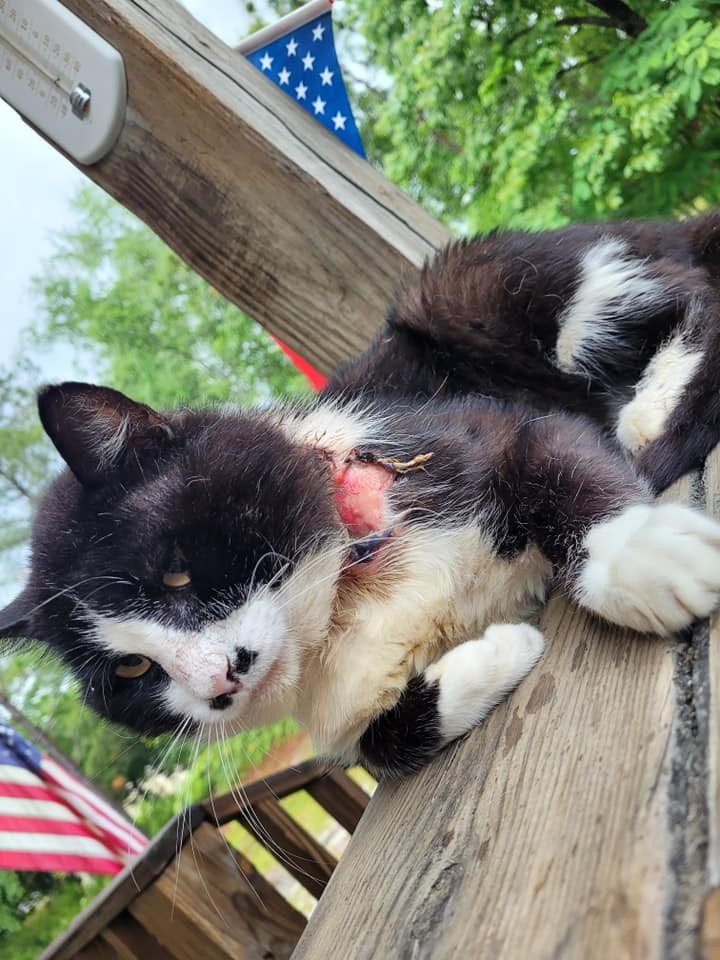 6-7-21 Kitty Fowler - cat attacked by something needs surgery
Can someone please help point me in the direction to get help for this poor kitty. He's a stray that I'm assuming got dropped off. Unfortunately I can't afford this as I'm taking care of other cats and a single mom. I'm at the Animal emergency & trauma hospital in wilmington waiting for an estimate on the care he needs. I'm hoping that someone can help donate towards the vet bill. Please help I believe he was attacked by a fox and it's breaking my heart. **UPDATE #1: So the doctor told me that I need at least $380 for him to get treated. This includes anesthesia, IV, antibiotics, pain medication, and wound care/debridrment. I only have $100 and they said $20 has been donated so far. I really need some help or he's gonna have to come back home with me in the same condition he left. He has a long, expensive road of recovery ahead of him as $380 is only 80% of the estimate. **UPDATE #2: Thank you all SO much, I'm overwhelmed with the responses and donations for my sweet kitty!! Thanks to you all he will be here for the weekend and evaluated by the surgery team on Monday. I've been told that for treatment by the surgeons could be close to $1000. All donations are appreciated. Again thank you all, it's nice to know kindness and love still exists❤❤❤. **UPDATE #3: after sedating him she's realized his injuries are much worse than she thought. He has long ways to recovery. **UPDATE #4: hello everyone! The Doctor just called me with an update on Kitty. He's finally gotten his temperature down and is attempting to eat!! Unfortunately his injuries are severe and is going to require additional hospitalization. The surgery department was able to examine him and have given an estimate of $1500 to continue treatment. They are requiring a $750 deposit by tomorrow afternoon and have opened the line for donations. Depending on how quickly he recovers this week will determine when he can come home. I really have my hopes up that he will be able to come home by the end of the week. I cannot stress how thankful I am for everyone's help!!! However there's no way I can come up with this amount of money, if you are able to help I would appreciate it. His estimate for care by the Surgical Department is $1500 and I have to have $750 of it by today. This is the next step to recovery and depending on how fast he recovers my plan is to transfer his care to a cheaper veterinarian as this is a hospital. Still leaning more towards a coyote attack. I plan on visiting him tomorrow if allowed and I'll post an updated picture. Every penny counts and we appreciate everything!!!
Animal Hospital & Trauma Center in Wilmington at 910-791-7387 his name is under "kitty fowler"
The Dollar Club paypal: thedollarclub@yahoo.com (for Kitty Fowler)
TDC mailing address: P.O. Box 166 Hereford Pa 18056 (for Kitty Fowler)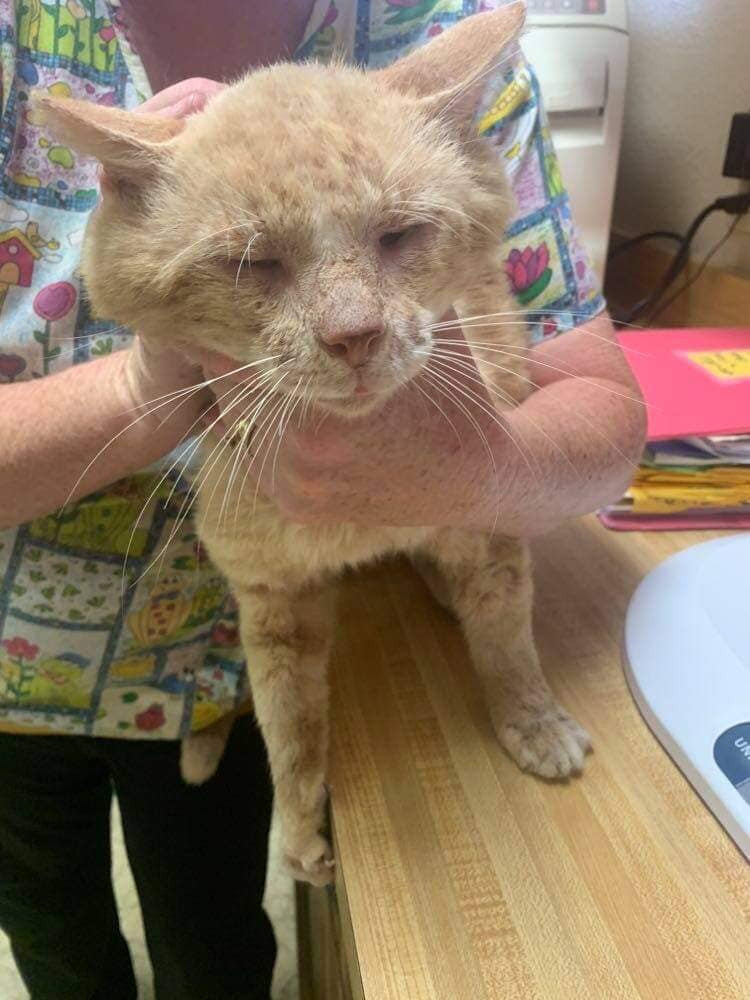 6-7-21 TomTom very sick stray cat
For the Love O' Maxx
This is Tom Tom , we received word that he was suffering, and in danger. I wasn't able to go get him, but a wonderful woman was able to get him and another amazing person drove 2 hrs to bring him to our vet. Blinded by infection, multiple bite wounds, growths with infection on his tongue and last but not least entropian.. he is the result of stupidity!! Thinking your cat can fend for itself!! He will never know pain and suffering again!!
Vet: Ocala Sq. Animal Clinic: 352-694-3631 (for TomTom under Sanctuary to the Maxx)
The Dollar Club paypal: thedollarclub@yahoo.com (for TomTom)
TDC mailing address: P.O. Box 166 Hereford Pa 18056 (for TomTom)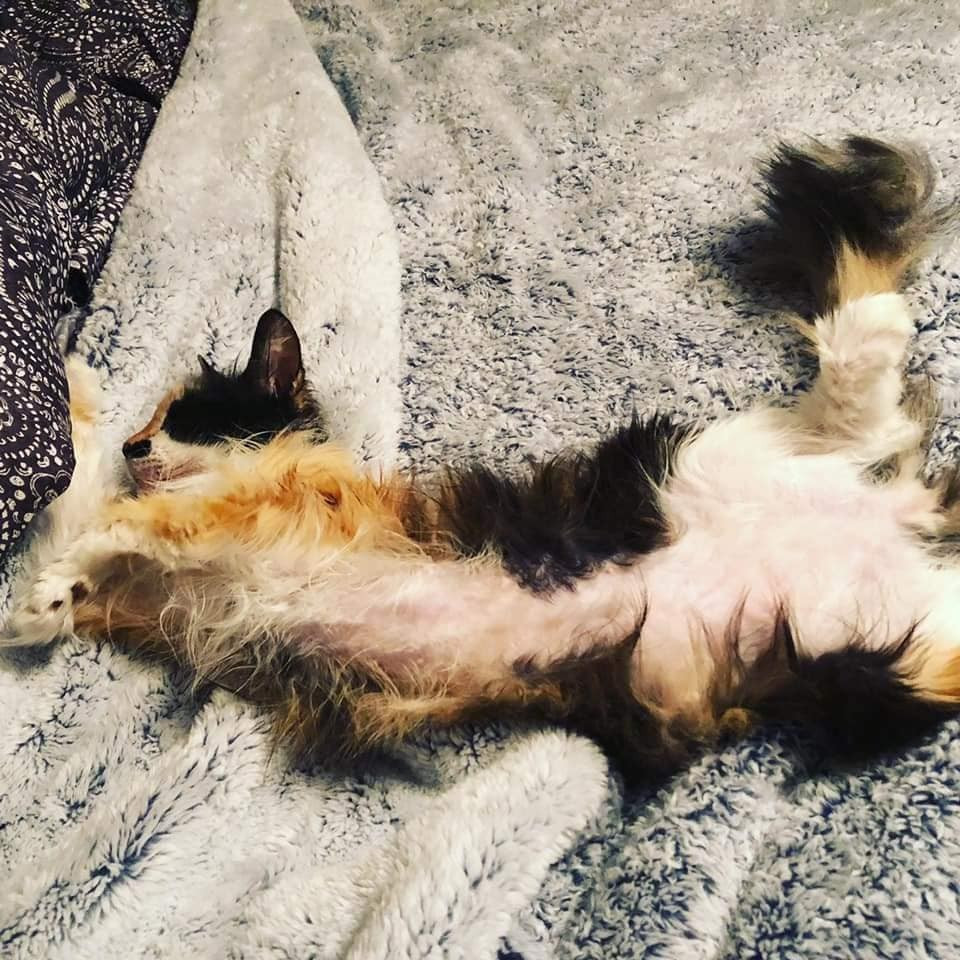 6-7-21 Lilly - sick discarded cat needs vet ASAP
HOUSTON, TEXAS THIS POOR SKINNY CAT WAS THROWN OUT BY HER OWNERS.
Liz Hutcheson TOOK HER IN. BUT SHE NEEDS MEDICAL CARE. SHE IS VOMITING AND HAS DIARRHEA. AND AT ONLY 4 LBS. SHE NEEDS A VET ASAP! ANY AMOUNT HELPS.
WILL POST DONATION LINK AND VETERINARY INFORMATION WHEN WE HAVE ENOUGH TO TAKE TO THE VET. PLEASE. ANY AMOUNT HELPS. SHE WAS LET DOWN BY HER OWNERS. LET'S SHOW HER THAT THERE ARE HUMANS THAT CARE ABOUT HER. She has an appointment this afternoon
Vet: Rayford animal wellness clinic under Lily 281 667. 9360
The Dollar Club paypal: thedollarclub@yahoo.com (for Lilly)
TDC mailing address: P.O. Box 166 Hereford Pa 18056 (for Lilly)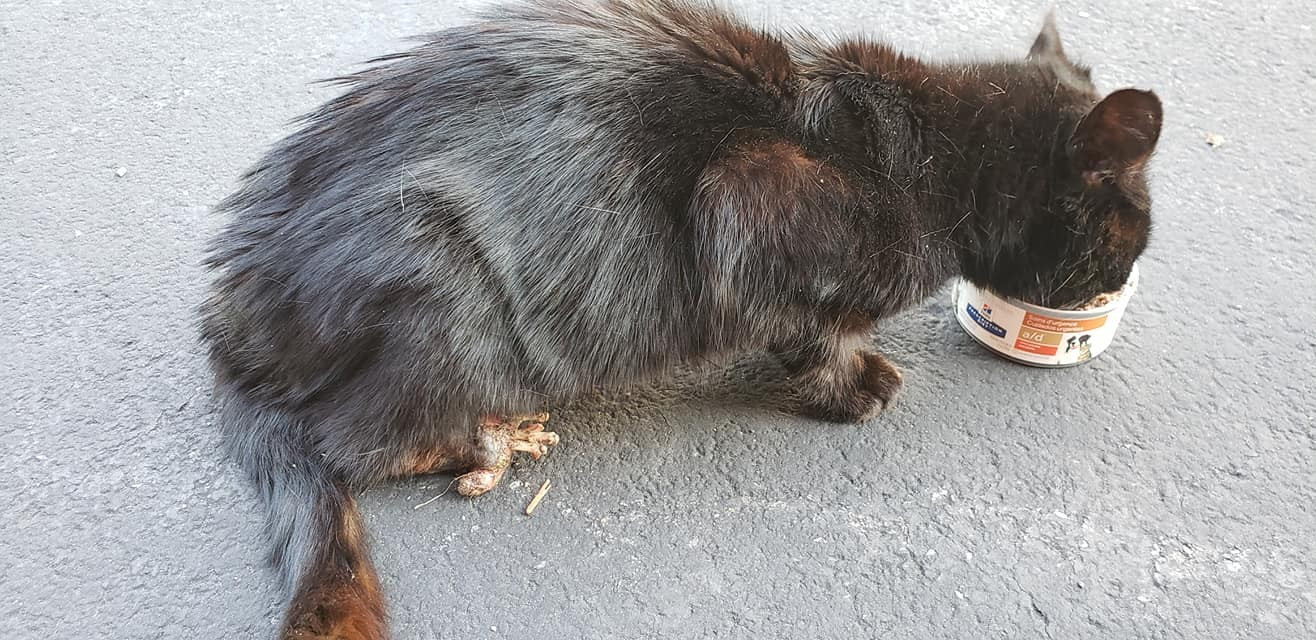 6-8-21 Oakley - cat with leg broken off and bad teeth
I crossed paths with this poor soul today. Its definitely true, they are guided to help when they need it. I have no room but not helping wasn't an option. All this baby wanted was to be pet 💔😭
This cat is completely emaciated. KEEP YOUR CATS INSIDE, the injury appears to be from the cat having its leg caught in a trap. I can't bare to imagine what this loving soul has endured. PLEASE keep this baby in your prayers. Update: I've named the kitty Oakley, since he or she came out of the woods. Oakley is at Plains Animal Hospital being seen, will update when I get more information. Thank you all for your positive thoughts and prayers. UPDATE wound is full of maggots and her teeth are cracked
Vet: Plains Animal Hospital 570 829 3040 (under Lisa Meeker for Oakley)
The Dollar Club paypal: thedollarclub@yahoo.com (for Oakley)
TDC mailing address: P.O. Box 166 Hereford Pa 18056 (for Oakley)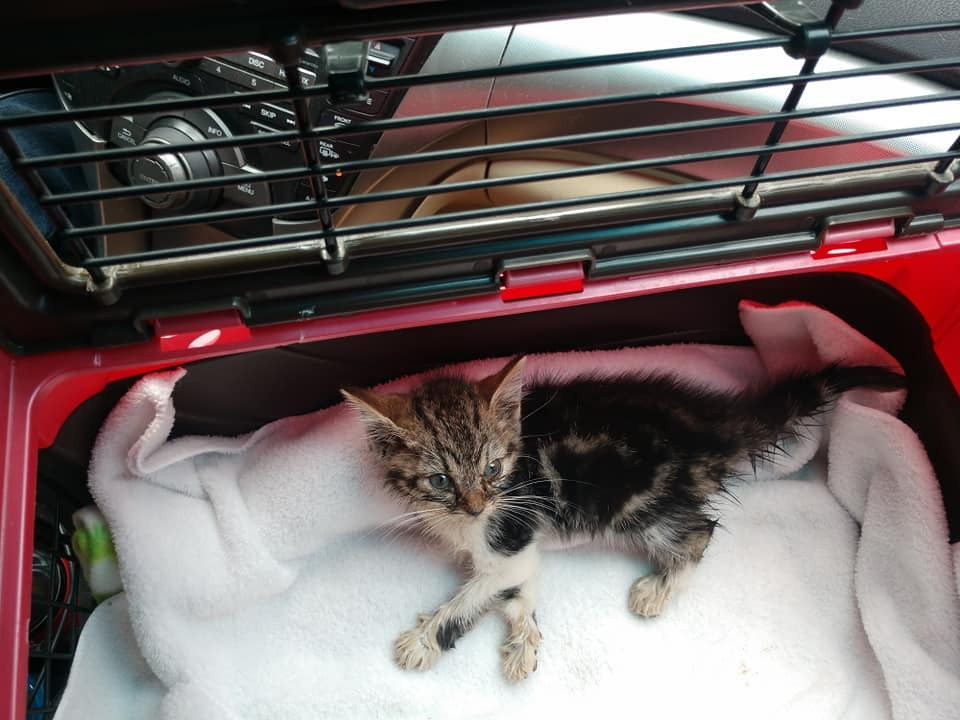 6-8-21 Tony/Toni - starving kitten
Natascha Fuller: Imagine being in an abandoned dusty building. No momma, no people. No food, no water. Just your brother and sister who slowly starve to death one at a time in front of you. Now you are sick, so weak you have to walk slowly, your eyes are clouded over with infection, so emaciated that your skin sinks in between your ribs. You're dieing. The only food source is the bodies of your dead siblings who are rotting. 😭 That is how this sweet baby has been living
Meet Tony/Toni, who is so emaciated that I can't even tell if we have a he or she. Please please please help if you can we are rushing to the vet as I type this. I have to help this baby but my vet bill is already through the dang roof.
Ozark vet Clinic 334-774-5940 (for Tony under Natascha Fuller)
The Dollar Club paypal: thedollarclub@yahoo.com (for Tony)
TDC mailing address: P.O. Box 166 Hereford Pa 18056 (for Tony)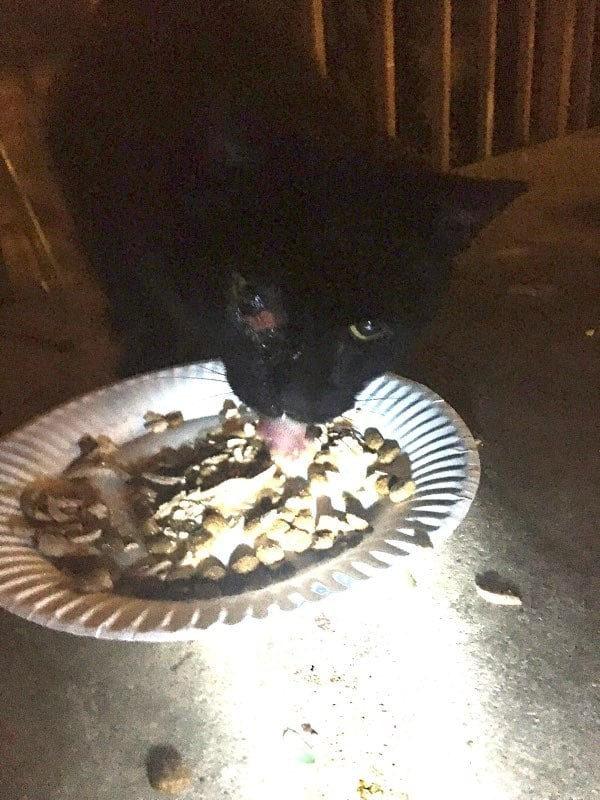 6-8-21 No Pants - kitty with a severe eye problem
FRIENDS! PLEASE HELP NO PANTS! EMERGENCY FUNDS FOR LIBRARY CAT MEDICAL BILLS NEEDED! Pledges and donations desparately needed! Update: We need pledges or donations to continue his treatment, his bill has already reached almost $1000. Today we moved Mr. No Pants from original vet hospital to an amazing local non-profit vet hospital and his surgery is within reach, the cost is still expensive but not astronomical. Can't continue treatment without help. This poor guy can't get a break, he appears to have been injured by a wild animal and has had his eye damaged. After a week of trying to get him in a trap, he is finally on his way to see a vet now. Some may remember our little mascot No Pants Kitty from his fundraiser in 2018. We managed to trap him and get him vet-care and back to health after 10 days in the vet hospital.
They are suspecting an eye removal surgery, but still awaiting his official exam. The expense for this is astronomical!!! Starting with a $1000 deposit and at the high end $3258.00 We are asking for help to raise funds in hopes that he will be able to return to the Library and thrive again. But we can't do this with out donations from people who care, Street Cats deserve to be loved to 🖤
Vet: Blue cross animal hospital 818-908-1313 -Under name No Pants -owner Valarie Bermudez
The Dollar Club paypal: thedollarclub@yahoo.com (for No Pants)
TDC mailing address: P.O. Box 166 Hereford Pa 18056 (for No Pants)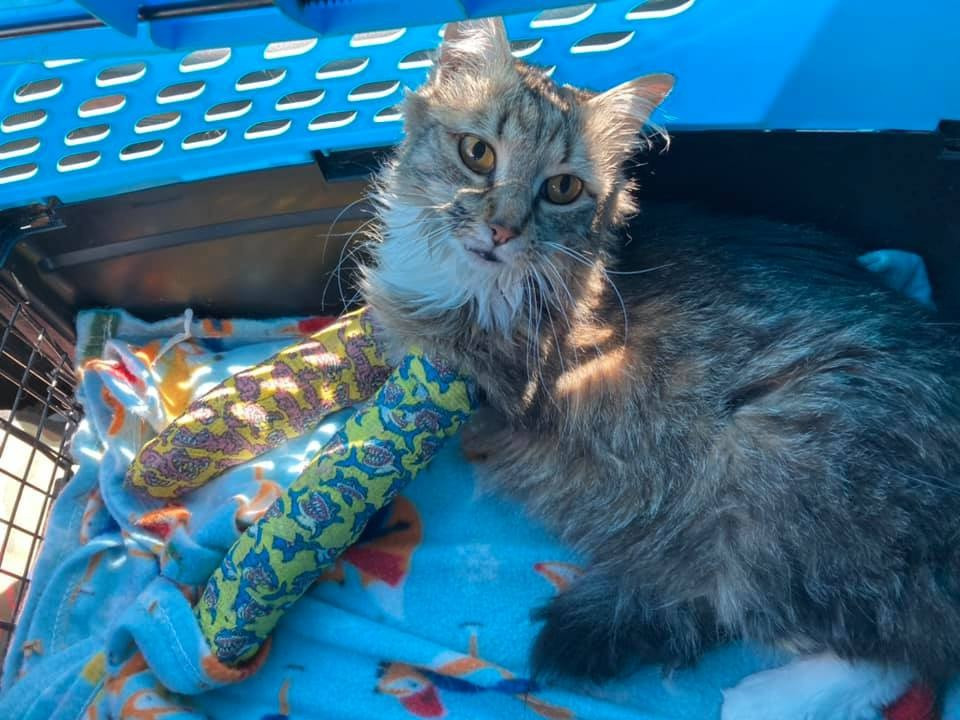 6-10-21 Misty - kitty with 2 broken legs
This poor kitty had a terrible accident with a steel closet clothing rack that trapped her legs. They are not healing correctly and needs costly surgery. If the money cannot be raised, they have to amputate both front legs!! **UPDATE They were able to finance $4,800 but need another $2,000 to get both legs done. So far, the plan is the fix one and amputate the other due to the money situation. Any help is appreciated but it is needed by tomorrow morning to have both legs saved
Vet is Bend Veterinary Referral center: Bend Veterinary Referral center 541-210-9200 (for Misty under Marsha Curths
The Dollar Club paypal: thedollarclub@yahoo.com (for Misty)
TDC mailing address: P.O. Box 166 Hereford Pa 18056 (for Misty)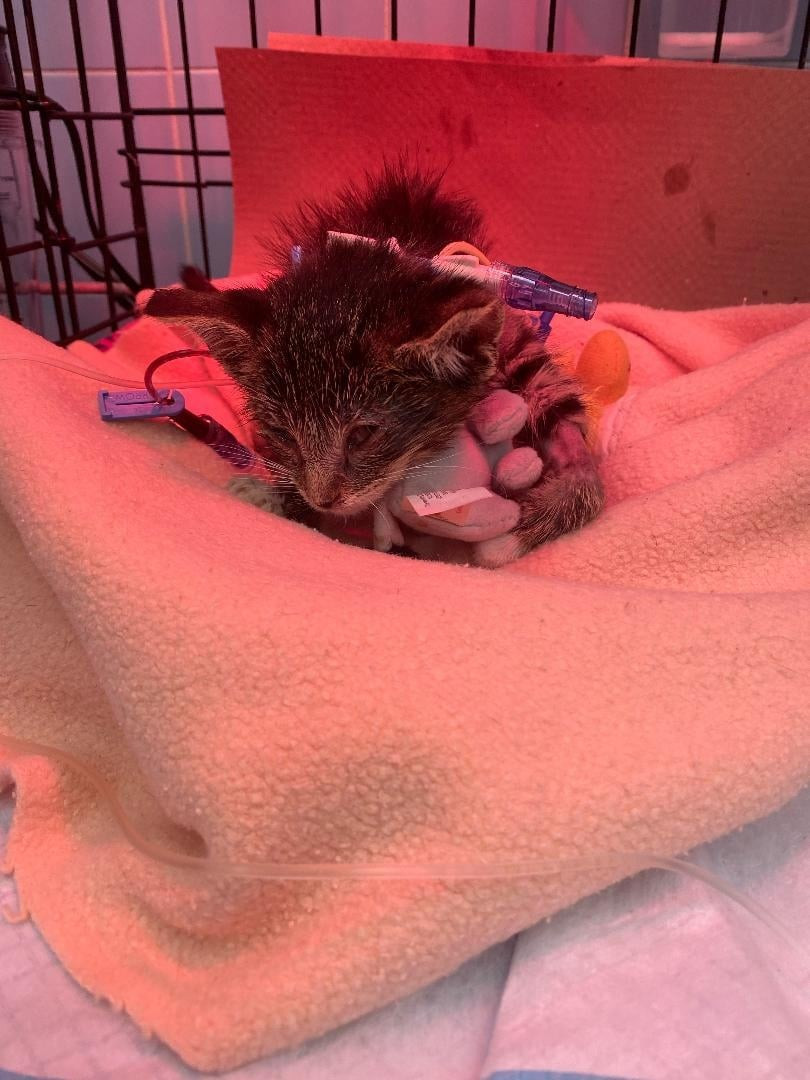 6-13-21 Mr. Sniffles - very very sick tiny kitten
EMERGENCY: Yesterday, Ready For Rescue took over the care of Mr. Sniffles, a very sick little 4-week old kitten found on the street in Brooklyn. He was rushed to VEG, where he spent last night in critical condition. He was later transferred to AMC this morning, where he is fighting for his life in ICU. This sweet boy has a severe URI that has possibly progressed to pneumonia, and he is not maintaining his glucose level despite receiving ongoing dextrose. He is on IV-fluids and antibiotics, dextrose, heating pad, and oxygen if needed. He is estimated to be in ICU for (3) days at AMC. Please consider a donation. We were planning to hold pulls for June to catch up on funding and vet bills, but we could not say no to giving Mr. Sniffles a chance at life. UPDATE - Mr. Sniffles is doing a bit better today. UPDATE - Sunday, June 6th: Mr. Sniffles has not gotten worse, but he also has not improved as much as the vets would like. He was a bit brighter this morning, more hydrated, and less congested. However, his glucose levels are continuing to be unstable despite that he's receiving IV dextrose. He is also being syringe fed, but his ability to tolerate the feedings is hit and miss. He cannot safely leave AMC at this point. The new AMC estimate is now at $6000, adding in the next 24 hours, which brings the total close to $8000 (including VEG and Ambuvet). We are not giving up on this little guy. He is a tiny fighter and the staff at AMC adore him. He will continue to be on IV fluids and dextrose, antibiotics, anti-nausea medication, and is being nebulized.
Vet: Animal Medical Center 212-838-8100 Under Ready for Rescue/Mr. Sniffles
The Dollar Club paypal: thedollarclub@yahoo.com (for Mr. Sniffles)
TDC mailing address: P.O. Box 166 Hereford Pa 18056 (for Mr. Sniffles)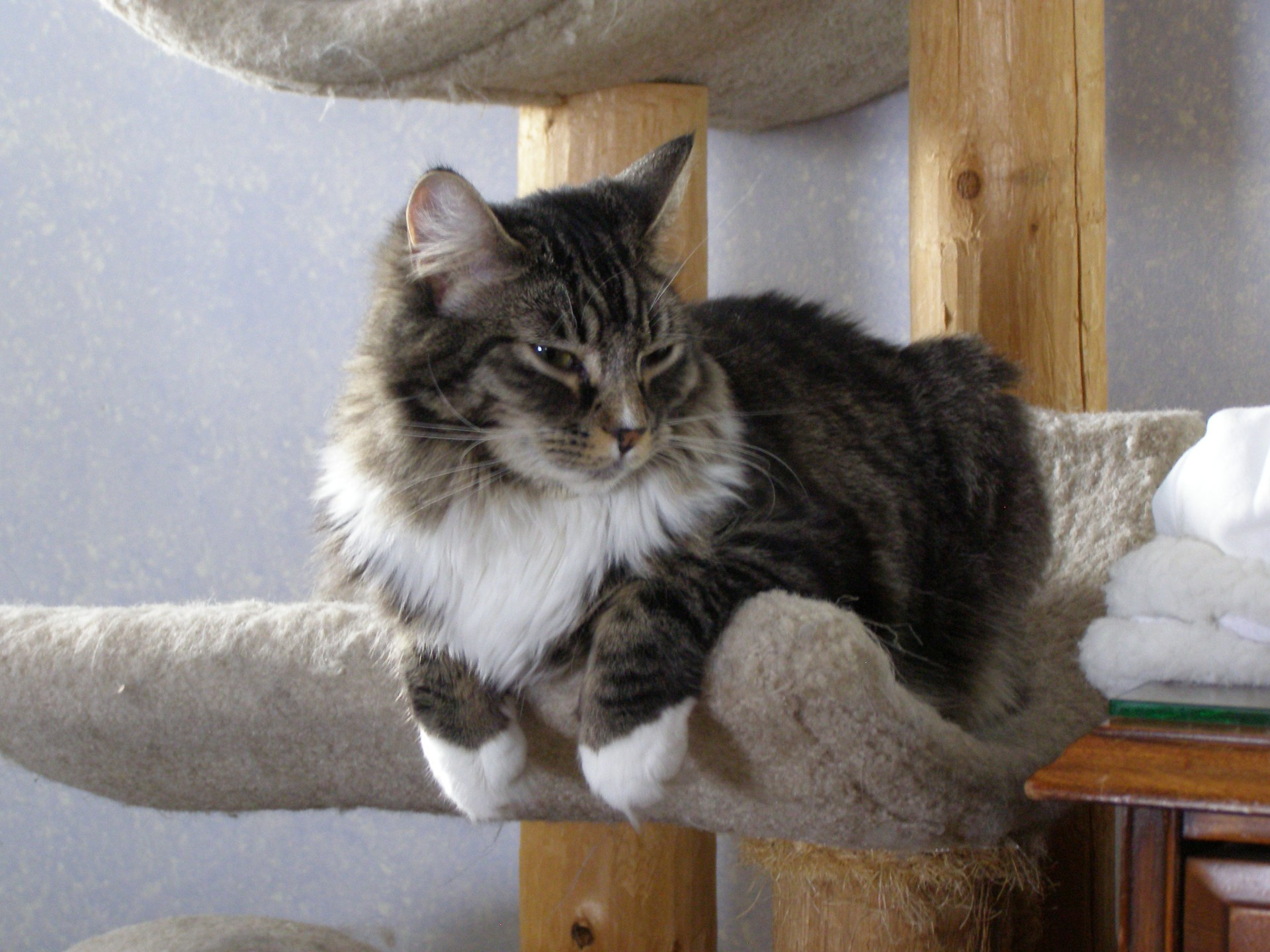 6-15-21 Cat colony food (no photo of colony so this is a stock photo)
I discovered an elderly couple trying to feed a huge colony of cats on their own. I have gotten them in contact with a group who can help spay/neuter and I had a large amount of food sent too. If you can help, I'd like to get more sent.
The Dollar Club paypal: thedollarclub@yahoo.com (for food)
TDC mailing address: P.O. Box 166 Hereford Pa 18056 (for food)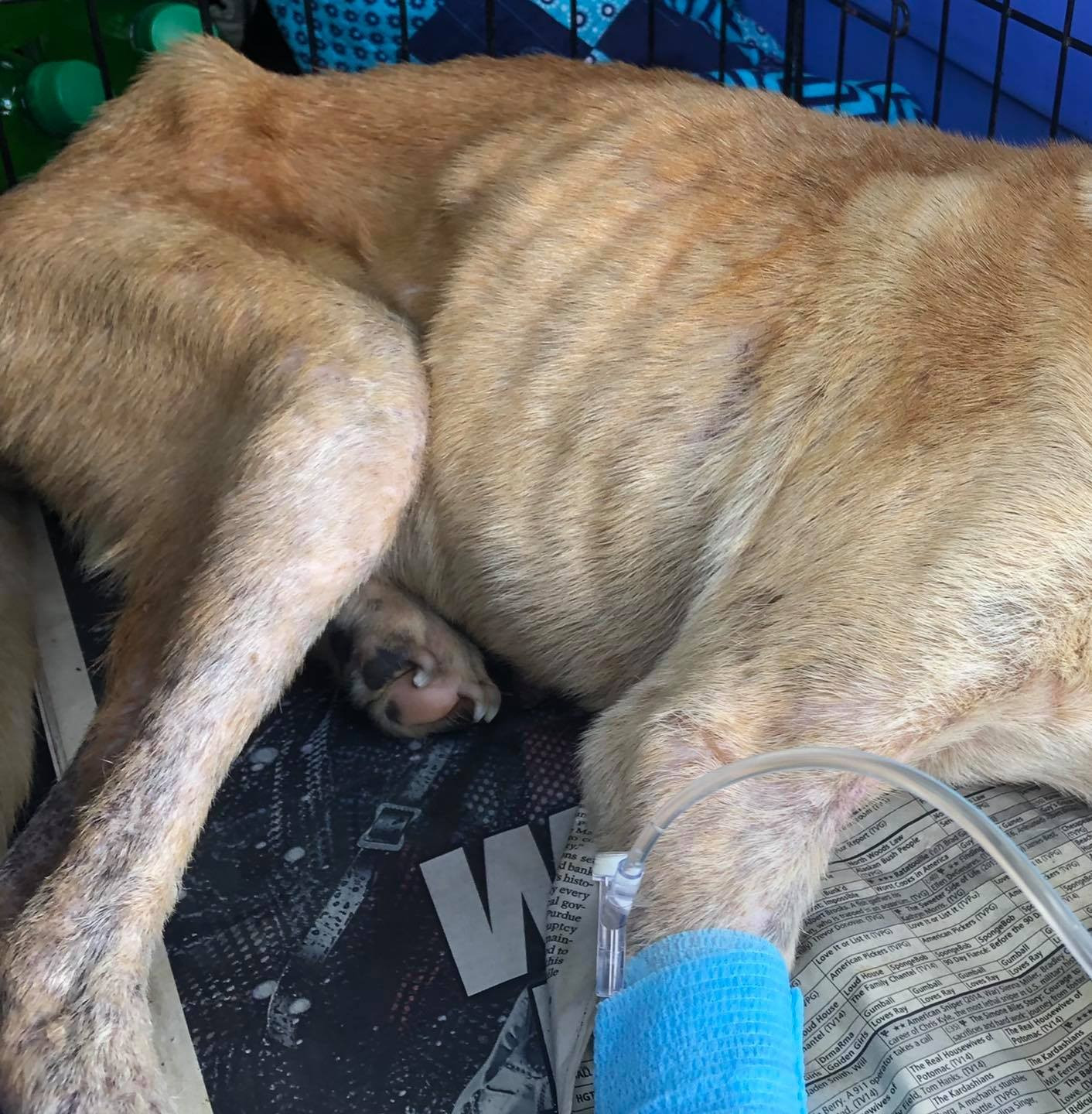 6-15-21 Three rescued dogs need emergency care
EMERGENCY! We have a situation that we can unfortunately give very little details about at this time, but we received a dog that was on deaths door this morning and we have been working around the clock to keep her stable and alive. She is going to need extensive vet care, she is emaciated, covered in mange and skin infections to the point that her skin is literally hard, she has horrific ear infections, she couldn't even stand. If you know anything about veterinary medicine, she was so unresponsive that she let me start an IV on her by myself (without anyone holding) as well as pull blood for a heart worm/tick borne panel. She has Lyme disease and Ehrlichia as well. She is very weak, her blood glucose was high, and she was in shock. We need YOUR help to cover this girls vetting and round the clock care. Please donate if you can, every single dollar counts. We have two other dogs from the same location also in pretty bad shape that we are currently tending to as well but we cannot post pictures or anything more than the photo below right now. Please, please donate if you can!
Vet: Guyan animal hospital 304-736-3456 for Pitiful Paws Rescue
The Dollar Club paypal: thedollarclub@yahoo.com (for Hoarder)
TDC mailing address: P.O. Box 166 Hereford Pa 18056 (for Hoarder)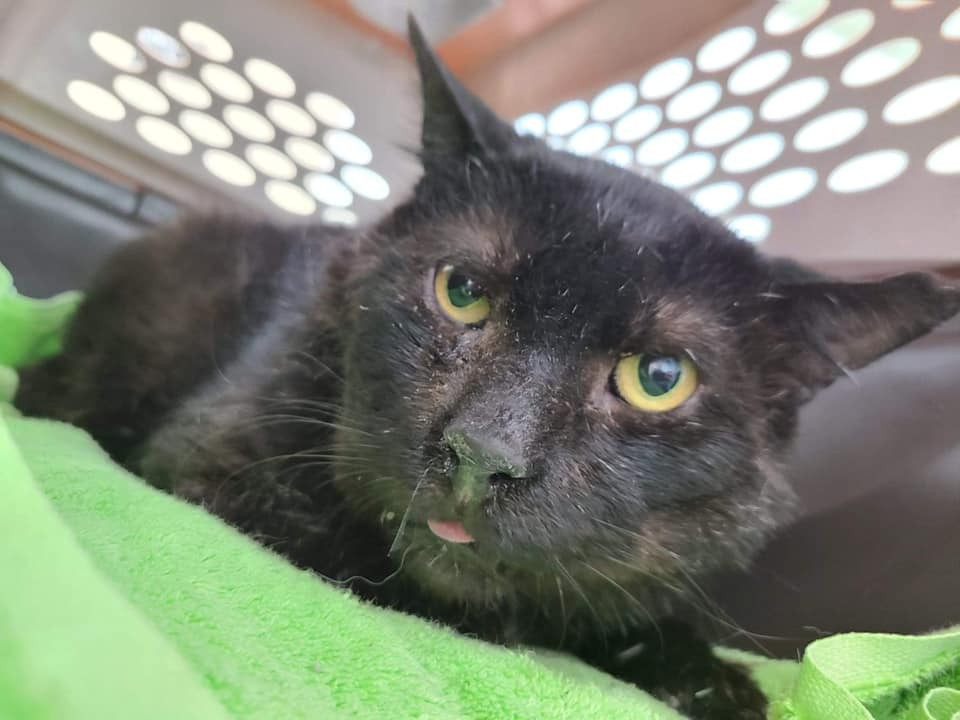 6-16-21 Teddy Ruxpin and Augie - two kitties who desperately need dentals
Teddy Ruxpin went in for his pre-dental today. His mouth is absolutely horrific. He's the baby that was taken to Rochester Animal Services as a stray. He tested FIV+ and was deemed semi-feral so we were asked to take him. His mouth is very painful. Luckily the Vet was able to fit him in for surgery next Friday. He will need all his teeth extracted. We're hoping this will alleviate his pain and he can start to feel better with all those painful teeth gone. We are still in need of donations for Teddy. Thank you!
I was contacted by a lady last week who saw a tuxie kitty in poor shape in the city. His name is Augie and he's approximately 16+ years old. His owner left him 8 years ago when he moved away. A kind neighbor took over his care. He is in dire need of medical care as his mouth is painful and he's drooling excessively. He has flies surrounding him and I'm
concerned. They are from a low income home and can't afford vet care for this baby. I'd like to get him
vetted as soon as possible. He could use some donations please. I can't help these babies without
your support. Thank you!
Vet: Perry Pet (Livonia Center Office) (585) 346-2140 (under Hearthside Cats)
The Dollar Club paypal: thedollarclub@yahoo.com (for Teddy & Augie)
TDC mailing address: P.O. Box 166 Hereford Pa 18056 (for Teddy & Augie)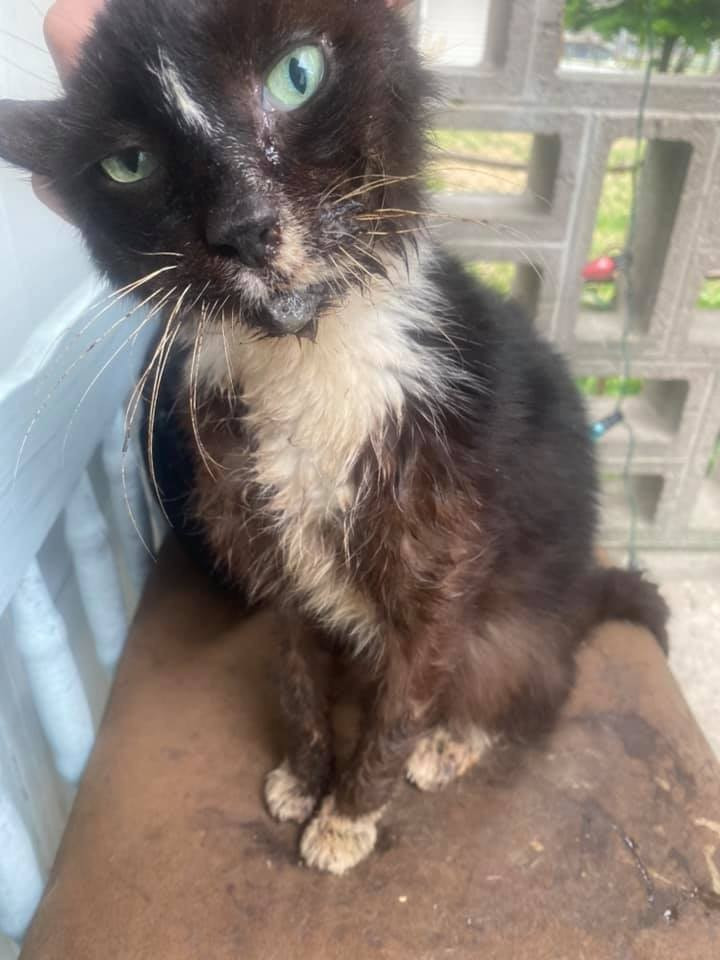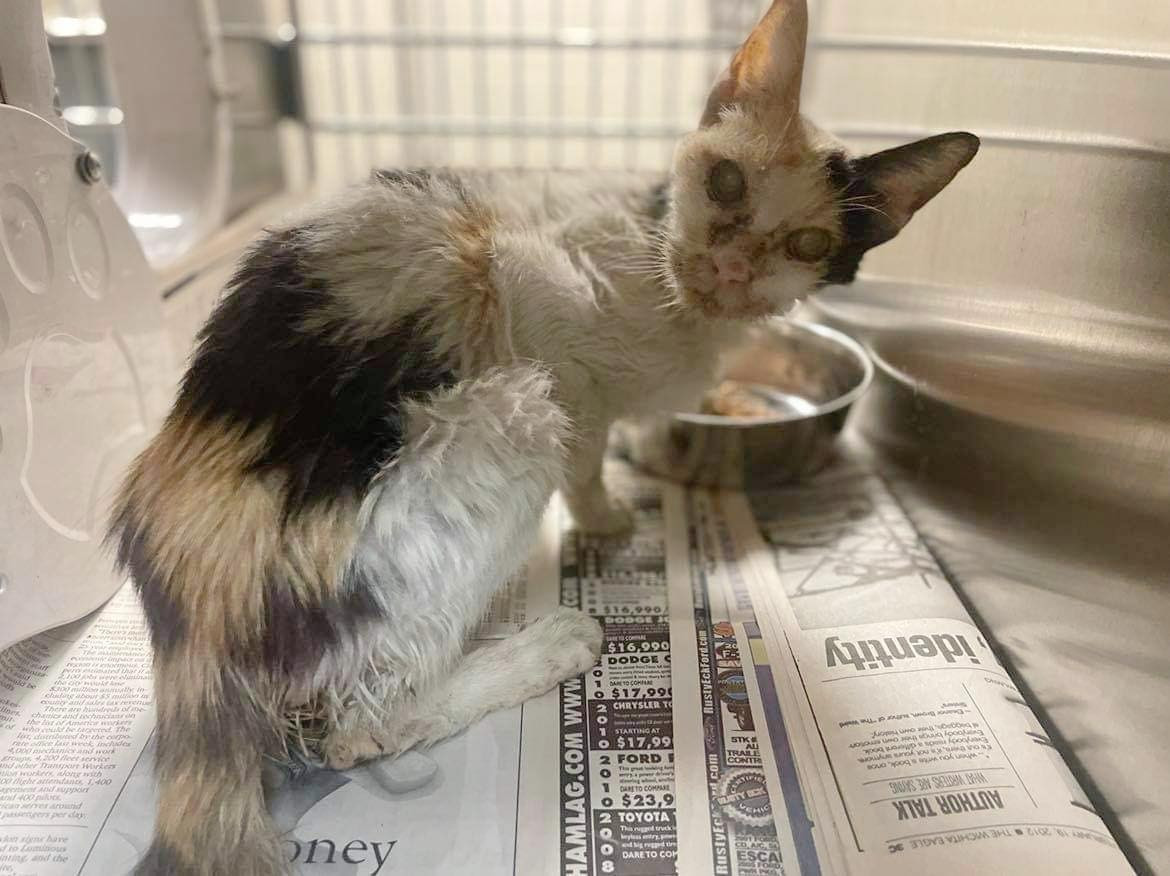 6-18-21 Emaciated stray need ER vet NOW!
She wants to live…This is a life …not just a skeleton ….but a living breathing life and she damn well deserves better.🆘❌ A137263 - RESCUE PULL❌🆘‼️AT RISK OF MERCY EUTH‼️
Why was this sweet cat outside? Was she lost? Abandoned? Where is her family?
She needs help and she's been on the streets for sometime not knowing how to survive. She was brought to the shelter as a godsend because not all cats know how to survive on the streets. She is merely an example of what happens if you toss an inside cat outside. They don't do well and the world eats them alive… the fleas and parasites take over, they starve and don't know how to find food and water, they don't know how to avoid predators and found shelter well. This lady ravaged through multiple cans of soft food like she hasn't seen it in a very long time. She's fighting to live and extremely emaciated as well as dehydrated. She needs help before she crashes and may already have irreversible or reversible organ damage due to lack of food and water. She's hard to age due to the loss of subcutaneous tissue and her being completely a bag of bones.
Vet: El Paso Animal Clinic 316-788-1000 (under Beauty & Beasts Rescue)
The Dollar Club paypal: thedollarclub@yahoo.com (for stray)
TDC mailing address: P.O. Box 166 Hereford Pa 18056 (for Stray)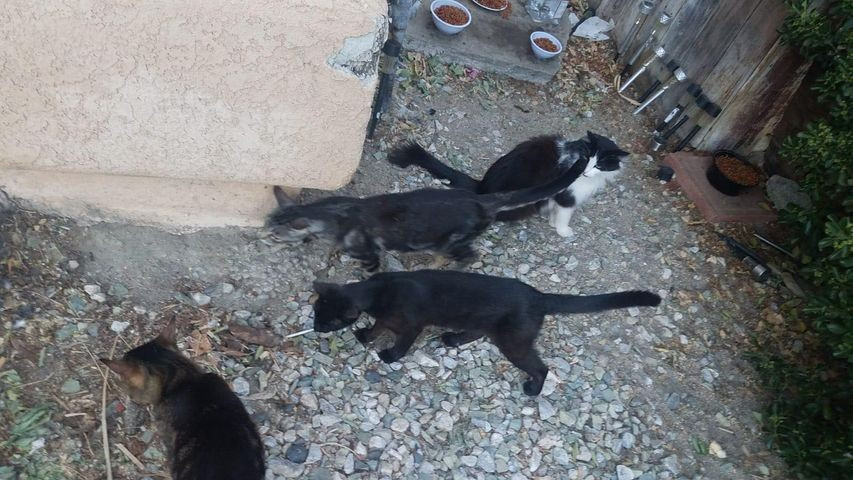 6-18-21 Cat colony in need of food
Please help to feed this homeless cats this pic it's only half of the cats that come to my grandchild house crying for food please share or help us with some food donations we need help to trap too there it's like 4 or 5 that need to be fix and some are so skinny that a may need to be de warm help please 🙏 thank you! Location Palmdale California
The Dollar Club paypal: thedollarclub@yahoo.com (for colony)
TDC mailing address: P.O. Box 166 Hereford Pa 18056 (for colony)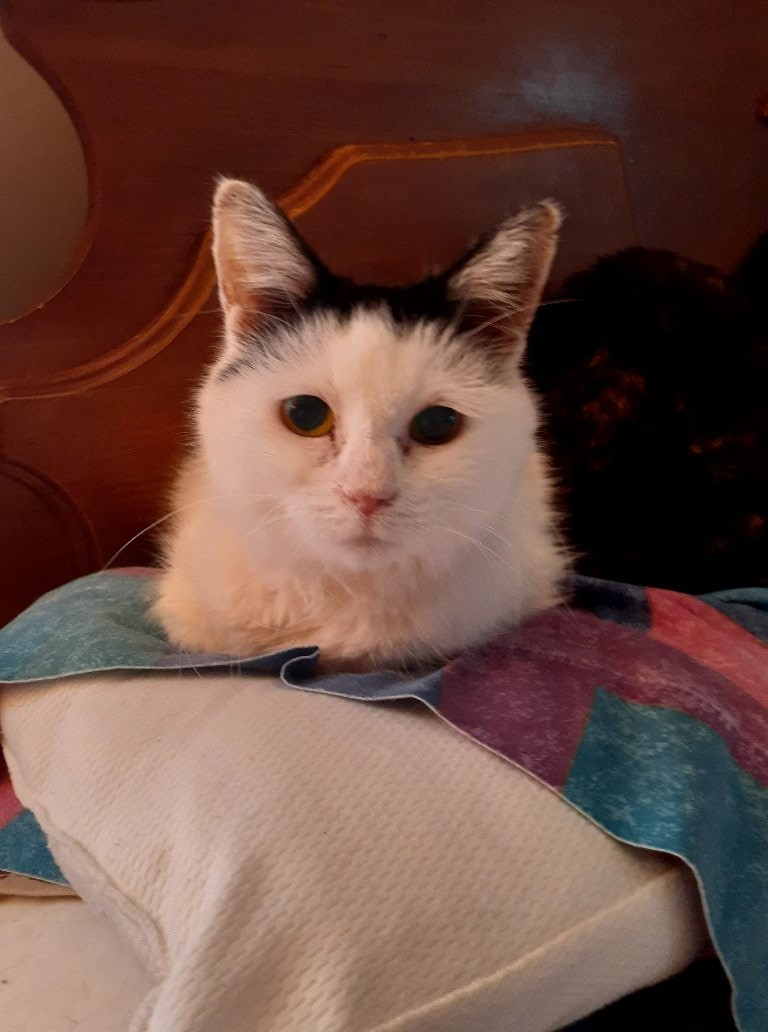 6-23-21 Ziva - needs surgery to breath
URGENT - SHE NEEDS HELP ASAP - NOT ONE DONATION YET!
Poor little Ziva needs surgery to remove a polyp in her throat which is causing her to be sick all the time with a URI. The vet estimate at Whiskers and Paws is $400. Please help us raise funds to get this surgery done ASAP.
Vet: Whiskers & Paws 704-213-1403. (Ziva under Cindy Mack.)
The Dollar Club paypal: thedollarclub@yahoo.com (for Ziva)
TDC mailing address: P.O. Box 166 Hereford Pa 18056 (for Ziva)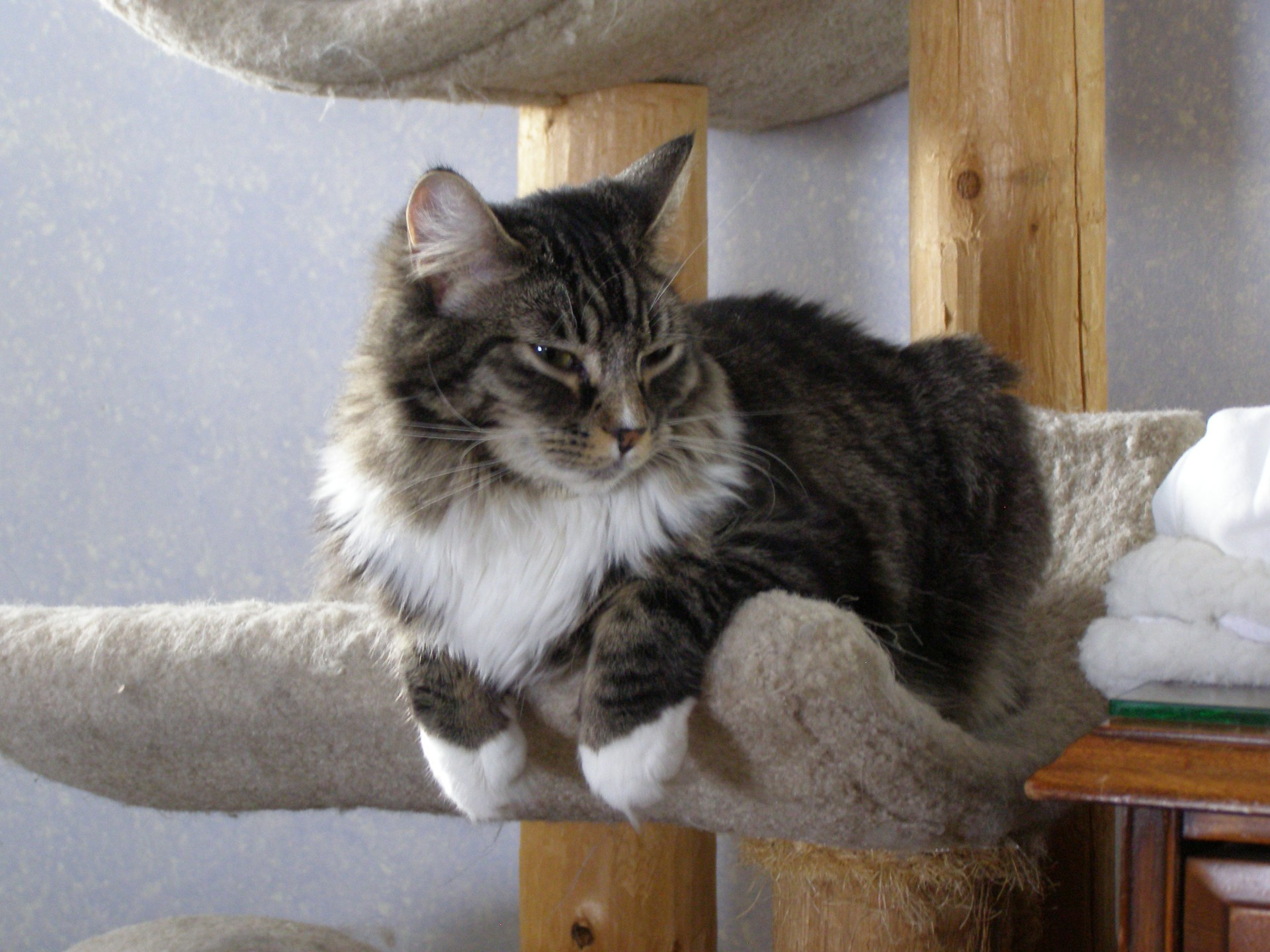 6-23-21 Cat Colony in need of food
I was contacted by someone who was trying to save a feral cat from a colony who desperately need an ER vet. I tried to make a donation from The Dollar Club but the vet wanted entirely too much personal information from me just to charge my credit card. I refused to supply that so they would not take my donation leaving this person to pay the bill entirely. I asked if I could offset that by maybe sending some food for the colony instead. So that is what I did. Helping in a different way sometimes needs to be done!
The Dollar Club paypal: thedollarclub@yahoo.com (for colony)
TDC mailing address: P.O. Box 166 Hereford Pa 18056 (for colony)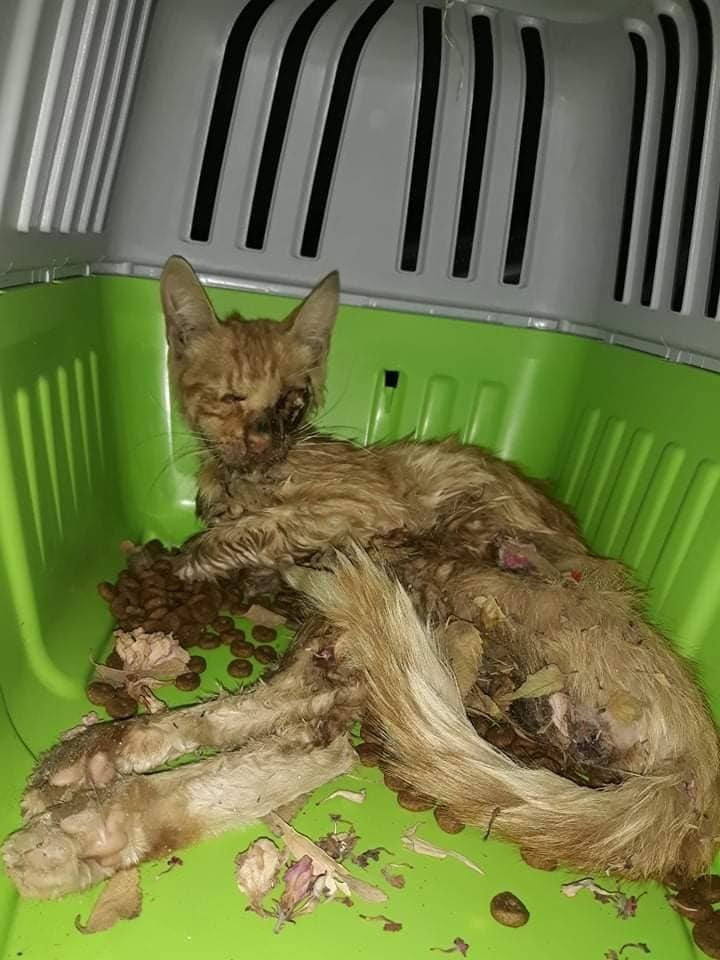 6-25-21 Egypt cat in dire condition (Jasper)
Lying un a corner, waiting to die, 2 am, early morning gets picked up by a taxi driver, a nice lady seen the cry for help and agreed to rescue him ... very underweight, wounded all over the body, from gums, missing eye, open wounds along the body, broken spine and tail, cold, his own dirt stuck to his fur, hungry and thirsty ... he is only young by the teeth, he doesn't deserve to die in the dark **UPDATE He did make it overnight) and on the way to the vet
The Dollar Club paypal: thedollarclub@yahoo.com (for Egypt)
TDC mailing address: P.O. Box 166 Hereford Pa 18056 (for Egypt)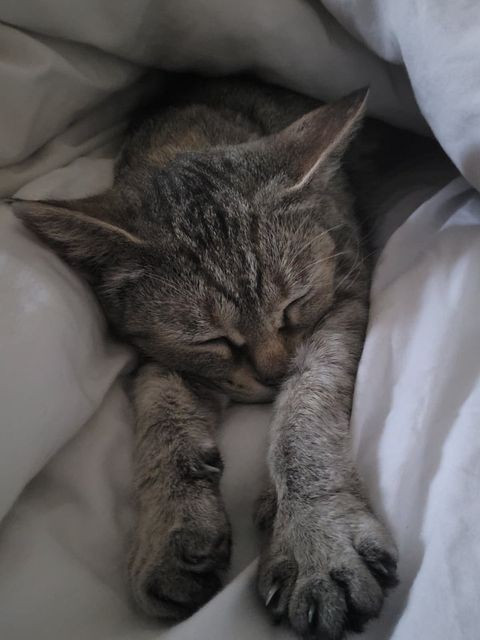 6-26-21 Harmony - hernia and other problems
Harmony had a large hernia when I rescued her from a cat colony. She had almost no teeth and was very under developed due to malnutrition. She has surgery June 25th and I do not have enough funds to cover it at this time. I've covered over 1k in rescue animal funds recently and I am stretched thin. Anything you can give will greatly help. I'll post photos of vet expenses and her progress. Thank you!! I've gotten over my head with helping rescue animals and I'm honestly drowning. I've rescued a bird, 2 cats and a couple chinchillas and I've absolutely drained all my funds to the point where I am struggling financially to even pay my bills which was a huge mistake but I can't seem to pass up animals that need help
Vet: Shively Animal Clinic 502-778-8317 (for Harmony under Kerby Schwer)
The Dollar Club paypal: thedollarclub@yahoo.com (for Harmony)
TDC mailing address: P.O. Box 166 Hereford Pa 18056 (for Harmony)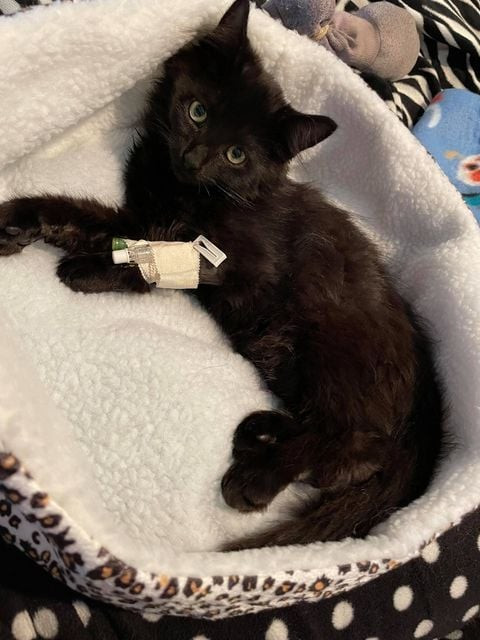 6-28-21 Riley - dipahramatic hernia

Urgent Donations Needed for Riley ❤ we were recently contacted to help a kitten who wasn't eating and couldn't stand up on his hind legs. We were able to get him emergency vet care and he is still hospitalized. Please note that we were able to rescue Riley because the person who found him and asked us for help agreed to foster him! Riley's story: On a afternoon with temperatures exceeding 90 degrees, Riley's finder saw a group of people in her neighborhood gathered around something and throwing water on it - she quickly discovered that it was a kitten and he was motionless! The group of people said they wanted to throw him into the neighbor's yard. There was no way that his finder was going to let that happen, so she rushed him to her house. She cooled him down and took him to an emergency vet where he received fluids. She was not able to afford any diagnostic tests. Knowing that Riley was barely eating or drinking and could not use his back legs, we took him into our rescue to receive quality vet care last night. Preliminary assessment is that Riley suffered from blunt force trauma that caused his diaphragm to detach from his body wall. His liver is not where it is supposed to be - it is in his chest cavity because his diaphragmatic hernia. This is causing him to have labored breathing. Riley may also have nerve damage to his hind legs and urinary tract due to a broken hip/pelvis. Right now, Riley can't urinate on his own and his bladder needs to be expressed. He will be spending a few days in the hospital to see if any of this improves over time... Our vet is sure that these injuries were not caused by being hit by a car, but rather intentional blunt force trauma from a human - he was likely kicked very hard. After spending last night and today in the hospital, his appetite has improved and he is less lethargic - even feeling a little playful at times. We think Riley deserves a chance to live a long happy life. We know that he can lead a happy, normal life after his diaphragm gets repaired/reattached and his liver goes back to the correct place. *****UPDATE***** Riley started vomiting and having diarrhea last night and earlier today. Our veterinary team took new X Rays to see if there had been any changes. They discovered that his diaphragmatic hernia had worsened. When he came into our vet, only his liver was displaced into his chest cavity, but today all of his major organs had slipped into his chest cavity. This caused a tremendous weight to be placed on his lungs and heart, making it very difficult to breathe - having only 20% lung capacity.


Vet: Shane Veterinary Medical Center. 310 - 305 - 7297 (under Black Cat Holistic Rescue)

The Dollar Club paypal: thedollarclub@yahoo.com (for Riley)
TDC mailing address: P.O. Box 166 Hereford Pa 18056 (for Riley)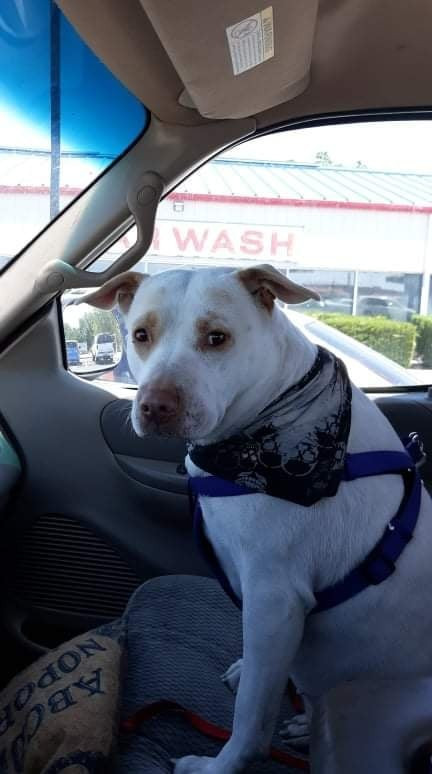 6-28-21 PC aka Oogie - dog hasn't eaten in a week
My name is Carol and this is my baby girl, Oogie Boogie. We sometimes call her PC, short for Peaches n Cream, ever since that adorable little orange/tan started coming in around her eyes .
She's gotten sick and can't keep any food down. Not even a small amount of chicken broth. She hasn't really kept anything down in almost a week and a half. She's losing weight and we're really scared. We've tried everything we can think of and even some that a friend of ours, who's a vet tech, recommended, but nothing is working. We've talked to a local vet and for the testing with possible xrays, in case there's a blockage somehow, it's going to be a lot more money than my wife and I have. All I'm asking for now is the basic visit fee, lab testing and xrays. It may go up depending on what it is. I am disabled due to a car accident so I don't bring in much. My wife is getting ready for a serious back surgery where she has to have hardware put in so she hasn't been able to work either. We don't qualify for Care Credit because of all of my medical bills.
But our furbabies are our life and we can't let anything happen to our little PC. She's barely 4 years old and we love her too much to lose her so we need your help. Please.

Vet: Moffitt Animal Clinic 775-835-8387 (for P.C. aka Oogie)
The Dollar Club paypal: thedollarclub@yahoo.com (for PC)
TDC mailing address: P.O. Box 166 Hereford Pa 18056 (for PC)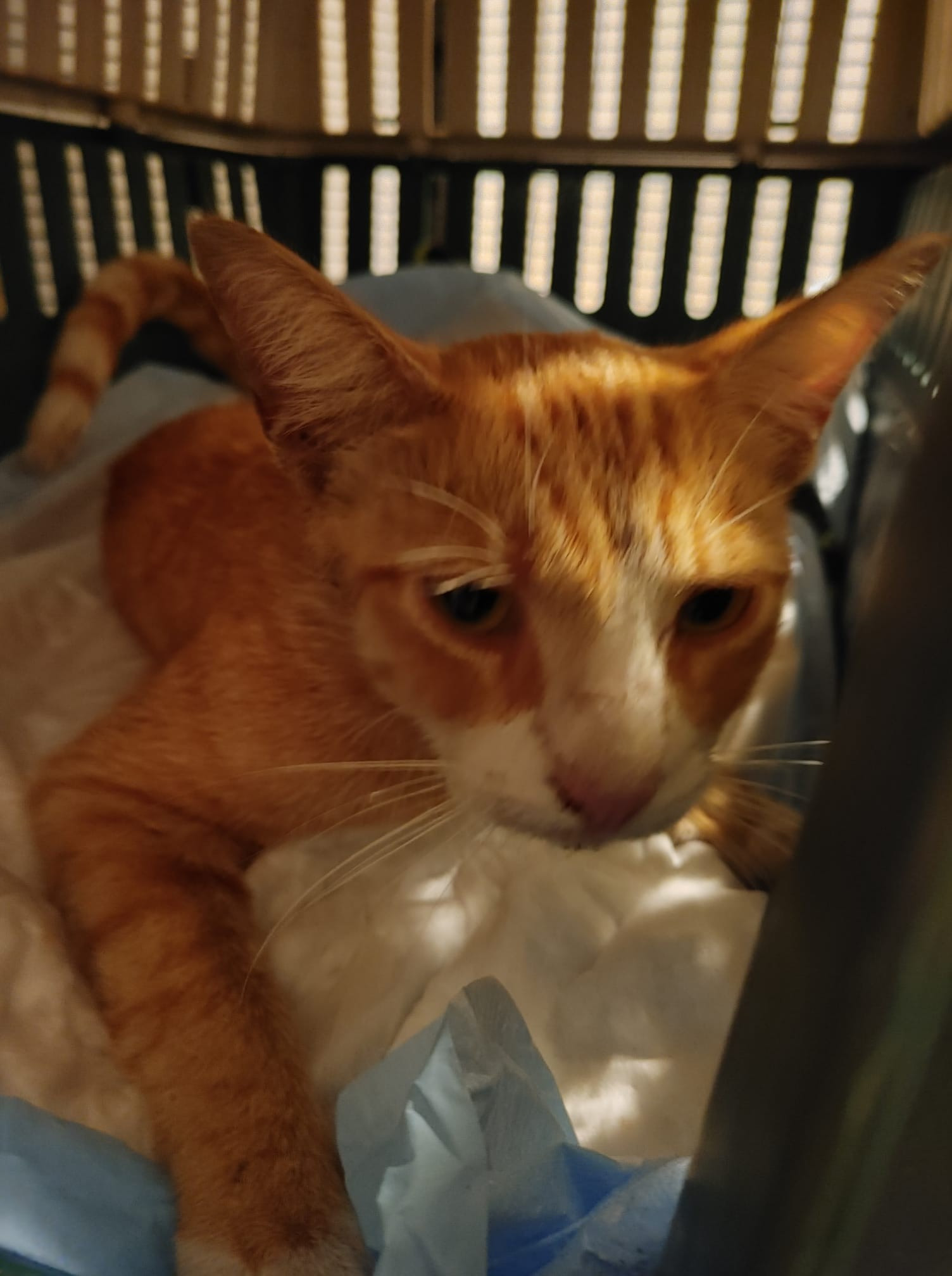 6-29-21 Leo - paralyzed kitten need a vet ASAP
Urgent Hollywood FL. CAT CANT MOVE LEGS MAY HAVE BEEN HIT. PLEASE SOMEONE HELP HIM HE NEEDS HELP ASAP. PLZ HURRY HE NEEDS HELP BEFORE DARK OR HE WILL GET EATEN. He needs x-ray, blood work and possibly an MRI. **UPDATE** he has gone to a vet and x-ray does not show anything broken. They are thinking blood clot now so he needs an MRI
Vet: South South Federal Animal Hospital 954-523-8527 (Under Suzanne Williams Cat Crusade cat now named Leo)
The Dollar Club paypal: thedollarclub@yahoo.com (for Leo)
TDC mailing address: P.O. Box 166 Hereford Pa 18056 (for Leo)