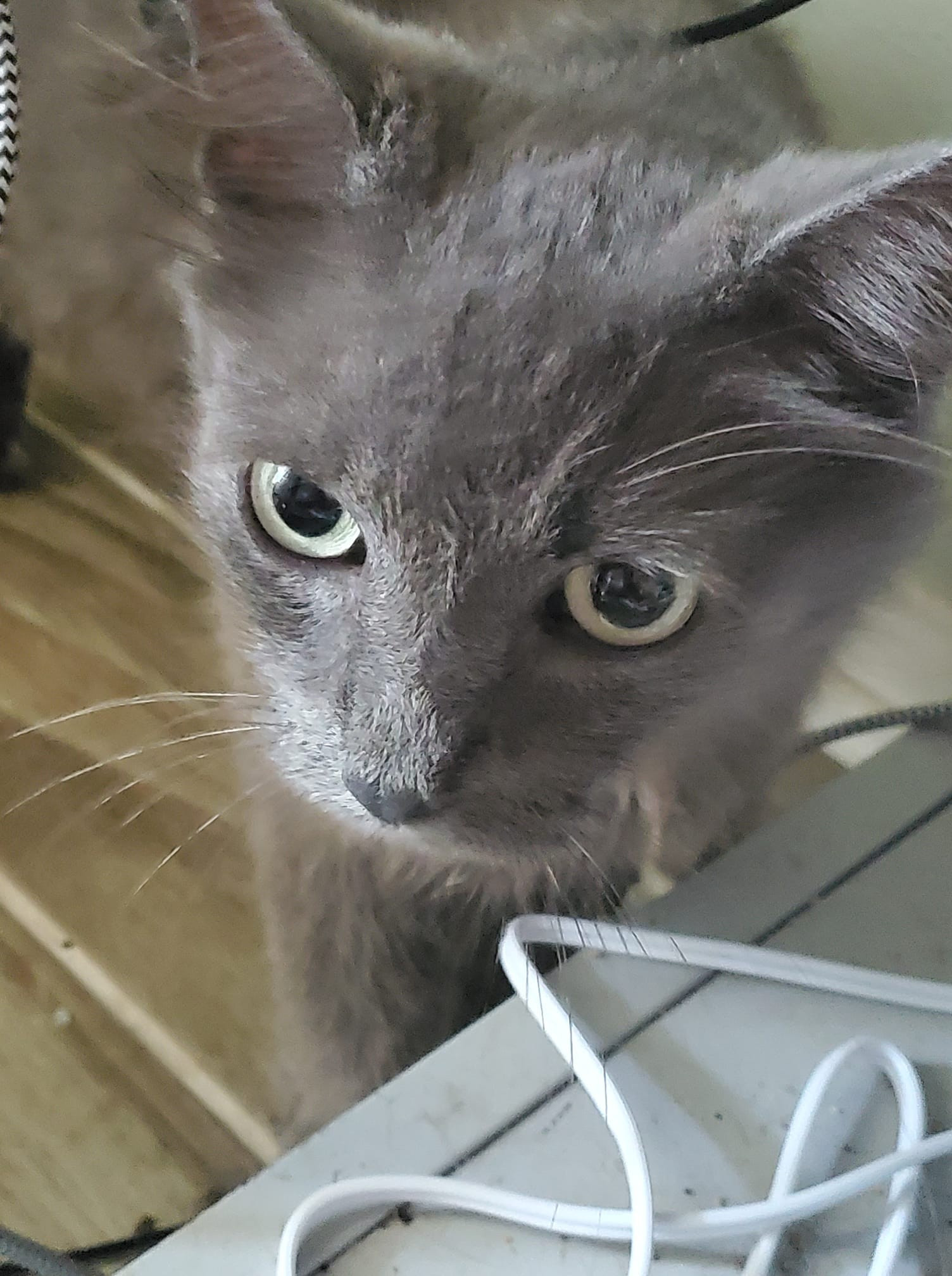 5-7-21 Grayce - hurt stray cat
Got a frantic call only an hour or so before our Sisterhood Night at Christ Fellowship about a poor kitty on the property of the thriftstore owners who recently experienced the horrible fire in Riviera Beach. They said a cat that showed up on their property was walking wobbly and falling down. Thinking it was a CH kitty, I went over to see. This sweet girl was lying in a mud puddle and wasn't moving and couldn't lift her head to avoid drowning. I picked her up in a towel, and placed her in a carrier. She was very thin and dehydrated and emaciated or thin. I took her not knowing what was wrong with her. In the carrier on way back she devoured two whole pods of Iams turkey paté! I know dehydration causes animals to lose equilibrium, so I hoped pumping her with clear pedialyte and water, paté with bone broth, she'd gain it back. She was caked in mud but not knowing if she had injuries broken bones or spinal injuries, etc. I used coconut oil pet wipes a whole pack to clean her medium-long fur instead. She has a very Siamese like meow and was very vocal ALL THRU THE NIGHT. She ate several more pods of sheba paté and some nutritious dry most of night intermittently. This morning I'm pleased to say, she's better as far as her mobility and demanded out of the crate. She seems to be walking fine. She's still crying and I suspect she may have sustained injuries and want a vet to check her out to be sure. I need donations for her vet bill as I'll be going as a walk-in today for Dr. Choi Paws2Health. He is a spinal specialist and I know he'll be able to ascertain the extent of her injuries. The picture below is of her head pressing which can be caused by many different factors some can resolve themselves. He may require xrays which can get expensive. I'm asking for a rescue to back her care for this, or donations toward these costs or for donations to take care of these. She's sweet and appreciates the cleaning, petting and lovey as a bug. She's gray with gray green eyes and medium to long hair. Possibly a Maine Coon Russian Blue mix.

Vet: 561-328-3577 (for Grayce under Katherine Douglas)

The Dollar Club paypal: thedollarclub@yahoo.com (for Grayce)
TDC Mailing address: P.O. Box 116 Hereford, Pa 18056 (for Grayce)
5-9-21 Head Tily - kitten needs er
Rafiki's Rescue is asking for donations. 🚨 EMERGENCY CONTINUES 🚨
After spending the evening at the vet with no definite results, little man came home to see how he fared with antibiotics and supportive care. We are suspicious of an infection of some sort causing his neurological symptoms, however his bloodwork came back unremarkable.... we decided to monitor overnight while we game plan the course of his treatment for this week. His condition was seemingly much more stable than he had presented earlier, so we had some confidence. However, only hours later he started gasping for air and we had to rush him to the emergency hospital where he is right now on oxygen😞 We know his condition is severe but we want to give his body time for the antibiotics to do their job and possibly make a difference. We feel we owe him a solid 24 hour chance and so that's what we are giving him. BUT WE NEED YOUR HELP! In addition to his earlier vet bill, we are now facing a second emergency visit and desperately need help funding! As a small rescue with limited funding, we can't give him the chance he deserves without you. Every dollar makes a difference! We need your help now!
Vet: Primary Care Animal Hospital 562-274-7776. Cats name is Head Tilt under Rafiki's Rescue
The Dollar Club paypal: thedollarclub@yahoo.com (for Head Tilt)
TDC Mailing address: P.O. Box 116 Hereford, Pa 18056 (for Head Tilt)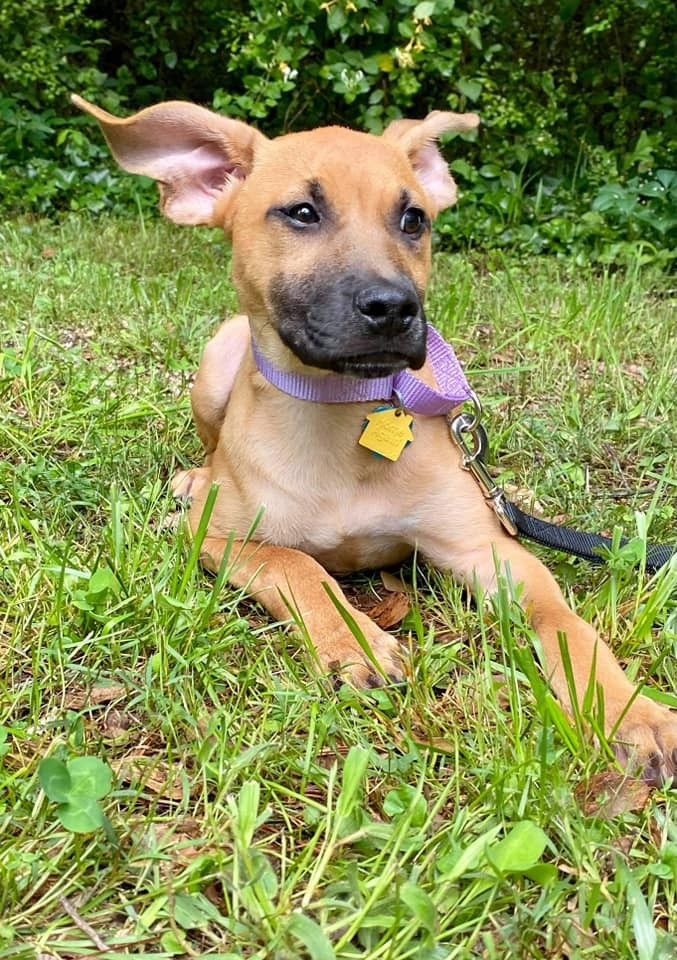 5-9-21 Small dog rescue is out of food
The dogs ran out of dog food again today 🥺 Our rescue is really desperate for food donations 🙏This is the brand all of our fosters are eating (with the exception of a few of the bullies with skin issues) I believe Chewy, Amazon & Tractor Supply all sell this brand online ❤
SPORTMiX Wholesomes with Fish Meal & Rice Formula Adult Dry Dog Food, 40-lb bag

The Dollar Club paypal: thedollarclub@yahoo.com (for dog food)
TDC Mailing address: P.O. Box 116 Hereford, Pa 18056 (for dog food)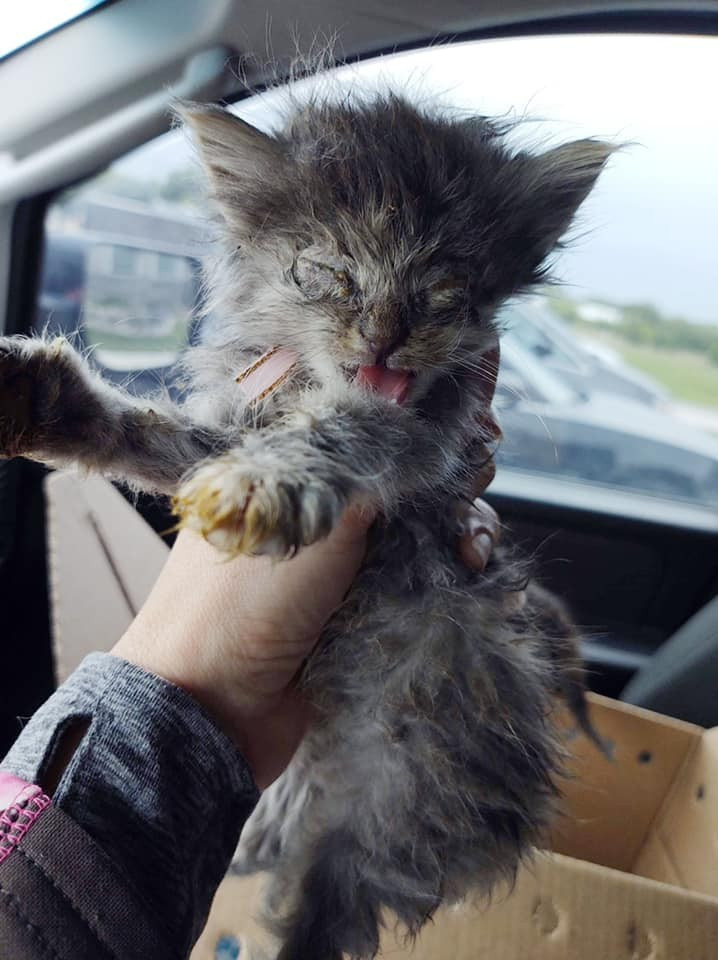 5-11-21 Several kittens needing vet
So many sick lives needing help...🚨FUNDS AND FOSTERS NEEDED🚨 8 SICK LITTLE ORPHANS LEFT TO THE WORLD! Once again the Beauties and Beasts, Inc. Cat Team stepped up to save these lives in need that haven't been in this world very long. They needed immediate medical attention and lots of TLC. A team member is now rushing them to El Paso Animal Hospital. We need fosters and funds to keep helping. Unfortunately, the high need of medical cases is depleting our cat team financially and morally as space decreases. We NEED help!
Vet: El Paso Animal Clinic: 316-788-1000 (under Cat Team for Beauty & Beasts)
The Dollar Club paypal: thedollarclub@yahoo.com (for kittens)
TDC Mailing address: P.O. Box 116 Hereford, Pa 18056 (for kittens)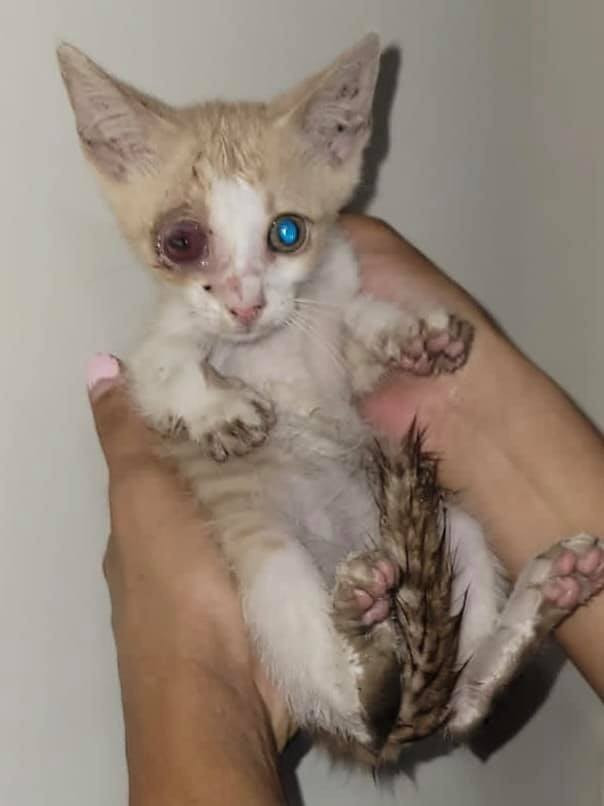 5-13-21 Zucchini - kitten needs vet ASAP
Graphic Photos* Meet Zucchini! This little one needs our help right away! It's obvious his start in this world has been hard! 🥺 We plan to take him to the vet to start treatment quickly. Things like this are urgent and must be addressed quickly! We need your help for little Zucchini!
Miami Animal Clinic +1 (786) 542-6070 Under "Lisa Castillo" for Zucchini
The Dollar Club paypal: thedollarclub@yahoo.com (for Zucchini)
TDC Mailing address: P.O. Box 116 Hereford, Pa 18056 (for Zucchini)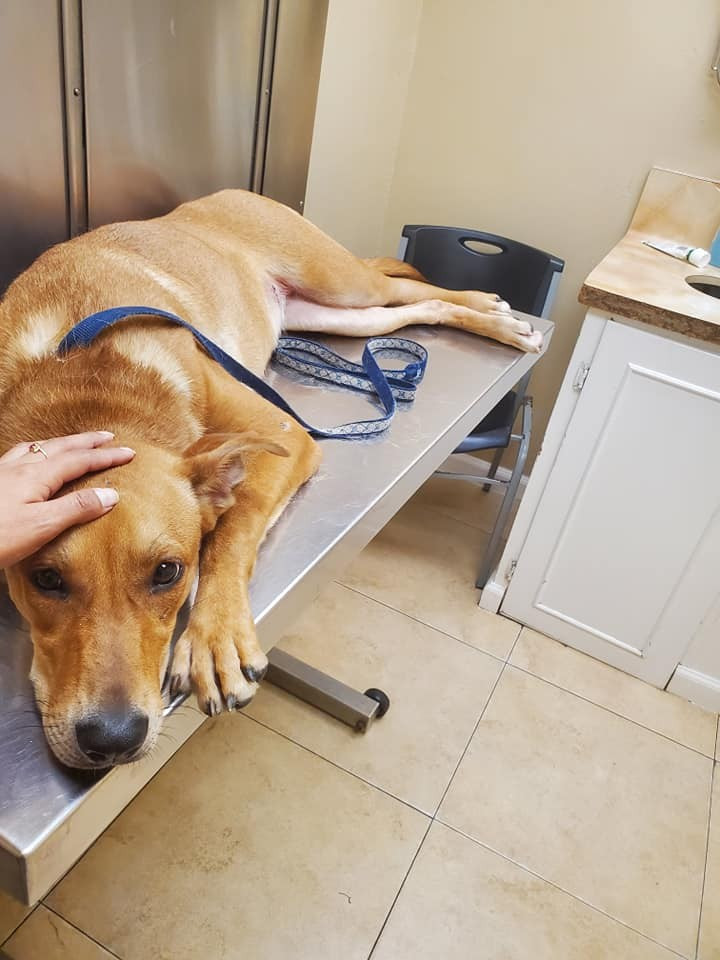 5-13-21 Brownie - stray dog hit by car
Hi I hope someone can help me. I found this beautiful dog in my apartments 3 days ago apparently she was hitting by a car, today I took her to the vet and they told me she has a broken leg and needs surgery😔 unfortunately I can't afford the price for it. Today I paid for the xray and some medications for pain and inflammation the total cost was $265 and the surgery is $800 +. If can some can help with some $$ o telling me for a place where she receives some help any advice please 🙏🙏🙏 she is very friendly she needs an opportunity

Vet: Alief animal hospital (281)4986702 (Brownie under Cristian Velazquez)
The Dollar Club paypal: thedollarclub@yahoo.com (for Brownie)
TDC Mailing address: P.O. Box 116 Hereford, Pa 18056 (for Brownie)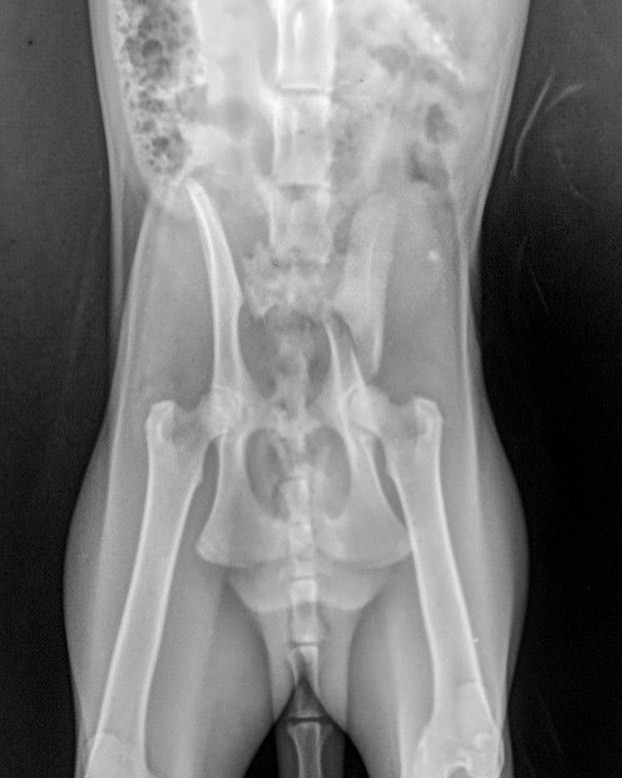 5-16-21 Lilly - has broken pelvis
HERE WE GO AGAIN 🚨🚨🚨🚨
We received an email last night regarding this sweetie who was found injured in a yard 4 days ago,unable to walk ☹️ Her Good Samaritan Jessica took her to the vet to figure out was was going on and found out she had a bad pelvic fracture ! She named her Lily and after asking around the neighborhood, she found out she was seen perfectly healthy just a few days before so she posted around to search for her owner without luck ☹️ Lily has been staying with Jessica , confined to a crate and with pain meds but Jessica cannot afford the surgery which is why she reached out to @thetrevorfoundation . Orthopedic repair is something we are very familiar with after so many years running @zoeysplacerescue so we immediately forwarded her x-rays to our favorite surgeon Dr Jacobo and he confirmed repair was best and cost would be between $2500-$3000 ....so....WE NEED YOUR HELP !!!! Jessica had launched her own fundraiser and has received $500 so far so we need to fundraise the rest and hopefully get her lined up for surgery by Monday
Vet: Primary care animal hospital: (562) 274-7776( Lily is listed under "Lily 2" under our Zoey's Place Rescue account )

The Dollar Club paypal: thedollarclub@yahoo.com (for Lilly)
TDC Mailing address: P.O. Box 116 Hereford, Pa 18056 (for Lilly)
5-18-21 Lucas - stray cat in need of vet ASAP
The kitty has a tail that's bloody and a neck injury that was bleeding, his forehead has blood spots maybe from scratching. LUCAS Is bleeding from the tail and forehead and must of his body.
He is going to Heights Veterinary Clinic They take payments over the phone for donations
Wags to whiskers is borrowing us their name so we can get a discount.
Vet: Heights Veterinary clinic (713) 869-6644 (for Lucas)
The Dollar Club paypal: thedollarclub@yahoo.com (for Lucas)
TDC Mailing address: P.O. Box 116 Hereford, Pa 18056 (for Lucas)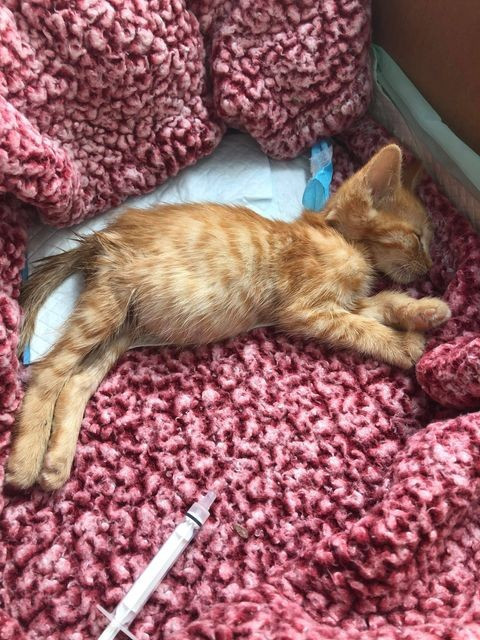 5-18-21 Mustard - very very ill stray kitten
Hi! I have a kitten that was an emergency. I'm at the vet now with him but not financially able to pay for this but he needed a vet ASAP. I'm at clear creek animal hospital. Not sure of the vets name as we rushed in and she's examining him. He came to me from a family member. He's very bloated not using his back legs. **UPDATE** Thank you. Sadly his injuries were too much that they need to put the baby down so he doesn't suffer. I'm so heartbroken and tried to save him as soon as I got him. He was very bloated and said a lot of fluid build up. They said they could try and treat him but they said he was pretty much almost dead and suffering so I didn't want him to suffer. They said treating him further wouldn't have helped much because he was too far gone with him bloated with the fluids. Probably FIP
Vet: Clear creek animal hospital 281-231-9430 (for Mustard)
The Dollar Club paypal: thedollarclub@yahoo.com (for Mustard)
TDC Mailing address: P.O. Box 116 Hereford, Pa 18056 (for Mustard)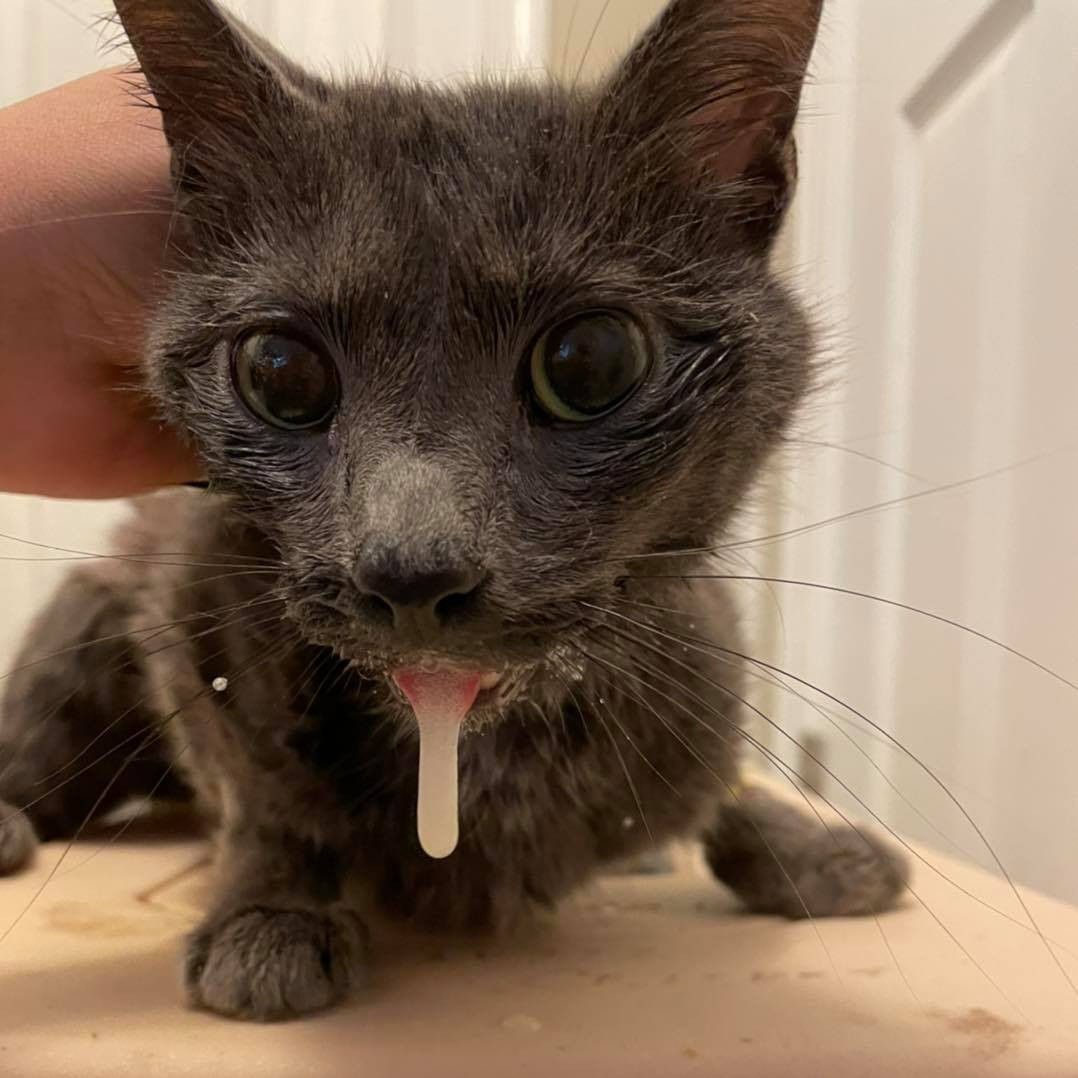 5-18-21 Harper - aspirate pneumonia kitty
We are at Absecon Veterinary Hospital & Emergency with one of our special needs kitties. She was just spayed today at our regular vet. They said everything went well and we picked her up at 3:30 by 7pm we checked on her again to make sure she was recovering well but something was clearly very wrong. She had mucous pouring out her mouth and was hyper salivating. She sounded like there was fluid in her lungs. We immediately packed her up and rushed to the emergency vet. They rushed her in to get her on oxygen and get chest X-rays. We are waiting to hear but if you can please consider donating to her emergency vet bill. Emergencies are not cheap so we will need as much help as we can get. **UPDATE** ⚠️Emergency! ⚠️
Estimate is $2,756-4,596, we need your help!Update- She has aspiration pneumonia. The vet said it's rare but can happen with anesthesia. It is serious but treatable, she will need to be hospitalized for at least 24hrs but preferably 48. 😢
Vet: Absecon animal hospital for Harper under Kizzy's Place 609-646-7013
The Dollar Club paypal: thedollarclub@yahoo.com (for Harper)
TDC Mailing address: P.O. Box 116 Hereford, Pa 18056 (for Harper)
5-18-21 Cat - Stray cat has bad mouth problem - sounds like stomatitis
CAT NEEDS HELP! Received this plea for help from Erin Enz who works on Offnere Street next to Melcher Hammer Funeral Home in Portsmouth. She is reaching out for help for this poor cat who has been hanging out where she works and has something going on with its mouth and has difficulty eating. She thinks she saw ulcers on his tongue when he meowed but not really sure. She said even when food is soft, he growls when he eats because it's painful and he kind of spits it back out. He is very skinny. He is very friendly and likes to be petted. She can't afford to pay for a vet visit. PLEASE SHARE FOR HELP! 😢

Vet: Shawnee Animal Clinic 740-353-5758 (under Erin Enz, stray cat (she didn't give it a name)
The Dollar Club paypal: thedollarclub@yahoo.com (for Cat)
TDC Mailing address: P.O. Box 116 Hereford, Pa 18056 (for Cat)
.
5-21-21 Stray Kittens need vet ASAP
Rafiki's Rescue is asking for donations.🚨Urgent😞 The Rafiki's Rescue team got home late last night after responding to a plea in LA for two sick kittens who had been seen on and off for a couple of days, their eyes quickly deteriorating. To our surprise, we arrived to not two, but FOUR kittens😳 Unfortunately, all 4 of these babies have horrible URIs and two of them are in critical condition. Emaciated, loaded with fleas, and anemic, they immediately started receiving round the clock supportive care. Even further, they all have small welts that appear to be spider bites, which make sense given the hundreds of spiders & webs we had to dig through to get them (for once in the Rafiki's Rescue history, I will give props to myself because spiders are my one big no no). But the biggest concern is that one kitten had a massive, infected abscess on their neck that we believe had likely developed from an untreated bite. Unfortunately, this abscess burst overnight😞 This kitten is on their way to the vet now to have it cleaned out and accessed. She is extremely small and fragile so we are not sure what the outcome will be. Please keep her, and all these kittens, in your thoughts today.... 😞Additionally, Rafiki's Rescue was only prepared to take on two more kittens as we are EXTREMELY strapped for funds at this time. Having not only an unexpected two kittens, but now also needing to trap 3 adults on the property, has given us a literal run for our money. WE NEED YOUR HELP.These babies need proper care and likely an enucleation is in the future (although we will do everything we can to try and save that eye!). We need donations more than ever between these four and all the other critical cases we have taken on over the past month. We can't keep up! In brighter news, we would like to give a HUGE shout of to the absolutely wonderful property owner who got his whole household involved in helping to catch these kittens. And later the neighbors joined in too! Once again, this is a very critical case, but one of the best rescue mission experiences because of the willingness of others to help & the joy they had for the work we are doing!💗 We are so appreciative!
Please send all the love you can to these little bugs💕 We will keep you posted....
Vet: Vet Care Pet Clinic +1 (714) 895-8600 Account is Rafiki's Rescue💕
The Dollar Club paypal: thedollarclub@yahoo.com (for Kittens)
TDC Mailing address: P.O. Box 116 Hereford, Pa 18056 (for Kittens)
5-21-21 Stray Kitty with mouth injury
Medical Plea: A#: A239174 Breed: Cat Estimated Age: Unknown Sex: Male
Intake Information: Brought in as a stray roaming in RP's yard. Subjective: Upon impound we saw the cat has a deep wound to the side of the mouth. He is very friendly and able to be handled/examined. Urgency: We would like for him to receive immediate medical help
I'm with Animal Loving Friends, and we rescued the orange kitty from Pinal County shelter, with the large wound to the mouth. You commented there that you would pledge $100 for him.
Vet: Phoenix Mountain Animal Hospital, (602) 595-6116. (for A239174) under Animal Loving Friends
The Dollar Club paypal: thedollarclub@yahoo.com (for Mouth injury)
TDC Mailing address: P.O. Box 116 Hereford, Pa 18056 (for mouth injury)
5-22-21 Colony cats in need of food
The Hill District Cats: I went to one of our Oakland colonies today to check on the cats and set up traps for tomorrows trapping. Took pictures of some of the cats that were hanging around. There are SO many cats there and the elderly caretaker struggles to feed about 15-20 cats twice a day. 😓
If anyone is able to help her out by sending her cat food, pm us for her name and address. She is grateful for any help!The cats eat friskies dry food or meow mix dry food and friskies wet food.💕PS If you send her your address with the food, she would love to write you a thank you letter.
The Dollar Club paypal: thedollarclub@yahoo.com (for cat colony)
TDC Mailing address: P.O. Box 116 Hereford, Pa 18056 (for cat colony)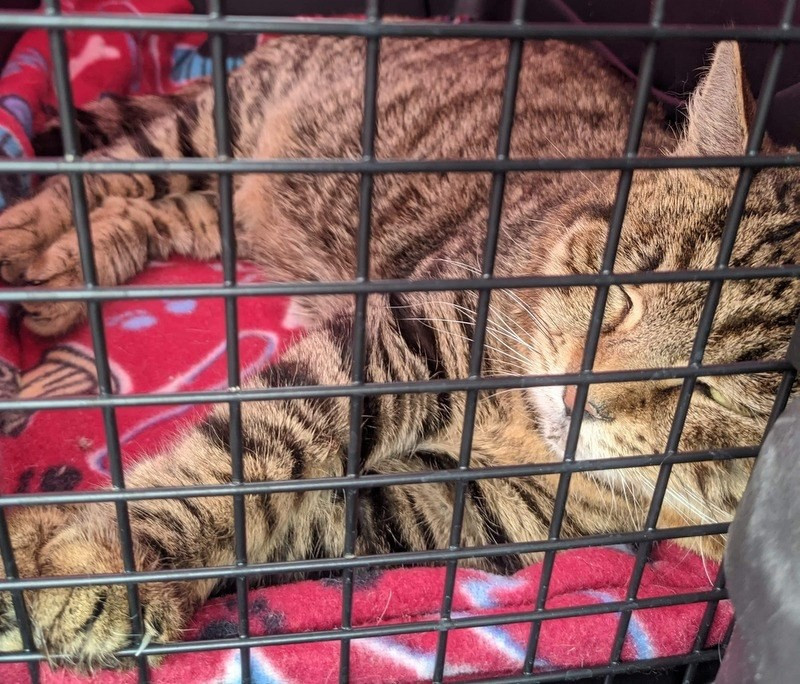 5-26-21 Lady Jane - kitty in heart failure
Emily Karolski adopted her a couple of year ago and has brought her back from the brink of death at least (3) times since. Lady Jane is currently at ER due to having difficulty breathing and severe neurological symptoms. Emily has taken in many Felv cats. Per Emily: I'm at AEC seeing the cardiologist. Lady went into congestive heart failure again, third time now, on Friday afternoon and has been struggling to bounce back from this. Her respiratory rate was almost too fast to count on Saturday night, and honestly I thought she was going to die. No clinic would see her, and the only one I found that was open advised us not to try to drive her that distance because she might die in the car. On top of this, her spastic pupils were back and she was, and continues to be, extremely weak and wobbly. I gave her lasix (diuretic) to pull the fluid from her lungs, zofran for the drooling and nausea she had, baytril for the neurological symptoms we were seeing, and gabapentin to calm her down while she was so air hungry. She is now stable, her CHF seems to be cleared since all the lasix I gave over the weekend, but she is having arrhythmias and her temperature is low. We got an ECG, bloodwork and x-rays at the vet and she rested in oxygen for a bit. We were able to snag an emergency appointment with Dr Brown, her cardiologist, so I am now at AEC waiting for her echo and blood pressure results. I don't know what we're going to find out with her, but this is one of the most bizarre medical issues I've ever seen, and you know we've seen an awful lot. We will eventually head to neuro also, but for now this is the best we can do with such a shortage of vet staffing and appointments. Cross your paws for our girl, please. She's an amazing cat and I just don't understand what is going on with her. UPDATE: It is still a mystery as to what exactly is causing her symptoms. As of the last update late last night, her temperature normalized briefly but was then dropping again. She was placed in oxygen after another panting episode with a respiratory rate of 200+, spiking blood pressure, and a high heart rate. They gave her pain meds and said she made huge improvement once they kicked in - everything was normalizing and her breathing was much easier. So it's possible that her symptoms are a result of pain response, though the doctors have no idea what's causing the pain. She was admitted overnight and is in oxygen with heat support.
Lady Jane's vet bill is estimated to be $3500-4500, depending on what they find today. Lady Jane trouble shooting per Emily:
Cardiologist - says this was never CHF. He doesn't know what it was but says the improvement after lasix is purely coincidental. He feels there is systemic disease causing her elevated respiratory rate during these episodes. Emergency - Working to keep her stabilized so that she can have anesthesia tomorrow for a full workup. Neurology - initially said she is neurologically normal, but after watching the videos of her spastic pupils and hearing my description of what I call her "migraine days", they agree there is a neurological component here. Wants MRI +/- spinal tap if needed. Internal medicine - Will visit again with her tomorrow (now today). Emergency mentioned internal med may want a bone marrow biopsy due to some alterations seen previously in her blood work.

Vet: MedVet 248-960-7200. Lady Jane Under Emily Karolski
The Dollar Club paypal: thedollarclub@yahoo.com (for Lady Jane)
TDC Mailing address: P.O. Box 116 Hereford, Pa 18056 (for Lady Jane)