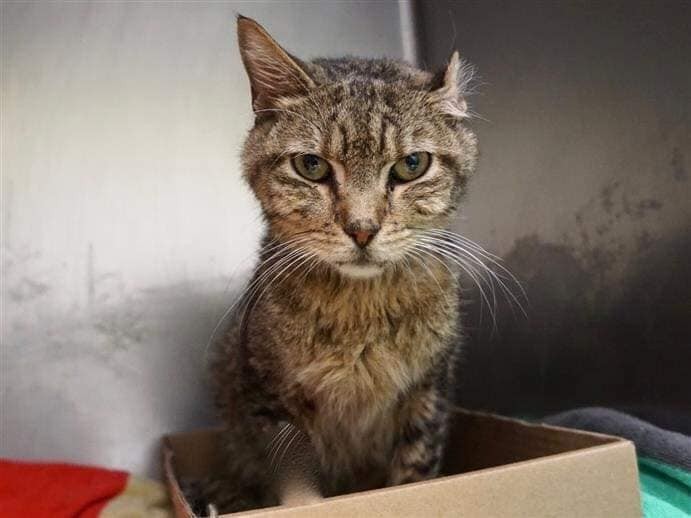 11-04-2018 - Oscar - very sick cat with blockage

Did you say $9,000? Not a typo, yes, $9 grand. We need your support!! Sweet senior Oscar arrived at the Manhattan ACC as a stray that had been entering someone's home. Emaciated and weighing just 5.5lbs, severely dehydrated, anemic, and vomiting green bile. Assumed to be blind with possible arthritis, Oscar was sweet and gentle but needed a lifeline. Four days after entering ACC, Oscar found himself on the At Risk list, but the stars were aligned in his favor and LGAR pulled him. A vet appointment revealed how serious his condition was and after vomiting a large amount of liquid green bile, he was brought to the ER for overnight care and a visit with the Internal Medicine Specialist. Abdominal ultrasounds showed that Oscar's intestines and stomach were distended with fluid and the doctors believed he had some sort of obstruction, which was causing his body to shut down. After trying a medication to help him pass the obstruction on his own (not a success), our sweet boy had surgery to see what was going on. The surgeon found and removed a physical obstruction and we were grateful that it was not a tumor. Over the course of 6 days in the hospital, his electrolytes improved, his blood pressure normalized, and he began eating again. He revealed to all the hospital staff that he is a ball of mush and love. Oscar's body would have continued to shut down without his surgery - it literally saved his life. Although he remains anemic with kidney disease, everything else has improved. His vision seems great and he gets around perfectly - no arthritis! He's so grateful and happy to be alive and have a chance to live his life safe and loved.All the time in the hospital and the life saving surgery added up to over $9,000 and we could really use some help right now. Your donation will have helped to save a very sweet boy's life…and he is so happy to be here.
Looking Glass Animal Rescue is a 501c3 and this is their paypal: https://lgarinc.org/donate/
The Dollar Club Paypal: thedollarclub@yahoo.com (for Oscar)
THe Dollar Club P.O. Box 116 Hereford, Pa 18056 (for Oscar)
11-06-2018

Sent food to a colony caretaker in Philadelphia, Pa
11-06-18 Oliver - kitty with painful eye needs surgery

Poor Oliver! He is blind :'( He needs Eye removal to Stop his pain! Please Please Help us relieve his pain!! He Needs $400 to cover his entire bill.


Vet @ 704-213-1403 For Olliver
If You would like to paypal you may send to savingrcaskitties@gmail.com Att. OLIVER

The Dollar Club Paypal: thedollarclub@yahoo.com (for Olliver)
The Dollar Club P.O. Box 116 Hereford, Pa 18056 (for Olliver)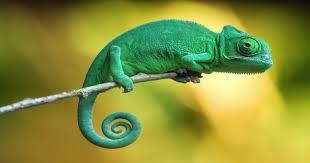 11-08-18 Jumbo - a very sick chamelion

Sick chameleon needs help! I was just contacted by a friend who was contacted by a social worker today for help! Does anyone have ideas on how to help this young lady? Below is what was sent to my friend and the young lady is located in the Salt Lake area. "We've got a child in foster care who has a sick chameleon. He needs immediate medical care. His mom, a teen girl, has been trying her hardest to earn money to help pay for vet bills but it's not enough. We've taken up a collection at work to help but I was wondering if there was a vet that might discount for a foster child? We can provide proof of state custody. As her caseworker says, "he's the only living and appropriate family member she has left alive." 😞 Caseworker tried Wasatch Exotics and paid out of her own pocket to talk to a doctor on the phone. They're estimating several hundred and said their prices are their prices. I know it's a long shot but I thought I'd ask.
Thanks! Apparently bio parents threatened to kill it out of spite. Caseworker went and got it but they didn't send the right lamp or mister so the caseworker is buying the proper stuff but he's sick now. She's 15, trying to babysit for money." UPDATE ~ His name is Jumbo and he just arrived at Parrish Creek Veterinary Clinic. A $50 donation has been called in, but his exam today will range from $300 up. If you want to donate please call it in asap.

Parrish Creek Vet number is (801) 298-2014. (for Jumbo)
The Dollar Club Paypal: thedollarclub@yahoo.com (for Jumbo)
The Dollar Club P.O. Box 116 Hereford, Pa 18056 (for Jumbo)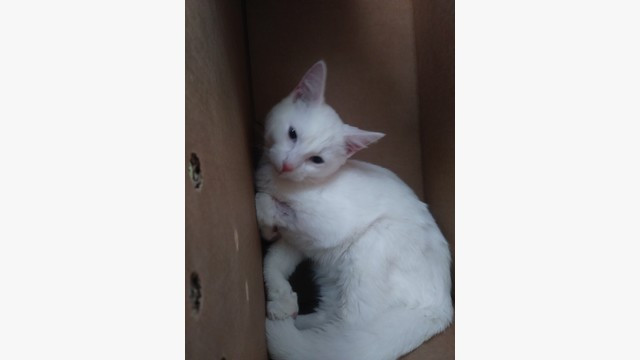 11-10-18 Ghost - kitten with bowel obstruction
A rescue plea went out for this darling little 4 month old kitten named Ghost. Ghost had been signed off to be euthanized due to not eating and vomiting. Our rescue absolutely fell in love with this precious boy and wanted to save him, so we placed a rescue hold on him to stop him from being euthanized. The next day we picked him up and took him straight to our vet, Day and Evening Pet Hospital and surgical center. The vets examined him and felt an object in his intestines and informed us Ghost would need emergency surgery. The cost of this surgery is between $800-1100. We desperately need help paying this to save sweet Ghost's life. Please help us save Ghost!!! Bailey's Way rescue is a 501c3


Fundrazr: https://fundrazr.com/d1QK0d?ref=fb_07QWH4_ab_8Asra4xUZWH8Asra4xUZWH
The Dollar Club Paypal: thedollarclub@yahoo.com (for Ghost)
The Dollar Club P.O. Box 116 Hereford, Pa 18056 (for Ghost)
11-11-18 Feral/stray cat colony needing food

Any resources for colony feeding in sw minnesota? I currently feed 65 in 2 colonies. also I am not a 501c3. Just a lady who moved to the country 20 years ago and adopted strays and ferals who showed up at my farm. They come and I feed. Please advise, Thank You. Rachelle Wells Halvorson

The Dollar Club Paypal: thedollarclub@yahoo.com (for Cat colony)
The Dollar Club P.O. Box 116 Hereford, Pa 18056 (for cat colony)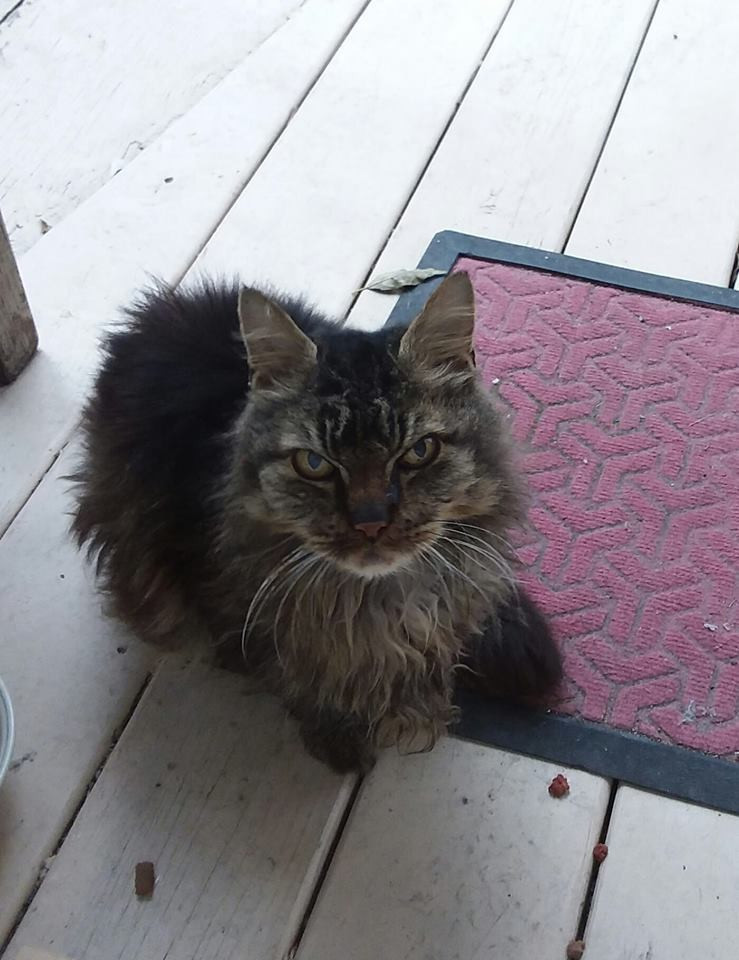 11-12-18 Very ill stray cat


This cat was found trying to get in someone's car this morning. After doing a search they discovered it was someone's cat who is let outside all the time and this is what they were told:

" I'm happy to report that "Moses" isn't a poor, lost kitty... He's a very old (18 yrs) cat that belongs to a neighbor and goes to 4 or 5 different houses to eat. He pretends to be homeless so people put food out 😂 I asked why the owners let him roam outside and why they don't shave his mats or get his bad teeth removed (I'm assuming his teeth are bad and that's why he's so thin) and the answer I got was that he's a biter, so they just let him go. 🙄 I'm assuming he was never fixed and that's why he wants to roam outside".

I was not happy to hear he wasn't a lost kitty. Any owner that would allow this cat to get to this
condition doesn't make me happy. You can tell from this photo (and other photos of him) that
he is very ill and needs to be seen. The fur on his back is a rust color which indicates extreme
illness. I offered $200 for the finder to take him to the vet. He has an appointment thursday
for a visit and blood work.

Vet: Account number 25908 Mt. Shadow 570-739-4838

The Dollar Club Paypal: thedollarclub@yahoo.com (for 25908)
The Dollar Club P.O. Box 116 Hereford, Pa 18056 (for 25908)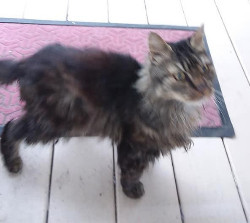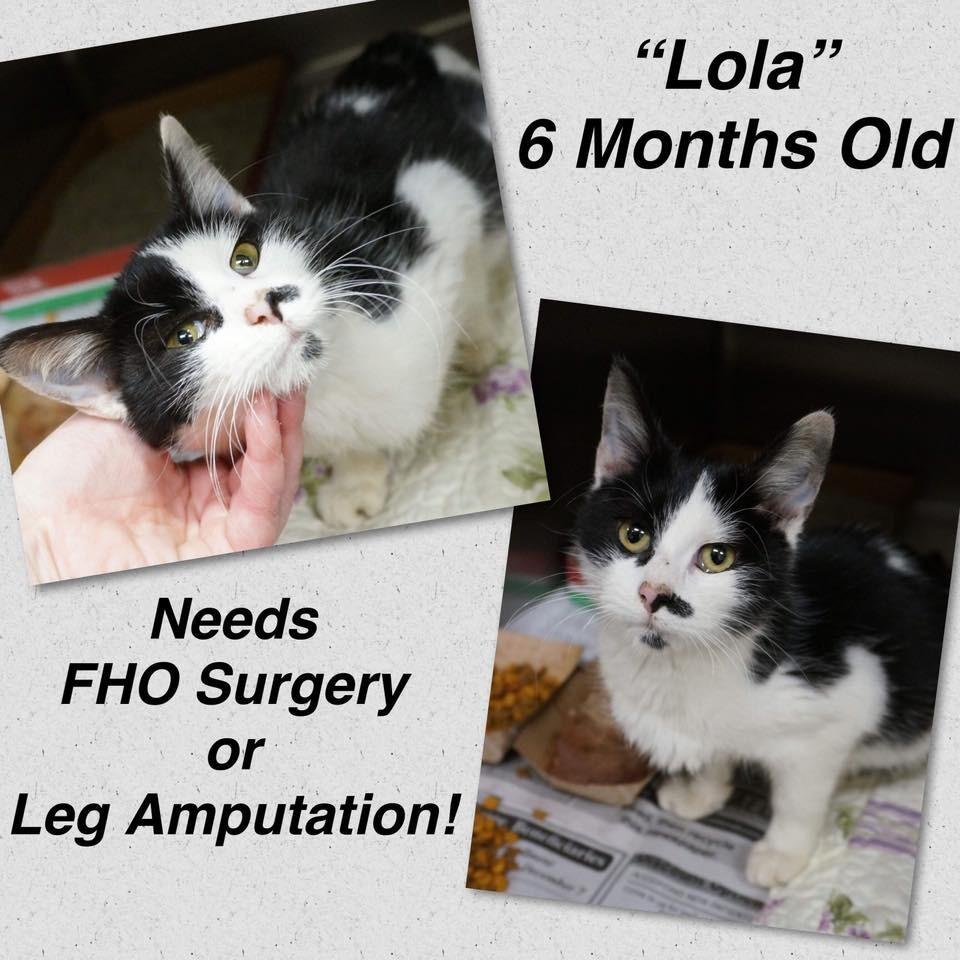 11-13-18 Lola - needs leg amputation
URGENT RESCUE & PLEDGES NEEDED! Lola has a DISLOCATED BACK LEG & will either need FHO surgery or will need her leg amputated! She is about 6 months old & only weighs a little under 3lbs, so she is very underweight as well! She has definitely had a rough start in life but now is the time that can all change for her! She is a VERY FRIENDLY girl & is COMBO NEGATIVE! PLEASE SHARE with every rescue you know & PLEASE PLEDGE if you can!
Circle of Friends animal society res cued her and IS a 501c3
Circle of Friends paypal: https://www.paypal.me/cofascats?fbclid=IwAR2MMgLeSPwi1Dd2SljJVKAYz63RNVCn7bpAW8l36jC1F8Dy0xClIZrHuAE
The Dollar Club Paypal: thedollarclub@yahoo.com (for Lola)
The Dollar Club P.O. Box 116 Hereford, Pa 18056 (for Lola)
11-15-18 Joanne's Community Cats


Feral/stray cat colony on Lansdale needs help with food - I sent 8 cases of wet
The Dollar Club Paypal: thedollarclub@yahoo.com (for colony)
The Dollar Club P.O. Box 116 Hereford, Pa 18056 (for colony)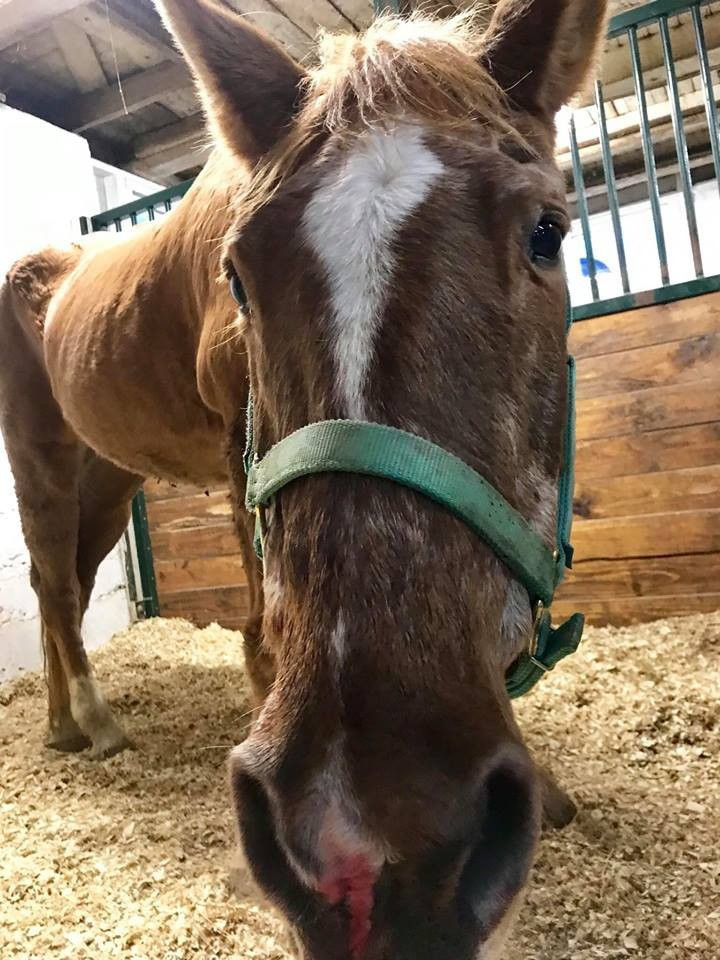 11-18-18 Trudy - horse that was neglected


Rivers End Animal Sanctuary & Learning Center is feeling angry. I got a call on Wednesday about a horse that was in need of "medical" help. Some person got the horse (Trudy) for free, and had her for a year (while in their care her condition deteriorated). This neglectful owner felt Trudy was being aggressive to her baby. This person had the baby in a stroller and within reach of Trudy. Trudy picked up the handle or the stroller. First off why would you have a baby that close to a 900 lb animal? Maybe don't have a baby that close to a horse! Or maybe because she was starving the horse, Trudy was hungry and angry at the same time! She posted Trudy on Facebook for free. The next person who took Trudy for free meant well but quickly realized she was in over her head. Trudy needs more than she could provide or knew how to handle. She called us looking for help.
Early Thursday morning I got a text saying they think the horse choked. It was pretty clear that Trudy was not going to get medical help in her current situation so what was I to do? I called our vet. They traveled in the snow storm risking their lives to get to Trudy. After examination the vet gave Trudy a body score of 3, aged her at 30 plus, saw that she has very few teeth and the ones she does have are wretched. Trudy did have an obstruction that they were able to free and 99% sure she has Cushings. The bill is approximately $600. That is $600 we DON'T have! But I was not going to stand back and do nothing. It is evident that for at least the past year if not longer no one helped Trudy. I have no doubt in Trudy's heyday she gave all she could for her humans and this is her repayment. I am so utterly disgusted! I have no words to explain how angry I am over the whole situation. We are taking Trudy into our program even though we are full and stretched each month. What we need, what we are asking for is help to cover the vet bill, funds for feed and to have the dentist come out. All in all I am guessing around $800 is what we need to cover the vet bill ($600), a follow up appointment, dentist and feed for at least next month. Poor Trudy is now on a horse soup diet and will need to eat senior and soaked hay pellets. Please trust me when I say this horse hasn't given up and I feel she has time left on this earth. She just wants to be loved. I don't want to give up on her and I am hoping that with the help from our village, we can give her a retirement that she truly deserves. We can't help horses like Trudy without your help. She could have just as easily end up at auction and then a kill pen. I refuse to allow that to happen which is why I stepped up, but we need help.
Donations can be sent to our PayPal: Riversendpa@gmail.com (use the friends and family option and 100% of your donation goes toward Trudy). Rivers End is a 501c3
Mail: PO Box 66 Hamburg, PA 19526
The Dollar Club Paypal: thedollarclub@yahoo.com (for Trudy)
The Dollar Club P.O. Box 116 Hereford, Pa 18056 (for Trudy)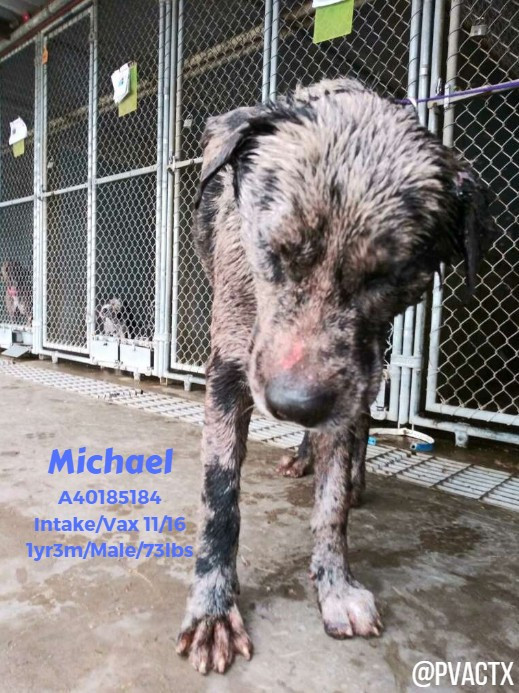 11-18-2018 Michael - poor dog in need of emergency vet care


Michael 40185184, a stray dog that entered our shelter, is very lethargic and has trouble walking. There is a bone exposure on the back of his front left paw. He also has a moderately severe dental condition. He is friendly and walks well on a leash for a short distance. He has been given pain medication. Michael needs to find a live outcome by 4:30 PM today, ***UPDATE*** a rescue has taken Michael: Four Corners Pet Alliance shared a photo. Well, heck! This is quite the story. A snap decision by one board member literally saved Michael's life this afternoon. He was minutes away from being euthanized. He's from outside of our service area so we are looking for sponsors, to raise funds specifically for his care. He has a bone protruding from his front left leg. Will provide updates as soon as we hear news from the vet. He will need a transport out of Texas when stabilized. (Four Corners Pet Alliance is a 501c3)
Four Corners Pet Alliance Paypal: https://www.paypal.com/donate/?token=G0Gk14AlrksfmZw1EIPUd-IH5PLyQpaIovJCqSqr0iFATGMeigcazw2f5mw-6JIM1KB4Z0&country.x=US&locale.x=US
The Dollar Club P.O. Box 116 Hereford, Pa 18056 (for Michael)
The Dollar Club Paypal: thedollarclub@yahoo.com (for Michael)


11-21-18 Animal Shelter in need of food


If you love animals and would like to donate to us; we are in desperate need of cat food. We usually feed our cats 4 Health cat food but will take anything. Thank you!!!


Address: Carbon County Utah Animal Shelter 2900 E. Airport Rd. Price , Utah 84501
The Dollar Club Paypal: thedollarclub@yahoo.com (for cat food)
The Dollar Club P.O. Box 116 Hereford, Pa 18056 (cat food)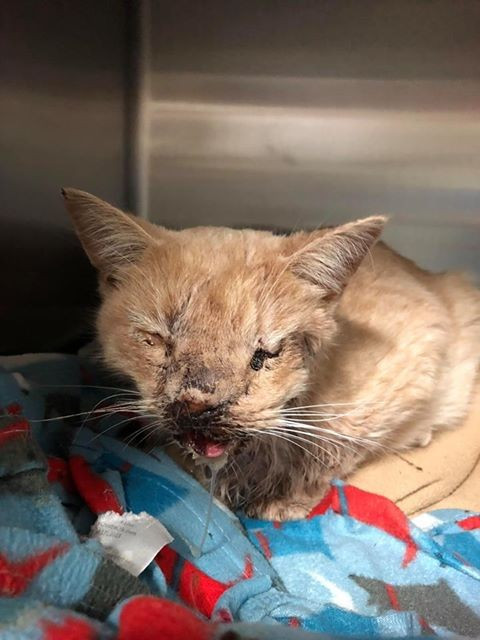 11-23-18 - Azul - kitten attacked by a dog

Azul is our baby. He is 7 months old and was attacked by a dog. Both top and bottom jaws have been broken. The top jaw was split down the middle and the other pieces of his jaw and teeth completely off. He is so lucky to even be alive. He will be at the vet for a while. And as we have some of the money for his care... We just don't have enough. We are praying each day that he makes it. We are asking for your help. Any donation will help Azul get the help he needs. No amount is too small. Every single donation brings him closer to getting better.
Animal Care Clinic: 217-826-1177 (for Azul under Chris Berrieault)
The Dollar Club Paypal: thedollarclub@yahoo.com (for Azul)
The Dollar Club P.O. Box 116 Hereford, Pa 18056 (Azul)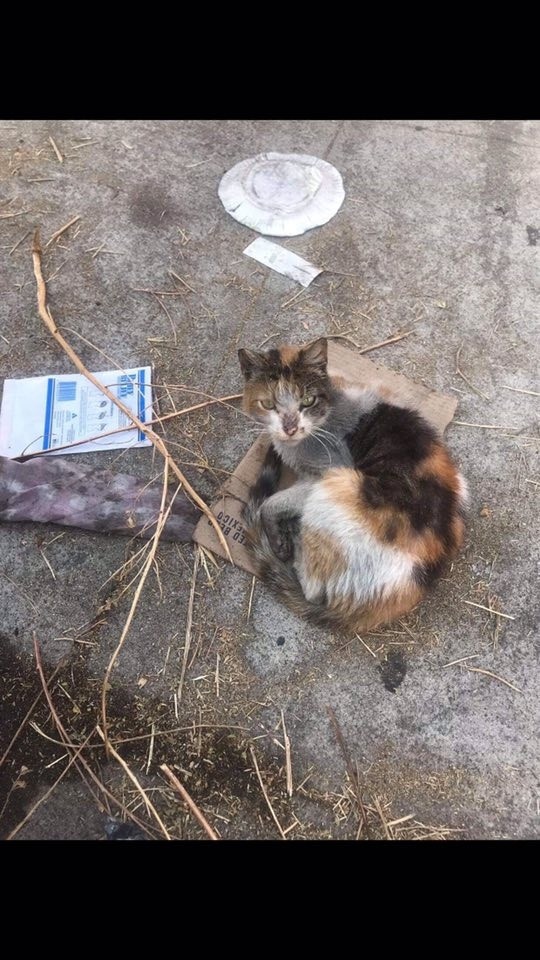 11-23-18 Tuesday - abandoned cat needs rescuing and medical care

A poor abandoned cat was found laying on a piece of cardboard, very sick and very dirty. She was picked up by someone and a group called Cats In Tow has graciously allowed them to use her rescue discount at La Palma Vet but cannot absorb her in due to a huge waiting list already and has no available fosters or space. UPDATE Tuesday is FIV+ and 10+ years old. She is severely anemic and is starting antibiotics right now. Her globulin & white blood cells are extremely elevated.
She does have lipomas, fatty tumors, all down her wrists and belly and body. Our goal is to go thru Primary Care who has an ultrasound in-house available. Please donate! Our foster named her Tuesday. She got a bath last night and had hundreds of fleas slayed. She received flea treatment.
She drank so much water. She is fussy about food and getting some good quality food in. (She is under Cats in Tow / Christine Lee / Tuesday)
The Dollar Club Paypal: thedollarclub@yahoo.com (for Tuesday)
The Dollar Club P.O. Box 116 Hereford, Pa 18056 (for Tuesday)
Primary Care Long Beach (562) 274-7776 Under Little Lion Foundation and mention it is for Tuesday (the cat's name is Tuesday)Thanks!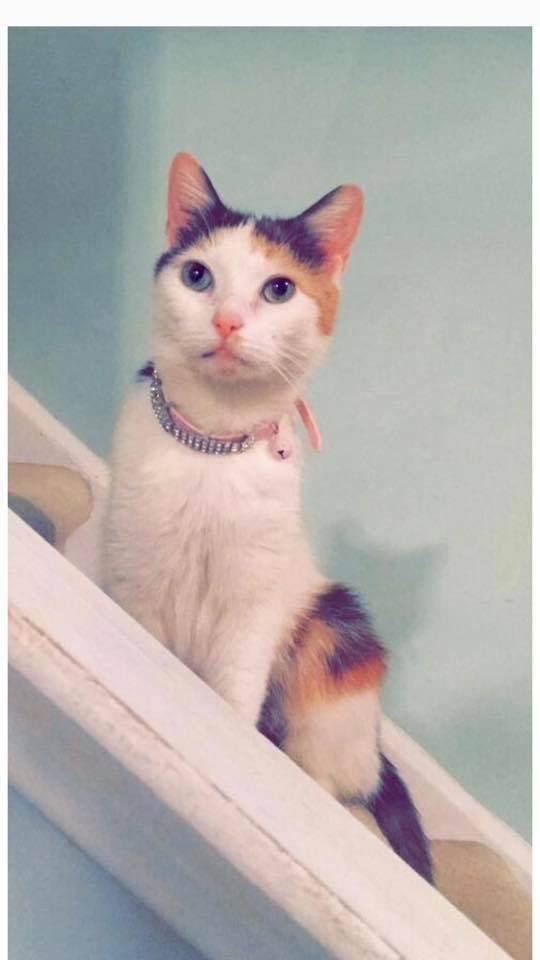 11-25-18 Stray Calico with infection on belly
Wizard of Paws Rescue: 911‼️ we just received this message on our Instagram page - stray cat found with severe mammary infection and needs treatment. Finder cannot afford it at all 😞
We are going to help but need to raise more funds as we are already drowning in vet bills!!! **UPDATE** x-rays reveal a huge infection but probably not cancer. They must get infection down before they do any further testing, which she needs to be hospitalized for.


The Dollar Club Paypal: thedollarclub@yahoo.com (for Stray Calico)
The Dollar Club P.O. Box 116 Hereford, Pa 18056 (for Stray Calico)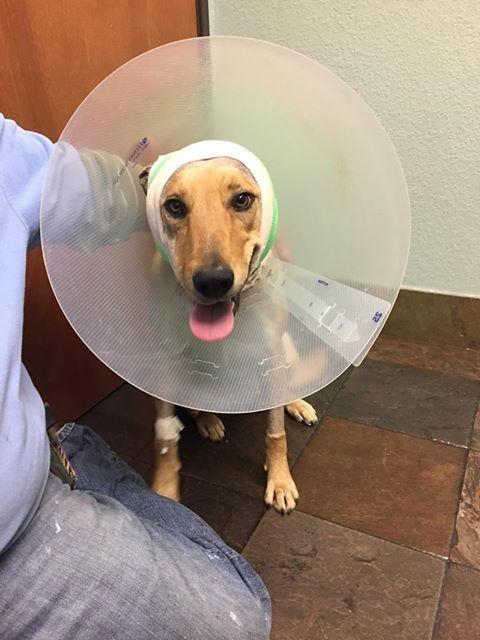 11-26-18 Bella - dog attacked by another dog
Good morning, my name is Michelle and I am needing to ask for assistance for my dog Bella. She is a sweet German Shepherd mix who was recently attacked by a loose dog. She has had two surgeries and is needing another one as her skin where the wounds were died. I have maxed out my CareCredit card with the previous treatment she needed. After the surgery she will also need wound care. **UPDATE** Vet called and advised bacteria that is growing in wounds is extremely resistance to the oral antibiotics we were giving Bella. She now needs to be given injectable antibiotics. A 2 week supply is a little over $200. Please consider helping me. Thank you 🙏
Vet: 972-226-3377 (Bella under Michelle Reyes)
The Dollar Club Paypal: thedollarclub@yahoo.com (for Bella)
The Dollar Club P.O. Box 116 Hereford, Pa 18056 (for Bella)
11-29-18 Helped supply some much needed food/supplies to a disabled man in Bethlehem, Pa for his cat colony