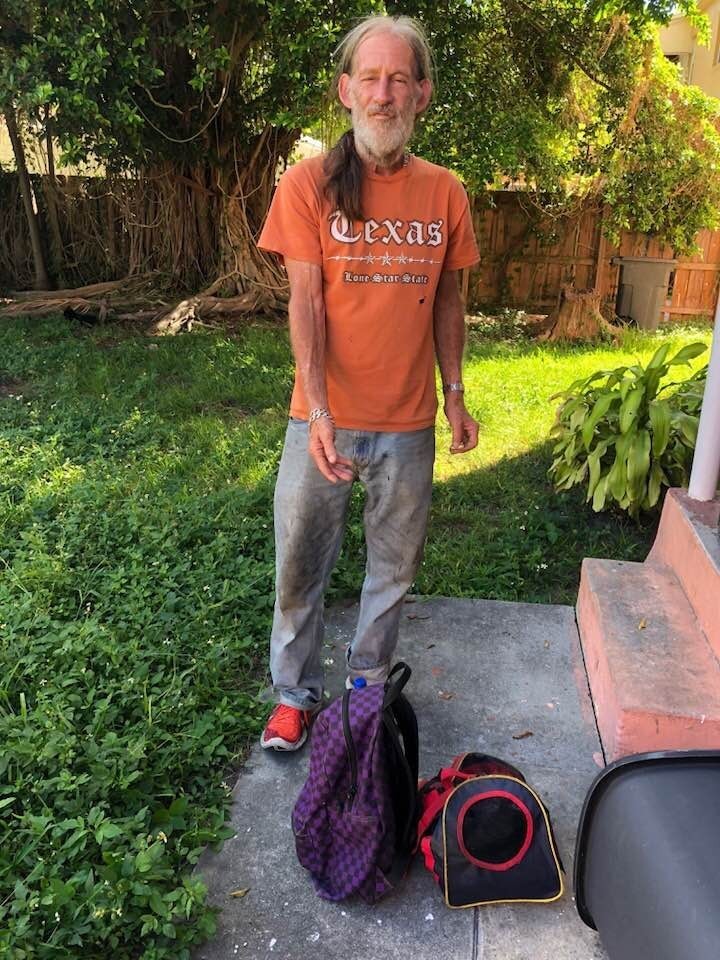 10-02-18 A colony caretaker needs help with food for 85 cats

This is Charlie the Little Haiti feeder, he feeds around 85 cats daily, he also alerts and assists in TNRing all the cats in his area and he fosters many of the little kitties while they wait for a rescue. We are practically neighbors so he will stop by if he has a little sick one that I can help him out with, this little baby has a URI with an infected eye, I luckily had some supplies on hand and the little one will start to feel better soon. If you would like to donate food to Charlie please let me know, he feeds and helps so many of Little Haiti's neglected community cats !
Paypal: Thedollarclub@yahoo.com (for Charlie)
The Dollar Club P.O. Box 116 Hereford, Pa 18056 (for Charlie)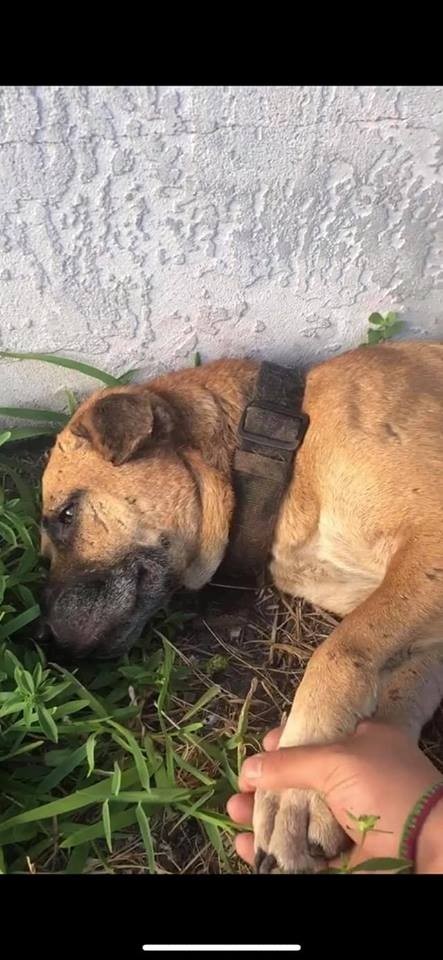 10-6-18 T-Bone dog hit by car and owner neglect
Owners moved out and left him roaming near a busy street where he ended up getting hit by a car yesterday. My friend has zero money to take him to the vet to get him checked out. He's a little bruised and has minor cuts and limps. Neighbors have put him in their garage over night but needs out ASAP. Taking him to MDAS is a death sentence since he's injured. I know all rescues are full but please help us network him. My friend put up a fundraiser for him and ended up getting zero dollars, she doesn't have a car to drive him anywhere and has called several rescuers and nobody wanted to help. When my friend cleaned his wounds he just cried and didn't try to bite or attack her. He got up to pee and poop last night. He needs an adopter ASAP. He's just really sad he was abandoned by his family. He's a really sweet boy that needs loving family that won't abandoned him. **UPDATE** He went to the vet and he is suffering from long term neglect with bilateral ear infections & ears starting to cauliflower he is on broad spectrum antibiotics CBC results today & X-ray as well he has something eating bone in right front leg waiting in radiological report but he's HW & Erlichia negative he will return in 2 weeks for follow up possibly more antibiotics in his ears & hopeful in a month he can be neutered

Vet: Siegel TLC Animal Clinic 305-891-5116 (under T-bone)
Paypal: Thedollarclub@yahoo.com (for T-bone)
The Dollar Club P.O. Box 116 Hereford, Pa 18056 (for T-bone)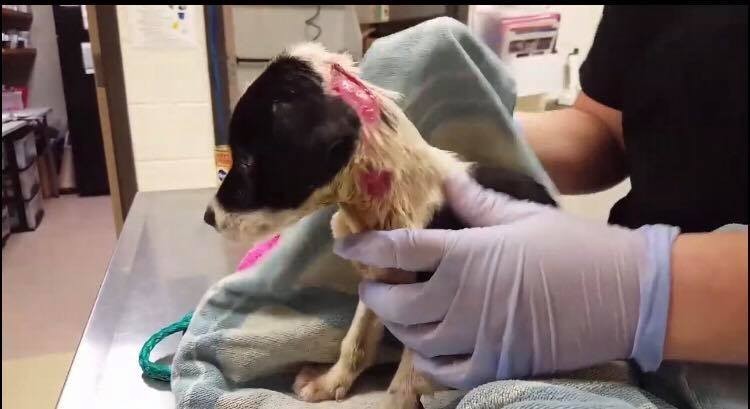 10-8-18 Quinn - puppy attacked by another animal

Meet Quinn. He was picked up today at the shelter. This 6 week old baby was thought to be attacked by something. He has large wounds all over his body and legs. He came in filthy, with fleas and with maggots in his wounds. He is thought to be possibly septic. Update: Send prayers. He is not well. Hypothermia on top of everything else. He is now in his way to Dr. Wilcox Veterinary Clinic. (Chip N Snip is a 501c3)


PayPal.me/ChipNSnip (for Quinn)
Paypal: Thedollarclub@yahoo.com (for Quinn)
The Dollar Club P.O. Box 116 Hereford, Pa 18056 (for Quinn)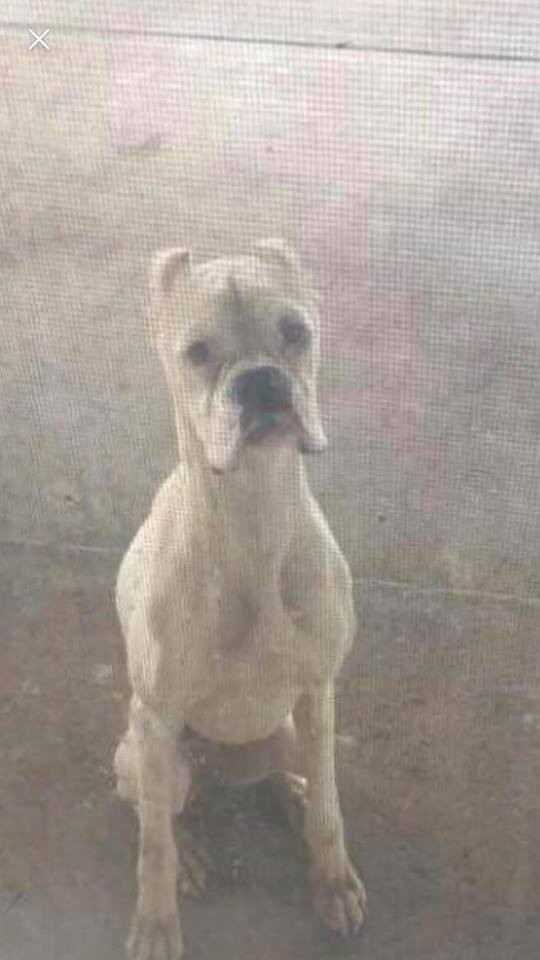 10-08-18 Crop Top Bella - starved dog

This is what I received so we sent $100 so far from TDC:

Some posts are hard to even write... The thought of what this poor girl has been through is unimaginable...I received a message asking if I could help her... I saw the pictures, and even though I am so overwhelmed with the ones I already have, I knew I could not look the other way...The lady that found her said her husband had seen her in the area for a couple weeks... Today, she was finally brave enough to go up to the house.. to beg for help...She is so near death it is scary... Skin and bones... One of the saddest thing is her ears... someone did a very poor crop job on them... they are almost gone... She has been hurt and STILL wants to love and trust humans...I have her at my vet now... She will be accessed and fed several mini meals.... we will run tests to see what may be going on with her... and she will recieve lots and lots of love...We can try hard to save them... but we can not do it alone....PLEASE... remember, every single dollar helps...Please share... She has a long road ahead of her and deserves every chance she can to survive....Thank you all for caring...
Vet: ELK CREEK CLINIC (under Terry Fisher) 580-225-4863
Paypal: Thedollarclub@yahoo.com (for CropTop Bella)
The Dollar Club P.O. Box 116 Hereford, Pa 18056 (for CropTop Bella)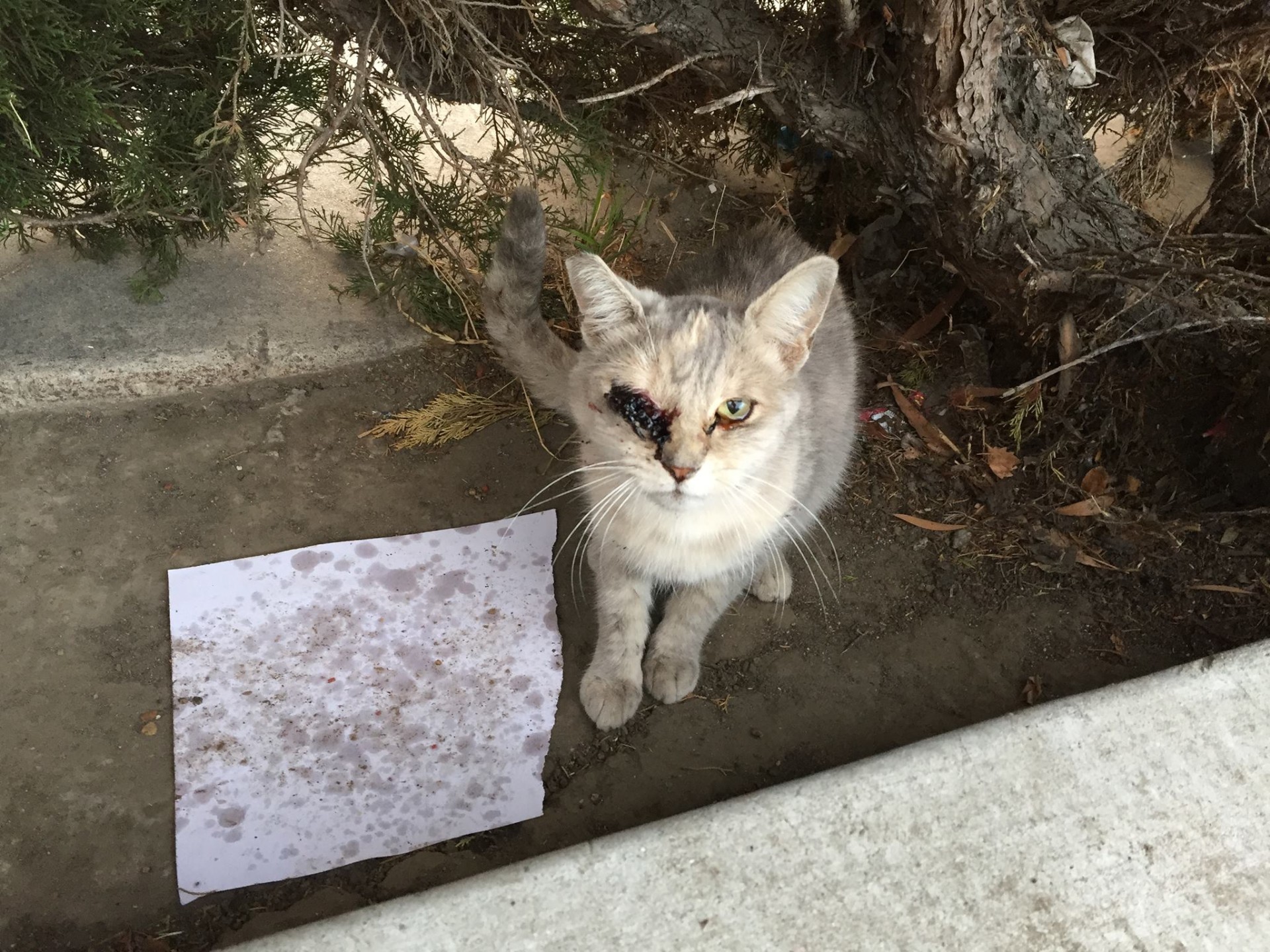 10-08-18 Marilyn - cat attacked by human
One of my kitties was hit on the head a couple days ago. She didn't come to eat for 2 days until now. The man who's killing these Cats is hiding from me and I don't know how to catch him. Meanwhile He's killing/hurting more Cats in the neighborhood. My poor baby is in scrutinizing pain, bleeding from her eye. I'm taking her to the Vet this afternoon.


Beverly Hills Small Animal Hospital: 310-276-7113 (Under Norma Barrera/ cat Marilyn)
Paypal: Thedollarclub@yahoo.com (for Under Norma Barrera/ cat Marilyn)
The Dollar Club P.O. Box 116 Hereford, Pa 18056 (for Under Norma Barrera/ cat Marilyn)
10-10-18 Sent/delivered cat food to a colony in Palm, Pa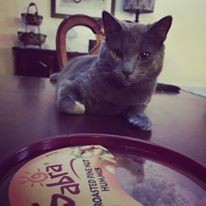 10-10-18 Andrew - cat with severe ear infection


I was at the vet with my own cat and saw a young girl looking for help with her cat that had a very severe ear infection. She didn't have enough money for treatment so I helped her pay the bill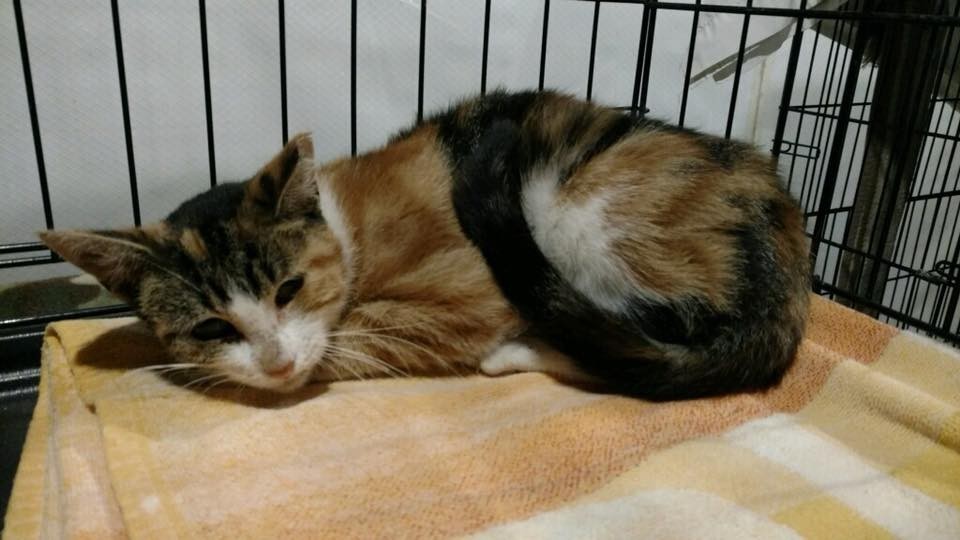 10-13-18 Anjelica - cat with severely rotten teeth


PLEASE HELP US HELP SWEET ANGELICA ❤️❤️Angelica was trapped in a very bad area of Newark where people were poisoning and hurting cats. She is sweet as pie and not feral as we originally thought and has been doing extremely well in her foster home.
However- Angelica came to us with a severe mouth infection 😞 after rounds of antibiotics the vet has decided she needs her teeth on her entire left side removed as everything has rotted. This is an estimate between $500-800 dollars and we only have about $100 in our account currently. We really need help to afford this surgery for this sweet girl. She has been through so much- please consider donating to help her! Even $5 or $10 makes a huge difference!!! (Judith Ida - Wizard of Paws Rescue not a 501c3 yet)

Paypal: Thedollarclub@yahoo.com (for Anjelica)
The Dollar Club P.O. Box 116 Hereford, Pa 18056 (for Anjelica)
10-17-18 Sent some dog and cat food to a needy family in Harrisburg, Pa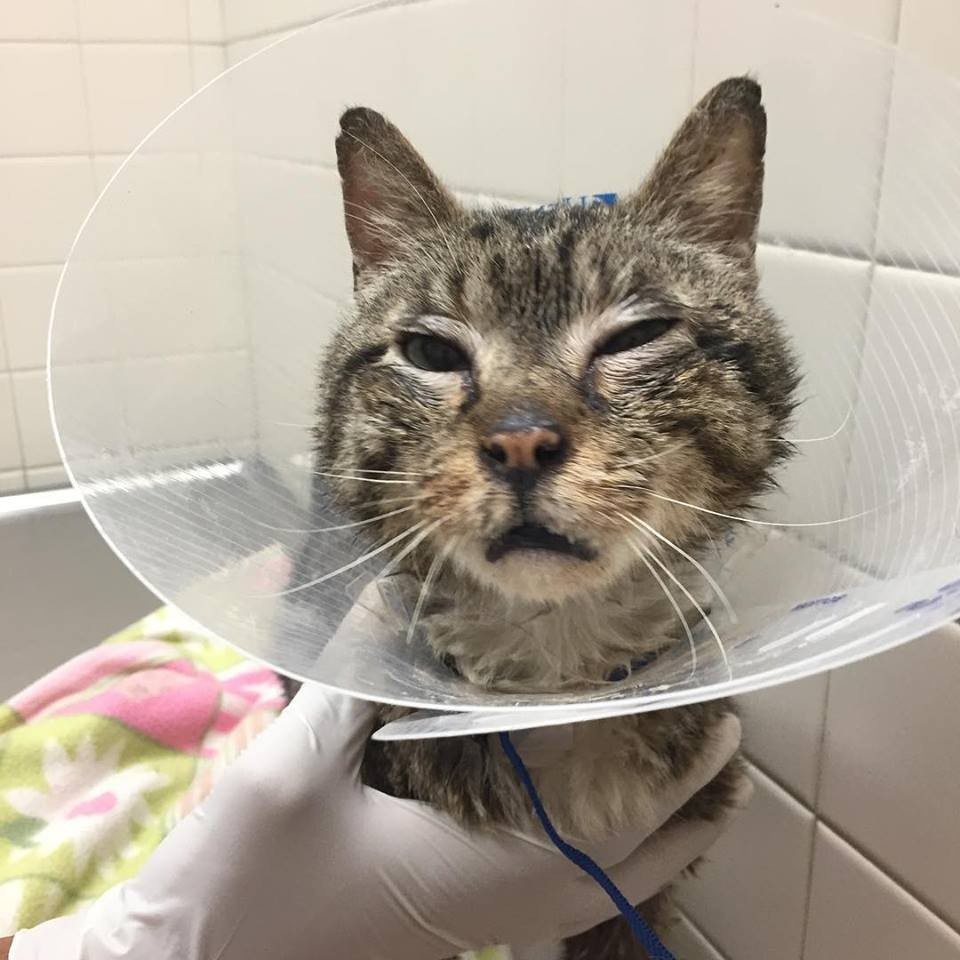 10-17-18 Felix - very very sick cat

Felix here, was rescued about a month ago. He showed up in one of our colonies in Inwood NY and tested Felv(+). Felix turns out to be five years old and we believe he showed up because he was so sick. He spent a few days in the ICU last week and was discharged. For a while, he improved. He just started to go downhill., yesterday so today, we raced him back to the hospital. He's got enlarged kidney and adrenal glands and is dehydrated. He's been admitted to the world class Animal Medical Center for supportive care. He is already improving! Good care really does work. He's eating and stable. But now, more than ever, He needs us and we need you. Can you help Felix? Every single cent means the difference between getting care or not. His current estimate is $2400. We will post his bill. Little Wanderers rescues the sick and injured in the most underserved areas of NYC. We don't give up on cats and give them every chance to survive. Help us continue that tradition. For Felix sake. Every $1 really does count.
Animal Medical Center: 212-838-8100 ask for client services. Client ID 1046242. Patient Felix
Paypal: Thedollarclub@yahoo.com (for Felix)
The Dollar Club P.O. Box 116 Hereford, Pa 18056 (for Felix)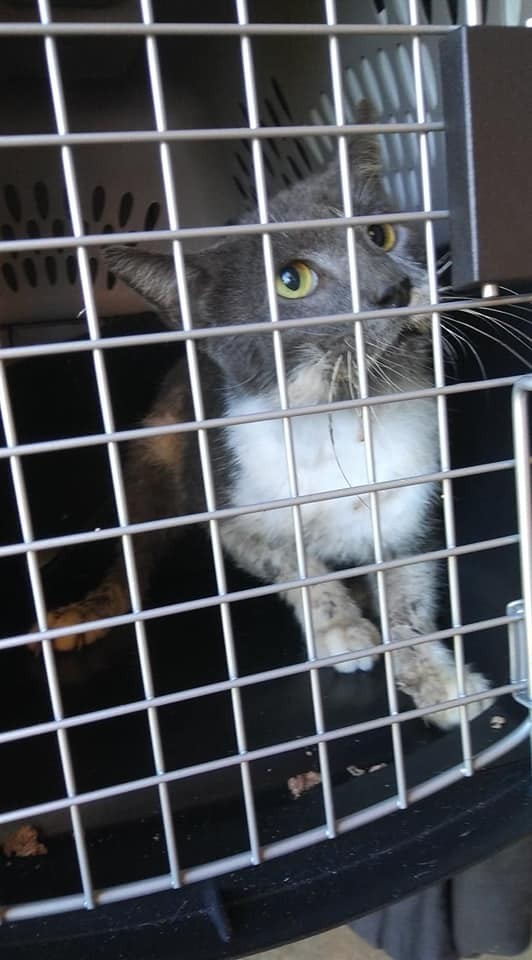 10-18-18 Flash - feral cat with stomatitis

SOS Extremely Urgent!!! This cat from a colony in Miami, Cutler Ridge has a FISH HOOK in his mouth!!! And has a HORRIFIC CASE OF STOMATITIS and has a split tongue. He needed steroid & antibiotic injections and had 2 extractions (we are limited in the care due to lack of funds). Ideally he should be on antibiotics for 1 week. Please share for fund raising. He is going to stay at the vet's until Saturday so that at least he'll have 4 days if antibiotics. Ideally he should have at least 7-10 days. He has patches of missing fur that could be from flea allergies and/or lack of grooming. With a split tongue it has to be painful to groom himself or eat. He has been Neutered, and had all his vaccinations, plus steroid, and antibiotic injections.
Old Cutler Animal Hospital Phone # 305 251-6151 (under Flash Lopez)
Paypal: Thedollarclub@yahoo.com (for Flash Lopez)
The Dollar Club P.O. Box 116 Hereford, Pa 18056 (for Flash Lopez)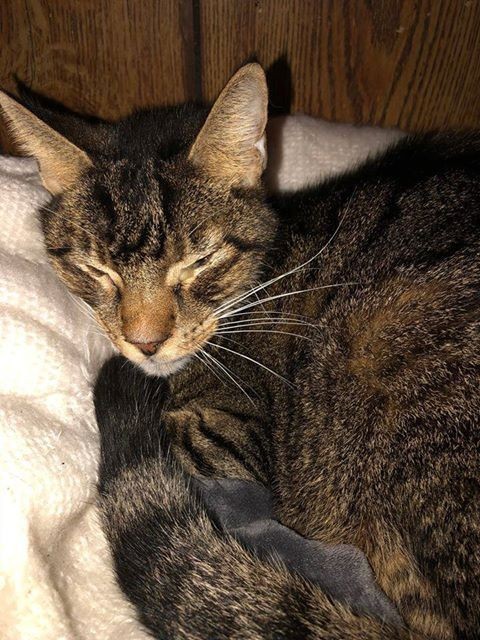 10-19-18 Buddy - rescue kitty severely anemic

Rowan County Cats & Kittens need your Help. This is Buddy. This sweetheart is very anemic and has been hospitalized at Cabarras Animal Hospital. He has tested negative for FELV/FIV and parasites. Please help us raise money for his treatment. He may need a blood transfusion. The current estimate without a blood transfusion is over $600.

Please send donations by paypal to: savingrcaskitties@gmail.com If you would like to call in a payment directly to the vet, please message us for the details. (Rowan County Cats & Kittens is a 501c3)
Paypal: Thedollarclub@yahoo.com (for Buddy)
The Dollar Club P.O. Box 116 Hereford, Pa 18056 (for Buddy)
10-19-18 Cider - very ill kitten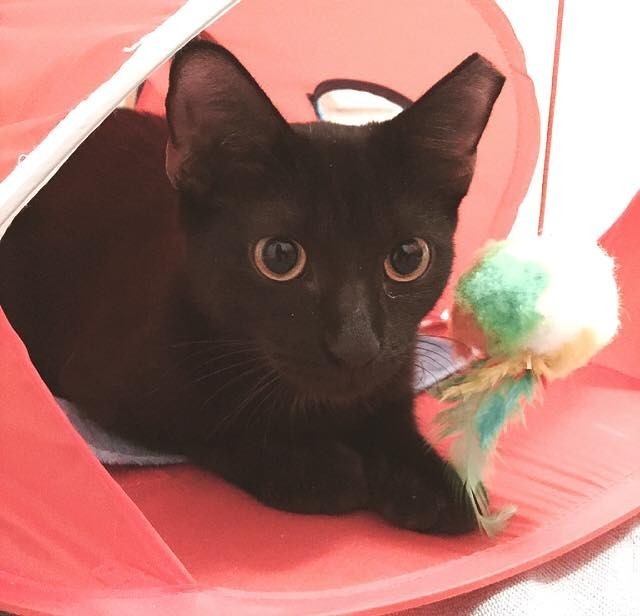 Our sweet girl Cider woke up with a temperature of 105 today. 🤒🤕 She is currently on fluids to cool her down and to stay hydrated. She will be staying at the hospital for the day to recover and go through testing. 🙏 This could potentially be very expensive, especially if she has to stay overnight. 😖 Any donations of any amount are incredibly appreciated. We do a lot out of our own pockets and today we sincerely need your help. 💓So far, we believe she may be reacting to her 2nd set of vaccines she recently had. Cider's immune system may be attacking itself. It is very rare, but can happen. 😢 We love you, Cider! 🍏🎃 We believe that you can pull through this with a speedy recovery! 😽🙌💓🙏 (Sirens' Cove Animal Rescue is a 501c3)

Vet: VCA Animal Hospital: 954-920-3556 Under Sirens Cove for Cider)
Siren's Cove Paypal: sirenscoveanimalrescue@gmail.com (for Cider)
Paypal: Thedollarclub@yahoo.com (for Cider)
The Dollar Club P.O. Box 116 Hereford, Pa 18056 (for Cider)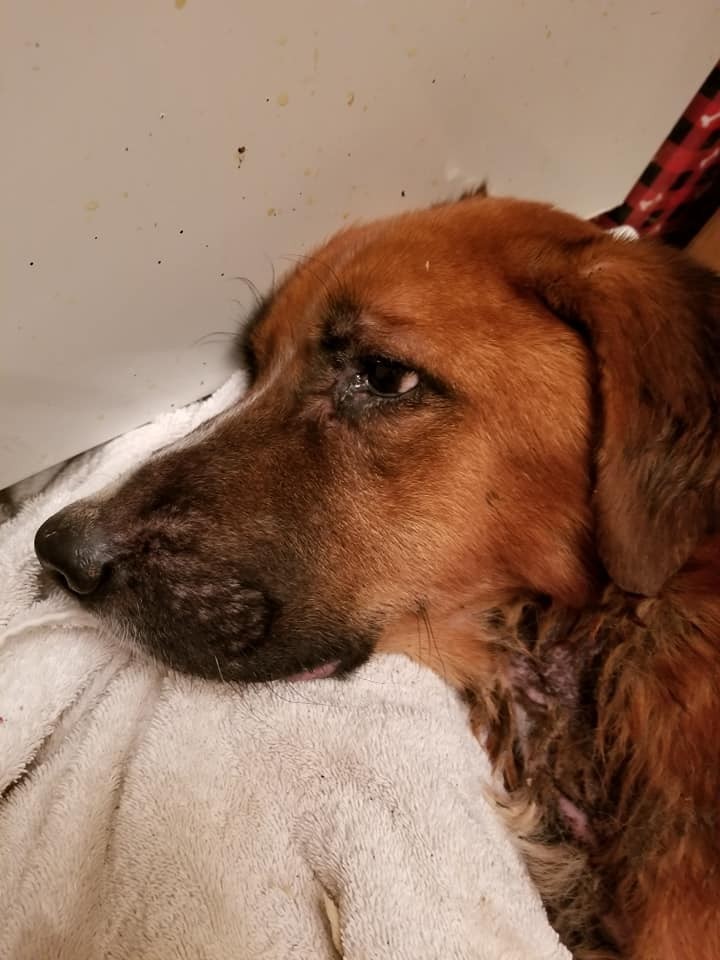 10-25-18 Duke - stray dog found starving and full of infection

This poor dog was found starving, emaciated and full of infection all over his body. When the police showed up they thought he was already dead, but he isn't. I have spent the morning taking deer and wood ticks off of him and he acts like he wants to live. HE IS EATING AND EVEN MOVED POSITIONS LAST NIGHT...HIS BOWEL MOVEMENT TELLS ME HE HAS BEEN EATING DIRT,AND STICKS,BUT HE IS ALIVE!!!!! **UPDATE** The next few days will be touch and go, the vet gave him a 50% chance to live,but that's better than 20%...she thought maybe we should put him down,I would feel strongly about that,if he refused food...he is not.he wants to eat,and everything,he is having bowel movements,and no crazy growths on him,Cept for the God awful sores from his bones pressing on his skin and laying somewhere hard for a long time.he wants to eat,and live,and hold his head up.he is very alert considering his condition, loaded with ticks,and fleas,but not anemic.his heart sounded good....as long as he wants to fight,I will not take his life from him,but will fight with him....his neck was raw from a tight collar,and how he ever ended up where he was found,we will never know...was he dumped,did he finally get so skinny the collar slipped over his head? Who knows....but if he can fight for the next few days,and get stronger,bloodwork will be done on thursday. (It's now thursday and he is still alive),let's just hope this didnt get to his organs and he will keep fighting!
Vet: Marley Clinic: 814 827 1778 (under Kim Nirmaier for Duke)

Paypal: Thedollarclub@yahoo.com (for Duke)
The Dollar Club P.O. Box 116 Hereford, Pa 18056 (for Duke)
10-25-18 Randall - cat with broken femur

Randall was lucky to have been found and transported to the vet in time.

We need help raising money to help this poor kid. He was found in a pasture yesterday. He couldn't move. We got him to Dr. Ellis at Millcreek Hospital. He had no strength to stand or hold his head up. They did x-rays and found the femur is completely broken. He's going to need the leg amputated but first he needs to get stronger. He's on fluids and pain meds. He's only 4.86 lbs which is the size of a kitten. Dr. Ellis wants him to gain 1 more pound and do surgery on Monday. The surgery can go as high as $1400. Ouch is right!!! We need some serious help! We've had $15 in donations so far. If you can spare a few dollars, it would be so greatly appreciated!
Millcreek Vet:. 801-731-0300 (Karol Johnson/Randall)
Paypal: Thedollarclub@yahoo.com (for Randall)
The Dollar Club P.O. Box 116 Hereford, Pa 18056 (for Randall)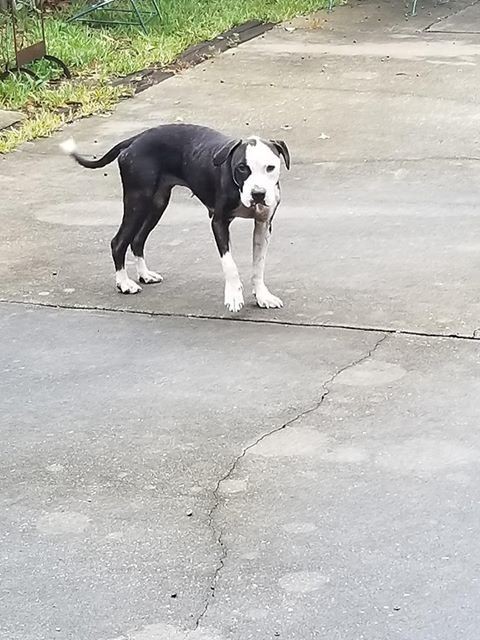 10-26-18 Khloe - severely neglected dog

This female dog was kicked out of a car into the street. The dog is a female, who is very malnourished, and looks to have been attacked, or maybe left tied up or in a kennel in her own urine, and feces. She has pressure point sores. Her neck has gashes, and there are several spots on her body that look like wounds that are healing or possibly mange, or some other parasite. She is very skinny, and by looking at her nipples she has been bred, and nursed puppies at some point. Her milk is dried up, so I do not believe she was still currently nursing puppies. I can only assume she was bred, used up, and discarded. She is covered in fleas, which we all know means she is 99% going to be full of worms also. I cannot afford to do this alone due to having 6 children, a large dog, and three cats. UPDATE*** Khloe tested positive for heartworms, but because of how unhealthy she is the vet asked me to wait until November 1 to start chewable heartworm prevention tablets, she tested positive for yeast on her skin, and in her ears, she got flea medicine, antibiotics, she has intestinal worms, and has medication for that as well, she received her rabies, and parvo injections. Total cost is $1,100. Over the course of the next few months!

Crawford Road Veterinary: (334) 298-3489. Amanda Walters for Khloe
Paypal: Thedollarclub@yahoo.com (for Khloe)
The Dollar Club P.O. Box 116 Hereford, Pa 18056 (for Khloe)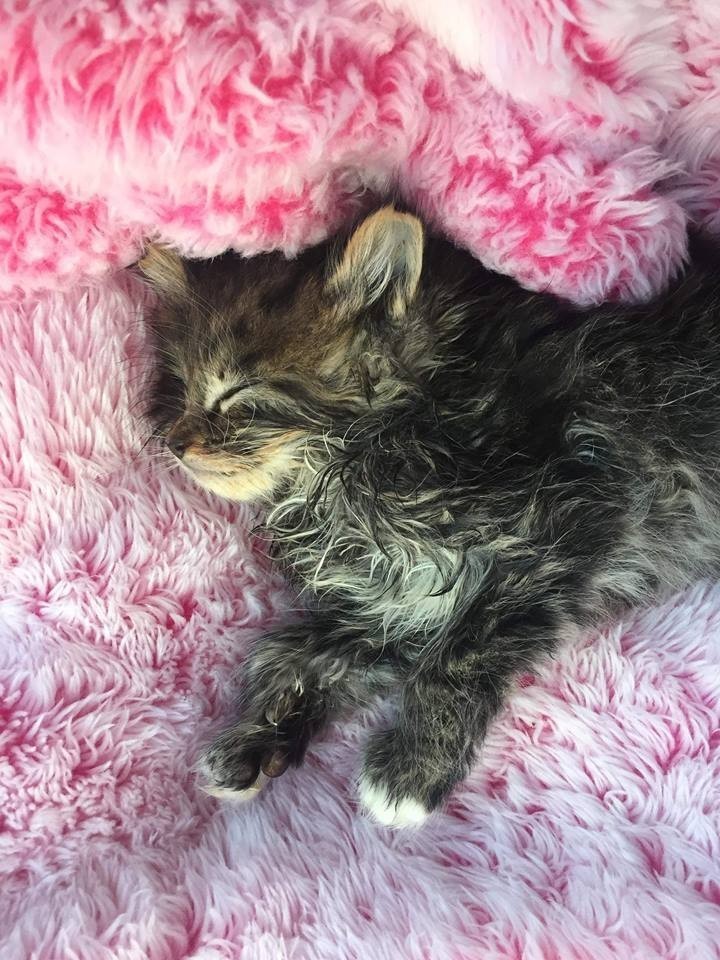 10-29-18 Bella - anemic kitten

*** Urgent Donations Needed ***
Bella was found by one of our fosters this weekend and is in desperate need of a blood transfusion as she is at the vet with a PVC count of 6. She has no chance without this life saving measure.
We have had some very expensive medical cases that have taken a serious toll on rescue and personal funds. However we couldn't not give this sweet girl the chance to live. We would be beyond grateful to anyone who can contribute to her care. Thank you for helping us give her a chance to live. We are looking at approximately $800.00 for today's visit.
Crossroads Animal Clinic 817-277-9183 (Bella under HOME rescue)
Paypal: Thedollarclub@yahoo.com (for Bella under HOME rescue)
The Dollar Club P.O. Box 116 Hereford, Pa 18056 (for Bella under HOME rescue)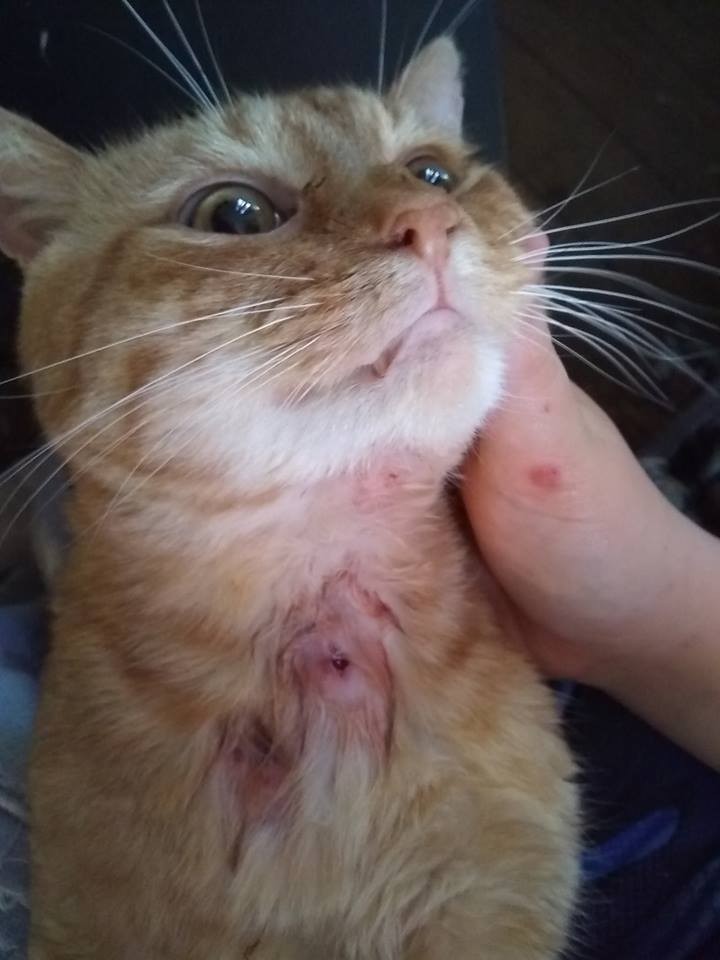 10-29-18 Mr. Whiskers a cat who got out and either shot or attacked

Somehow Mr. Whiskers got out of our house, we had been away with our son who is critical right now ..... We came home today couldn't find the cat ..... Just now finally my next door neighbor brought our baby Mr. Whiskers home and just looks something got a hold of him or someone. They found him in our outdoor dog pen. He's bleeding all over the place I don't have money for a vet.... Can anyone help... My family cannot take much more!!!! (Mr. Whiskers and the gang)


Animal Medical Surgical Center 740 622-0013 (Mr. Whiskers under Melissa George)
Paypal: Thedollarclub@yahoo.com (for Mr. Whiskers under Melissa George)
The Dollar Club P.O. Box 116 Hereford, Pa 18056 (for Mr. Whiskers under Melissa George)