10-03-22 Dumped cat - needs kennel
Poor Guy's Cat Rescue: Well, I have yet another cat. This one hails from a "lovely" couple.
They took Garfield in as a stray and had him neutered a few years ago, so they did one thing right. He lived with them as an indoor/outdoor cat for a few years, along with their other indoor cats, peacefully I might add. He was taken in for a leg abscess, from a fight with a neighborhood stray. He was tested for FIV/FELV. He tested positive for FIV. They considered him now a potential threat to their other animals, and wanted him put down. Someone essentially called me and said (I paraphrase here) "want him before we put him to sleep?" This cat most likely had FIV his entire life. It takes several months to test positive after infection. He didn't produce a positive from a fight a week ago. Rather than inconvenience themselves, and reacting solely from ignorance, they decide to kill a cat that existed peacefully for years. I didn't have one of the huge kennels, just a medium one. I wish someone would adopt him 🙁Also I owe the vet $1100~ 🙁


The Dollar club sent a 48" kennel and 4 large bags of food
The Dollar Club paypal: thedollarclub@yahoo.com (for Poor Guys Rescue)
TDC mailing address: P.O. Box 535 Whitehall Pa 18052 (for Poor Guys Rescue)
10-07-22 Cat food needed
Krystal Ramos Durant
Can anybody donate cat food for these cats? I'm filling it at a school and the previous cafateria manager was feeding these cats but the food has run out and now I'm trying to continue feeding them. I already feed my neighborhood cats and it's adding up. If any one can please donate food for them I'd really appreciate it. Thank you!
The Dollar Club paypal: thedollarclub@yahoo.com (for food)
TDC mailing address: P.O. Box 535 Whitehall Pa 18052 (for food)
10-08-22 Desperate need for food & vetting for colony **UPDATE** we have helped several of these kitties now
I AM BEYOND DEVASTATED. I HAVE SOUGHT HELP FOR THESE POOR ANIMALS FOR MONTHS AND NOT ONE SINGLE RESCUE HAS HELPED. AND THIS IS THE RESULT. I DON'T KNOW HOW ELSE TO SAY THIS… I'M BEGGING YOU, PLEASE HELPPPPPPP!!!!!CAN'T PEOPLE SEE HOW MUCH THEY ARE SUFFERING??? They are literally getting run over, dying a slow and painful death and starving because no matter how much food we give them, they're sick, injured, full of parasites, and living under the worst conditions. We've given them dewormers but their environment is currently horrendous, full of junk and trash. We don't have the money to pay someone to help us clean out the area where they are because everything is going towards their food and several vet bills. These babies deserve better!!! I've called and written to ALL the rescues in Florida and NOT ONE has even responded. PLEASE SHAREEEEEE UNTIL SOMEONE DECIDES TO HELP, EVEN IF IN ANOTHER STATE. The last cat that appears in the video was taken to the vet today, by one of the 2 angels who are helping feed these cats. Not only had she been run over and had a broken hip, but her kidneys were really bad and she had internal bleeding, so they had to put her to sleep this afternoon. 😭 Rest in peace, sweetheart… I'm so sorry humanity failed you too... 😭 🙏 Can someone pleaseee donate some money for food for these 50+ cats TODAY? We're out of food and money, if you can donate something, anything, please let me know. We weren't able to feed them yesterday and they're already going through hell. Please help!!! 🙏
The Dollar Club paypal: thedollarclub@yahoo.com (for fl food)
TDC mailing address: P.O. Box 535 Whitehall Pa 18052 (for fl food)
10-09-22 Very sick stray
Pitiful Paws Rescue is asking for donations.
‼️SOS‼️Sometimes I don't think this will ever end or get any better no matter how many animals we help and it gets a little discouraging. However, then there are some animals that come in and make you feel that it is all worth while, meant to be, and just grateful that you were able to help them. This girl was one of the ones that make you know in your soul that what you are doing is worth it. This sweet, but very broken, girl was found by one of our techs yesterday on her way to work. She was and still is in horrible shape. She's had two baths already and still smells like she came straight out of a sewage pit. Her eyes are infected, her ears are infected and have masses in them, she has a nasty stinky skin infection, wounds/scars and infected places all over her face, her paws and legs are swollen at the joints, she is literally COVERED in tumors and masses (I'd say at least 20), and much more. She is at least 8-9 years old, thankfully heartworm negative, had X-rays that showed massive amounts of arthritis in her back, hips, and joints. She essentially has a club foot as one of her front feet because the arthritis has fused together making it hard to bend/flex. She has mammary glands hanging to the floor, her vulva is grossly swollen and appears potentially infected as well. It looks as if she has essentially been bred to death. She is underweight by a good bit. She has wonky back hips that wobble when she walks, huge pressure sores and calluses on her elbows, hips, and feet as well as just so so much more. She is an absolute mess. We again…are still beyond full but when one of our people finds an animal in this bad of shape we obviously cannot say no and there were no other options for her. We have decided to name her Madame Leota (Madame for short). She had no identification and no microchip. If someone would like to claim her, we would love to chat with them about her condition, as always must have proof of ownership. This girl even a good 15lbs (at least) underweight still weights 87.5lbs! She is a big big girl. That is a slight problem only because she HAS to go on supplements for her skin, hips, back, a senior multivitamin and much more as well as she has to be on a steroid and a strong antibiotic, ear meds, eye meds, etc! With her weight being so high, she will have to have 3-4+ chews on most of our supplements which means we are going to run out of what we have very quickly.
So we desperately need your help. She also has another vet appointment in a little over a week and she will need bloodwork and to have all of her tumors and masses checked (though we are positive she has some that are mast cell cancer by just looking at them.) This is another large expense that we didn't expect and that we didn't intend on while trying to prepare for winter and we absolutely desperately need your help to help Madame! She deserves nothing but the best because it's obvious that she has had a very rough go of it. So, we have an Amazon Wishlist made up for her with things we really need (supplements, meds, and her food are main priority - we also added larger food bowls because we have to let her food soak in warm water and it puffs up to be huge and won't fit in our normal sized dog bowls) and we will post how to donate monetarily towards her vet care!

Here is a link to her Amazon Wishlist: https://www.amazon.com/hz/wishlist/ls/27UOECCIOWI1K...

Vet: Call Guyan directly at 304-736-3456 and ask to donate towards the PPR bill. M-F 8:30-6 Sat 9-12
The Dollar Club paypal: thedollarclub@yahoo.com (for PPR)
TDC mailing address: P.O. Box 535 Whitehall Pa 18052 (for PPR)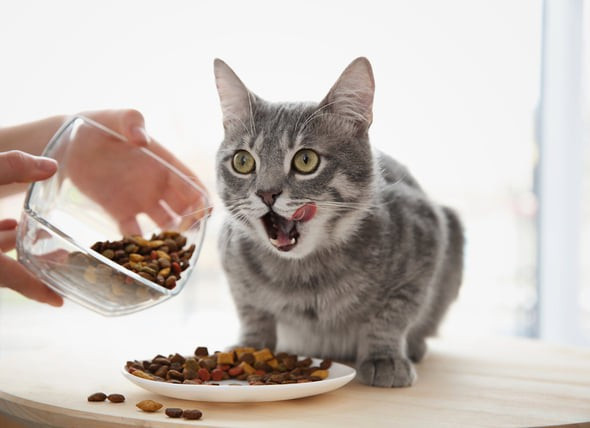 10-12-22 Cat food needed
Hi. I was referred to you guys by one of my rescue friends I worked with. I hit a low period right now losing my job and I'm struggling. My main concern is my cats (5) they need food and litter shortly. I do have two jobs I received but I don't start till end of the month and no income till Nov. please please help 🙏🙏🙏
The Dollar Club paypal: thedollarclub@yahoo.com (for cat food)
TDC mailing address: P.O. Box 535 Whitehall Pa 18052 (for cat food)
10-14-22 Sunny - stomatitis
For the Love of a Feral: Okay friends we need our village once again. Sunny, our blind boy, who had all his teeth pulled continues to battle stomatitis. He is going to be sedated on Monday the 17th to see if there are any remaining teeth fragments that are causing his issue. Our checking account is very low so if anyone is able to donate please contact schultzville Animal hospital directly 570-586-9373 and you can put it right on Sunny's account. And please, as always, I am asking everyone to keep Sunny in your prayers.
Vet: Schultzville Animal hospital directly 570-586-9373 (for Sunny under TT's rescue)
The Dollar Club paypal: thedollarclub@yahoo.com (for Sunny)
TDC mailing address: P.O. Box 535 Whitehall Pa 18052 (for Sunny)
10-15-22 Cat food for 20+ dumped cats
In July I shared a story of a woman who was killed in her home in Abbeville leaving 20+ cats!! The next door neighbor has been feeding them and caring for them. There is no animal shelter in that area that can take that many cats. There is nowhere for them to go. Thankfully cat food was donated and sent to him at that time but he is now out of cat food. If anyone can send him or take to him more cat food please do. His name is Jack Milner, 6307 County Road 57 S, Abbeville Alabama 36310 (Canned or dry)
The Dollar Club paypal: thedollarclub@yahoo.com (for Jack)
TDC mailing address: P.O. Box 535 Whitehall Pa 18052 (for Jack)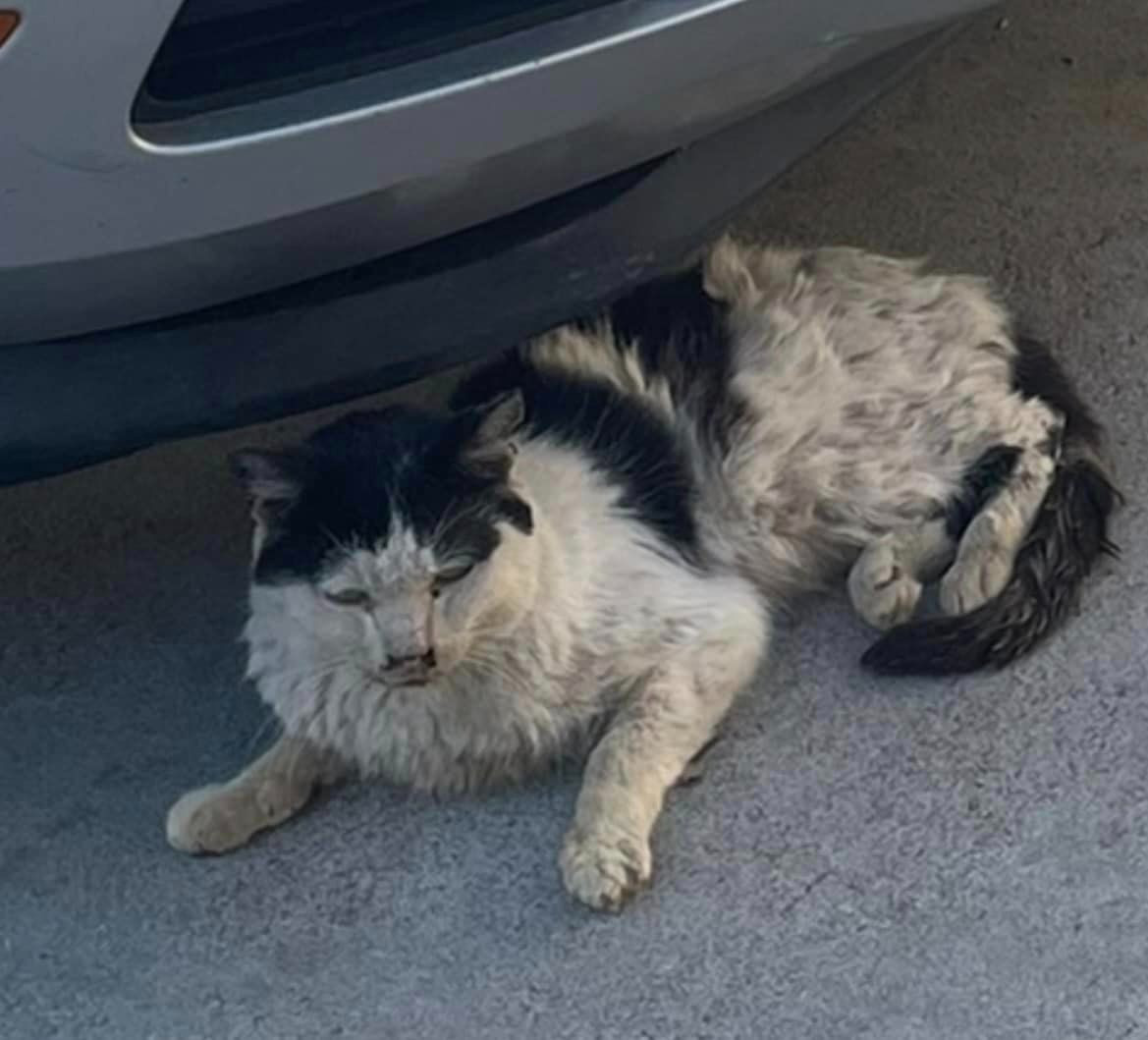 10-22-22 Patches - stomatitis stray
Kitty Corral is asking for donations. This kiddo needs stomatitis treatment. Patches as he/she has been named by feeder has been coming around for about 7 months. Not sure if this baby was dumped, but no one in the neighborhood has claimed him/her ever since. Appears to be TNR fixed with an ear tip. Has slowly gone from super shy to feeder friendly. Patches has been eating less and even drooling a bit. Time is of the essence to get this kiddo treated. We have secured an appt for 10/27 and need help covering Patches much needed treatment. 📍If you are able to donate, please do so, no amount is too small.

Vet: Cypress Animal Hospital (626) 331-0775 for Kitty Corral-Patches

The Dollar Club paypal: thedollarclub@yahoo.com (for Patches)
TDC mailing address: P.O. Box 535 Whitehall Pa 18052 (for Patches)
10-25-22 Trudy - stray kitten with broken leg
My sister and brother in law found this 6 month old baby lying in the road. She has a broken femur and needs her leg amputated. We really don't want to put her down so if you can help at all, please call Countryside Vet at 517 547 6701 and donate to Trudy 🥰

Countryside Vet at 517 547 6701 and donate to Trudy
The Dollar Club paypal: thedollarclub@yahoo.com (for Trudy)
TDC mailing address: P.O. Box 535 Whitehall Pa 18052 (for Trudy)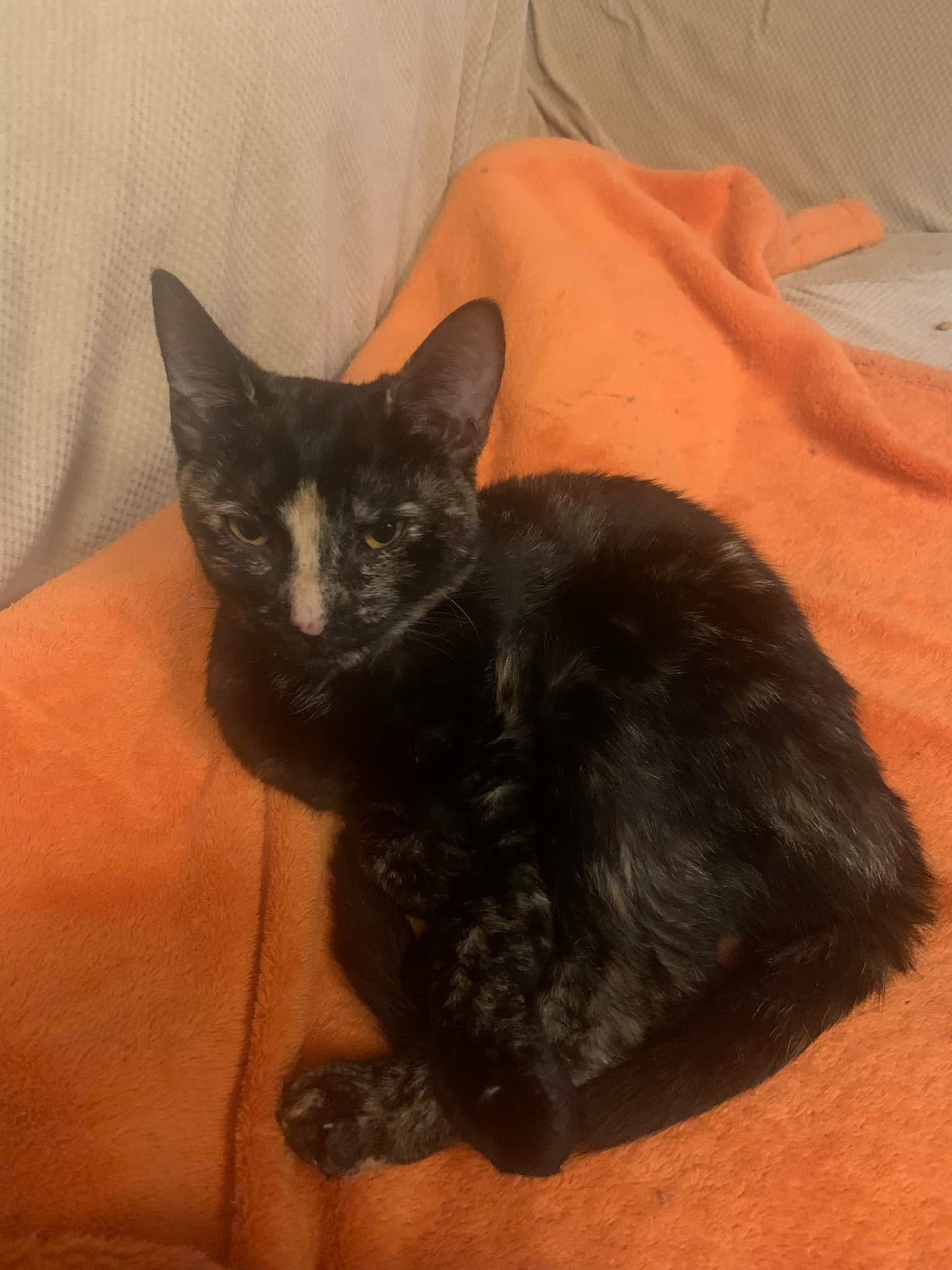 10-27-22 Luna - very sick kitten
💗🙏🏻🐱I've never done this before but I'm hoping for a little help. I rescued a beautiful sweet little Tortie, Luna, 2 days ago. She was doing well until last night. She's been throwing up, has diarrhea and has become a tad lethargic. I'm taking her to Plains Animal Hospital today to see if we can figure out what's going on with this sweet baby. If you can help in any way, please call them and donate. I've handled all expenses for my rescues until now but could really use help! Thank you!! 🙏🏻🐱💗

Plains Animal Hospital (570) 829-4030 for Luna under Shari Ide
The Dollar Club paypal: thedollarclub@yahoo.com (for Luna)
TDC mailing address: P.O. Box 535 Whitehall Pa 18052 (for Luna)
10-31-22 Molley - dog with huge bladder stone
Molley is a ten year old pomeranian mix surrendered to the shelter when the owner couldn't afford the medical care she needed. She has a huge stone in her bladder and horrible teeth.
We need help with the bill.
Companion Animal Hosp. 850-243-7144 Saving with Soul dog account
The Dollar Club paypal: thedollarclub@yahoo.com (for Molley)
TDC mailing address: P.O. Box 535 Whitehall Pa 18052 (for Molley)
10-31-22 Cat food needed
Leftover Pets d/b/a The Pet Mechanics is asking for donations.
Eeks! Our dry cat food bins are empty and we only have a dozen cans of wet cat food. Barrow county low income families and senior citizens depend on us to help feed 200 cats every month. We accept any brand, any size bag of dry cat food and any brand, any size package of wet cat food. You can drop off donations at our clinic or have it shipped to us. Thank you for your support! Links to our Chewy and Amazon.com wishlists.
https://a.co/1TQkFtm
https://www.chewy.com/g/leftover-pets-inc_b65034909

Leftover Pets 30A Woodlawn Ave Winder GA 30680
The Dollar Club paypal: thedollarclub@yahoo.com (for cats)
TDC mailing address: P.O. Box 535 Whitehall Pa 18052 (for cats)
10-31-22 Tillie - dog needs emergency surgery NOW
One By One Animal Advocates is asking for donations.

At 28 pounds, Tillie weighs only half of what she should. Her RBCs are low from not eating, and she was severely dehydrated. She perked up a bit with fluids but vomited, so she just received anti-nausea medicine. XRY confirmed a chronic foreign body object in her stomach and intestine. We've been told Tillie ate a rug a week ago, and the ER was told she ate a towel 2 weeks ago. Either way, Tillie is headed to surgery in about 20-30 minutes although the vet cautioned she is in such severely poor shape we may lose her. Please pray for Tillie. She didn't deserve this - they never do - and we want to show her how life should be. **UPDATE**Out of surgery, but not out of the woods. The surgeon had to cut into Tillie's stomach and intestine to remove a long "gross" piece of fabric. The fabric was in her stomach and had traveled through much of her intestines. She was suffering intussusception - her intestines had telescoped and eating itself in an effort to pass the material; fortunately the surgeon was able to cut it out, and did not have to remove any of her intestines. She is still groggy from surgery, and is receiving fluids, pain meds, and antibiotics.
She has survived surgery but not out of the woods because of the severity of malnutrition. She has a long road of recovery, but it started last night when Shawn Anderson drove 5 hours round trip to get her to emergent medical care. I really think she would not have survived without him doing so. Thank you, Shawn, for your compassionate heart and gift of time.
Please keep Tillie in your prayers. She still needs them, but we are pleased with this positive first step. **UPDATE** Not a significant change …Several meals have been offered, but she turns her nose up to food. We were hoping by now she'd feel like eating, but it could be related to the multiple incisions to her GI tract.She has gotten up and moved some, which is a bit of improvement.The biggest concern: she hasn't urinated since she arrived although she has fluids going at a rate of 35ml/hour. Her bladder is not palpable (good thing) and her abdomen is not tender, so they think she was so dehydrated she is absorbing most of the fluid rather than storing it to urinate.It's still so tough to know. Naively we expected once she survived surgery that all would be well, but this is so uncertain. **UPDATE**Tillie was transported from the ER to Merritts Creek this morning, and we were happy that the transporter received the tiniest of tail wags. We hoped that was the start of positive things ahead, but we were wrong.The vet said Tillie is "very rough". She expressed concern that Tillie has gone so long without eating, despite an appetite stimulant she administered and offering of canned food smeared in mouth. Most concerning is the level of pain she is experiencing, despite receiving pain meds on arrival.The ER and Merritts Creek vet and staff have done everything by the book and provided exceptional care, and Tillie should be improving. She should not be so painful and without an appetite.The concern is she may still have fabric somewhere hidden, or one or more of her stomach or intestinal incisions are leaking. We are making arrangements to transport her to Dr Karl E. Yurko in Wheeling where she may undergo exploratory surgery later today or tomorrow, based on his assessment.Tillie has come so far, but still has so many obstacles. We are deeply grateful for the numerous people who are doing so much to save her life. Nothing is certain other than Tillie is greatly loved, and everything possible will be done to save her life.


Vet: Key animal hospital 304 242 7475 for Tillie under One by One animals rescue
he Dollar Club paypal: thedollarclub@yahoo.com (for TIllie)
TDC mailing address: P.O. Box 535 Whitehall Pa 18052 (for Tillie)