9-4-18 Daisy dog with fish hook in paw
Daisy stepped on a fishhook at their apartment complex this morning. The poor girl can't catch a break. I can't find any of the low income vet clinics with an opening today. Where can we call? They are VERY LOW income and won't be able to afford much. They barely have a running car.
**Thank you for all the awesome comments and suggestions. Midvalley Animal Clinic is squeezing them in and they are there now.​​
Vet: 801-269-1213​​
TDC Paypal: thedollarclub@yahoo.com
TDC mailing address: P.O. Box 116 Hereford Pa 18056​​
​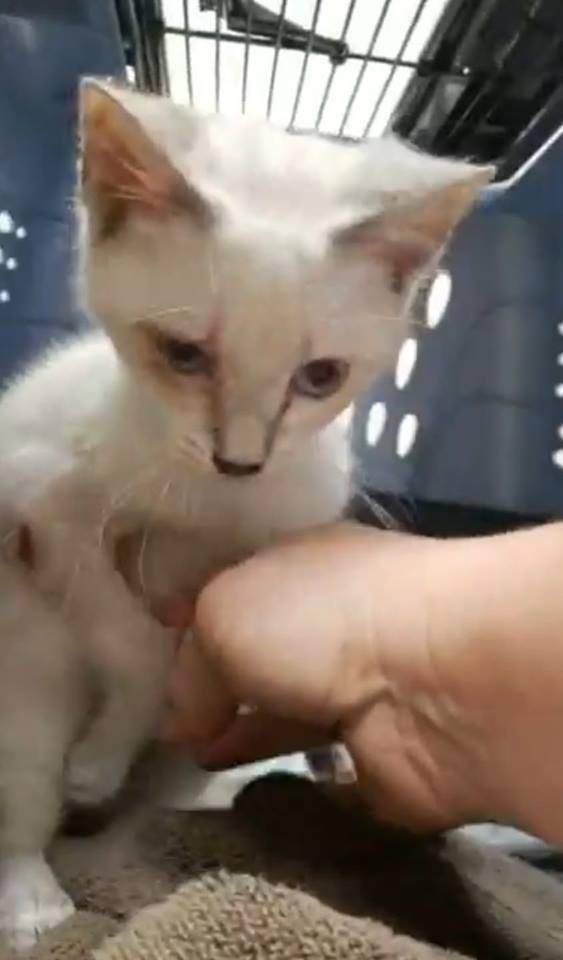 9-4-18 Caleb - kitten needing amputation
CALEB NEEDS OUR HELP!! His surgery is $448. He has a very resistant bacteria That can not be eradicated with any of the antibiotics. The only way to save his life is to amputate his leg. He is now admitted in the hospital and has to stay for 2 days on IV antibiotics just to clear the infection enough to be able to remove his leg
​North Davidson Veterinary hospital: 336-731-6978 (For Caleb Burnette)​​
TDC Paypal: thedollarclub@yahoo.com (for Caleb)
TDC mailing address: P.O. Box 116 Hereford Pa 18056​ (for Caleb)​​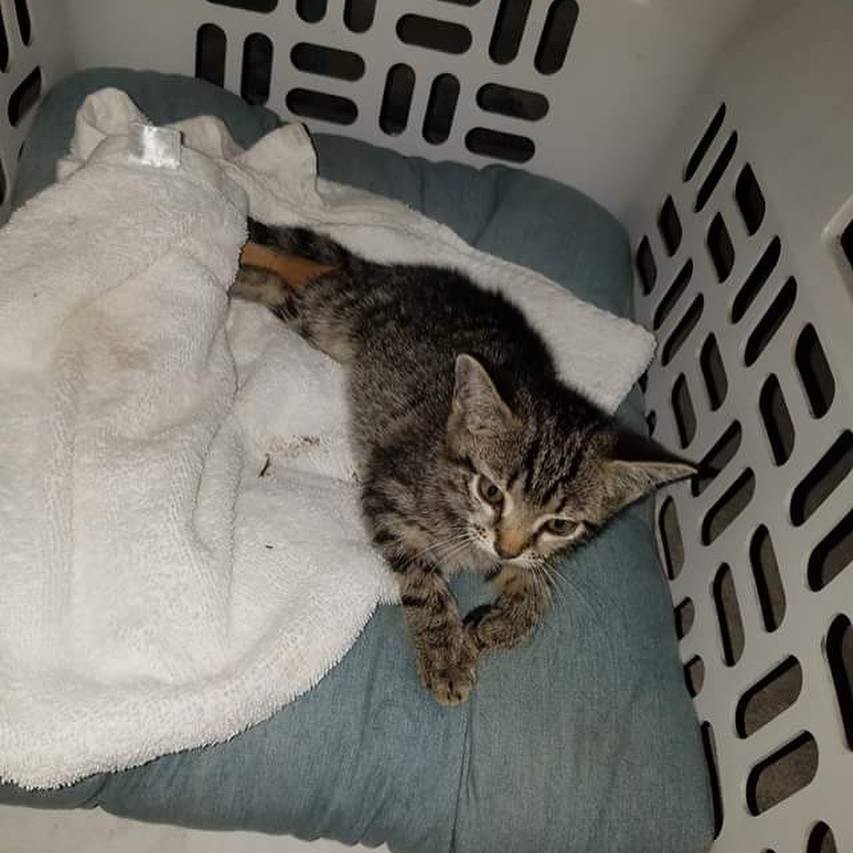 9-6-18 Eagle - kitten with injured back legs
Donations desperately needed! X-rays can be very expensive! Please help with what you can! 💓 🚨URGENT! Foster or rescue needed ASAP!!! A Good Samaritan found this kitten with TWO broken legs left on the side of the road! We are at full capacity and cannot take him into the Cove. Donations and vet care needed ASAP! Please share! Let's show this kitten how loving the world can be in a time of need! ​​ The wound is infected and full of maggots **UPDATE we found a foster
Vet: VCA - (954) 920-3556 (for Eagle under Siren's Cove Animal Rescue)​​
TDC Paypal: thedollarclub@yahoo.com (for Eagle)
TDC mailing address: P.O. Box 116 Hereford Pa 18056​ (for Eagle)​​​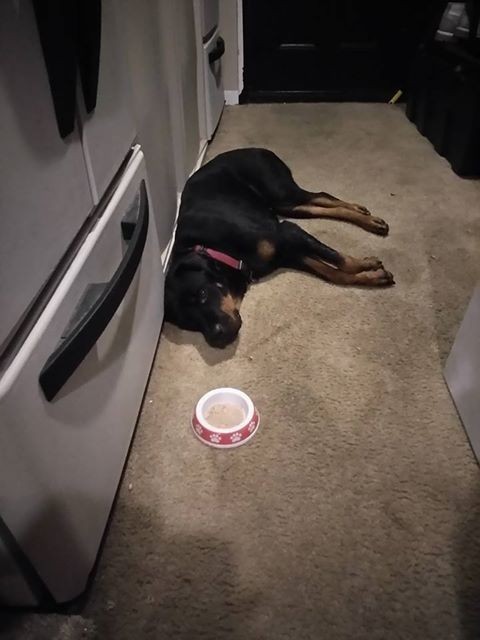 9-10-18 Midgit - very sick dog
My rottweiler was sick, took her to Spca for care they gave a parvo test which was negative and by the time the vet had arrived my dog started to vomit. They wouldn't see her and referred me to a vets that could treat her. the vet did test and xrays and everything checked out ok. they gave her IV fluids and shots to stop the vomiting. I had use money that was meant for household expenses. I am a low income vet . They sent me home with antibotics to be administered with food and to call daily. This was Thursday my dog was eating rice and boiled chicken as the vet suggested. She was eating a little on Friday and on Saturday didn't eat. The vet is only open 4 hrs. on weekends. I can't administer the meds for she won't eat and getting very weak and lying around. I am scared I may lose her. She is my baby and I need to take her to an emergency vet. My finances are depleted. Please help! !! I will be willing to help others in need when i can. **UPDATE** vet checked her again and she will be tested for Addisons disease tomorrow. If that isn't it, they will do a cat scan to check for a blockage even though a prior x-ray showed nothing.
​
Brees Aninimal Hospital: 215-338-3219 (for Midget under Tim Purcell)
TDC Paypal: thedollarclub@yahoo.com (for Midgit)
TDC mailing address: P.O. Box 116 Hereford Pa 18056​ (for Midgit)​​​​
​​
9-11-18 13 rescued cats from hurricane need help with supplies
FRIENDS WE ARE IN THE PROCESS OF RESCUING 13 CATS. THIRTEEN CATS. 13 cats from dying. 13 cats in the hurricanes direct path. We have never done a mass rescue like this before. But I am crazy and I couldn't turn my head when this shelter is in the direct path of this major hurricane. We have people going today to get them out. All 13 hopefully. However. This calls for mass carriers needed. Mass cat and kitten food. Mass litter needed. Mass vetting needed. We need Donations STAT. To cover supplies, gas money if needed, vet apts, etc etc. Right now we mainly need donations for supplies and dewormer. And flea and tick preventions. Then we will worry about the vet. (Sweet Souls Animal Rescue is a 501c3).
PayPal: sweetsoulsar@gmail.com
Www.sweetsoulsanimalrescue.com
TDC Paypal: thedollarclub@yahoo.com (for 3 cats)
TDC mailing address: P.O. Box 116 Hereford Pa 18056​ (for 13 cats)​​​​
​​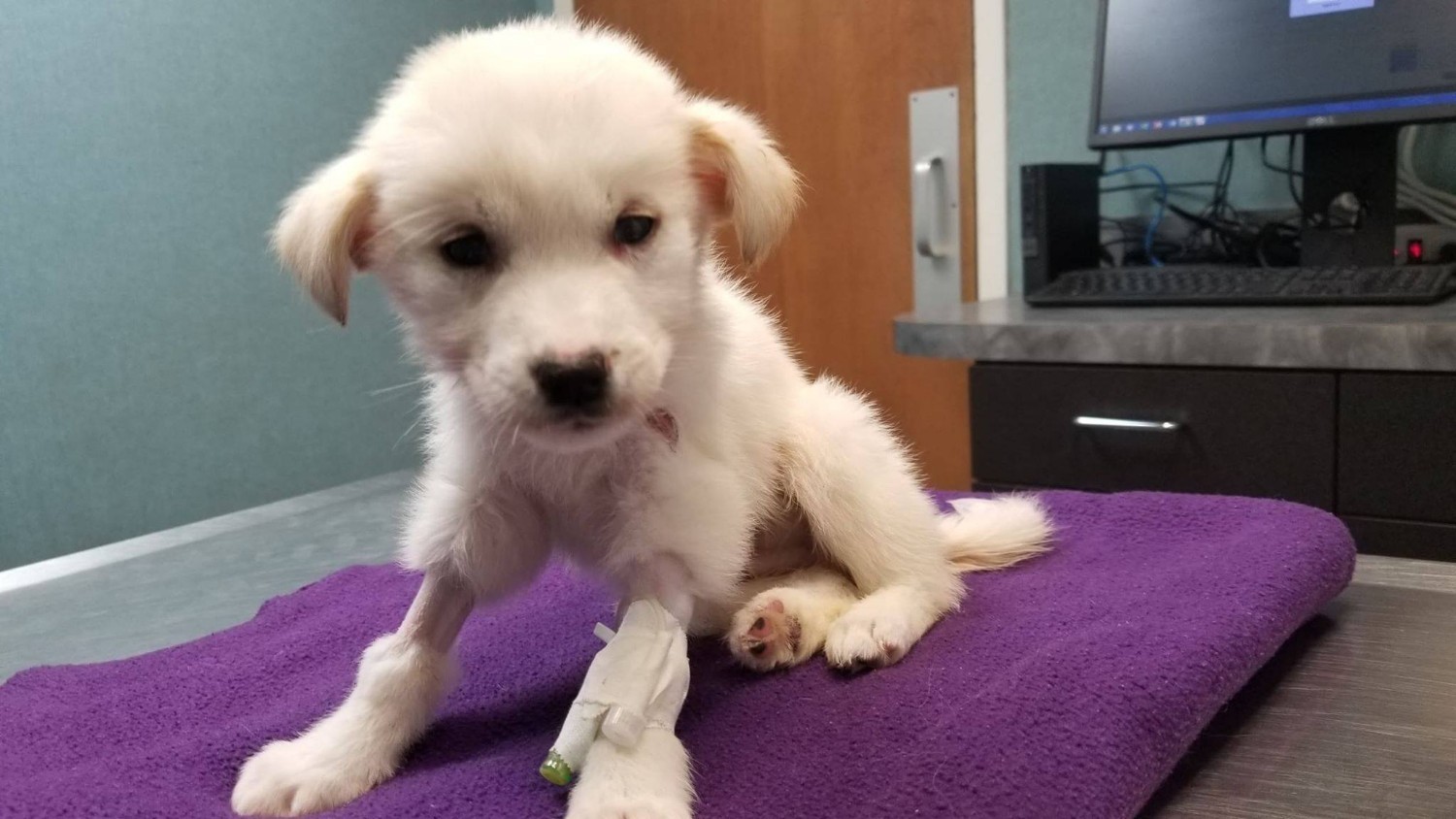 9-11-18 Rocky, puppy starved almost to death
​
​​Emergency ***
This is Rocky everyone. This sweet baby was rushed to the ER last night. We stepped in to prevent him from going to a shelter where he would have most certainly died as he was close to death when he got to the ER. He was left to die in a freezing house by worthless people. Thank goodness for people who stepped up to look for someone to save him. He was so stiff from cold and weak from hunger, it was first thought he was paralyzed as he was unable to move. Thankfully that is not the case. However his white blood cell is almost non existent. He is severely malnourished and dehydrated. This baby has suffered horrible neglect and needs urgent care to save his life. He will be moved to our regular vet this morning. Please consider donating to help us let him know that not all humans are awful people. This little guy deserves a chance to know love and care. **UPDATE** He is still very critical and will need days of hospitalization. He is septic and still very dehydrated. Even after all night of fluids. The good news is he is responsive and trying to eat a little. This baby was starved. He is skin and bones. We are fighting hard for him. Please keep him in your prayers. **UPDATE** Our little Rocky continues to be under 24 hour care at the vet. He is improving as he can now eat on his own but he is unable to leave the Vet since he hasn't been able to maintain his glucose levels. He is still dehydrated after being on fluids for days now. We are still waiting on the results of one test but nothing has shown up yet. It is looking like he was basically starved to death. He is suffering from extreme malnutrition and dehydration. It is just heartbreaking as you can literally feel each of his little bones **UPDATE** *** Urgent prayers needed for Rocky *** Please send prayers and all the good thoughts you can Rocky's way. We were just informed he isn't doing well at all. His protein level is at a 2. They are doing a plasma transfusion on him hoping to turn things around. It is just so infuriating that this poor baby is fighting for his life after being neglected and left for dead. Please continue to share his story as we could really use some help with his medical expenses. We are doing everything we can to help him live the life he deserves. We thank everyone who has donated or sent prayers. He needs them now more than ever.
Paypal email: contacthomerescue@gmail.com
or go to https://www.paypal.me/homerescue
​TDC Paypal: thedollarclub@yahoo.com (for Rocky)
TDC mailing address: P.O. Box 116 Hereford Pa 18056​ (for Rocky)​​​​
​​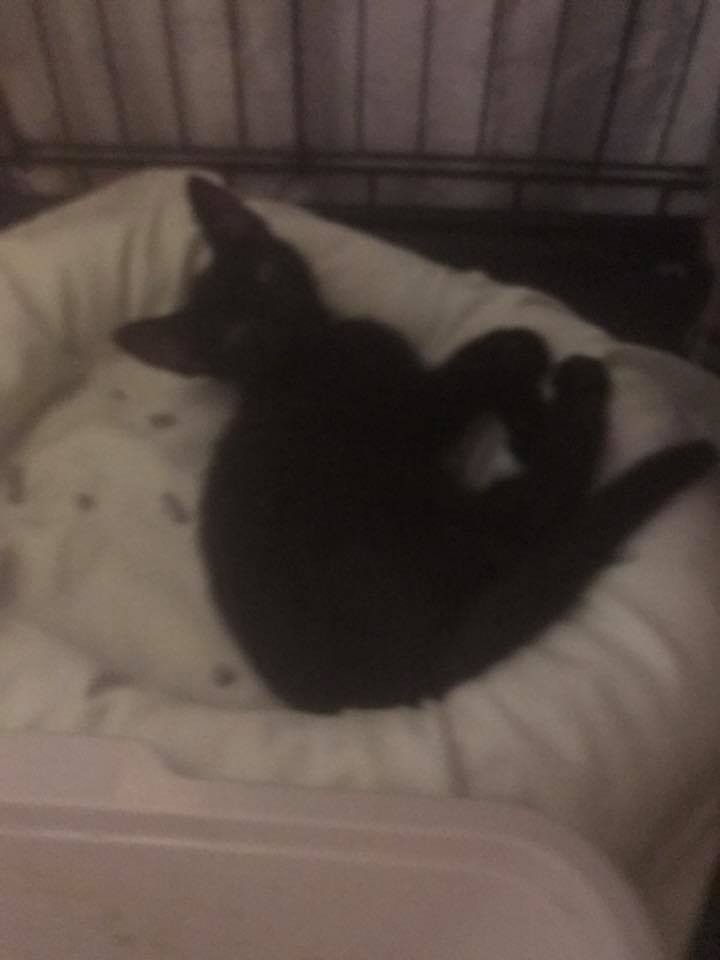 9-13-18 Ninah - very sick kitten
EMERGENCY! Couple of months ago I took in stray mom and single kitten ( Ninah) yesterday I noticed Kitten was not well she spent day at Dr. H in Linden, exams and tests run but nothing found she was sent home with antibiotics but Ninah is not doing well, crying a lot, not moving around; She definitely need to go back to vet. Dr. H close until 5pm and I can't afford any other. CAN ANY RESCUE OR ANYONE HELP THIS KITTEN PLEASE?????Ninah is about 9/10 weeks old. Kitten is going to ANIMAL HOSPITAL OF LINDEN PLEASE ANY. AMOUNT WOULD BE GREATLY APPRECIATED!! HELP FOR NINAH!!! (Monica Cunha)
​Call vet directly at ‭(908) 925-0431‬
TDC Paypal: thedollarclub@yahoo.com (for Ninah)
TDC mailing address: P.O. Box 116 Hereford Pa 18056​ (for Ninah)​​​​
​​​
​​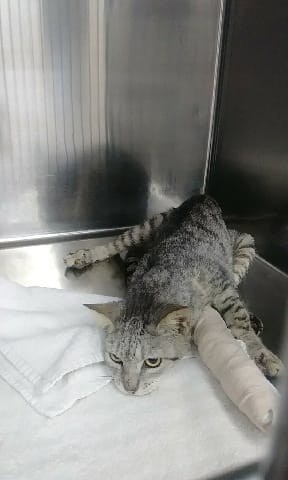 9-20-18 Sasha - stray cat with broken bones
Sasha was a stray that had eluded capture for a few days but has now been caught!!!
​​UPDATE ON SASHA: Her leg requires surgery to pin it to allow it to heal. She will no longer be able to go back to the original property, she will need rehabilitation for around 8 weeks post surgery. She is currently at Ashton Animal Clinic in Sarasota where she is being kept on pain meds and antibiotics until Friday when hopefully surgery can be performed as long as she's strong enough. She is a young female, she tested negative for FIV/FELV and deserves a chance at a better future. The estimate for discounted surgery is around $500 and we paid $320 yesterday for her spay/vaccinations/xrays and medications. We have until Friday (September 21st) to raise the $500 for her surgery. Gentle Souls is willing to rehabilitate her here after surgery and if a long term sponsor can be found, she can stay, unless a suitable permanent indoor home for her is found.....let's help Sasha!!​(Gentle Souls Animal Rescue is a 501c3)
Gentle Souls PayPal address is: gentlesoulshorsesanctuary@hotmail.com and our mailing address is: 7847 SW Hwy 72, Arcadia FL 34266. Mark donations "For Sasha"
TDC Paypal: thedollarclub@yahoo.com (for Sasha)
TDC mailing address: P.O. Box 116 Hereford Pa 18056​ (for Sasha)​​​​
​​​
​
​​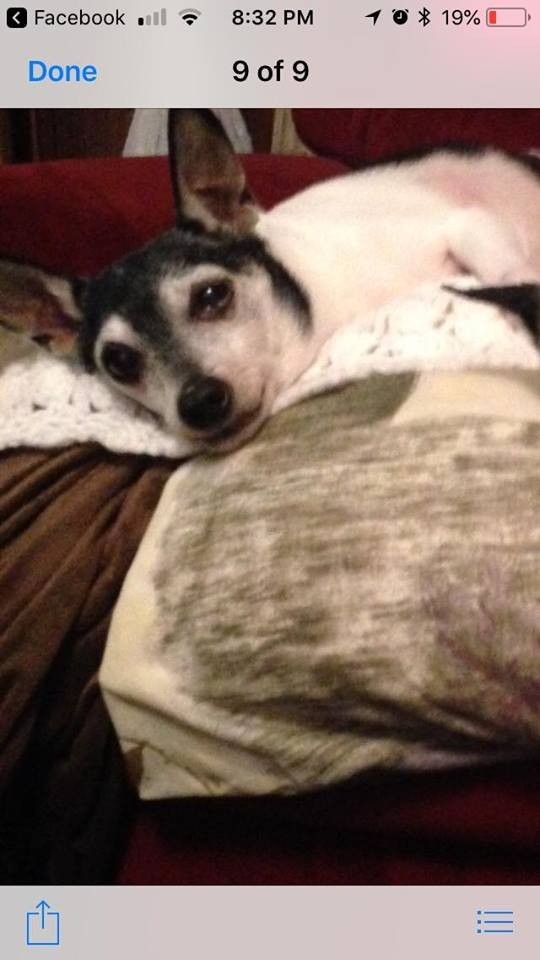 9-21-18 Minnie very sick dog
Minnie started to not act right yesterday... not eating or drinking. Minnie is quite old she is so dearly loved by her owners. They are sick over not being able to take her to the vet. But they have no money whatsoever. They just had a previous emergency. She is Lethargic, was drinking lots of water but not much now. They thought she was having mini seizures cause she was twitching! She has ate a piece of cheese today that's it. I asked them to boil some chicken and pull it off the bone for her. She sounds diabetic to me, she already has some neuro issue where she trembles real bad. She was peeing a lot on the floor. So the drinking a bunch, peeing a bunch and being lethargic are all big hyperglycemia signs! She is also old too. She is not barking or interacting with family or dogs just not feeling well. **UPDATE** Severe dental disease, heart murmur, took a bunch of blood checking body organs and glucose levels! Likely a infection or something somewhere but waiting for blood work too still that is what I know so far. Kidneys and glucose is good so just a major infection going on! Will check urine and start her on antibiotics!
Animal aid clinic north: 574-281-0028 account name is Linda Koeppel for dog Minnie.
TDC Paypal: thedollarclub@yahoo.com (for Minnie)
TDC mailing address: P.O. Box 116 Hereford Pa 18056​ (for Minnie)​​​​​
9-22-18 Heart & Soul Kitty Sanctuary in SD needs help
Have u ever felt like giving up?
The delivery and donations today covered food for today and tomorrow well I guess it's today now. We are surviving one day at a time. Adoptions for the kittens have been impossible to do. The few homes we find have been great but the majority either won't fill out the application or back out or just seeking free for their snake food or to use as a dog toy. Many scoff at home visits to check on kitty to make sure they are they are thriving It makes me sick. I sit here remembering a time I had furniture and nice things and now I worry about the real possibility of not being able to feed them. Paying vet bills like the one for Loki today and needing to get more kitties spayed as neutered or getting basic supplies like garbage bags. I want to cry cuz I can't even get a new med the doc called in because my blood pressure is in emergency levels because it's not covered by insurance. Every penny that comes in goes to the cats. We have a $1 auction and yet only two bids we have the fundraiser going hopefully to raise money to feed them. I am awake at 2 am because another cat tree broke so now they are down to 2 to share. No where near enough to give them the hight and space they want. I fell like throwing in the towel looking for someone to take over give them my home and move into an apartment. But who would want the responsibility of all this? Who can handle the heartbreak the cares of the hospice kitties the constant cleaning and living with so many kitties. I joke about it and every one says the same thing oh no I see how hard you work and get run down I see how much heartache you go thru. Fb limits our post so I know only a hand full will read this. Yes I am depressed. Worn out and stressed beyond my limits. Funds run out so quick with the constant needs of the kitties. This month it was vaccines and flea meds every month its flea meds food litter and cleaning supplies. I sit here and say the serenity prayer and that supplies are found. The dream of remodeling-to make the house more cat friendly is a pipe dream even though repairs have to be made just to keep up. It seems like all my issues stem from kitty related problems. I want to give up but know I can't. I refuse to take in more cats no matter the sob story I just can't kitten season was hard on us and still is we had a total of 32 kittens we are down to 18 yet to find homes and we still have 8 yearlings that need homes ok well year and half. Maybe I just need a one night break in a nice hotel that has a bed that is not broken down and covered with kitties but then I probably could not sleep because they are not their. I think of so much and yet nothing sounds like it will work. We need funds and with almost 4000 followers a $1 a piece every month would cover their needs and wants. But at last that too is a pipe dream. With out cats I could buy food and cloths But then who would care for them no one wants a 20 year old cat that is so skittish of people because of the abuse he suffered from his last home and has liver and kidney disease With special diets and meds. Who wants to care for an over weight cat that has lung issues and diabetes that requires almost 500 a month in meds and supplies with daily exercise. Who is still to big to clean his rear so you have to do it for him Who wants to care for a mentally handicapped 2 year old cat that refuses the litter box and will gag on any food he sees in human hands that to feed him he can't see you put food down and his litter box issues make you lose your furniture because he likes to poop on it as if it is his personal litter box then sit in it and you have to bath him daily if not twice. And the list goes on. I keep praying for a miracle of waking up to a 1000 in the account to just finish out this month. I am tired of begging all the time to get just their needs met. Please pray I can find homes for the adoptable ones! Pray that funds are found to keep caring for them. Please pray that I keep my sanity and find the will to continue. So now I will end this book and go back to scrubbing base boards because we have males that like to mark. And pray I can get off the floor when I am done. No need to comment I just needed to vent. That is if you read this far.
Amazon WIsh List: https://www.amazon.com/gp/registry/wishlist/3AUNDCYN1L147​​
TDC Paypal: thedollarclub@yahoo.com (for Heart & Soul)
TDC mailing address: P.O. Box 116 Hereford Pa 18056​ (for Heart & Soul)​​​​​​
​​
​​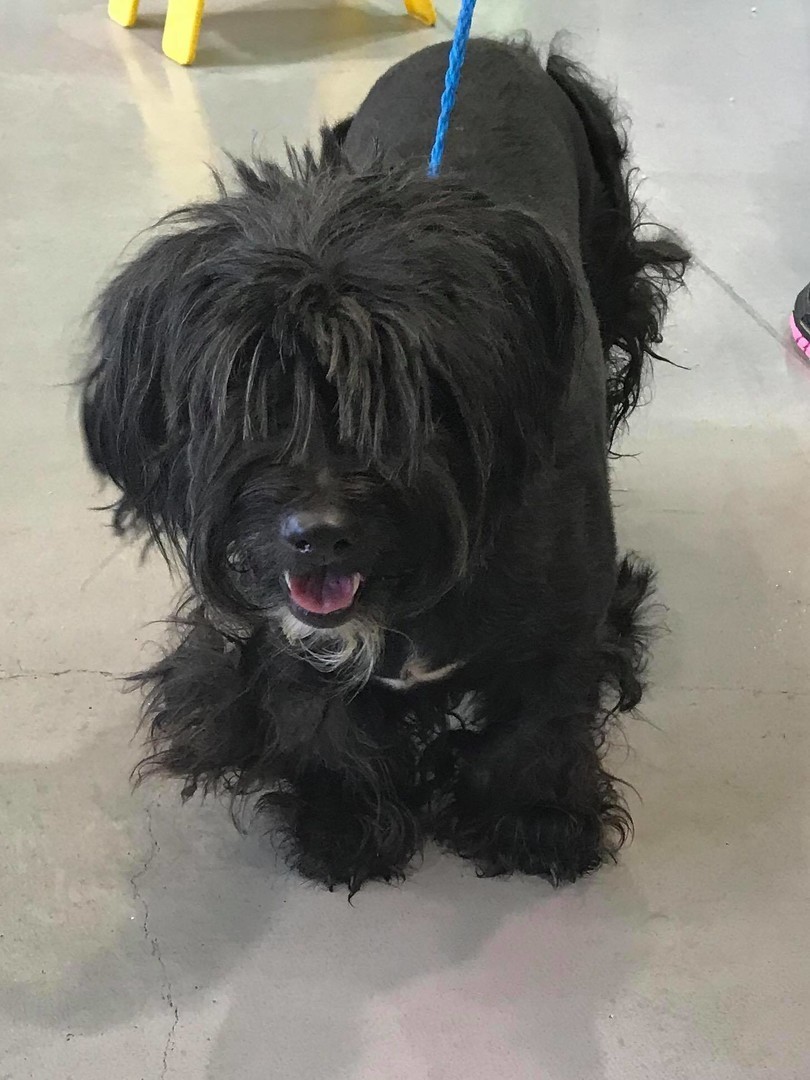 9-24-18 Dani - matted so bad she is full of abscesses plus attacked by another dog
DANI WAS RESCUED FROM CLAYTON COUNTY ANIMAL CONTROL BY TLC PET RESCUE. SHE WAS MATTED SO BADLY THAT SHE WAS POOPING ON HERSELF. OUR VET SAID THIS WAS THE WORST MATTED DOG THAT THEY HAVE SEEN SO FAR AND WE HAVE HAD SOME PRETTY BAD CASES. WHILE SHAVING HER DOWN WE DISCOVERED SHE HAD ABSCESSES WITH MAGGOTS AND HAD BEEN ATTACKED AT THE SHELTER BY ANOTHER DOG. SHE WAS PUT IN A CAGE WITH ANOTHER DOG AND ATTACKED. THEY MENTIONED ANOTHER DOG TRIED TO ATTACK HER BUT WE HAD NO IDEA JUST HOW BADLY SHE WAS INJURED. PLEASE DONATE AND HELP HER TO GET WELL. THERE IS NOT REASON THIS DOG SHOULD HAVE BEEN IN THIS CONDITION. SHE IS VERY SWEET BUT WITH ALL OF THE MATTED HAIR SHE WAS VERY PAINFUL AND NIPPED AT A FEW PEOPLE. MORE UPDATES AND PICTURES TO COME. KEEP SWEET DANI IN YOUR PRAYERS AND DONATE IF YOU ARE ABLE! (TLC Pet Rescue is a 501c3)
TLC PET RESCUE FUNDRAISER: https://fundrazr.com/11PCI4?ref=ab_d33zR3_ab_50fa1EQW5X750fa1EQW5X7
​TDC Paypal: thedollarclub@yahoo.com (for Dani)
TDC mailing address: P.O. Box 116 Hereford Pa 18056​ (for Dani)​​​​​​​​
​​​​
​​
​​
​​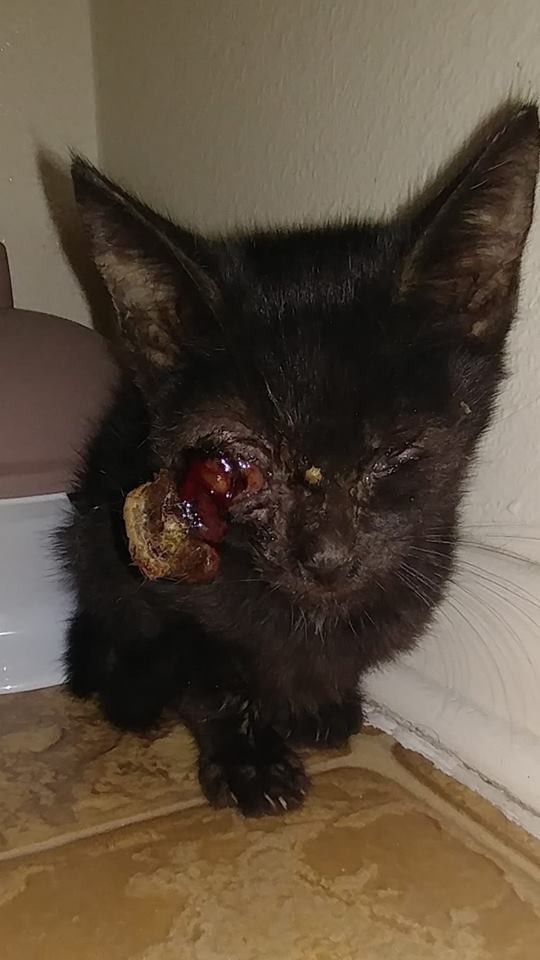 9-26-18 Spencer - kitten needing eye surgery ASAP
A woman got a 911 call at 7 am from her daughters friend because her cat had babies and they all died but 1. They were born super early and baby couldn't nurse. Kitten is literally the size of a lighter😱 So I rush to her house to show her how to bottle/syringe feed, make her go potty and keep warm. On my way over to her house I find this guy standing by the street😭 I have never seen this kind of thing happen in person and not really sure how to help him? I most certainly don't have money for a vet bill but I couldn't just leave him standing in the street😭😭 Can anyone help with donations or advice on how to help?​​ UPDATE!!!! THE BIG BULGE OF INFECTION THAT WAS HANGING FROM HIS EYE WAS RIPPED OFF BY HIM AFTER THE VET PUT A CONE ON HIM AND HE SQUEEZED HIS ARM THROUGH AND HIT IT! THE VETS MAIN CONCERN WAS HIM BLEEDING OUT BECAUSE HES SO SMALL AND DOESNT HAVE ENOUGH BLOOD TO LOSE. VET SAID HE NEEDS EMERGENCY SURGERY TO LIVE OR HE'D HAVE TO BE EUTHANIZED. THE VET FELT SO BAD SEEING ALL OF US CRYING OVER HIM. ITS SO CRAZY HOW ATTACHED YOU GET IN SUCH A SHORT AMOUNT OF TIME KNOWING A CAT😭 THIS POOR LITTLE BABY IS ONLY SIX - SEVEN WEEKS OLD AND HIS LIFE HAS JUST BEGUN AND I FEEL LIKE I FAILED HIM BY NOT BEING ABLE TO AFFORD THIS SURGERY. ALL THIS POOR BOY HAS KNOWN IS PAIN☹️😭 THANK YOU FOR EVERYONE WHO HAS DONATED AND PLEASE! CONTINUE TO SHARE TO SAVE THIS BOY'S LIFE❤️ UPDATE**** The Dollar Club sent $330 to the vet so surgery can be scheduled. It is at 10:30 this morning.
​
TDC Paypal: thedollarclub@yahoo.com (for Spencer)
TDC mailing address: P.O. Box 116 Hereford Pa 18056​ (for Spencer)​​​​​​​​
​​
​​
9-26-18 Cat food for the 50+ colony in Schnecksville
Took a big supply of cat food for our colony cat caretaker up in Schnecksville, Pa
She told me there were a few new drop offs that she had TNR'D but not a kitten to be seen YAAAY!!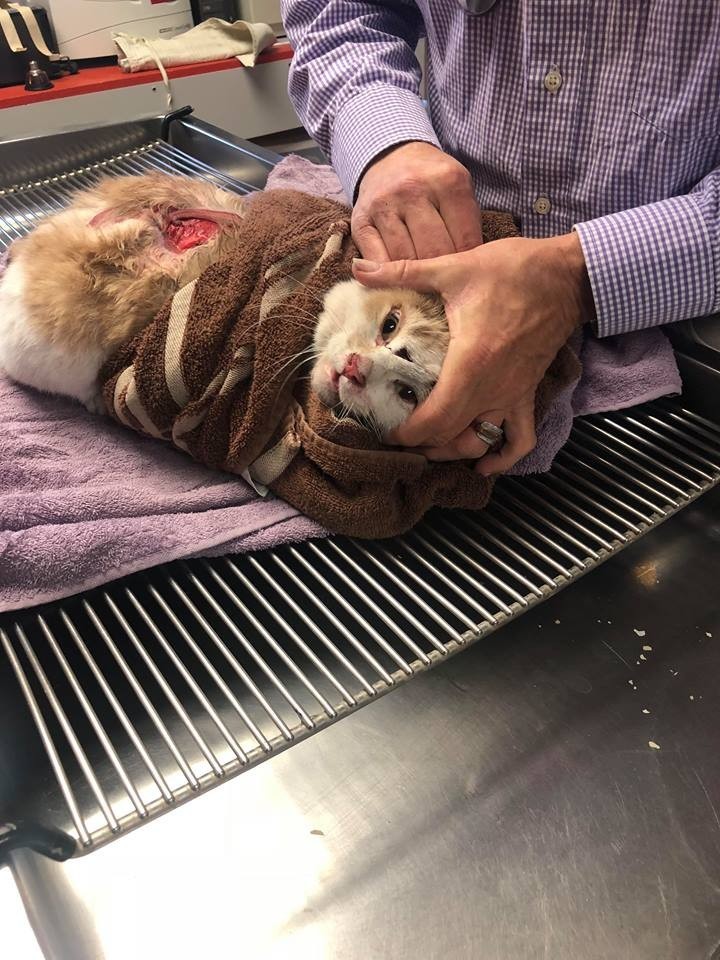 9-27-18 - Chicken Heart - Cat caught in a fan belt
This morning, I received a call about a cat that had got under the hood of a truck and the fan got him...It took the guys awhile to even get him out and when he did, there was a lot of damage to this poor baby... We rushed him to my vet where they accessed him.. There is a lot of gashes and damage to his back, legs and shoulder, as well as a big cut on his forehead, but his heart and lungs sounded good.... He is a fighter... He wants to live... So we will try to help him do so...
We can not do this alone... We need people to help sponsor this poor boy, then once he heals, he will need a place to stay... Please remember... No amount is too small...Please share his story so we can continue to help him live....
ELK CREEK CLINIC 580-225-4863 (Chicken heart under Terri Fisher)
TDC Paypal: thedollarclub@yahoo.com (for Chicken Heart)
TDC mailing address: P.O. Box 116 Hereford Pa 18056​ (for Chicken Heart)​​​​​​​​
​​
​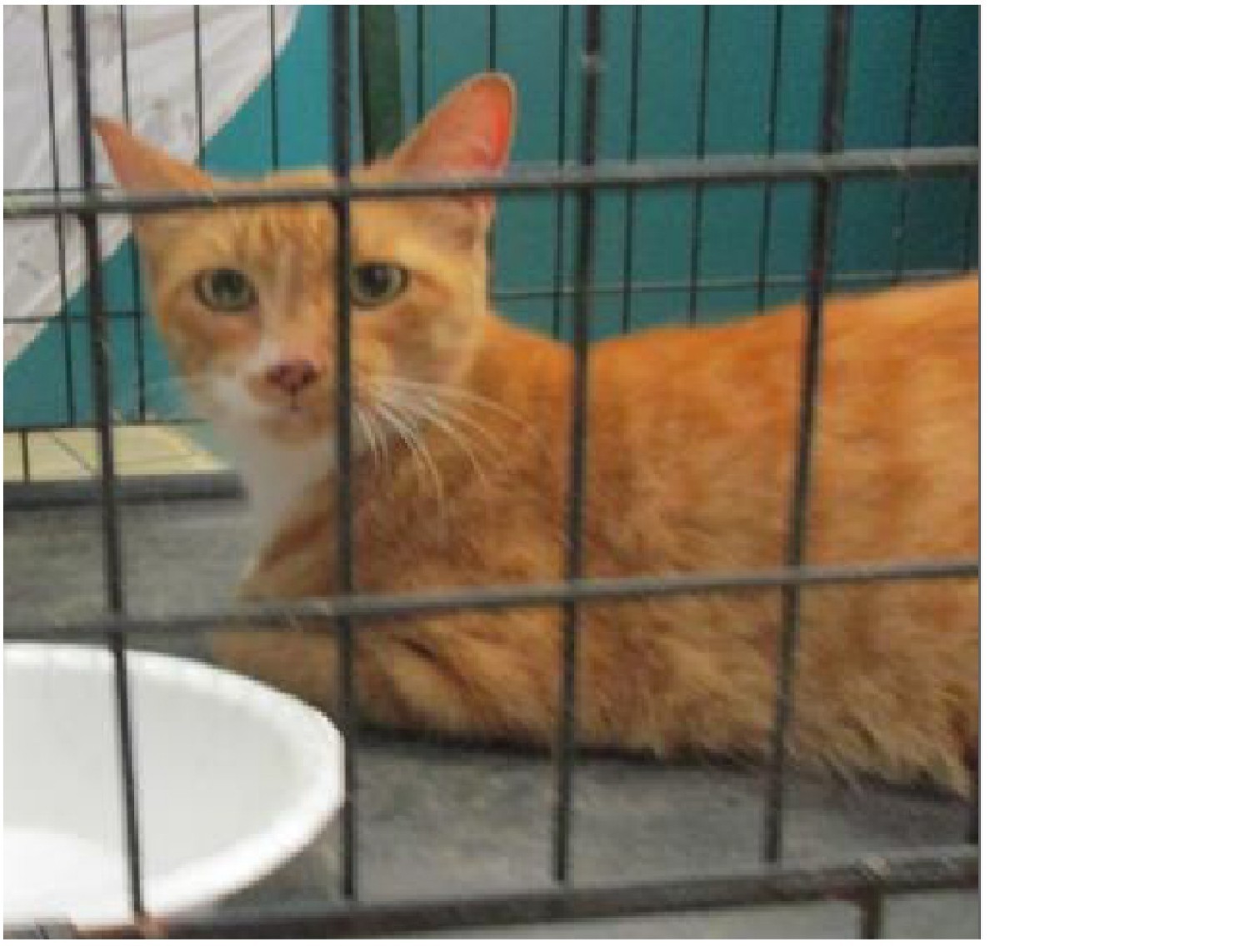 9-28-18 Red Cat with broken tibia
​
​​Urgent Cats of Palm Beach County
!!!CODE RED!!! URGENT RESCUE NEEDED by 6pm Tuesday 9/25 PLEDGES NEEDED ASAPSurgery estimate is $1200-1400. Amputation should be $400. ACC has another broken leg cat. We have sent the xray to Dr. Choi to get his opinion and see what the best rate he could give to help this beautiful guy. But we will need pledges if we are to help again. We have a foster.
1933188 – 5 years old – Male – 10lbs. This cat is in need of Urgent Rescue due to an open fracture of the tibia on the right hind limb possibly requiring amputation.
TDC Paypal: thedollarclub@yahoo.com (for Red Cat)
TDC mailing address: P.O. Box 116 Hereford Pa 18056​ (for Red cat)​​​​​​​​
​​​​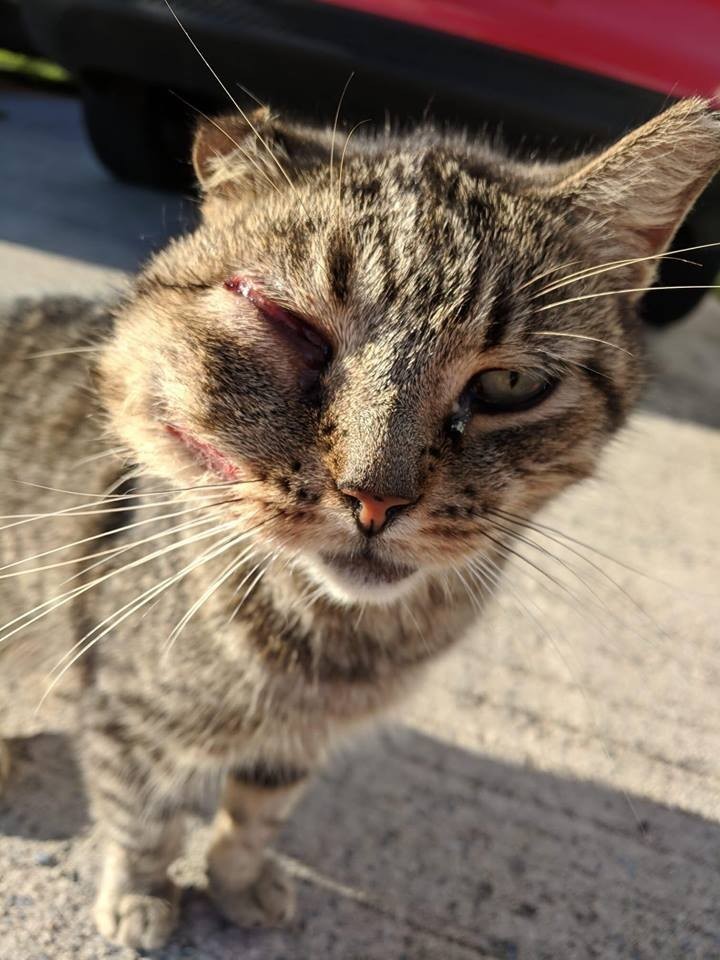 9-30-18 - BJ - stray cat with a huge abscess on cheek
​​​​Does anyone in the Lancaster/Dauphin county areas now of a vet or organization that will help this stray for little to no cost to the person bringing him in? The Humane Society and Londonderry Pets said no to treating him. ***UPDATE*** Edit: BJ is currently at Shore Emergency Vet in Harrisburg. If you would like to donate towards his care the number to do so is 717-798-8500! Thank you all so much for caring about this sweet creature. I'm praying for a great outcome. Any donations can be given by knowing his name is BJ and it is Deb Mowrer who is his caretaker and brought him in. ***UPDATE***This is Deb with an update on BJ ... He is at home resting he must be inside until checked by another vet in about seven days .he had a really bad abscess. They washed and cleaned it gave him a shot and sent us home with cream for his eye. He has a long road ahead of him for recovery and still more vet bills to come in....
I want to thank the two people that donated money to help him Linda Detwiler, and a lady I never have met yet Ramona with the Dollar Club.
TDC Paypal: thedollarclub@yahoo.com (for BJ)
TDC mailing address: P.O. Box 116 Hereford Pa 18056​ (for BJ)​​​​​​​​
​​​​​​