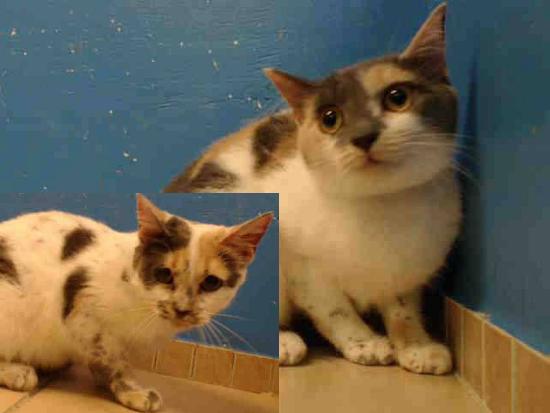 8-3-13 2 Sick Cats (one has passed)



We rescued these two gorgeous girls from NYC ACC (a high kill shelter) but now they are very ill. They have calicivirus, are not eating and to be hospitalized. We would greatly appreciate donations for their vet care..please consider even $1.00. We're swamped with bottle babies and sick cats and our resources are totally drained. Thank you so much for your caring

PayPal: purrfectkindoflove@gmail.com
Mailing: The Dollar Club (2 sick cats) P.O. Box 4253 Bethlehem, Pa 18018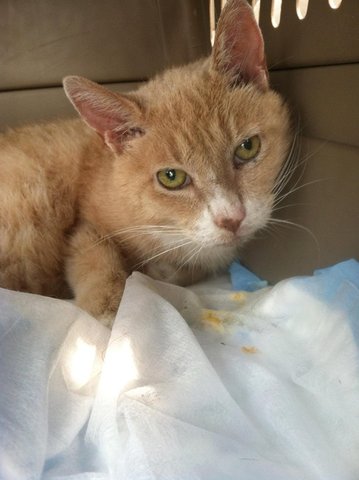 8-6-13 Grampa - Cat with Sprained back



Grampa has a back sprain and after days of bed rest he still won't get up and walk. So it's back to the Vet for x-rays to the tune of $300. If you can donate anything at all to the Get Grandpa Well Fund it would be deeply appreciated. Thanking you in advance, Grandpa and Lynn

PayPal: lynnsanimalrescue@gmail.com
Mailing: Lynns Animal Rescue 123 E Main St PO Box #1293, Marlton NJ 08053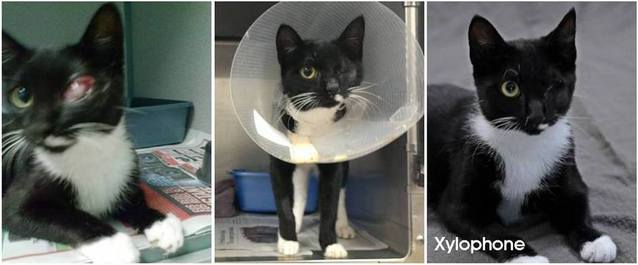 8-6-13 Xylaphone cat needing eye surgery
Xylophone has endured more than any young cat should have to. Alone and sick, this beautiful, young girl was discovered outside an apartment complex in need of immediate medical attention. Her bulging eye raw and red, she still managed some purrs of appreciation despite her obvious pain. MHAA provided comfort and an abundance of medical care. Always a sweetheart, she has maintained a positive attitude through several vet visits, different medications, the wearing of a cone, and the removal of her eye. Although worth every penny, Xylophone's medical bills are high and we need your support to raise the money to pay them and continue helping cats in desperate situations. Xylophone is adapting to life with one eye and is looking forward to making beautiful music in a forever home. Thank you for being an integral part of her new, healthy life!
PayPal: http://www.petcaring.com/nonprofits/xylophone-tuning-in-to-life-with-one-eye/35821
Mailing: Mid Hudson Animal Aid 58 Simmons Lane Beacon, NY 12508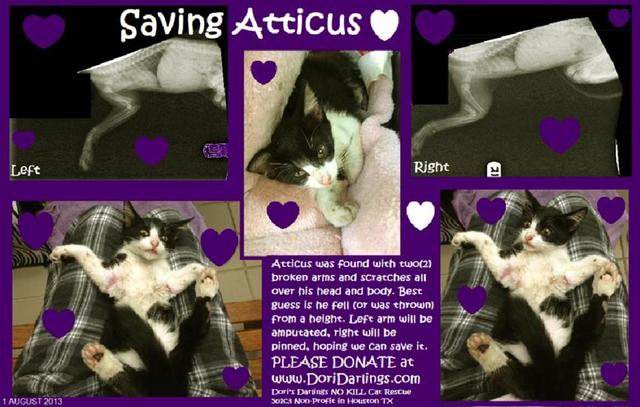 8-6-13 Atticus Kitten fall from balcony

Atticus was found by a concerned citizen at an apartment complex in Deer Park. He had 2 badly broken arms and and scratches all over his face and body. Its believed he jumped, fell, or may have been thrown from a balcony. His arm injuries indicate he attempted his landing breaking both arms just above the elbows. The cuts & scratches indicate being caught in a rosebush or something of the like. So far the vets know they have to amputate his left arm as there is no response to stimuli and it is believed to have nerve damage. His right arm will be pinned in an attempt to save at least one. His scratches and lesions are being treated, we're hoping his eyes heal without issue but the vet is concerned he may have sight issues. He is also being further examined for any additional neurological or internal damage.

PayPal: doris.darlings@gmail.com
Mailing:The Dollar Club (For Atticus) P.O. Box 4253 Bethlehem, Pa 18018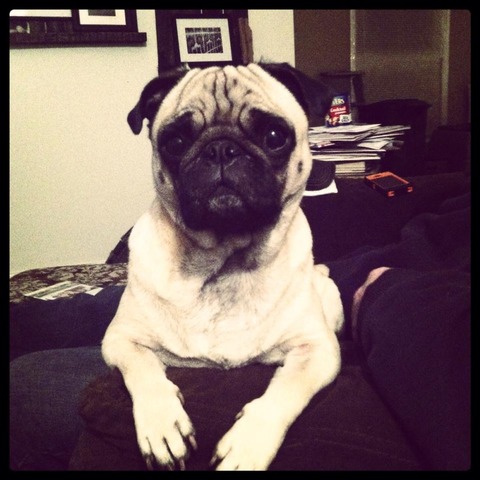 8-6-13 Lola pug with cancer



Lola will be 4 on September 14th. She has spent the last two years supporting her rescue mom's fostering venture. Lola is loving and patient and always welcoming of other dogs in need. On July 27th, Lola was diagnosed with a stage 2 mast cell tumor. To treat it aggressively, she will need surgery to remove the growth that tested positive for mast cells and revise the area where the previous tumor had been removed. Lola is incredibly loved by her family. She's a tough little girl who will undoubtedly fight through her treatment. The estimate for treatment is $3,500.

PayPal: oorangeima@gmail.com
Mailing Address: The Dollar Club (For Lola) P.O. Box 4253 Bethlehem, Pa 18018
8-9-13 Misty - Cancerous Tumor



This is my baby girl Misty we adopted her from the secaucus animal shelter in NJ when she was a year old. She was and still is our little princess. Misty got her second chance at life when she met us! Misty has been the best dog anyone could ever ask for! Misty is part of our family and today we learned that Misty has a mass the size of a grapefruit near her liver that has to be removed and surgery is going to cost a fortune and some people say "JUST PUT HER DOWN ". In my heart cant do that. Misty is 12yrs old and yes she is not going to live forever but I know in my heart she is not ready to cross over that rainbow bridge! She has phenominal blood work and could live another 2-3yrs. So I'm trying my best to keep my princess alive but my husband and I can not afford this surgery. My husband and I both work but our job is minimum paying and we are struggling just to survive. I'm just so upset by all this and Honestly I would sell my soul to the devil if it meant that I can save my sweet Angel from death.! This dog is our life and we are asking all our family, friends and strangers for help here. Please whatever you can donate would greatly be appreciated. Not only that but Misty would have a third chance at life. Thank you and please pray for our SWEET ANGEL. CLICK HERE

PayPal: ursulac215@gmail.com
Mailing: Ursula E Wilkowski-Carnevale 6252 park place Tobyhanna PA 18466 or Creature Comforts Veterinary P.O. Box 700 Saylorsburg PA 18353 Donations for Misty Carnevale/Ursula and Joe Carnevale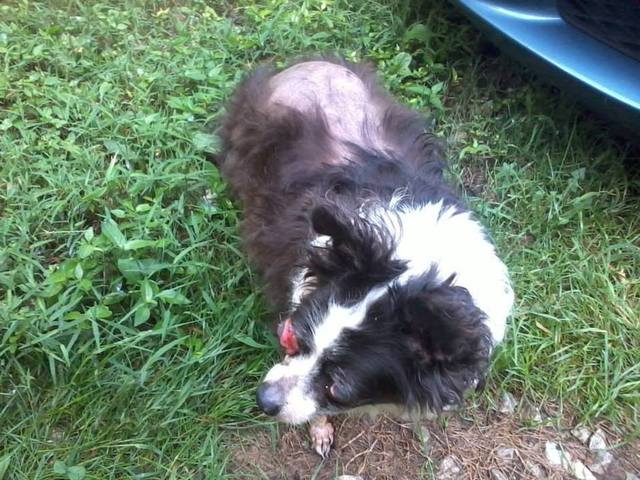 8-9-13 Piper - Ruptured Eye & other injuries



Piper has a ruptured eye and also a cherry eye. She is on her way to us and will be having emergency surgery. She also has some other medical issues but we need to give her a chance. Donations are desperately needed. Thank you!!!

PayPal: DONATIONS@SOUTHERNSOULSRESCUE.ORG
Mailing: Southern Souls Rescue 3902 Adams Chapel Road Harlem, GA 30814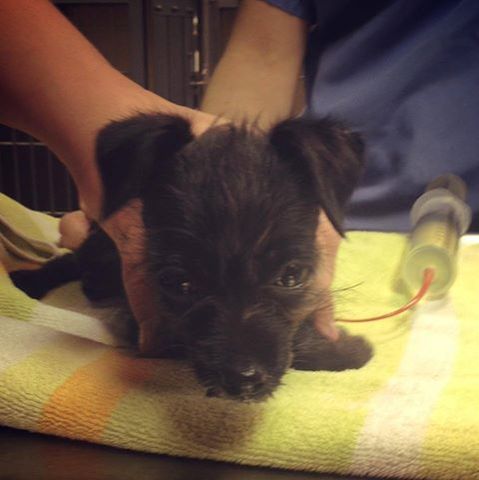 8-10-13 Tiny Tot - puppy having seizures (Passed)



Today I received an email requesting help for this little 1.4 lb, 4 month old chi/shih puppy. She was apparently having repetitive seizures. This has been going on for 4 days. Dr K can't figure out what is wrong but she believes it may be a liver shunt. She is extremely sick. She is currently sedated and in transport with the dad to emergency for further diagnostics and treatment. I will keep you all updated. We are in need of help for her. If you feel led to help either through donation, praying, or sharing, they are very much appreciated and equally needed. She's just a baby. We have to fix her. Thanks y'all. https://www.youcaring.com/helptiny

PayPal: fightingfordawn@gmail.com
Mailing: Fighting for Dawn POB 5791, Atlanta 31107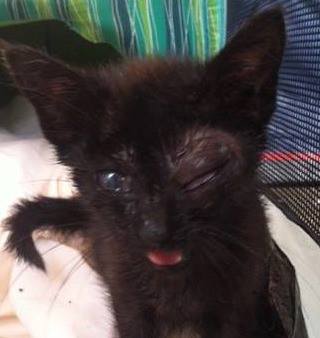 8-6-13 Onyx Kitten - very ill

This little very sick, 6 week old kitten was found in very poor shape by a lady in New Windsor Saturday, She could not keep it or afford to pay for the much need medical care she knew it needed to live. She drove to the S.P.C.A and they turned her AWAY and so she went to a veterinary hospital and was told unless she paid for the care of the kitten no doctor would look at or treat the very sick kitten that has eyes so badly infected that may end up blind. We took this little baby to my veterinary hospital this afternoon. With luck he will make it. He has medicine and we were told that one eye will need to be removed and the other is swollen shut. They can not tell how bad it is until the meds start working and the swelling comes down so they can see what shape this eye is in. We are praying that at least one eye will be alright and he will survive. What we need now is help with his medical cost for the one eye that we know needs to come out. and prayers that the other eye can get better.

PayPal: ldnewburghscats@aol.com
Mailing: Newburgh Scats P.O. Box 10443 Newburgh NY 12552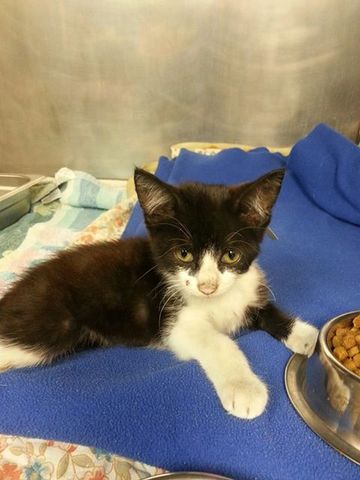 8-12-13 Tobie severely abused kitten (Passed)



This poor little baby was found today by a man when a group of kids was throwing her up against a building! She was brought to the shelter and it appears she has a fractured pelvis. We are going to take her to the vet immediately for xrays. How can people be so cruel??? I have reported this case already to animal cruelty officers. They will be able to get the information from the shelter on who the man that brought her in and see if they can find out who did this, but it isn't very promising, he was just driving by and took the kitten and left, I am sure the kids took off, and it was in a crappy neighborhood, not likely they will find out who did it. *****UPDATE***** The vet said she has a left femur fracture, is in a lot of pain and having shortness of breath, likely due to pain. She has a fever as well. She has sensation in all 4 limbs as is ok neurologically. They cannot do an x-ray until she is stable. She was given a shot of penicillin and a shot of metacam for pain and to help bring down her fever. Please pray that her pelvis isn't fractured as well, this will be very bad if it is.

PayPal: anotherchancepetrescue@netzero.net
Mailing: Another Chance Pet Rescue P.O. Box 67962, Rochester, New York 14617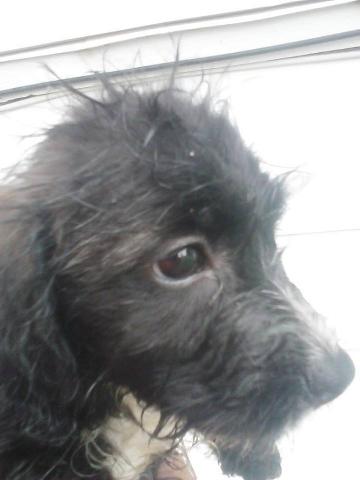 8-13-13 Hoarder Dogs
The animals on the property need to be altered and vaccinated,and placed for adoption into homes where they will not be neglected. The main concern is getting these dogs altered so there will be no more puppies, starting with the females. Any help is greatly appreciated as we are looking at a minimum of $125 per dog. There are over 20.
PayPal: katherineniccum@att.net
Mailing: Cushing Animal Rescue Team (CART, INC) PO Box 805 Cushing, Ok 74023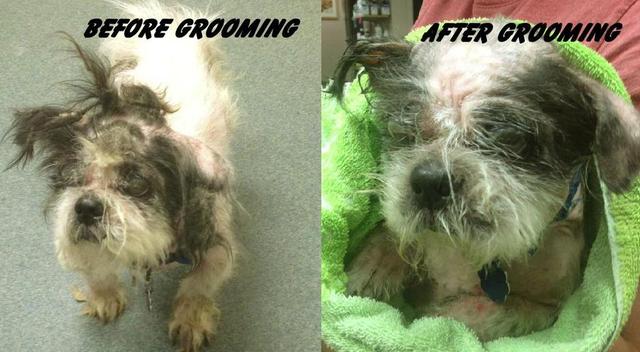 8-17-13 Gandolf Severely neglected senior dog saved from high kill shelter



We normally only rescue cats but, we saw this poor guy and had to commit to help this little old man who was going to be euthanized today at 5. He's got a lot of issues , he's blind, heart murmur , dry eye, the list goes on. We are not sure the extent of it, but would like to try to help him. He will need exam, cardio maybe, eye specialist maybe? ***UPDATE*** Gandolf after his bath and shaving the Mats off feeling better already! We decided to do bloodwork and see what's going on to determine if his condition is manageable or too much for the little guy. Bloodwork, fecal and urine sent. Heart murmur, dry eye. Blind. Deaf. He just had such Spunk today we just had to dig a little more before making a decision... Results Tuesday.

PayPal: randalls_rescue@yahoo.com
Mailing Address: Randall's Rescue P.O. Box 1281, Mount Laurel, New Jersey 08054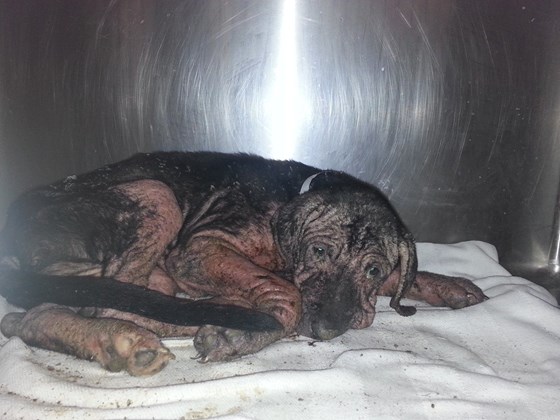 8-23-13 Diana - mange puppy


This 3-4 month old female mixed breed dog is covered in mange, secondary infections & possible staph. Her body is all swollen and oozing. She was very uncomfortable and shaking but still wagged her tail when we came to say hello. We suspect that she may be hospitalized because of the severe condition she is currently in. Her body is just over powered by the mange and infection and she doesn't look like she could survive much longer with out help. We will of course keep everyone up to date on what is going on with this girl and share pics. She won't ever have to wonder again ... "Why me?". http://www.youcaring.com/medical-fundraiser/critical-puppy-needs-help/82300

PayPal: ASR628@gmail.com
Mailing: Apollo Support & Rescue 8553 N. Beach St. #137 Fort Worth, TX 76244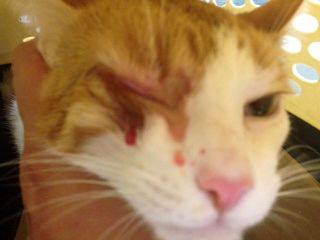 8-23-13 George - eye abcess



A sweet guy who has a problem with his eye. He is currently being HOSPITALIZED at a vet office for an abscess that is BEHIND his eye. He is in terrible pain and as you can see his eye is bleeding. We aren't sure how this happened--he came to us from another rescue group who heard of someone who just didn't want him as their pet anymore. We DON'T KNOW who the previous owner is but just that he was not wanted any longer. George needs your prayers so that he can recover from this. We think perhaps he developed an eye infection and for some reason it just blew up suddenly to such a severe degree that he is in this state now. Cats get stressed, and upset when owners dump them..this is an example of this.....when cats get stressed--they get sick.

PayPal: adopt@micatrescue.org
Mailing: Michigan Cat Rescue PO Box 806371, Saint Clair Shores, MI, 48080


***URGENT*** this baby needs hospitalization but cannot get it without money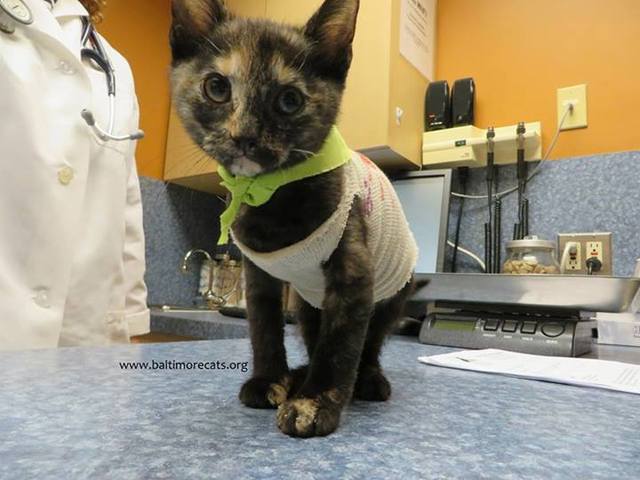 8-25-13 Paisley Burned kitten


On August 19th, 2013, two kittens were brought into BARCS shelter with thermal burns. They had "fallen down a vent into a furnace," the other kitten's burns were too severe and the kitten was laid to rest. The surviving kitten, Paisley, has multiple burns on her upper and middle chest area, and severe burns to her paw pad. BARCS requested Feline Rescue Association to take in this poor kitten. Paisley has spent the last couple days at the Vet hospital, and was released on August 22nd to FRA foster care. Paisley, barely 8 weeks old, is receiving burn cream, antibiotics and other medications. Overall her prognosis is good, and she will need continued checkups to monitor her healing. Update 8/24/13: Paisley continues to heal and improve. She requires multiple daily scrubs to remove any skin, and silivadine burn cream to her wounds. Her toe pad is severely damaged, we hope this will continue to heal and not require any surgical correction. Above and beyond she is a sweet gentle kitten.

PayPal: f.rescue.assoc@gmail.com
Mailing: Feline Rescue Association P.O. Box 396 Stevenson, Maryland 21153