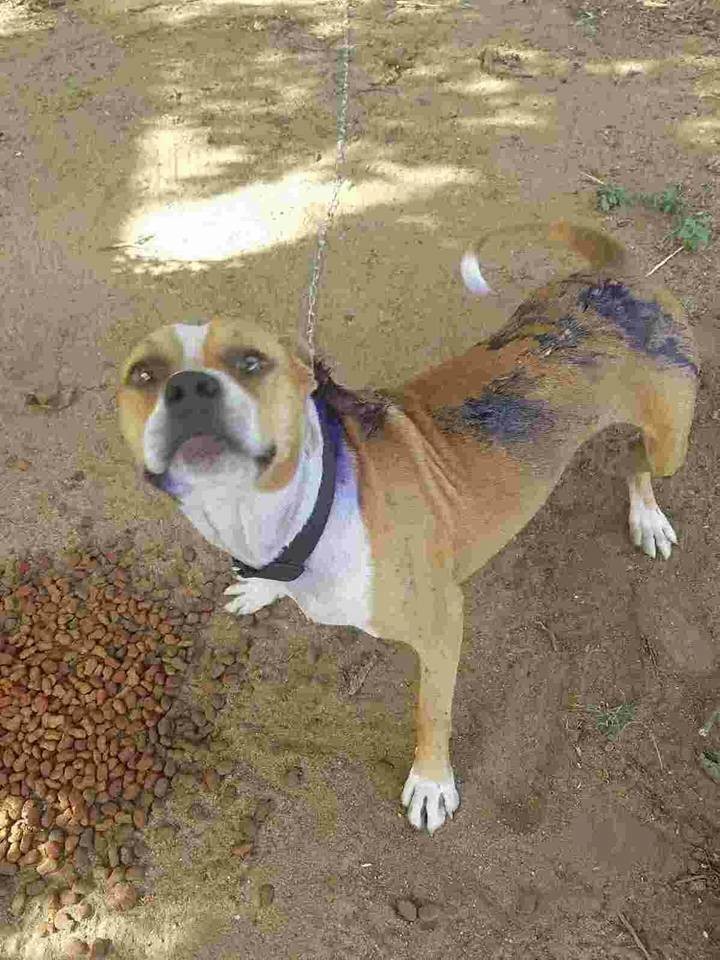 8-8/16 Rascal - injuries to back
A picture says a thousand words.... and sometimes, it leaves you speechless...
This poor boy was found and was rushed him to our vet. The wounds are badly infected and you could smell the rotting flesh. He was in so much pain.... once they got in and shaved him down (while sedated) to clean the wounds, they were shocked at the horrific wounds.. I went and visited him today.... He will be on pain meds while he heals and will be at the vet for awhile. PLEASE share this post... we have had so many there, it has become overwhelming....
We need help with the vetting for this sweetheart, as well as the others we have there.
FRIDAY'S UPDATE...

I VISITED SWEET RASCAL TODAY. HE IS ON SOME STRONG PAIN MEDS, BUT AS I TOUCHED AND SPOKE TO HIM, HIS TAIL WAGGED A LITTLE.
IT BREAKS MY HEART. HE IS SO SWEET. HOW COULD SOMEONE LEAVE HIM TO SUFFER LIKE THIS. TOMORROW, THEY WILL SEDATE HIM AGAIN AND SCRUB THE WOUNDS. HE WILL HEAL. AND DESPITE THE HORRIFIC WAY HUMANS FAILED HIM, HE STILL LOVES AND TRUSTS. WE NEED HELP STILL. HE HAS A LONG ROAD AHEAD OF HIM. IF YOU CAN DONATE, EVEN A COUPLE DOLLARS, IT WILL HELP. AND RESCUE WILL BE NEEDED.​​ (Terry Lynne Bloomer

not a 501c3

)
Vet:
ELK CREEK CLINIC 580-225-4863​​
Paypal: The dollarclub@yahoo.com (for Rascal)
​​Mailing address: The Dollar Club P.O. Box 4253 Bethlehem Pa 18018 (for Rascal)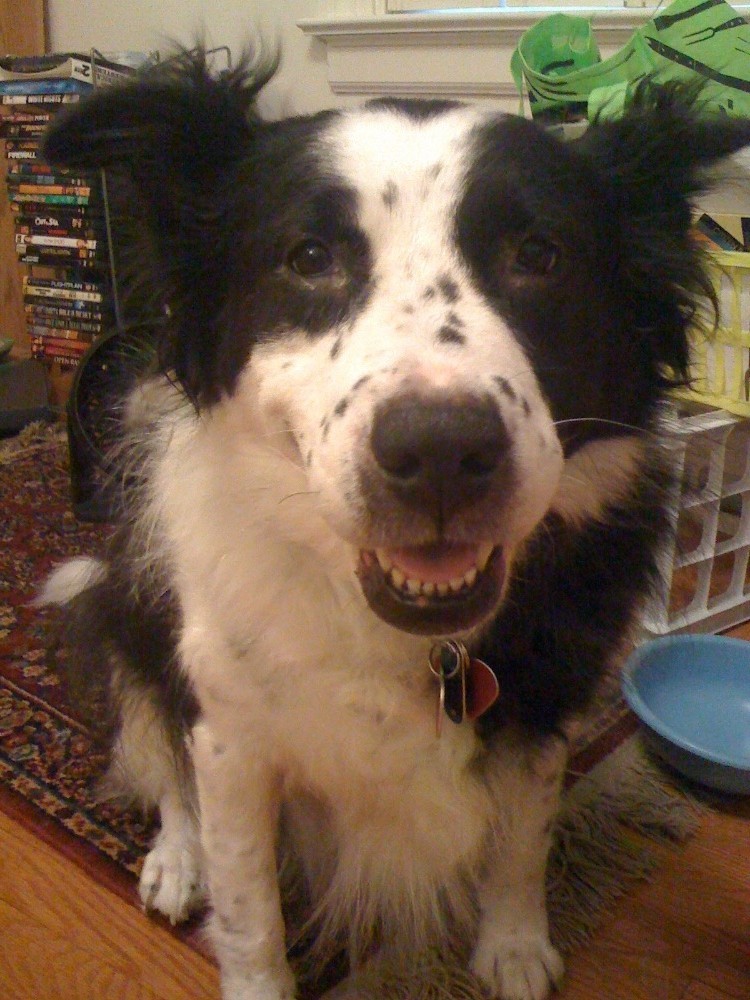 08-09-16 Maggie May - unexplained bleeding from her bladder



My Maggie Mae has taken ill. She has been bleeding from her urinary tract despite several rounds of antibiotics for urinary infections and this last round of meds chosen per urine culture results. I am quite frightened. The most large worrisome diagnosis is bladder cancer. This is what needs to be confirmed or denied first. Maggie Mae eats/drinks well and is quite responsive. She snuggles with her cat, Babs, and I. Her primary vet visit results were normal except for the obvious. I've been caught well behind the eight ball. Desperately, I've been looking for work, but been unsuccessful for 1.5 years. I have been driving for Uber and 'driving' for a pedicab company. Sweet and dear friends paid for the above mentioned primary visit. I had to take Maggie home from the ER without doing a single thing for her, aside from the exam. I can honestly say I've never felt so low and powerless not being able to render aid to my baby. The campaign has been set with such a high limit as I do not have a clue how far this can go. It will take $500 just to see the specialist and get the abdominal ultrasound to know what direction we need to proceed in to stack the deck in Maggie Mae's favor. ​​

(Maria Mariani, not a 5013c but a huge dollar club supporter)


​
Vet: ​​vca fountain valley 714-963-0909
Paypal: The dollarclub@yahoo.com (for Maggie May)
​​Mailing address: The Dollar Club P.O. Box 4253 Bethlehem Pa 18018​ (for Maggie May)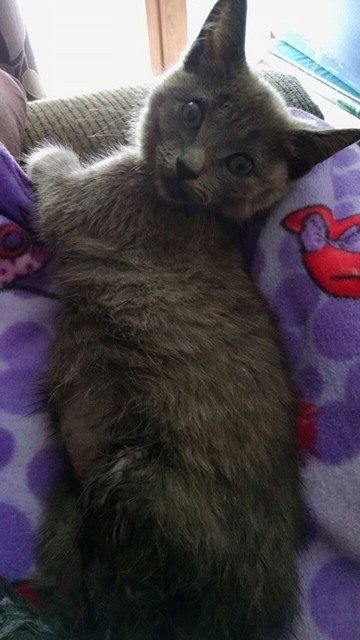 8-16-16 Hobbs - kitten attacked by dogs



I got a call that a kitten had been attacked after wandering into a fenced area by the dogs that lived there.
Hobbs was badly injured. We took him to the emergency vet on Grape Rd in Mishawaka. After several hours we found he has a broken pelvis, dislocated hip, numerous punctures to his abdomen and one to his back. He was pale, weak but seemed to wanna fight to live. We pooled what money we had to pay for X-rays, exam, pain injection, pain medications for over night, antibiotics, they clipped his fur away from his injuries and flushed his wounds. This is a 1 pound 14 ounce little boy kitten who is a stray. Just happened to go into the wrong spot. We took him home kept him warm he ate fancy feast kitten food and drank water. Gave him antibiotics kept him on a soft fluffy blanket. His injuries are numerous we were concerned he had not urinated all night worried about the nerve that ran along the spine that looked suspicious of some damage would be be able to urinate on his own? He did urinate at the vets office. Still watching for a Bm. We got some more cream to rub on his tummy wounds and the one puncture to his back. We need to clean with water and peroxide and cover with the thick cream. These can turn to infection quick. His leg had sensation at the emergency vet last night but at the vet today it is cold and has no response to pain. His tail is also separated from the spine and has no movement. Still Hobbs purrs loudly when you pet his ears, head and chin and turns his head to get the right spot rubbed. We thought as long as the leg had sensation and good blood flow we had more time to get him strong but now that it is dead we need to act much quicker....He will need surgery within a week no longer than week and a half. We need to raise a minimum of 1,200 dollars to remove his leg, get more x rays and he will he hospitalized and get more medications for after. We are out of funds after the emergency vet fees and today's vet fees...Please PLEASE help us help Hobbs and give him a chance to live.

(not a 501c3)



Vet: Goshen Animal 574-533-0535
Fundraiser: https://www.gofundme.com/2j7m3m4​
Paypal: The dollarclub@yahoo.com (for Hobbs)
​​Mailing address: The Dollar Club P.O. Box 4253 Bethlehem Pa 18018​ (for Hobbs)​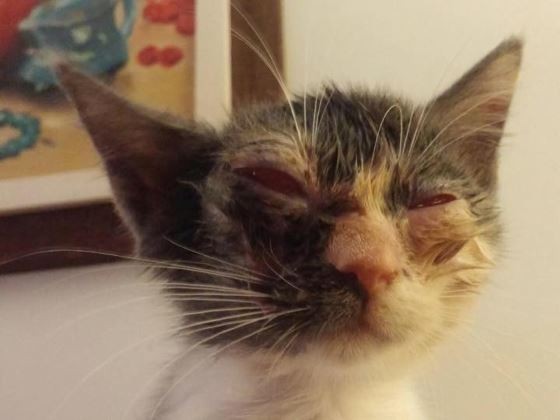 8-17-16 Merideth - kitten with very serious eye problem



Meredith is a tiny little 3 month old kitten that FuRRR rescued from a high kill shelter. She had an upper respiratory infection on Monday and was seen by our vet, she was given eye ointment but it quickly got worse. Meredith was seen again on Thursday by our vet, her medication was changed to drops and she was getting compresses to relieve the swelling but on Sunday both her eyes were so swollen. She was brought in again today and it is unclear if it is an infection or allergic reaction to the eye medication. Now Meredith has been rushed to the emergency clinic where she is staying overnight so she can be monitored around the clock until the specialist can see her in the morning. This is a huge unexpected expense on top of already mounting vet bills in the last month. If you could spare even a few dollars to help us get Meredith the treatment she needs. Please! We appreciate your support in saving these tiny innocent souls!! THANK YOU!!

FuRRR Feline Rescue is a 501c3



​FuRRR Feline Rescue 10 Main St, Unit 99 Gonic, NH 03839​
Fundraiser: https://www.youcaring.com/furrr-feline-rescue-624265​​​
Paypal: The dollarclub@yahoo.com (for Merideth)
​​Mailing address: The Dollar Club P.O. Box 4253 Bethlehem Pa 18018​ (for Meredith)​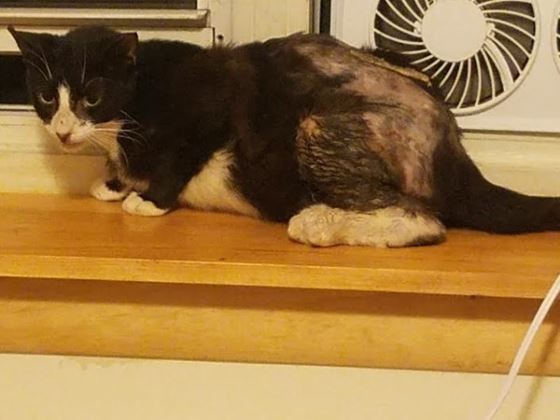 8-21-16 Benji - rescue feral cat with broken leg



Benji is a feral cat that was rescued from behind my apartment complex about 2 weeks ago. He had severe wounds and dental issues that required surgery. He had teeth removed, maggots washed out of his wounds and all of his wounds were treated. He has severe stomatitis in his mouth that is very painful chronic condition and requires medication during flare ups. Since being released from the vet the large wound on his leg appears to have become seriously infected despite antibiotics being given twice a day. His back left paw is swollen to the point he cannot put any weight on it and is dragging his leg behind him. Victory 4 The Voiceless Animal Rescue and myself have been in contact with the vet and all are in agreement that he needs immediate medical care in order to save his leg. Benji will seen tomorrow morning, Saturday, 8/20 and will require possible surgery. I will update the situation tomorrow once he is seen by the doctor.
Update****his condition continues to worsen. He will be staying at vet for at least a few days. He will likely be sedated tomorrow so they can do cultures, x-rays and possibly drain the abscess on his leg. Doc said there is a possibility he could lose the leg, but we don't want to jump to conclusions just yet. I paid $218 today which brings his vet bill up to date not including today's visit. Total paid so far, $768. The money originally raised on GOFUNDME.COM was $822 and after fees we had a net of $757 so it just about covered his initial vet stay and treatment. This new campaign on Youcaring will address his current medical needs and those of the near future. I will post a copy of the final bill once I get it, but the current estimate from the vet is $400-$700 depending on what needs to be done. This does not include medication and definitely does not include the cost of surgery should they have to amputate the leg. (Victory 4 the voicless is a 501c3)

Our vet is Dr.Kessler & Dr.Joe at SIVG +1 (718) 370-0390 (For Benji)
Or paypal account using our email address Victory4thevoiceless@gmail.com (For Benji)
We also can receive checks to: Victory 4 the Voiceless PO box 61544 Staten Island, NY 10306 (For Benji)
Paypal: The dollarclub@yahoo.com (for Benji)
​​Mailing address: The Dollar Club P.O. Box 4253 Bethlehem Pa 18018​ (for Benji)​​
GoFundMe: https://www.youcaring.com/philip-labega-628096​ (This is the individual person who rescued the cat)
​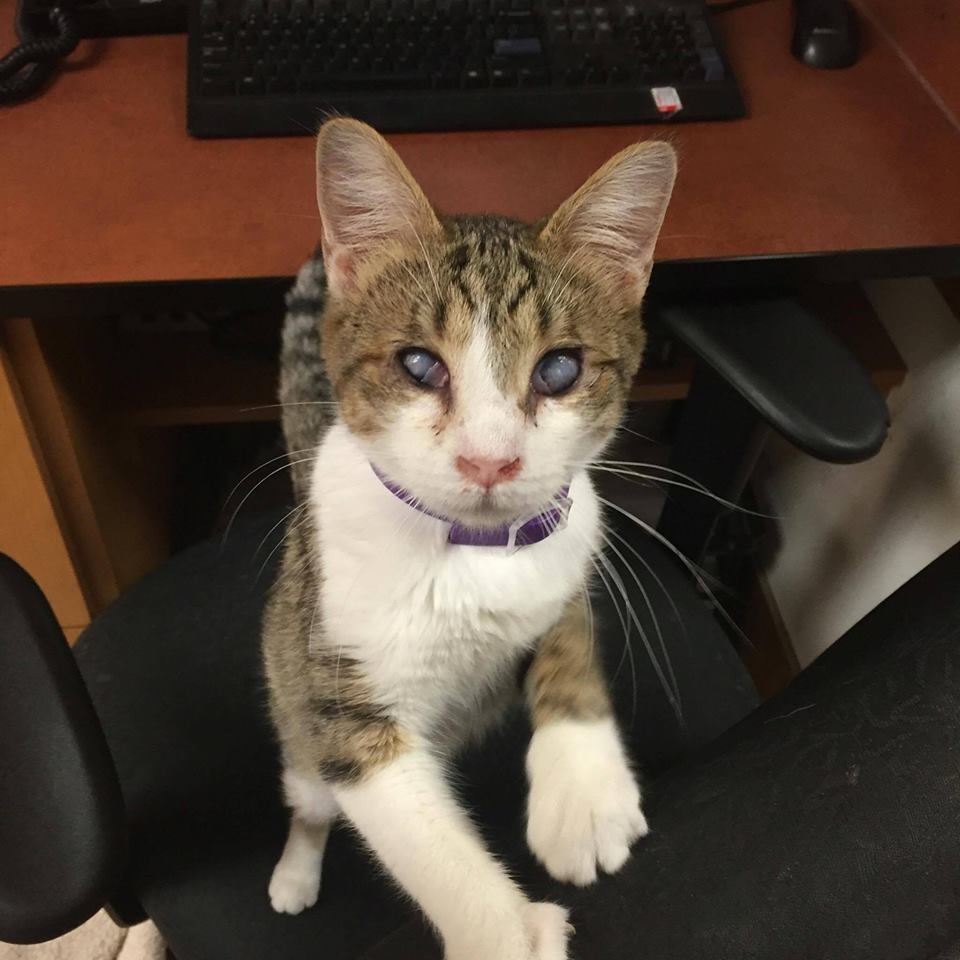 8-21-16 Arnie - kitty with cleft palette



We pulled Arnie from the local open admission shelter, SPCA Cincinnati. He was a blind kitten with continuing upper respiratory infections. Arnie proved to be one of the most personable and engaging cats we have ever rescued and is beyond special. Arnie was recently found to have a cleft palate, placing him at significant risk for many things including pneumonia. Arnie has already undergone many treatments and a few surgeries for his eyes and infections. It is expected that repair of his palate will reduce his upper respiratory infections as food and liquids will no longer be entering his airway via the mouth. Surgery for Arnie's cleft palate is estimated to be between $2,100 and $2,600. If healing does not progress well a feeding tube may need to be inserted, adding to this estimate. This procedure and associated costs is by far the largest expense we have ever faced. In addition to Arnie we are still working to help 9 kittens we pulled from the SPCA so save them. We looked for the most ill and at risk kittens and brought them into Cincinnati Cats for the dedicated care they needed, which is simply not possible in any shelter with hundreds of animals being cared for. All of the kittens have survived but a few are still battling infections and one had an eye rupture from infection this week. Any of these funds not needed for Arnie will go to offset medical costs of the kittens.


​​​Cincinnatti cats is a 501c3​


​
Cincinnatti Cats PO Box 37912, Cincinnati 45222​
Fundraising page: https://www.youcaring.com/cats-in-need-at-cincinnati-cats-625586​
Paypal: The dollarclub@yahoo.com (for Arnie)
​​Mailing address: The Dollar Club P.O. Box 4253 Bethlehem Pa 18018​ (for Arnie)​​​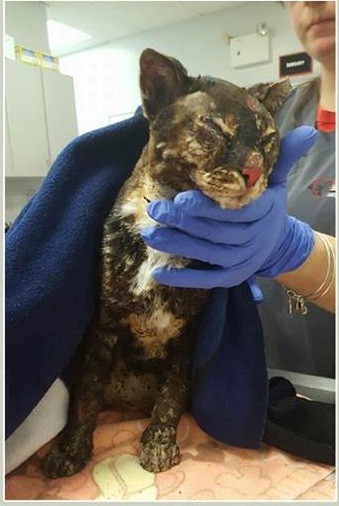 8-23-16 Batman cat burned in a fire



On Thursday night here in Staten Island we had a 5 alarm fire that spread to 7 houses--luckily only 1 injury was sustained to a human but this injury to this poor cat Batman was bad. He's in recovery now at the animal hospital but needs all the help he can get. The vet said he's got a long road to recovery and expenses can add up to 1000 dollars a day and his owner just lost everything in that fire. Please help, even sharing this flyer, making it go viral so people can see it and donate, is helping. Thank you all!


(Not a 501c3)



Bay State Animal Hospital - (718) 420-9100​​ for Batman
Paypal: The dollarclub@yahoo.com (for Batman)
​​Mailing address: The Dollar Club P.O. Box 4253 Bethlehem Pa 18018​ (for Batman)​​​​
​
​​
​​