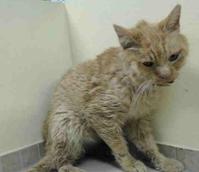 01-01-14 Will/Tony/Drake - Very ill at rescued from shelter



This is Will, he was in a high kill shelter in NYC with a desperate plea to save him. The paperwork & process in order for our rescue to pull him would have taken far too much time ( possibly months we were told!) - time that this sick, emaciated boy didn't have!! Luckily one of our devoted rescuers, boardmembers and friends was approved to adopt this kitty within hours!! The rest is history! Wills vet check is as follows: Severe Upper respiratory, Emaciated ( about 5 lbs after all matting was removed), Grade 4/6 heart murmur, Severe dental disease - missing teeth - possible stomatitis, Possible polyp removal needed, Severely dehydrated, Matted, fleas/flea dirt, Microchipped and neutered!

This sad boy was someone's pet at one time. He clearly didn't do well outside on his own. His Angels of mercy spent hours on new years eve cleaning, bathing, un-matting his fur last night - which was so bad he cringed when touched. Will is safe and loved now but has a road ahead of him - of medical care and of healing. Through it all He is very sweet loving!! The start of hope In the new year. The Will to survive. The Will to live. The Will to persevere! Please donate to his care if you can. We anticipate cardiologist , dental (at the least), possible polyp removal etc. First we need to help this boy get healthy and strong! Who's with us?

PayPal: RandallsRescue@gmail.com
Mailing Address: Randall's Rescue P.O. Box 1281 Mount Laurel NJ 08054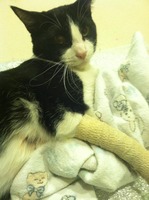 01-02-14 Hope -kitten badly beaten and burned
A citizen had brought in a 7 month old female kitten in which they stopped a vicious attack on her. She was severely beaten with a golf club and sustained many burns. He is now working with the local sheriff to bring her abusers to justice. We do not have a lot of information on the attack just yet. What we do know is that Hope is now fighting for her life. Her internal organs are all bruised and they are watching her for bleeding. On top of the beating she also has what look like chemical and cigarette burns. She will also have to under go a very extensive surgery to repair her leg. As amazing as the vet is with working with us, we still need to come up with at least $1100, which is only a portion of the cost. If you can donate to save this precious girl, please do so now.
http://www.youcaring.com/medical-fundraiser/hope-the-7-month-kitten-who-was-badly-beaten-and-burned-/121178
PayPal: Hopesedgeanimalrescue@gmail.com
Mailing address: Hopes Edge Animal Rescue 45050 W. Balboa Ln, Maricopa, AZ 85139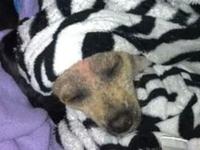 01-06-14 Chloe - Dog burned by insect repellant and hot oil
Chloe is a gentle, loving chihuahua. Our family rescued her after being horribly malnourished and abused. Her previous owner locked her up in a room with several insect repellant foggers, after which she was dipped in hot oil of some type. His excuse was "She Has Fleas." We have spent months giving her care, taking her to vet after vet. Still her skin is coarse, scarred, and her health slowly deteriorates. The most recent vet was so surprised that she didnt succomb to the chemical exposure immediately. However you could never tell this amazing little girl has been through such horrors by the way she acts. She is the most loving, forgiving and beautiful god created wonder that I have ever grown to love. My family would be lost without her. There is a treatment for her skin and hair and it is expensive. We have tried all ways to make the money ourselves. I want Chloe to live as normal a life as possible and these treatments are a leap in the right direction. I feel we all owe the best to our friends and family and our animals are BOTH. If you cant donate I truly would appreciate you sharing this story. If nothing else to spread awareness. Thank you so very much for all you can do!! You are all so important to our plight!
PayPal: http://www.youcaring.com/pet-expenses/new-beginning-for-chloe/121639
Mailing address: Alyssa Beckham 70 Plainview Dr Savannah TN 38372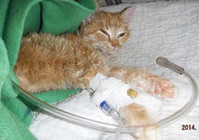 01-08-14 Frosty - kitten found frozen and nearly dead



An old, unheated barn is where a tiny, starving, nearly-frozen kitten was found.
As soon as we arrived at the urgent care clinic, the doctor examined Frosty and determined that she was emaciated and had frostbite on both ears and her tender little feet, she had no feeling in her back legs (indicating nerve and probably muscle damage), she was blind in one eye (which had been frozen solid!), the other eye was only seeing shadows, her lungs were full of pneumonia, and her temperature 92 degrees! Frosty was immediately put on a nebulizer for several hours, and her condition stabilized. But then - just as she was being discharged - Frosty "crashed. She began gasping for breath, and we all went into a panic! Frosty still couldn't regulate her own body temperature. The doctors told us that even if she did survive,she might have permanent neurological damage. They also told us that Frosty would probably eventually need surgery on her feet for the frostbite she had incurred. Frosty has now been in the ICU for four days She is still on intravenous fluids because she isn't drinking yet, and her body temperature continues to fluctuate.And, until the pneumonia in her lungs clears out, she will continue needing supplemental oxygen.But Frosty has a strong will to live, and we are
"cautiously optimistic". Frosty is young & resilient; the doctors are encouraged with her daily progress,
and we are hoping & praying that she will be able to make it through this crisis so that she can live a long happy life. If you can help towards her bills, we would appreciate it greatly! For mor eof her plight and updates, visit: http://www.youcaring.com/medical-fundraiser/help-frosty-the-frozen-kitten/123063

PayPal: CarolsCritterCare@gmail.com Or http://www.youcaring.com/medical-fundraiser/help-frosty-the-frozen-kitten/123063
Mailing Address: FROSTY c/o One Starfish P.O. Box 404 Columbus WI 53925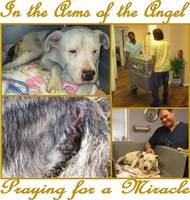 01-12-14 Buddy - Horrific Abuse
Buddy is a Pit Bull that was found wandering and hurt at the edge of the woods behind the home of a couple of animal lovers. They could not get him to come to them, and when they approached, they realized he was injured. He was walking, but having trouble and sitting proved almost impossible. They saw the crusted blood on his bottom and began looking for help. Buddy was having trouble walking and sitting and could not stand to be touched. We could see that his backside was mangled and bloody and his testicles very bruised and raw. He had bite marks all over his body and what looks like cuts. We do not know if he was used as bait or just hurt for the amusement of a sick POS. His neck is swollen and has numerous bite marks, and his left ear has been severely injured. He has bites on his ear and cuts and bites on the inside. This precious boy has been tortured and it appears he has been sodomized. The extent of the injuries suggest foreign objects may also have been used.
Our vet cannot fully assess until the infection comes under control and the pain subsides some. He is in the hospital being sedated for pain and treated with IV Fluids and antibiotics. He IS eating and fighting to survive. As long as he is fighting to live, we will fight for him. His vet bill will be extremely high, and he is WORTH IT. For the first time in his life, this boy has people who love and care for him and he is responding to the love. We hope to give him a chance at a quality life where the abuse can become a distant memory.

Pay Pal: eaglesdenrescue@live.com
Mailing Address:Eagle's Den Rescue 1453 Campbell Rd Clarkton, NC 28433
He is with South Robeson Veterinary Clinic, Fairmont NC 910-628-7178

Thank You So much for caring about this precious life. Your love and prayers are always needed and welcome.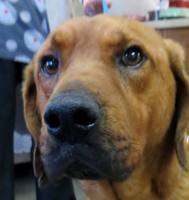 01-13-14 Redbone - leg cut off from bear trap
Elizabethown NC Red a redbone hound was found roaming the world with an exposed stump of a leg and seething with pain. The County Animal Control call A Shelter Friend. Red was rushed to the vet. He looked at us with pleading eyes as if to say "please stop the agony" It is speculated that it is a result of a bear trap because redbone hounds are sometimes used for bear hunting. but we cannot be sure. The only thing we know is the rest of the leg must be removed and rescue must be found to take this poor dog in. we do not know how long this poor animal has endured this horrific pain but we ask your help again to pay for his surgery and after care. We just cannot as a group endure the cost of so many medical emergencies. So we must beg for your help in savings Red's life.
PayPal: www.ashelterfriend.org
Mailing Address: A Shelter Friend P.O. Box 2983 Elizabethtown, NC 28337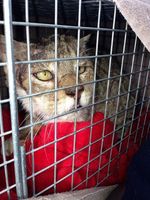 1-21-14 Mordu - Cat with bad facial injury



Mor'du was trapped one night and poor baby had half his face split open. We rushed him to the emergency vet. We then took him home for recovery. In recovery we noticed he wasn't recovering quite so well so we took him back to the vet. We had him tested and he tested positive for FIV. At that point we decided he has suffered enough and will no longer endure pain again and we will do everything we can to make sure of it. He now lives indoors and has 24 hour care. He now needs a surgery to clean up his mouth. He will need several if not all teeth removed as well as a cleaning. We still need to raise $750 to be able to get him the surgery he needs. Will everyone be so kind to donate any amount to help Mor'du. Thank you for the continued support.


PayPal: http://www.youcaring.com/pet-expenses/help-mor-du-/127835
Mailing Address: The Dollar Club (For Mordu) P.O. Box 4253 Bethlehem Pa 18018