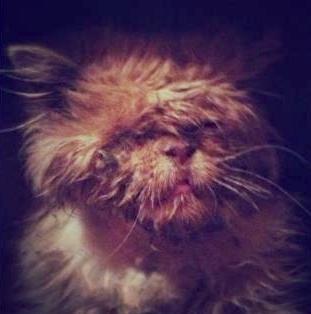 Samson 2/5/13
A new animal we can help. Get those dollars ready! He was found outside tossed away in the trash.
This poor baby was so sick from a URI, he has already lost an eye. Please send your dollars as follows:
Emmaus Animal Hospital, 1301 Chestnut St. Emmaus, PA 18049 and put a note that it is toward
Samson the kitty being cared for by Leigh Ryan. If you would like to donate via
PayPal, it would be to: ladmed@yahoo.com
His youtube video: http://www.youtube.com/watch?v=1dF40kZCuXk&feature=youtu.be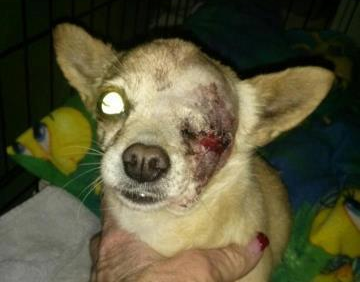 Little Chihuahua 2/8/13
Good morning! Here is one of the two new cases we have to seek help for.
This little Chihuahua escaped his yard and was hit by a car. His owners could
not afford the vet bill so Valley Of the Sun Dog Rescue has taken over. His eye
has been removed and he is resting comfortably now. But the bill is large and
they need all the help they can get. To send your dollars, you can either choose
PayPal by going to their web-page and clicking on the
donate tab: http://www.valleyofthesundogrescue.com/help or you can
mail your dollar to P.O. box 4253 Bethlehem Pa 18018. Make sure to
note that it is for the Little Chihuahua. And THANK YOU !!!!!!!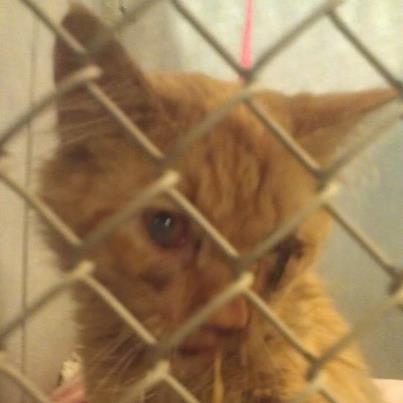 Garfield 2/10/13
This precious baby was hit by a car or a bat or something. He cannot close his mouth or eat. His eyes are messed up badly too. But, he is purring. They are trying to get food in him with an eye dropper and get some sub Q fluids going too. They are doing what they can but need money fast. You can send money here:

Dr. Beam at Anniston Veterinary Hospital 1029 S Noble St. Anniston, AL 36201.
PayPal acct. Is Theresacheval@cableone.net

Just heard from the Dr. about poor Garfield here. It seems like his jaw has been broken for some time. It is set and broken more towards the back than the front (probably NOT a car :( so Dr. Beam cannot do this type of surgery. I will probably have to take him to Birmingham to a special dr. in order to have it broken again, set, etc. I am afraid that I am not able to do this as it will cost quite a lot and the traveling to and from. The only other option that we have right now is to get his terrible infection cleared up and see if he can eat canned foods on his own. I am on my way to get him and bring him home now to see what we can do.....thanks for everyone pulling for sweet boy...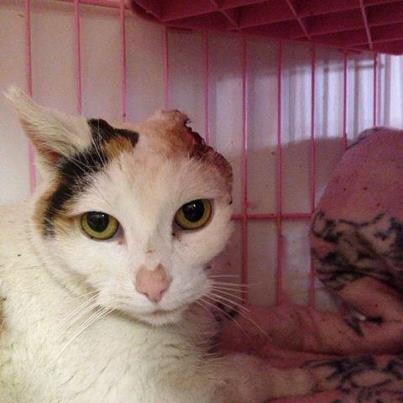 Minou 2/10/13
These last days during the storm have been busy for us at Animalkind-too many kitties homeless, cold and even injured. Like Minou..she came to us just today, hungry and injured. Of course our vet on staff immediately attended Minou. We need to have a biopsy done next week to see if she has frost bite or a tumor. Meanwhile she is resting and eating!! peacefully and warm at Animalkind. If you can spare a donation towards her care-that would be deeply appreciated!

www.animalkind.info

**Warning** There is a much more graphic photo on their facebook page of her ear so beware if you go over there.

Mail you dollar to: P.O. Box 4253 Bethlehem Pa 18018
Their PayPal address is here: http://www.all-creatures.org/ak/
2/11/13 A feral named Rosqi with an injured hind leg.

The vet said he had been hit by a car & his hip is dislocated on the left side & crushed but intact on the other. We need to collect $570 by the end of February. We do a lot of TNR & have many ferals we care for, but this is beyond what we can handle without help. If anyone can help us with any donations, they can be sent directly to the vet's office listed below: (There is no chip in or PayPal for this one.)

The account name is Melody Ludwig
The address where the vet is located is:
Beach Vet Clinic
P.O. Box 189
Cortez. FL. 34215

www.beachvetclinic.com

Here is the address that shows the video of this baby. I am sorry, I don't know how to save it to my computer to copy it here. We don't have a photo yet but will soon.

http://www.youtube.com/watch?v=5xM8CvWxMkI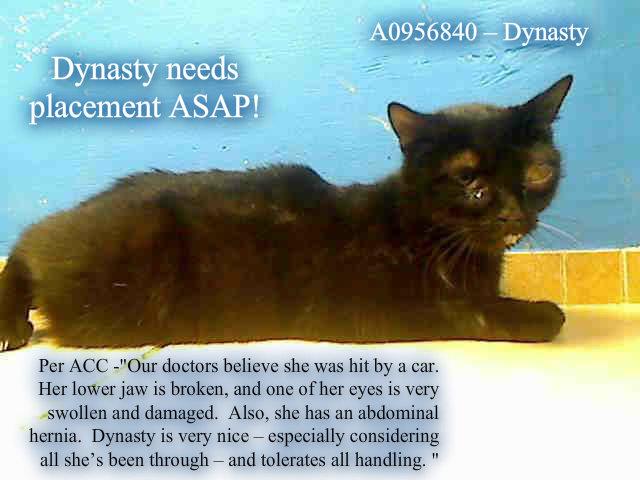 Dynasty 2/14/13

Dynasty - She was originally in a very high kill shelter and was pulled out by Anjellicle Cat Rescue. The doctors believe she was hit by a car. Her lower jaw is broken, and one of her eyes is very swollen and damaged. Also, she has an abdominal hernia. Sadly, her kittens could not be saved. She had severe trauma to her body wall from being hit. Babies were in her inner thigh, not where they were supposed to be. She is a sweet, sweet girl despite everything that has happened to her.

Mailing address: Anjellicle Cats Rescue PO Box 2084, Radio City Station New York, NY 10101-2084

ChipIn link - http://anjelliclejudy.chipin.com/dynasty-friendly-black-kitty-hit-by-car

PayPal address: anjelliclecats@yahoo.com

Just an FYI, if you go to her chip in page, there is a photo of her injuries that are pretty bad looking.
2/14/13 Dixie - burned in a fire
The hay inside this puppies pen caught fire. Puppy was burned and so was the boy who tried to save her before
he called for help. Imagine how scary it was to go outside an witness this, (When I got outside he was laying
over the puppy crying), I thought Taylor was really hurt. Thankfully Taylor only had minor burns on his hands
We went to the vet and Dixie's paws were burned pretty bad. Dixie has now developed a secondary infection
that needs to be treated immediately to keep from spreading to the bone. The estimated cost is currently at
$4,000.00. Any help in the form of prayers, spreading the page, monetary, or just well wishes will be greatly
appreciated. Together we can save this poor puppy that Taylor risked his own life to save! Donations can be
made at the below link or you can call
Banfield Pet Hospital 706-738-1682. 223 Robert C Daniel Jr Parkway Augusta GA. 30909
http://www.youcaring.com/medical-fundraiser/Please-Help-Us-Save-Dixie-/42343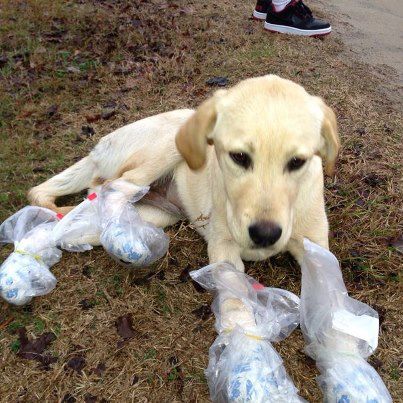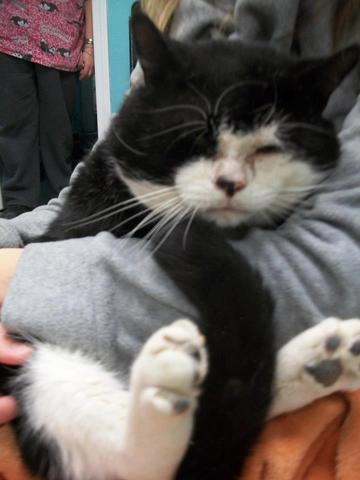 2/14/13 Mickey Hernia
This is a request to help Mickey in Rhode Island. He needs our help!

He needs 800.00 for surgery. He has 340.00 and he needs more help.

He has an umbilical hernia which needs to be repaired and he also has an eye condition called entropion. This means his eyelid and lashes turn into his eye, causing him constant pain.

Mickey is scheduled for surgery this week. He's already had his cardiac ultrasound at Ocean State Veterinary Hospital, because our doctor detected a heart murmur. Mickey was found to have an irregular heart flow due to an abnormally STRONG heart. Turns out our boy has the heart of an athlete! He really is a sweet endearing boy, even though he looks as tough as a boxer in his photos. ;)

Thank you to all who have donated and shared his story. Please join in if you haven't already, so we can save another kitty. Help Mickey by mailing a check to Care for Animals at 2944 Post Rd. Warwick, RI 02886 or Donate via the Donate button on our website http://www.care4animals.net/paaws-ri/

http://www.facebook.com/photo.php?fbid=483945024997013&set=a.250083845049800.61131.243586962366155&type=1&theater
2/22/13 Claudia - coyote attack
This poor kitty was found in
W. Hollywood, almost dead
from a probably animal attack.
Both back legs and her
abdomen are injured, the
injuries so bad that maggots
were infesting the wounds.
She needed emergency treatment
at the vet, and is hospitalized
now on antibiotics and fluids.
She has been given a blood
transfusion, and they are trying to stabilize her so they can remove one of her legs, which must be amputated in order for her to survive.
The estimated cost for all of this is almost $4000!
Please help us raise the money for her to receive the life saving surgery she needs. Despite her painful injuries, she is a sweet girl! Help us save her!
Thank you,
Kitt Crusaders
ChipIn: http://nelia.chipin.com/claudia-injured-w-hollywood-kitty
Paypal: mary@kittcrusaders.com
Vet: Laurel Pet Hospital, 323-654-7060
7970 Santa Monica Blvd. West Hollywood, CA 90046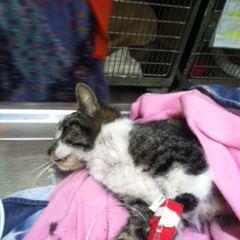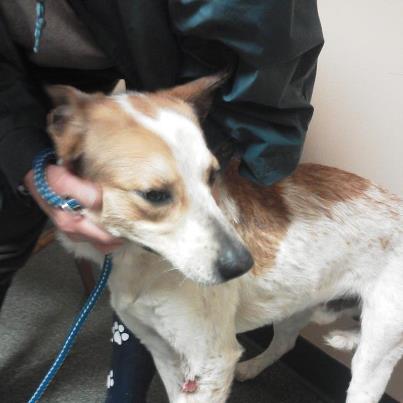 2/24/13 Mickey - broken leg



Mickey was found wondering close to a highway with a broken leg...Our local AC was called & transported him to our vet. He may also have some nerve damage...Our vet thinks he was stuck in some fencing or wire. The leg is very swollen and we are hoping to save it. We have tried to find an owner but no luck. We will also be getting this young boy neutered and up to date on everything including a HW test. Stray or abandoned dogs/cats roam freely here in Middle Tennessee. A few months ago before Sad Eyes began helping the county this sweet boy would have been euthanzied due to lack of county funds to help him. Please give...Any donation truly appreciated! No animal should die because it was abandoned and is injured!

Paypal is: savedogsncats@yahoo.com
Chip in: http://sadeyesurgentrescues.chipin.com/mickey-broken-leg
Mailing Address: Sad Eyes Urgent Rescues PO Box 914 McMinnville Tn 37110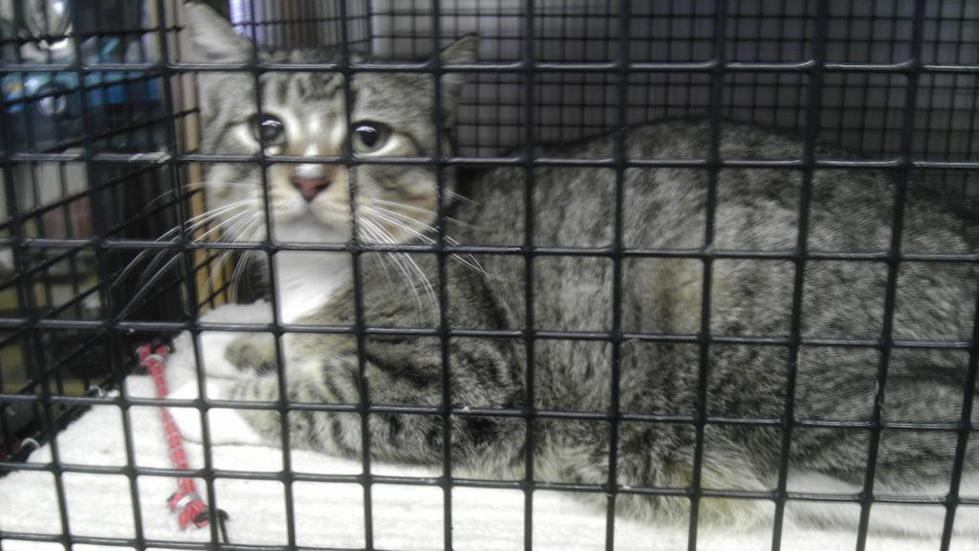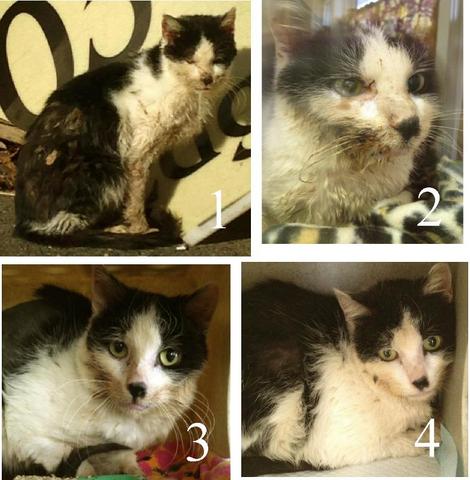 Atlas 1/27/13


Thisis a kitty in terrible shape with a horrendous case of stomatitis. Itis where the body sees the teeth as a foreign object and tries to killit. It is horribly painful. If they are unable to raise the money tohave his mouth fixed they will euthanize. Something we all hate,
butknowing this disease, I have to agree. His is a very bad case of it. Heis on many meds now to get his mouth a tiny bit better to withstand thesurgery and he is also on pain meds and steroids for some relief. Youcan see him at Randall's Rescue, his name is Atlas. Here is the chip inlink: http://randallsrescue.chipin.com/life-saving-surgery-for-atlas
Please help friends, I am not above begging for this boy to have some relief!

Here is the web-page of the rescue group: https://www.facebook.com/RandallsRescue?ref=ts&fref=ts



Here is the mailing address:

P.O. Box 1281, Mount Laurel, New Jersey 08054



The chip-in link:

http://randallsrescue.chipin.com/life-saving-surgery-for-atlas

UPDATE:Atlas IS doing better! He is eating and his pain meds are helping!!!February 11th is the magic day for surgery if the funds can be raised!
January 27 Snuffy - run over by a car
Another sweet heart in need. This little tiny cuddle bug got out of his house and was run over, right across his middle torso. All of his internal organs were pushed upward and his femur and tail were broken. His owners didn't bother to do anything for a week!!! When they decided he was throwing up after each meal they decided to seek help. Needless to say, he was removed from the home along with his litter mates.

He has had surgery to get all his organs back in place and had his leg fixed with screws and plates.

He is the sweetest most lovable boy and purrs and purrs and just wants to cuddle. He already has a
new family waiting for him once he is recovered completely. The president of Rescues Helping Rescues
has agreed to keep him with her until his staples come out and he is better. The shelter who rescued him
asked us to help because they felt he would do better with constant monitering. Plus, our President lives
very close to the hospital.

The wonderful Valley Central Referral Vets saved his life and cut the bill dramatically. However, there is
still a huge bill left and we are hoping for some donations to help offset it a bit. The shelter where he came
from can use all the help they can get.

If you would like to donate toward his bill (and any amount is fine, even a dollar), you can send it right
to Valley Central at 210 Fullerton Ave Whitehall 18052 and just mark that it is for Snuffy, the cat belonging to Barry Heim of PKHS.