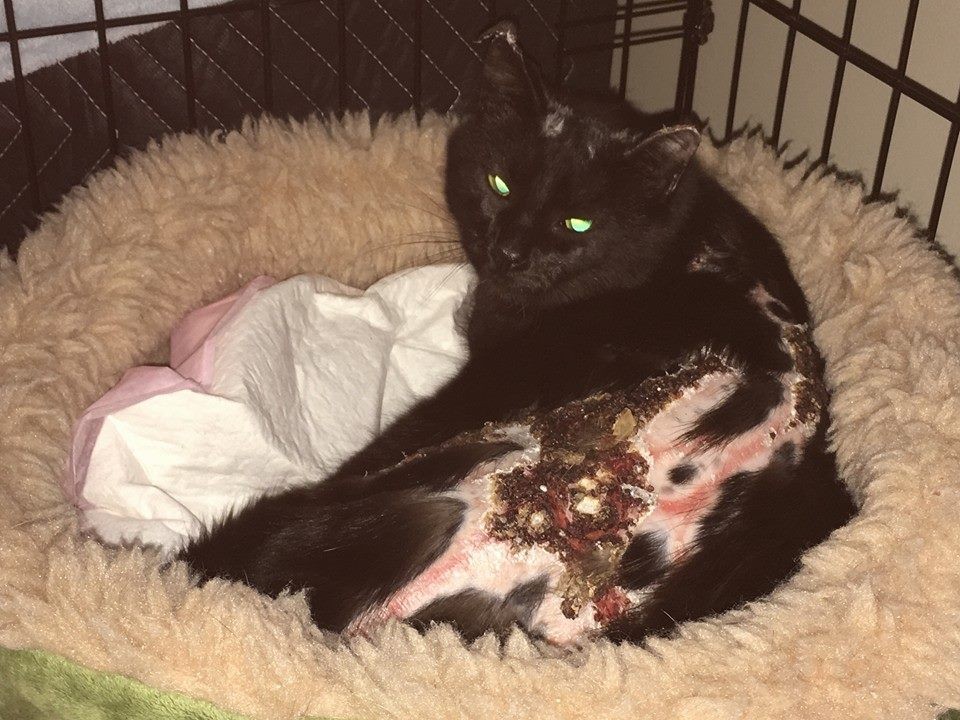 5-2-16 Hailey - burned kitty



Hailey, our burned kitty is home with us for recovery. We don't know what happened to her, but there were no fires in the area and we can't think of any way this could have happened accidentally. She must have been in tremendous pain. She's being given lots of pain control and antibiotics for the infection. The wounds are oozing so there's no way she can go back outside for at least a couple of weeks. Poor Hailey, please keep her in your thoughts and prayers.​​ ** Update: Hailey has been eating well, thankfully, which means she's getting her pain meds. She's very, very frightened, so we are keeping her kennel completely covered to help calm her. She's using her litter box like a champ and looks at us when we talk to her. Her wounds are dry this morning, no oozing so things are looking up. ​​​Hailey's medical needs are quite expensive, her pain management/wound care that is needed for several weeks is extremely expensive, so if anyone can help with the costs, we'd very much appreciate it.

(they are a 501c3)



​​Mailing address: Meow Mission PO Box 192, Mishawaka, IN 46546
Donate online at http://themeowmission.org/donations/.
The Dollar Club Paypal: Thedollarclub@yahoo.com (for Hailey)
The Dollar Club P.O. Box 4253 Bethlehem​ Pa 18018​
​

​​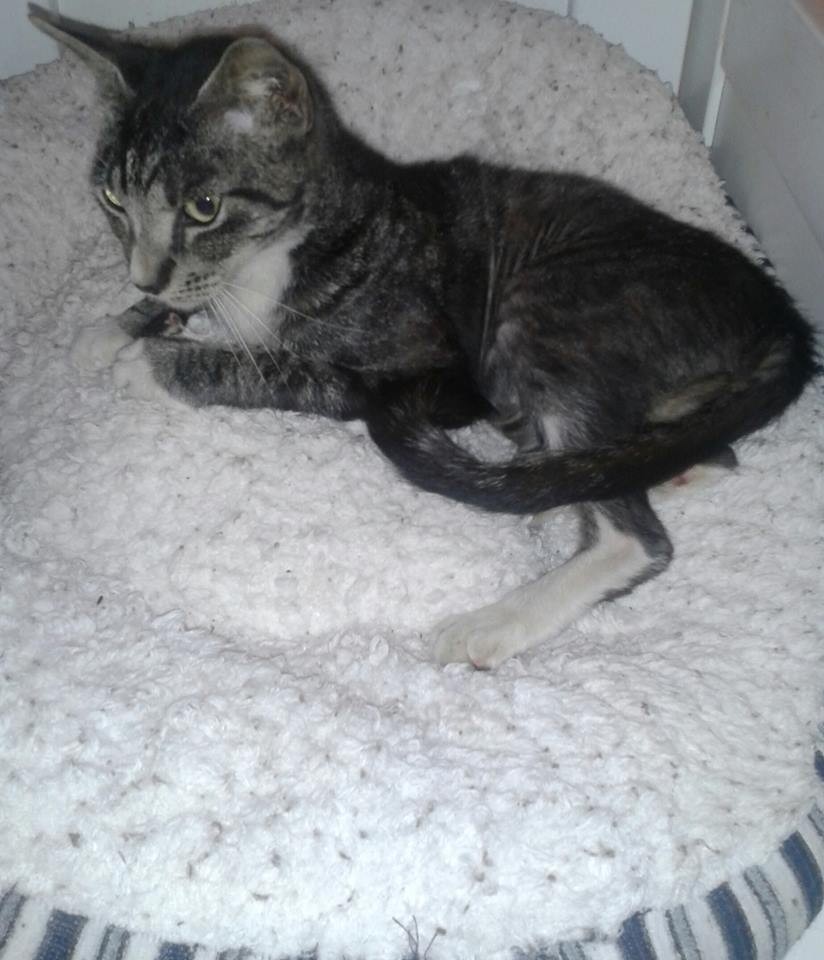 5-3-16 Haitian Kitty - severely malnourished w/bad diarhea



We need some help please with this bill for this cat that had to be vetted today. Animalaidinc@aol.com is their paypal if you can help. He is the sick cat that we pulled off the guys property who lives next to the Hatian Cats. This cat has mad diahrea, scabs all over his body, underweight. He is one of the cats these people adopted from Broward County Animal control and he ends up in bad shape. He has muscle atrophy in his back legs. Very skinny from behind. All this cat needed was a couple more weeks on the streets not being treated for his diahrea and he probably would be dead. when you see him in person, his head doesnt match his body any longer. He should be a big cat and is not right now. They treated him with B 12 shot, vitamin c, ivermectin, albon for 10 days, antibiotic shot, and revolution to put on him in 3 weeks. Bill is $85. We will be making rice to add to the food daily as i'm sure all the cats have digestive issues on this guys property. BCAC will be called tomorrow to red flag this family from ever adopting thru them again. He is a nice cat and ended up with a bad family. If I knew someone who would take this boy, I would not give him back to them but I dont. This bill has to be paid today when we go back to pick up the three females who are getting spayed. We are poor. We do not have a 501 non profit. We help because we care. We are just community volunteers who work the bad neighborhoods where the people are dirt poor with animals who need help.
where we stand. Can either post on feed amount you gave or PM if you don't want anyone to know. Thank you.

​​​AnimalAidInc@aol.com / Margo Severini
Bill was $85 and I paid it in full​​

​​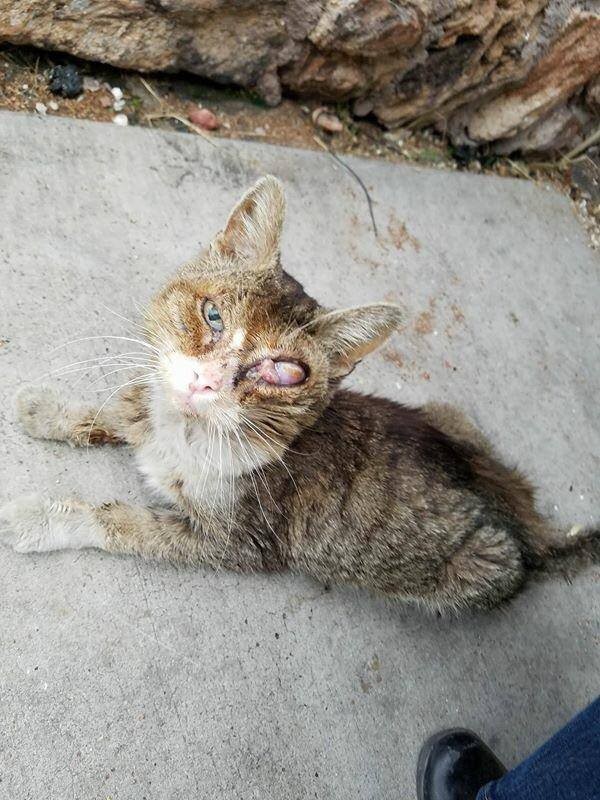 5-3-16 Mickey - very sick kitty
​​Mickey was found by a feeding station ..he walked right up to the feeder and let her pick him up..the pic is from the night he was picked up....they posted him on here and I offered to take him in ( I run a small rescue for special needs/ ferals/ chronically ill and senior cats) and have my vet ( dr steelman at bonanza cat hospital..best cat vet in town) treat him..he had his eye removed, a very large abscess on his neck removed twice (it came back) and the infection from the eye was so bad it has burned a hole in the roof of his mouth.) ..he's been recovering well but slow...they're running more tests now (heart tests etc) and have him on oxygen...thank you so very much for rooting for him and your amazing kind help to donate...so far $500 towards his care has been called in to Bonanza from this amazing group (702 438 7000) ..dt steelman is so amazed that he managed to survive on the streets in this very painful condition and the obvious long duration of this problem. We all believe that he asked for help when he simply walked up to the feeder that night...he was severely dehydrated, and infected emaciated and weak...we named him Mickey..and he will be coming home with me to be spoiled when he hopefully recovers...no more struggling on the streets for this little guy.
Vet: ​​Bonanza Cat Hospital: 702-438-7000
The Dollar Club Paypal: Thedollarclub@yahoo.com (for Mickey)
The Dollar Club P.O. Box 4253 Bethlehem​ Pa 18018​ (for Mickey)
​​
​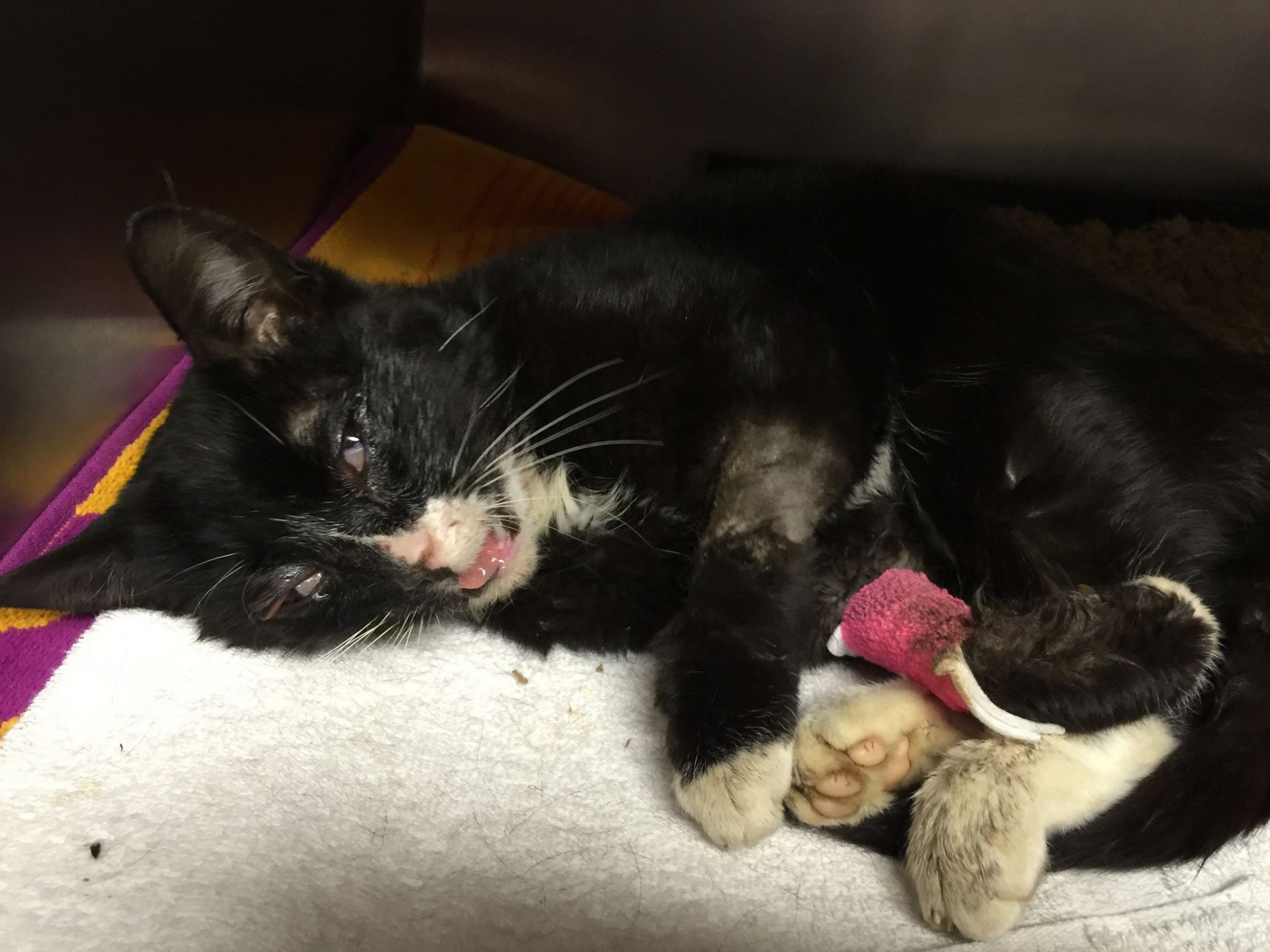 05-06-2016 Miracle - cat run over by a car



​​Miracle was a stray cat that was run over by a car and left in the middle of the road to die. He managed to crawl to the side where he was discovered the next morning by my niece who didn't know what to do for him. She called me I rushed right over snatched him up in a towel and drove him to the vet where I expected to have to humanely end his suffering. To my surprise he was stronger than I could have ever imagined. Right now his mouth won't open or close, he has had 1 surgery already but requires 1 more expensive surgery to remove part of his jaw so that it will open and close again. Almost every bone in his face is fractured and he still purrs and makes biscuits. Please help me help him, he has fought so hard already !


​​Pleasant Ridge Pet Hospital 6229 Montgomery Rd, Cincinnati, OH 45213 Phone: (513) 351-1730
Fundraiser page (NOT 501c3): https://www.youcaring.com/brittney-may-551541#.VxJDpAxYa_A.mailto ​
The Dollar Club Paypal: Thedollarclub@yahoo.com (for Miracle)
The Dollar Club P.O. Box 4253 Bethlehem​ Pa 18018​ (for Miracle)
​​​
​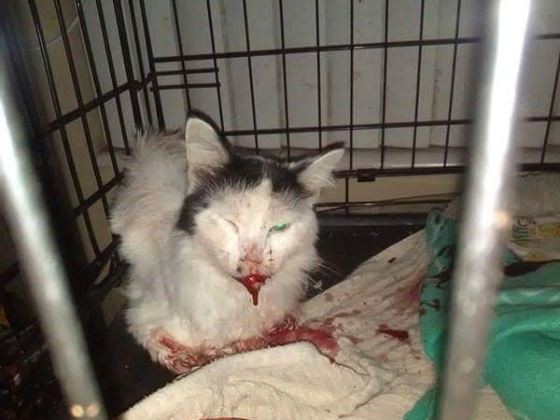 5-11-16 Cat with bleeding mouth



Mumu had to be rushed to the vet due to bleeding profusely from his mouth! The vet is unsure where the blood is coming from :( Blood test was done and his blood count came back at 13 (it's supposed to be 40). The vet has admitted Mumu to try and find out where the blood is coming from, keep an eye on his blood count and provide any supportive care needed. Please help us help Mumu... This poor cat has been through so much. He was attacked by a coyote a while back and his jaw was broken, that has been fixed and now this.



(Bailey's Way Rescue is a 501c3)​​


Viscaya-Prado Vet Hospital: 239-574-2868. Please mention your donation is for Mumu with Bailey's Way Rescue.
Fundraiser page: https://www.youcaring.com/mumu-567969/update/471717​
The Dollar Club Paypal: Thedollarclub@yahoo.com (for Mumu)
The Dollar Club P.O. Box 4253 Bethlehem​ Pa 18018​ (for Mumu)
​​​​
​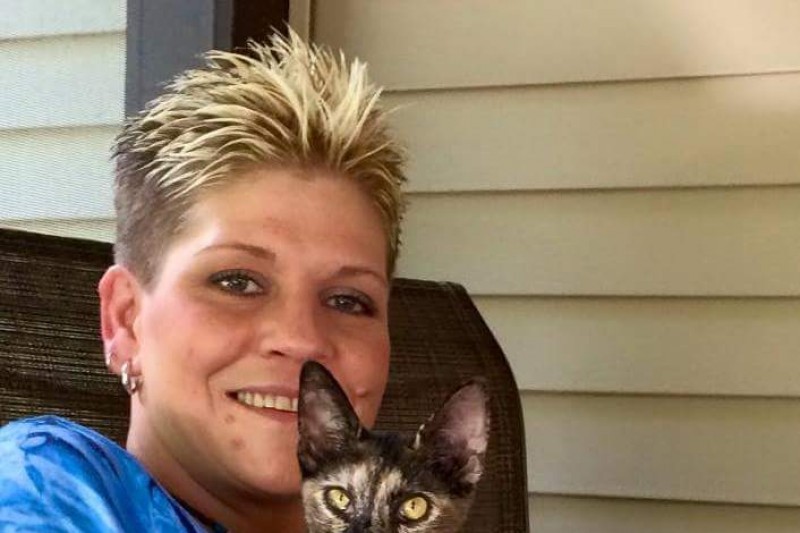 5-13-16 Jen Lubinski Funeral



Jen was a huge animal advocate and rescuer. She was the woman who rescued our dear Harvey a while back. She was also a good friend to me and The Dollar Club.

​​The GoFundMe page is being set up to remember her as she was loved by everyone in the animal world. Her Facebook page she said the following, purpose is "rescuing, rehabiliting and adopting out stray, orphaned and abandoned cats/kittens and TNR". Boy, did she do just that? Jen touched everyone's lives. She was a caring beautiful person. She was the definition of "RESCUE". This page is being set up to pay for her funeral costs. Please share so that we can get this money to her mother ASAP . When I last talked to Jen she told me of her concern about the cost of her care which she said was about $1,600 a week. This is why we need to step up to the plate to help her mother . Thank you. You are missed and loved by everyone and all your furbabies.​​

https://www.gofundme.com/jenlubinski​​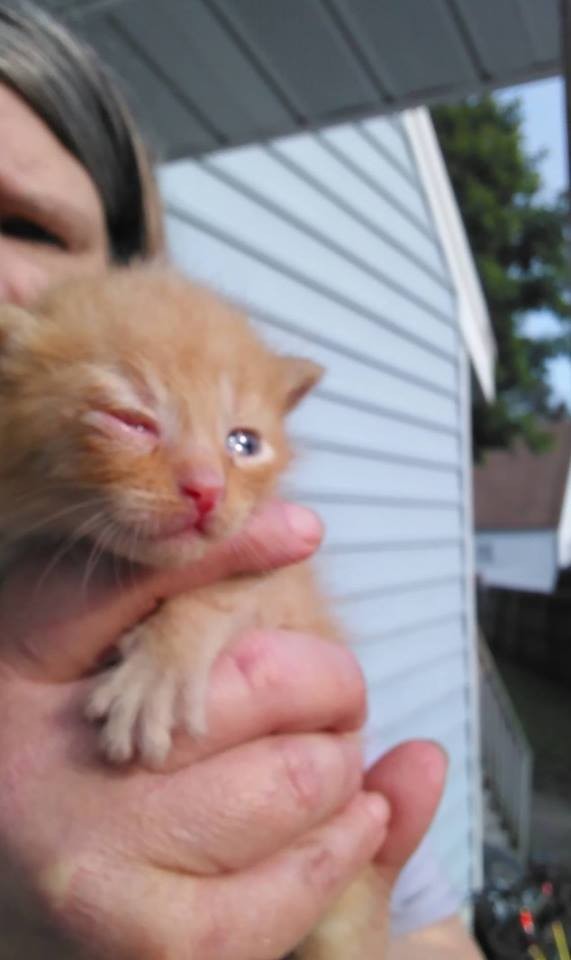 5-13-16 George - tiny kitten with severe URI and bad eye



A 2 week old kitten is sick and needs to be seen by a vet. Sounds like the kitten has a URI. And it isn't getting any better. Plus her eye is really bad and may need to be removed.

I called in a payment from The Dollar Club so the kitten could be seen ASAP​​
Vetxpress Colonial Heights VA 804-520-2000 Kitten's name is George. Her name is Joni Coleman.
(Kolony Kats)​

UPDATE: the kittens eye needs surgery, it is ruptured. But it can't be done at her vet.
The estimate is $350. They will set up a GoFundMe for the $350 and we will share and try to help raise it with them.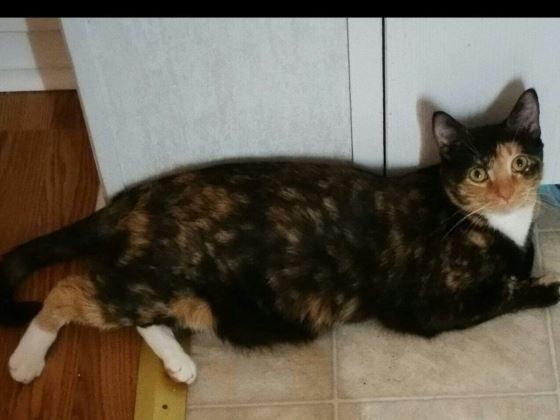 05-19-16 Socks - intestinal blockage



Socks was in the hospital recently because she was vomiting and wouldn't eat. I gave her fluids and syringe fed her but she spent 3 days in the hospital. She came home and did ok for a few days and is really bad off again. She is my teenage daughters cat who also just got out of the hospital and may have to go back. I went to the vet today and she's sure that Socks has a blockage. I saw string hanging from her rear recently and the vet thinks that it's wrapped around her intestines. She's lost 25% of her body weight. I need $600.00 for the surgery and today's visit and the vet will work on the rest of the payments with me. Please help Socks if you can.

(NOT a 501c3)



​​My PayPal is Dreamjeanie80@yahoo.com.

​​To donate directly to the vet call Raleigh Community Animal Hospital at 919 948 4210. Socks is currently at the vet so just tell them it's for Socks under Jeanie W's account.

The Dollar Club Paypal: Thedollarclub@yahoo.com (for Socks)
The Dollar Club P.O. Box 4253 Bethlehem​ Pa 18018​ (for Socks)​​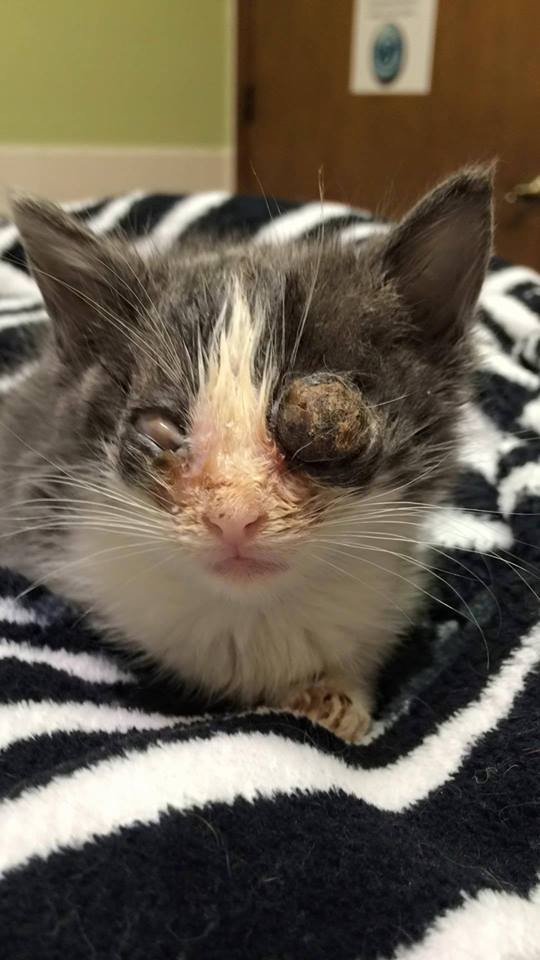 5-19-16 Stevie - very ill kitten with ruptured eyes and is anemic



We rescued Stevie from the shelter Friday after she lost one eye to a severe Upper Respiratory Infection. Now, her other eye must be removed. Anesthesia is risky for Stevie -- she weighs a mere 7 ounces and is only four weeks old, but her eye must come out or she will die. **Update 10am 5-17-16**
She is doing great this morning. Eating like a champ. Stevie did GREAT in surgery. The vets removed the remainder of her first lost eye and the entire second eye. She should recover great, but is blind. That is already not stopping her -- she climbed over her bed in her cage at the vet and they could not find her!
UPDATE(5-19-16)Stevie needs more help. She is back at the vet today because she is severely anemic and does not feel good. She can't receive any more fluids without becoming more anemic. The ER vet hospital is going to try to give her a blood transfusion if they can get a catheter in her tiny body. Stevie is only one month old and weighs just 7 ounces. UPDATE (5/19 1:00pm) -- Stevie is going to receive around-the-clock intensive care for the next 24 hours. She will receive supportive care for blood sugar and dehydration, IV antibiotics, and blood if she needs it. This estimate is huge, but we're aren't going to give up without a fight.

(HOuse of MEows - Home Rescue is a 501c3

)

PayPal: https://PayPal.me/homerescue​​
The Dollar Club Paypal: Thedollarclub@yahoo.com (for Stevie)
The Dollar Club P.O. Box 4253 Bethlehem​ Pa 18018​ (for Stevie)​​​
​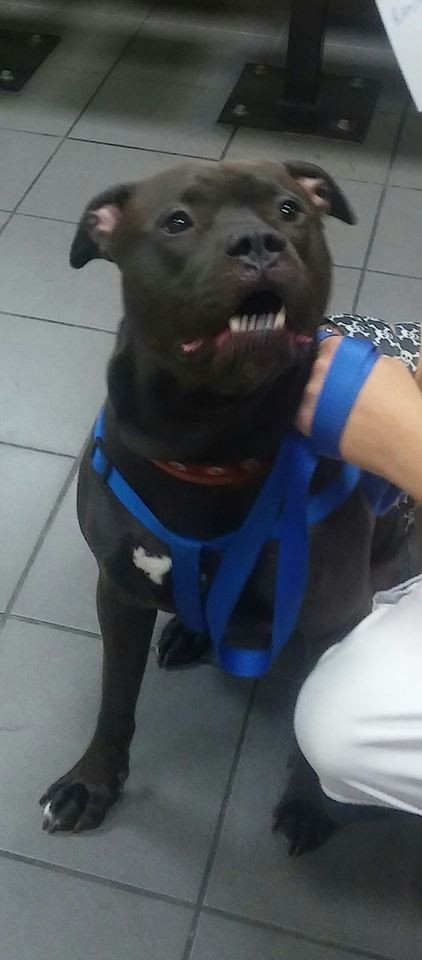 5-15-16 Milo - dog hit by car



​​Wanted to let everyone know we used some money for a dog that was hit by a car last night.
I was at the 24 hour emergency vet with my Silvia (she has cancer and is failing fast) and there was a family there that had a dog that was hit by a car. The dog and his owner were out walking and someone hit them.
The 24 hour hospital will not see you if you don't pay upfront and they had no money so they left. I ran after them and told them I would pay for the visit so the dog could at least be seen; he had a broken leg!!
They were very appreciative. I don't really know what happened after that as I went in to a room with my Silvia and didn't get out of there for 3 hours. I just wanted to let you know what I spent the last of our money on' Here is his pic. No he isn't growling in the photo, he just wouldn't sit still. His name is Milo.
5-27-16 Sent 3 cases of specialty food to clear crystal for Zachary, a cat we helped previously.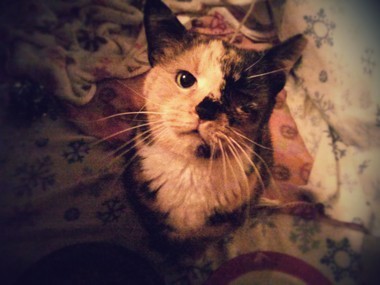 5-23-16 Butterball

Sent $100 for a cat we had helped previously. She needs more funds for her ongoing care and an additional surgery.